5 Company Christmas Party Ideas The Whole Office Will Love
Author: Nikki Barnett Date Posted:25 October 2022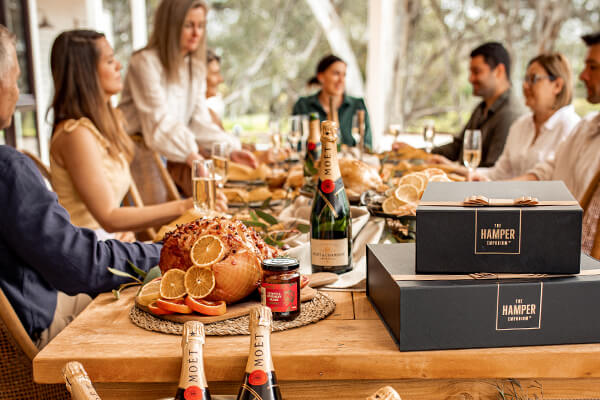 So, who's planning a company Christmas party this year?
We certainly are! It's one of the best things about the festive season and can really help to boost morale and improve teamwork.
With the countdown to Christmas already begun, it's a great time to start planning a company Christmas party and getting your employees and coworkers in the groove. The very best party ideas are those that sit well with your business culture, are lots of fun, and put everyone in the best of spirits. If you can think of something new and different, when you're planning your Christmas party, then that's even better.
Whatever you decide to do, we're sure your employees will love it. You may choose to give cash, unique corporate Christmas gifts or gift baskets, a fabulous Christmas hamper or an extra days holiday - if you're feeling really generous! Maybe your work colleagues enjoy having fun together, and you decide to host a holiday extravaganza. Or what about a day out together with a difference?
Because we know we'll need to start early with our Christmas planning this year, we're getting a head start! We've had great fun coming up with our favourite ideas for planning a company Christmas party, but there's plenty more!
You know the secret to successfully planning a company Christmas party is the element of surprise! So, here are our biggest and best party picks.
Our Top 5 Picks For Planning A Company Christmas Party
Choose A Fun Theme
Every great party needs a great theme, and Christmas ones are no different. It adds a lively, entertaining element and is a great ice-breaker. You can keep it simple, with an element of dressing up or go the whole hog and decorate the office or venue from top to bottom. While it's not a unique idea in itself, you can choose something which really complements the character of your team.
Not only that but if you're planning a company Christmas party involving an outside activity, then it really gets inventive. Imagine creating groups and events with team costumes or colours. It creates a friendly, competitive element and, as you can be as wacky as you want, it can be hilarious.
Open A Photo Or Slow-mo Video Booth
Photo booths are not extortionate to rent and can bring hours of fun and laughter. For the best party ever, use some props attached to your theme to help everyone feel at ease. They are the key to getting people to interact and will result in some hilarious and historical photos. You can even award team or individual prizes for the funniest ones.
Planning a company Christmas party needs a spark of ingenuity, so why not go one step further? Things are hysterical in slow motion, and slow-mo video will just add to the fun. There are lots of apps to achieve this desired effect on mobile, for instance. Then you can edit the footage together and show the final epic footage at the end of the party!
Plan A Relay Race Or Treasure Hunt
Treasure hunts are a great favourite with us! They're enjoyable and convivial and put your brains to the test. You can choose several locations near the office and come up with some great clues.
Hide Christmas items in advance or select specific landmarks, then sit back and watch the hilarity. Individuals or teams will have a merry time searching and photographing, especially if they are in fancy dress!
If you're planning a company Christmas party that is action-packed, then a festive relay race is a great idea too. The event can be short or long, with teams being eliminated to decide the overall winner. Reward the winning team, but the whole idea is that it's inclusive fun. Why not provide a Celebration of Christmas hamper packed with goodies to share, so that everyone is a winner.
Hold An Office Awards Ceremony
This idea might sound outdated, but it's a wonderful way to make merry at Christmas and recognise efforts. You can make the award categories as serious or as wacky as you want too! So you may choose an employee of the year, most creative, most sales and most successful product. On the other hand, you could present awards for the office prankster, best tea maker or always in a meeting.
As an addition, you could add a big dose of fun by combining this idea with an office talent show. You might be surprised by the flair and genius that is hidden, and you can make it less pressured by working in teams. Planning a company Christmas party means making it a truly memorable occasion with customised certificates, trophies or gifts. You could even hold an awards dinner!
Pay It Forward
This comes top of the list for us, with an amazing way to celebrate the Christmas holidays. Pay it forward by giving something festive and lasting to the local community.
You could support a nonprofit charity and volunteer to add some festive cheer. Cook a meal, host a party, deliver gifts to hospitals, go carol singing. It's something for everyone to enjoy in the true spirit of Christmas.
When planning a company Christmas party, if you have chosen an outdoor activity, then why not combine the two? It's perfect with a themed treasure hunt, where you could collect donations as you go. Get friends and family to sponsor your relay run, or even better, organise a 5K race.
Instead of spending money on office decorations or treats, you can really spread the love this Christmas.
Even More Ideas For Planning A Company Christmas Party
Organise Christmas brunch and shopping

Set up a virtual gift exchange

Watch a Christmas movie together

Have a cosy bonfire or a barbie

Host a game show

Murder Mystery event

Plan a progressive dinner

Hold a tree-lighting ceremony

Enjoy a Karaoke night

Office board game marathon
Christmas Decadence with Red Wine Hamper
Are You Feeling Christmas Inspiration Yet?
Planning a company Christmas party means really getting creative. You will need to consider the budget, your company culture, and a whole host of other practicalities. Not least, what you think your employees will enjoy on the big day.
If you haven't got enough time or resources, then it's perfectly acceptable to keep it low key. You could simply order one of our delicious Christmas gift hampers and while away the afternoon savouring delicacies and bubbly champagne together.
Remember, when you're planning a company Christmas party, it's all about 'goodwill towards all' and spending quality time with people who have worked hard all year. There's a perfect idea out there, but if you can't choose, ask your team. Get their opinions and make them feel part of the process. It's Christmas after all!
Get a jump on your party planning and don't leave it until the last minute. Australia Post is expecting delays, and with increased demand, we expect our Christmas hampers will sell out earlier than ever before. Register for our Early Bird Special to avoid disappointment and arrange delivery of your office hampers. You'll even get 10% off your order!