5 Essentials For An Australian Christmas Lunch
Author: Nikki Barnett Date Posted:14 November 2021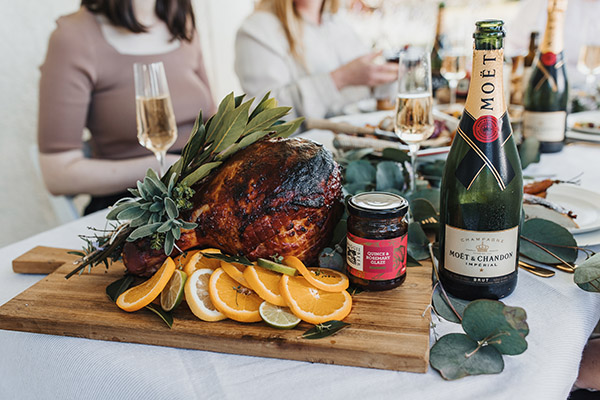 It Wouldn't Be Christmas Without These Iconic Aussie Essentials
With the busyness of the season, it won't be long before it will feel like Christmas Day is quickly gaining on us. In addition to thinking about Christmas gift ideas, it's time to start planning the about mouth-watering goodies to feature in your Christmas lunch menu!
So, the team at The Hamper Emporium thought it would be fun to explore what makes the Aussie festive season such a unique experience. Whether you're yearning for warmer weather from afar, or already planning Christmas lunch outside, spice up your Christmas celebrations with these exciting lunch ideas.
When it comes to traditional Christmas food and planning the lunch menu, Australia has its own spin on classic recipes such as the pudding and mince pies. From prawns on the barbie to Christmas ham, it's all about fresh ingredients and getting creative with dishes. We love featuring the best combination of traditional and modern festive treats in our Christmas hampers, and want to share our favourite food ideas for Christmas lunch.
Our Top 5 Tasty Centrepieces To Get The Party Started
When you're preparing a cracking Christmas lunch Australian style, some things are non-negotiable with most Aussies. It's a day packed with cold drinks, Australian beer hampers, and wine to share with gourmet xmas food. From starters to summery sides and salads, nothing says Christmas lunch quite like these mouth-watering dishes and desserts.
Christmas Glazed Ham
The main event is usually a sensational and succulent ham from a local supplier. Home cooks can spend happy hours glazing the joint and gazing into the cooker. Every family has a favourite variation passed down through the years. Typically, the glaze is maple, honey or apricot, but it can be as diverse as pineapple juice, ginger beer, or sticky fig syrup. Everyone waits in anticipation for the meat to be set on the table, and someone can finally slice into the sweet, smoked ham. The delicious crackling is carved off too, and cranberry or apple sauce adds the finishing touches to this finger-licking treat. You'll find the perfect ham glaze ready to go in our Everything But The Ham Christmas hamper.
Prawn & Seafood Platters
Christmas isn't Christmas without an array of luscious prawns, whether it's spicy prawn cocktails or plates of king prawns! Nothing says summer more than fresh, tasty seafood, and Australians have a well-known tradition of indulging in barbequing. Prawns, crab, lobster and even oysters can create a whole celebration of seafood. Used for both starters and main courses, there is usually a choice of delicious, zingy lunch dishes served with juicy mango, avocado or chilli. A whole array of delicious dips, side dishes and salads can accompany this magnificent feast.
Crisp Summer Pavlova
With a crispy meringue shell, gooey inside, and slathered with double cream and seasonal fruit, pavlova is a classic at Christmas. The colourful pop of cherries, raspberries, red grapes and summer berries all add to the festive look. When temperatures are soaring, this lush and enticing light dessert option is a must. Thinking up unique designs for this dessert has almost become an annual competition. It's perfect to clean the palate after an epic meal. Pavlova is the Australian substitute for Christmas pudding - although we love a plate of that too! Try drizzling your pavlova with the delicious Sticky Fig Syrup from our Ultimate Christmas Foodies Hamper.
Classic White Christmas
A firm favourite with everyone, not just the kids, White Christmas is a classic festive dessert. This gorgeous white chocolate sweet is fluffy, light and a real treat on Christmas day. Each slice oozes the flavours of rich dried fruits and has the added crunch of roasted almonds. This delicious no-bake nibble also blends Copha, coconut, white chocolate and rice bubbles cereal. It produces a delightful result and the closest thing to a white Christmas we are likely to see!
Rich Christmas Pudding
The tradition of tucking into Christmas pudding in Australia dates back to British colonisation. Although the Christmas lunch menu has changed, the brandy-soaked pudding has survived and remains a constant in many households. This decadently dark and fruity dessert includes ginger, cinnamon, figs, dates, and almonds, along with a healthy tipple of alcohol. Sometimes it's also served creamy and cool, with the tang of orange as the predominant flavour, and served with lashings of creamy rum custard. Try a spoonful of decadent Brandy Butter sauce on your Christmas pudding from our range of gourmet Christmas Hampers.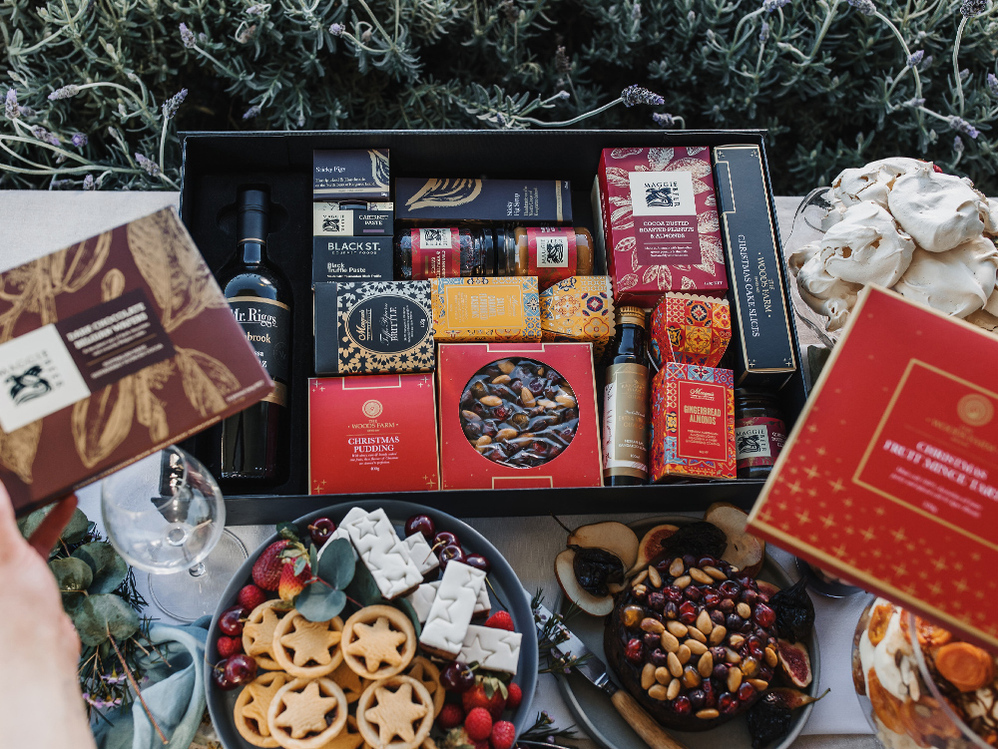 The 6th Essential Christmas Lunch Ingredient - Christmas Drinks!
There's no way most Aussie families will forgo a touch of alcohol at Christmas time. The warm weather calls for something crisp and cool, and most fridges will be well-stocked with Australian wine, craft beers and champagne. Punches and hot cider are perfect for evening soirees but the best ideas for Christmas lunch menu Australia calls for refreshing classic drinks and shareable spritzers. Of course, many alcohol buffs might pair ham with cold Manzanilla sherry or Riesling with their seafood, but the most delicious drinks are casual and copious.
Elegant and refreshing cocktails are well-loved on any summer day and Christmas is no exception. Aussies can shake their way through cocktails or mocktails all day, whether it's vodka, gin or rum. From classic recipes to exotic flavours, there's always something new and delicious to try. Nothing conjures up the festive spirit and fun more than a sparkling glass of champagne cocktail. Let's not forget those celebratory bottles of bubbly either - perfect for toasting the hard-working chef!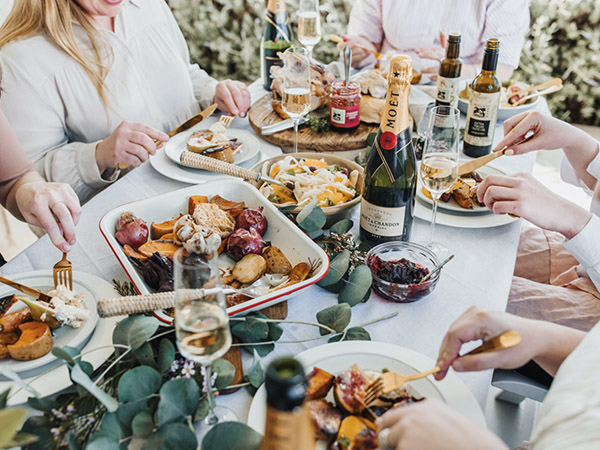 Adding Those Festive Finishing Touches To The Day
Fruit mince pies and the lingering scent of gingerbread is interlaced with a traditional Christmas Australia style. From table decorations to hanging garlands, gingerbread has that comfort factor and is usually an addition to the feast. If the menu is roast pork, glazed ham or turkey, the table will be spread with an array of condiments too. Mustards, apple sauce and cranberry sauce are the absolute basics! Inside or outside, there's bound to be a big bowl of ruby cherries or golden mangoes on the table. Their festive colours and sweet, juicy flavour puts everyone in a Christmas mood.
Making sure festivities go with a bang means Aussies love adding fun Christmas crackers into the mix. Who doesn't love those terrible jokes and silly gifts at any age? There might even be a fabulous Christmas hamper of goodies to add to the occasion. Whatever alcohol is the order of the day, glasses are clinking, bottles are well chilled, and a big ice bucket will be by the barbie. Then it's all about relaxing and savouring the sunshine, the company, and the day itself. Christmas in Australia really is like nowhere else!
Come and join us!