5 Epic Birthday Ideas For Celebrations In Isolation
Author: Nikki Barnett Date Posted:17 June 2020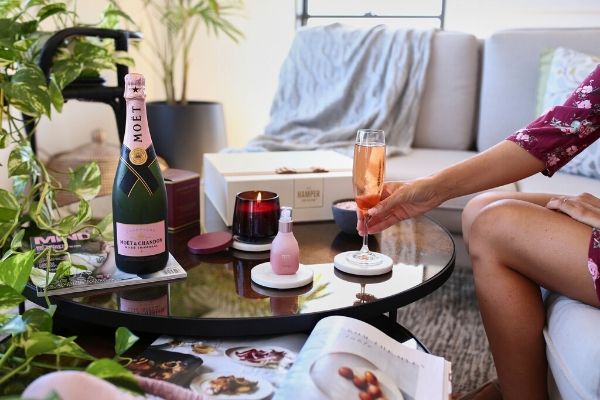 Tips for making the most of your birthday in isolation
Birthdays should always be special. It's usually a great excuse for friends and family to gather together and celebrate, whatever the milestone. Parties, barbies, brunches and decadent meals are the order of the day.
For many, their birthdays this year means self-isolation or social-distancing, meaning the normal get-togethers are impossible. Or maybe you just find yourself unable to be in the same location as your loved ones for other reasons.
Whilst we may not be able to celebrate in the expected ways, your birthday bash doesn't have to be a complete write-off. Celebrations in isolation on your birthday can be fantastic fun. Here at The Hamper Emporium we've already had quite a few, so we've got a few tricks up our sleeves with inspiration for birthday hampers and things to do to make the day special!
Make celebrations in isolation meaningful and joyful
What if we told you that your lockdown birthday in isolation was going to be even more memorable than usual? It's just about being a little creative, planning a unique day, and making sure your loved ones are there to share the event. Yes, it's possible!
Thanks to technology, there's a whole new world of ways to bring people together. Whether it's a personal birthday idea in isolation or a surprise for a friend, you just need a little inspiration. So, here are five tips and tricks to ensure that the celebrations in isolation go with a bang!
1. Start the day with a zoom call
Zoom has really taken off this year and is perfect for an iso birthday celebration get-together with your family. It's completely free to use and so straightforward to use, even Granny will be able to understand it! What could make a nicer morning than gathering your nearest and dearest to share a wonderful time? Arrange a birthday theme before you all meet and take some hilarious photographs for an occasion you will never forget.
Spice things up by using shared playlists or activities in Zoom chat and take the adult birthday celebrations in isolation up a level. You can involve everyone in mutual fun activities from their homes and it will feel just like you really are together. Cook a birthday brunch bake-off, arrange a quiz or dance the morning away together to your heart's content.
2. Food wonderful food!
No birthday celebrations in isolation for adults are complete without a series of planned feasts for the day. Choose your favourite flavours, add in some treats and voila!
Breakfast in bed
Treat yourself to this indulgent ritual. Enjoy the pleasure of opening your cards while still snuggled under the bed covers. Make it continental, full English, French toast, buttery sweet pastries or a fruit bowl. Add your daily brew, load up your breakfast tray, and take it back to bed!
Brunch spread
If you're not making brunch on Zoom, then be sure to order your birthday favourites in advance. Raid the pantry for finishing touches and lay on a deliciously mouth-watering spread. Alternatively, for a low-fuss birthday idea, let the local professionals deliver it to your door.
Deluxe birthday cake
You can't forgo a fabulous birthday cake for celebrations in isolation. If you love baking, make it part of your big day to make your own unique creation. Or order a sumptuous fresh cream one from the bakery. If you opt for ice cream or fruity cheesecake, remember the candles!
Gourmet food hamper
If you simply want to spend your day having fun then a luxury gourmet hamper with drinks is the answer. And an extra birthday present! They come packed to the brim with delicious gourmet food and scrumptious savoury treats or chocolates. You can even choose one with a bottle of your favourite tipple to toast your special day.
Tasty cheeseboard
No special event is complete without a huge platter of charcuterie and cheeses. Design your own with a variety of taste sensations, creamy dips, crispy crackers and fruit, for a killer birthday cheese platter to remember. Then whatever the evening holds, you're guaranteed a feast!
3. End the day with a party
If you plan to make your day extra special, then a party with friends is on the cards. Organise a Zoom birthday event or Facetime your buddies and prepare for some unforgettable laughter. Just because they can't come round doesn't mean you can't get in the spirit by decking out your room with decorations. Blow up some balloons, throw confetti, add birthday signs and turn up the lights. Tell your friends to wear fancy dress and go wild with crazy outfits, wigs and hats.
Many streaming platforms deliver DJ sets or present popular artists, or you could prepare your own groovy playlist. It makes for a great party set-up to share virtually with your pals. Or catch up on all the latest gossip, share drinks and laughter and raise glasses to birthday celebrations in isolation. Just because you can't all be together doesn't mean you won't have a blast.
4. Have an (in) evening out
If you partied earlier in the day or just feel like an indulgent evening then you need a plan! Nestle down with your gourmet food hamper or tasty cheese board and flick on Netflix. The ultimate comfort films are happy, uplifting and sure to put the icing on the birthday cake! It's the ultimate escapism on your birthday. Or watch live performances and virtual concerts from theatres and venues across the world.
Pampering should be second nature for any celebrations in isolation, so remember to add in a note of luxury. Light candles, burn scented oils and play some tranquil tunes. Treat yourself to a bubble bath or facial, massage your skin, and wrap up in a soft, cuddly dressing gown. You could even treat yourself to a fabulous pamper hamper full of luxury skincare products and sparkling champagne. Why not? It's your birthday!
5. Plan some future fun
If you're the outdoor type and usually celebrate with a thrilling skydive or day at the race track, then don't despair. Birthday celebrations in isolation are perfect for putting the cogs in motion with your buddies. It's time to plan an epic adventure for later! Find an activity that you can all enjoy, from canoeing to a weekend trek in the mountains, and get planning. It'll be something to save up for and look forward to.
When eating, drinking and making merry is on your birthday agenda, then plan for exactly that. Get your head together with close friends and choose your favourite restaurant for a boozy brunch or dinner. Postponed celebrations often turn out to be the very best occasions, full of joyful reunions. You could even plan a meal in an exotic foreign location to celebrate in style!
You deserve to celebrate your birthday in style
No matter how you spend your birthday in isolation, make time to connect with loved ones and yourself. Why not order yourself a gourmet food and wine gift hamper? That way you can celebrate another lap around the sun in style, even if you couldn't honour your original plans.