5 Reasons Gourmet Hampers Make Great Corporate Gifts
Author: Nikki Barnett Date Posted:22 May 2020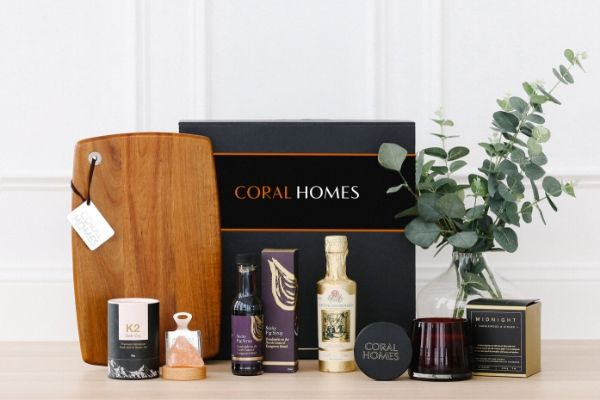 Why send a corporate gift hamper?
Sending business gifts is a wonderful gesture. The gift also serves as an extremely valuable reminder of you and your business to the essential people your business depends on. It establishes connections, promotes trust and helps forge stronger bonds with your suppliers, staff, colleagues and customers.
Finding the perfect gift hamper to give can seem a lot of work. At The Hamper Emporium, we have done the job for you. You can find specially curated Christmas hampers, hampers with or without alcohol, even hampers for those who are celebrating the birth of a new baby. Whatever occasion, the gift is for we have one that will fit the bill.
Here are 5 more reasons to consider a corporate gift basket as the ultimate business gift.
1. Corporate gift baskets incorporate your brand tastefully
Selecting a delicious gourmet food hamper is an excellent choice for a corporate gift idea. Your brand and company can be tastefully represented, while in no way lessening the gift itself. Our hampers contain only the finest gourmet treats, chocolates and selected quality wines and champagnes.
You can be creative in how you incorporate your brand into our hampers; we offer a complete corporate branding service to help you with that, including beautiful branded ribbons and personalised gifts to custom-designed templates.
2. Gourmet gift hampers offer a high degree of thoughtfulness (and they look so good!)
Our well-constructed food hampers and gift boxes provide great presentation value. All our gift boxes are aesthetically pleasing and are perfect as a keepsake box. Plus the hamper includes a wide variety of gourmet goodies that people adore.
Finding the perfect corporate gifts has never been so easy. If you know your client has sweet tooth consider sending them the Sweet Bites Hamper or a colleague has a liking for fine wines send our Premium Red & White Wine Hamper.
Nothing shouts out more, to your suppliers, customers, staff or colleagues, how highly you value them than a beautifully presented hamper full of the very best in gourmet products.
3. Gift baskets are made to be shared
A gourmet hamper is a luxury gift to give to corporates, and the delight in receiving it is often shared with colleagues and friends. As a brand advocate, these are the gifts that 'keep on giving'.
Often, corporate food hampers sent to an individual will be shared with that person's team or colleagues. They generate conversation on the fabulous contents and especially, who the gift is from! Gift baskets like the Ultimate Foodies Hamper really are the gift that keeps on giving!
4. Gift baskets offer endless combinations
No one really wants to receive the same gift year after year. Thankfully our hampers are configured in countless different ways to keep them interesting, fun and exciting no matter how many times you gift one of them.
Adding in some personalised items is another way to keep the gift fresh and delight your recipient anew. We offer a range of corporate gifts with personalised chopping boards or keyrings. You can also choose homewares gifts for the office or team member working from home. Our Exquisite Homewares Hamper makes a wonderful corporate gift without alcohol.
5. Gourmet hampers are high quality
You're at the forefront of your industry. You don't want to trust your reputation to someone who isn't at the forefront of theirs! By choosing a gourmet gift hamper filled with only the highest quality products, you're ensuring you'll stay top of mind in the best possible way. The choices you make as a business speak volumes, so make sure yours are sending the right message.
At The Hamper Emporium, our corporate gifts and hampers are carefully curated to be a perfectly balanced experience. Take advantage of our completely FREE delivery Australia-wide today.