Australia's Favourite Corporate Gifts
Author: Loreena Walsh Date Posted:4 November 2019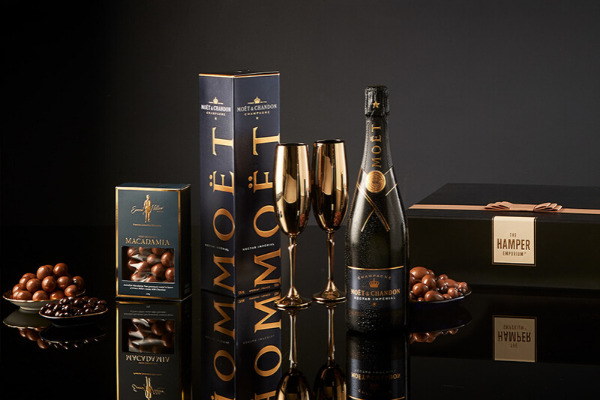 What Is A Corporate Gift?
Gift giving in the corporate world is on the uptake. As firms seek to build their brand, they want to affirm relationships with new customers and established ones or maybe recognise a great employee. Corporate gifts utilised correctly can promote a business, just as it can increase the morale of the workforce.
Before moving on the explore corporate gifts further, let's address what is meant by a favourite corporate gift.
The word favourite implies popular, and as you might guess, statistics can address that, how many bought and sold. But, how do you actually know a gift is received well? This is not as easy to estimate. The meaning behind the gift, the presentation, the contents, all needs to be considered by the giver before gifting.
People can quickly spot a lazy gift, one with no thought attached, the quick fix. Just as easily they can feel over or underwhelmed by the gift they receive. Overly expensive gifts are not as popular as you might think, the receiver of the gift might feel uncomfortable by the expense. 'Hit you in the face' advertising is also a no-no. If you do not put some time and effort into how you present company branded gifts, you could damage your relationship from the minute the gift is received.
At Hamper Emporium, we can guide you in which are the favourite corporate gift hampers. We dedicate a section to them on our site, but as we said, this is a statistical measure, take a look at our customer's testimonials as good indicators of how well they are received.
Company Branded Gifts
Do you put your company name, with or without a logo on your gifts? Our answer? Yes, you do, but subtly. In your face, advertising is not well-received, as it is more about you marketing yourself than the giving of a gift.
At Hamper Emporium, we know all about the building of your brand and can help you achieve this with our canny intuition and in-depth experience.
We have a graphics team on stand by to help you promote your company in the best possible way. Our beautiful double-sided satin ribbons in a range of colours have been selected to complement our hamper boxes in an attractive and of course subtle way. We also have a range of gift cards, that you can personalise with Company name + logo and a message from yourself.
Our hamper boxes are luxurious in themselves and do not need any further decoration or wrapping. But we do offer some further personalised options for company branded gifts. These include,
Branded wine wrap

Branded hamper sleeve

Engraved keyring

Premium chopping board
Actions To Take To Ensure Your Company Branded Gifts Are Well-Received
Put A Corporate Gifting Strategy Into Place
This is a decision that will enable your company to continue building your brand, whatever the date or seasonal holiday. This is a method of setting budgets, identifying who are going to be recipients, along with the selection of the gifts themselves.
Decide Why You Are Giving Company Branded Gifts
Is it a holiday gift as in Christmas, or a birthday? Could it also be a thank you for being a good customer? There are numerous reasons for corporate gift-giving. Still, you need a strategy for identifying when this is acceptable; like on a retirement, achieving certain goals, being a new customer, reaching a timespan as a client and the list goes on. Identifying these will ensure nobody is missed out.
Branding is all about building a good relationship with your clients and suppliers. A well-thought-out gift goes a long way in establishing this.
Think About Who Your Are Giving The Gift To
The more you know about someone, the better you can tailor the gift you send them. A gift that is appropriate, yet not overly familiar.
Certain religions would not appreciate alcohol in a gift, and certain nationalities actually don't like receiving a gift, Yemenese for example. So, do a little research, and it will pay off in displaying your gift has been well considered.
As long as you follow the 'less is best rule' with company logos and names, then you will avoid offending with an obvious marketing ploy. Remember these people are already on board, you need to establish your relationship with them, grow your brand!
Some Favourite Company Branded Gifts From Hamper Emporium
We know our hampers make perfect company branded gifts. How do we know? Because we put a lot of thought into the concept. The contents are a full range of gourmet goods to suit everyone, with chocolate hampers, wine hampers; hampers for total food-lovers packed with artisan delights. Plus, a variety of champagne from the excellent Moёt Chandon cellars. Perfect chilled for our Australian Christmas and New Year celebrations.
Our delivery free throughout Australia has made gifting our hampers a favourite choice for many businesses. Incorporating a personalised gift with the hamper is another plus. We also provide a comprehensive track & trace solution. Remember you can also order in bulk by signing up for a corporate account.
Here are three hampers to consider for company branded gifts, all can subtly incorporate your logo and if including wine, a branded wine sleeve. Or you could go for a branded hamper sleeve. You can choose from our range of complimentary luxury cards, or design a bespoke card with our graphic designer.
This would make a fabulous company-branded corporate gift for a couple this Christmas. Presented in luxury gift box that can easily carry the company branded hamper sleeve.
This gift hamper includes The Islander Estate' The Rosé' from Kangaroo Island. This delicious Australian Rosé is perfect for every occasion; this hamper also includes specially selected gourmet nibbles from Australian artisans. Plus, two gold crackers, each containing a piece of Swarovski jewellery, with the shimmering Swarovski® crystals. These are a crystal solitaire necklace, a pair of crystal earrings and a set of cufflinks.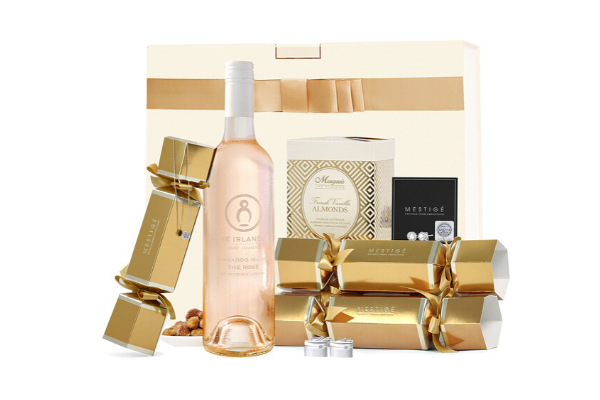 A corporate gift that can be given any time, for any occasion, this hamper includes some of the finest Australian & world-wide sweet delights. Including,
Morgan's Honey Roasted Peanuts + Vanilla Almonds + Milk Chocolate Pretzels

The Woods Farm Macadamia Pure Butter Shortbread + Pure Butter Shortbread + Caramelised Peanut Brittle

Ernest Hillier Milk Chocolate Macadamias + Milk Chocolate Scorched Almonds + Berry Chocs Selection + Chocolate Coated Liquorice

Butlers Gold Box Chocolate Assortment

Willie's Milk Of The Gods' Rio Caribe

Gourmet Regional Produce Apricot & Armagnac Conserve

A hamper that is certain to make a lasting impression! Designed to be luxurious. From the distinctive black and gold presentation box to the fabulous contents that showcase the best of Australian gourmet delights. Plus, quality champagne, the irresistible Moët Nectar Impérial that perfectly compliments the goodies in the hamper. A perfect corporate gift and one destined to make a lasting impression.