Behind the Scenes: Staff Top Picks For Christmas Hampers
Author: Nikki Barnett Date Posted:16 December 2020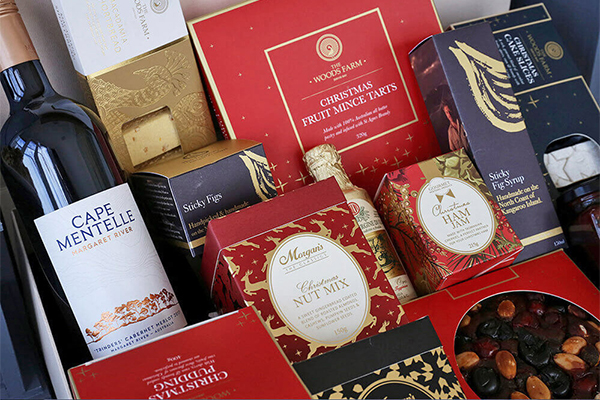 The Inside Scoop On The Best Hampers For Christmas 2020
We want to help you make this Christmas extra special with a gorgeous Christmas hamper brimming with delicious festive food, chocolates, wine and champagne. We asked some of our team to share their favourite Christmas hampers to make it easier for you to choose from our great range. From rich and decadent chocolates, the finest Champagne hampers, gourmet food hampers for the ultimate Christmas lunch and pampering treats for a relaxing Christmas holiday, we'll reveal our personal top picks for Christmas gift baskets.
We're all completely unashamed food lovers, and we're counting down to Christmas Eve when we can enjoy a hard-earned break with family. Most of us haven't had time to start planning the Christmas menu beyond the essential Christmas ham, and not a single one of us plans to make our own Christmas cake or pudding! Luckily, we know where to order hampers with the best homemade Christmas treats. And while our personal drink of choice varies from Champagne, to red wine, rosé, Glenmorangie, and a nice cold beer, we all agree we'll be relaxing with a drink in hand well before 5pm on Christmas Eve.
Staff Top Picks For Christmas Hampers
Nikki - Director of Marketing
My favourite at the moment is Veuve In The Sun, because you can't go past Veuve Clicquot for summer. The tote bag is amazing for days at the beach and it has a retro vibe that reminds me of beautiful women from the 60s spending their summer at the beach. A life that I would love to lead!
From our classic range I love Everything But The Ham - it has everything you need to impress your mum and even MIL when you are putting together a Christmas lunch spread!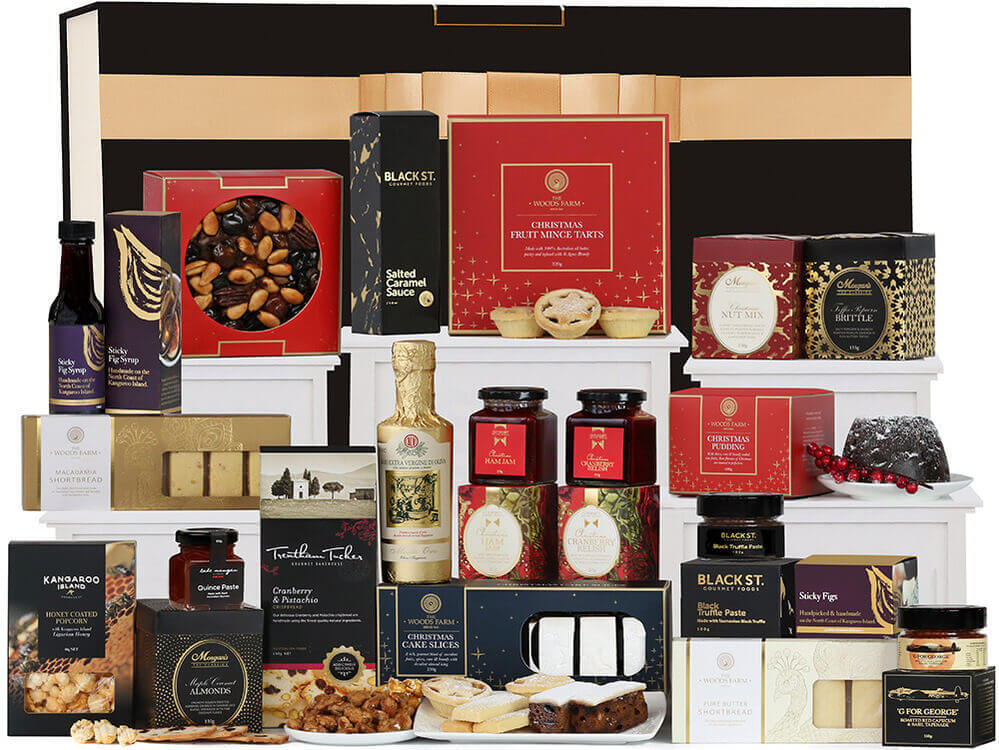 Katharine - Digital Marketing Assistant
My pick is the Champagne Festive Hamper. There's nothing like celebrating with a bottle of Moët, especially on a hot summer day. We're hosting Christmas lunch this year so the festive desserts from The Woods Farm are right at the top of my wish list. The handmade Christmas pudding, Christmas cake and Christmas fruit mince tarts are just as good as any family recipe (but don't tell my Grandma I said that).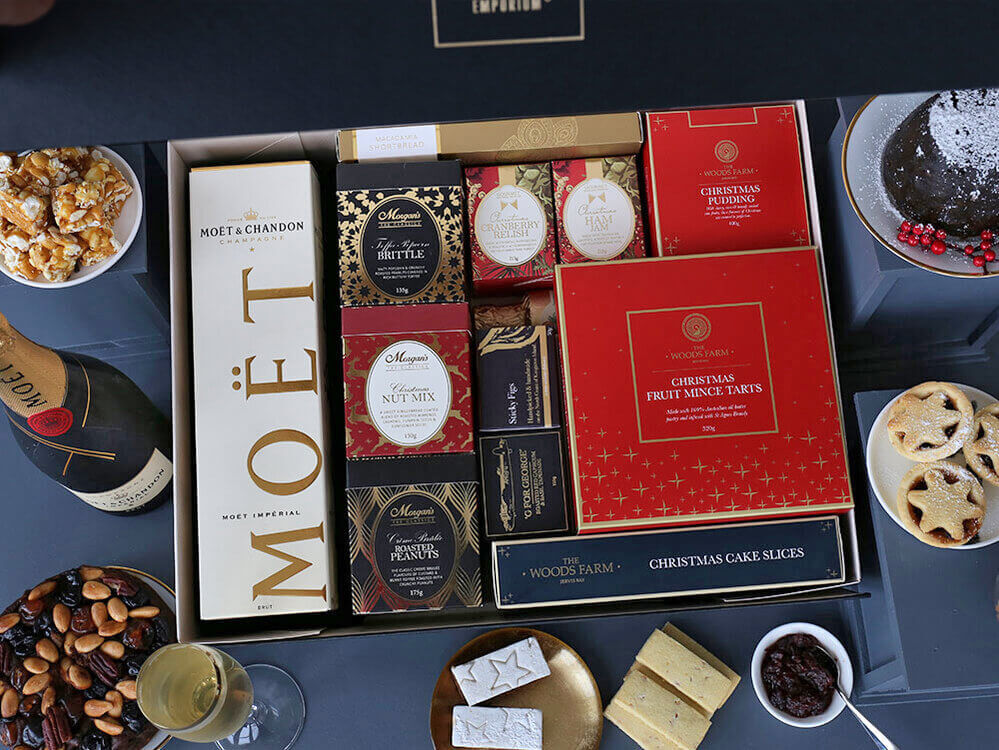 Michelle - Copywriter
This is a hard choice. Either the Festive Cheer Christmas Hamper or the Ultimate Christmas Foodies Hamper. They both have the iced Christmas cake, which we all love. On one hand, I love the Cape Mentelle Cab Merlot and that lush fruit and nut Christmas cake in the Festive Cheer hamper. Plus, it comes with the gingerbread flavoured nut mix, the sticky figs and Ham Jam. They are all things I wouldn't usually buy for myself, so it feels like an extra special Christmas treat. But the Ultimate Christmas Foodies Hamper has that amazing box of festive chocolates, and the kids love the honey popcorn, fudge cookies, and caramel sauce. Do I have to choose just one?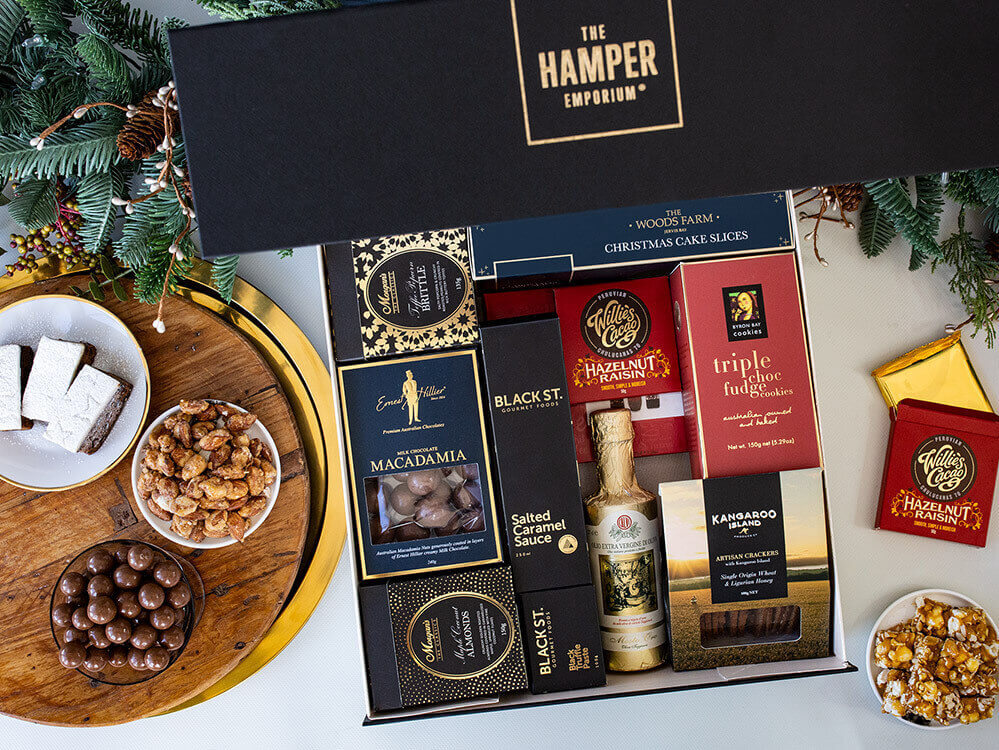 Sam - Senior Graphic Designer
My favourite hampers are the various Glenmorangie Scotch Whisky hampers. My pick would be the Glenmorangie Whisky Tasting Hamper because that way I can sample all of the flavours of the Scottish highlands. Once the 24th rolls around and I'm on holidays, I'll be enjoying a different whisky from their range over 4 nights this Christmas. The extra nibbles that come with the hamper are just icing on the cake.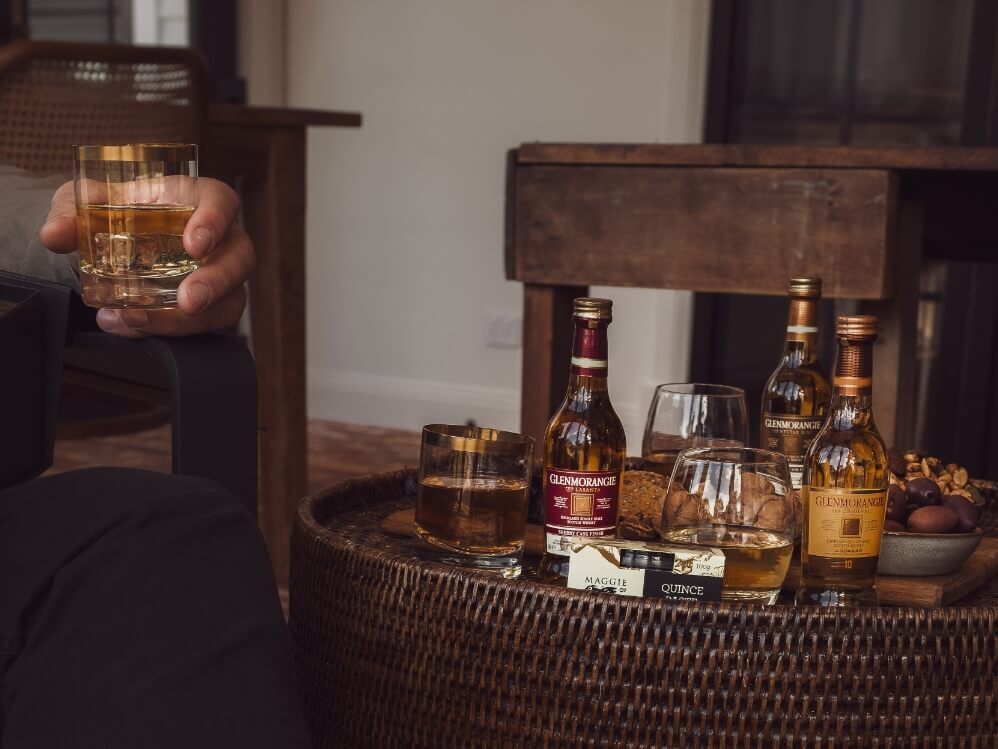 Sofia - Brand Manager
My favourite is the Celebration of Christmas hamper and I've already put in my order. I like it because it means I can easily create a Christmas spread for all my housemates to enjoy. Living with 6 other people, this hamper creates a great base for our festive Christmas lunch where everyone usually brings a dish to share.
There's A Hamper For Everyone This Christmas
The Hamper Emporium has a whole range of Christmas hampers to choose from including corporate Christmas gift baskets, gourmet food and wine Christmas hampers and pampering chocolate gift baskets. Why not send one to someone you love so they can experience for themselves how wonderful our Christmas hampers are. Make Christmas time special for your friends and family. With free delivery anywhere in Australia, our Christmas gift baskets are the perfect solution to a busy festive season. Order early to avoid disappointment with high demand for Christmas holiday shipping.
We have it all from traditional Christmas gift baskets to contemporary hampers featuring food and wine from premium Australian producers. Indulge your love of gourmet food this Christmas, and let us know which hamper is your favourite.