Celebrate With Craft Beer This Summer
Author: Nikki Barnett Date Posted:14 January 2021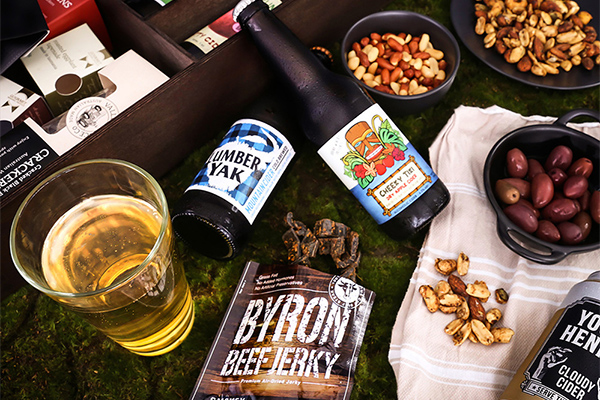 Craft Beer Hampers Are Added Rays Of Sunshine
Summer in Australia is well and truly here and with it comes outdoor activities, luscious seafood and cold craft beer. These light, crisp and refreshing ales are perfect in hot weather and pair well with our summer foods and snacks. Not just any beer will do in the heat; craft beers are packed with flavour and have magical thirst-quenching properties!
Australia Day celebrations are fast approaching too, meaning it's time to stock up on goodies ready for the holiday. Although it falls on a Tuesday this year, most people will be taking a wonderful long weekend. The time for iced drinks and entertaining outdoors is upon us, and it doesn't get any better than frosty Australia Day beers and a sizzling barbie!
So, here at The Hamper Emporium, we are showcasing some of our best craft beer hampers, premium beer boxes and new Australian craft beers. They are the ideal things to bring to a BBQ party and share with friends. But first, let's find out exactly why these boutique beers are so appealing!
9 Reasons Why Craft Beer Drinking Should Be On The Menu
While we really don't need a reason to try a new beer, if your beer lover has a favourite bottleshop beer, here's a few reasons to branch out and explore something different.
1. Craft Beers Simply Taste Better
Craft beers are completely different from mass produced brews, and there's an amazing range to choose from. Whether you're a fan of light ales, fruity flavours or chocolatey dark stout, there's a craft beer to suit your taste.
2. There's A Much Greater Variety of Beers
There's a whole world of unique choices just waiting to be tried and tested; here in Australia, there are literally thousands of unique beers. Each dedicated craft brewery produces a new and inventive blend of ingredients for a flavour sensation and beers you can enjoy tasting.
3. Craft Beers Are A Good Talking Point
Good conversations go hand in hand with craft beers. Brewers and drinkers are passionate about their pastime, and there's a new conversation starter with each new beer. Craft beer tasting is for sharing with friends, and there are even clubs, subscriptions and get-togethers!
4. Better Ingredients & High Alcohol Content
Nowadays, most craft beers offer more alcohol by volume, with some providing up to 20%. Local breweries also use the best quality ingredients, which are generally fresh and organically grown. They also tend to buy local ingredients and support the local economy.
5. Beer Brewing Is A Year-round Pastime
During all the different seasons, you can find craft beers made primarily for each one. So, there's no need to drink the same beers; you can choose something refreshingly different. During each season, you'll find seasonal ingredients from apples to pumpkin for ciders and unusual brews.
6. Craft Beer Supports Local
When you're drinking craft beer produced locally, you're also helping to support the local community and economy. Craft breweries tend to buy from local farmers, create employment opportunities, and many even support local charities and events.
7. Environmentally Friendly Brewing
Most local craft beer brewers also work incredibly hard to use sustainable and eco-friendly methods of production. They often use composting, recycle waste products, give spent grain back to the local farmers and use alternative energy sources.
8. Craft Beer Pairs With Food
In a similar way to premium red and white wines, craft beers are fabulous for food pairings. They add another dimension to each meal's courses, and each one pairs with different foods or snacks. The different beer flavours can take the dining experience to another level.
9. Fun Beer Tasting Events.
There's nothing nicer than gathering a group of friends for an afternoon or evening of craft beer tasting. For those with a real passion, there are hundreds of organised tasting events and craft beer festivals to choose from. You can even travel the world!
Our Favourite Australian Beer Hampers To Explore
If you've never tried craft beers, then it's time for a change to high quality, rich, unique flavours. With this exceptional taste comes all these other benefits which only add to the enjoyment. We've been exploring this wonderful craft beer world and have some fabulous suggestions for the best new beers to try. We have the perfect Australia Day beer hampers for him plus beer and snacks gift baskets to get you started.
Take a tour of some of the finest breweries on offer with a selection of pale ales and award winning lager. With classic combinations from James Squire Golden Ale to Cricketers Arms Keeper's Lager, there's something for everyone to savour. There's also a moreish selection of beer nuts, tapenade, olives and crackers, making it one of the best gifts to bring to someone's house and share.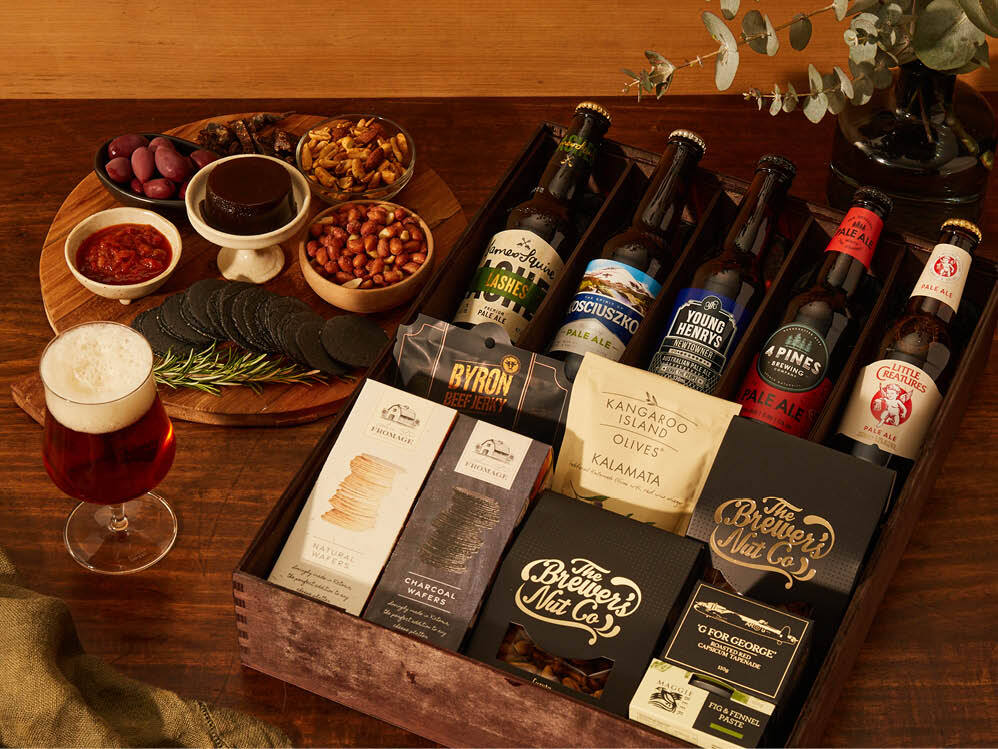 Five different craft beer sensations from James Squire will take you on a flavour adventure. From golden to amber ale, each one offers a concoction of flavours and aromas. Try the Swindler Tropical Pale Ale or the Broken Shackles Lager and experience why this brewery is known for the perfect balance of refreshment and flavour. Of course, there's also a collection of tasty treats that complement perfectly too.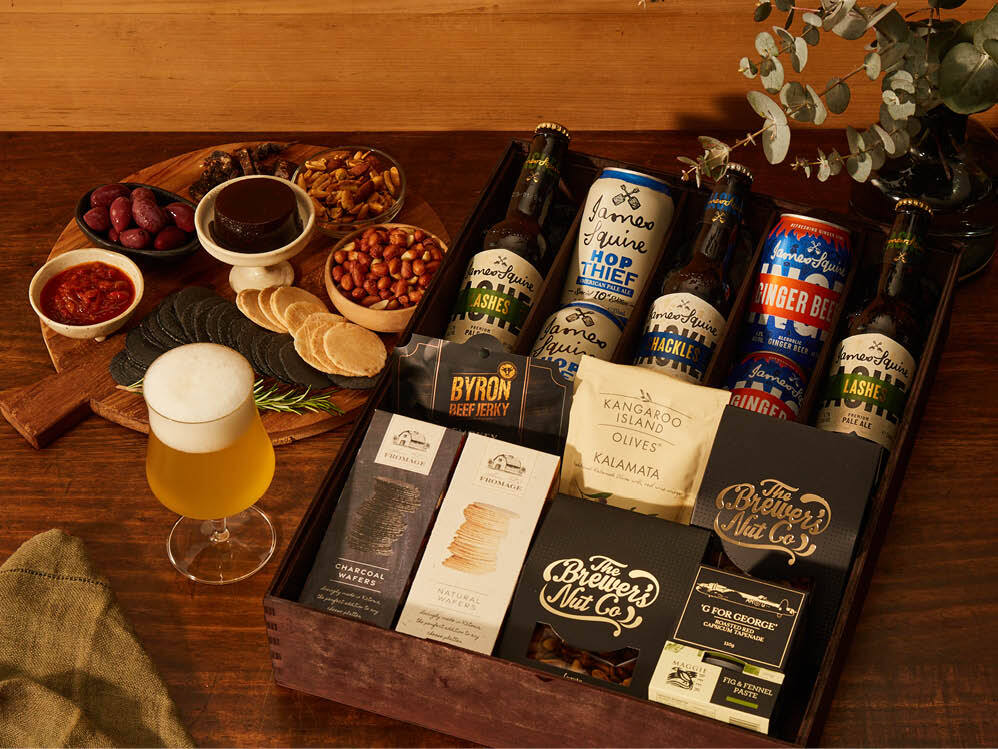 For those that also enjoy a sweet, fruity alternative, cider is the perfect summer accompaniment. Refreshing, heady and crisp, you can find a growing number of varieties from craft cider producers to choose from. From dry to sweet, using different apple varieties and combinations results in a different character and flavour. You can try some of them out in our fabulous Australian craft cider gift basket. To enjoy it to the full, serve cider in a chilled wine glass, swirl it around and release the balanced flavours and wonderful aromatics.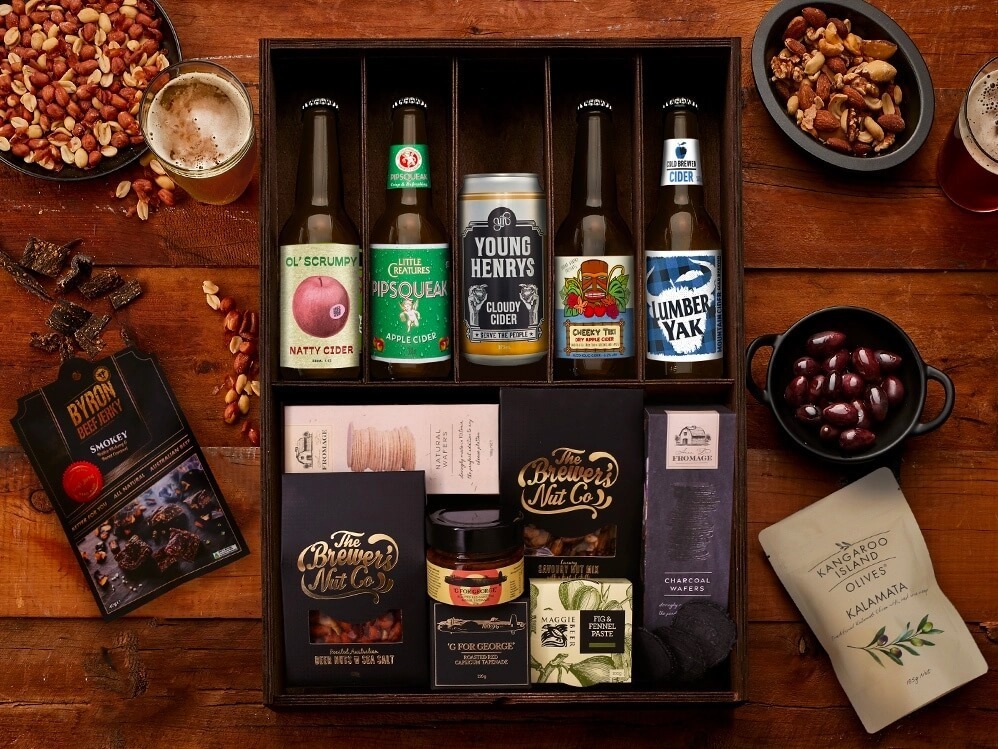 If you're looking for tried and true, popular beer gifts to bring to dinner or a barbie with the boys, then this hamper is a great solution. With five bottles of this top world-renowned light beer, it's something for everyone to open, share and enjoy. Sophisticated and smooth, serve the bottles with a wedge of lemon or lime in the neck. Then tuck into the mouth-watering selection of classic nuts, Kalamata olives and delicious nibbles while you swig.
How To Send Someone A Beer Hamper Gift
Whether you're treating yourself or looking for Australia Day picnic ideas, ordering online from The Hamper Emporium couldn't be easier. Our beer delivery Sydney and beer delivery Brisbane are completely free. Looking for cider hampers or beer hampers Melbourne? It's free there too. In fact, you just have to click and buy for free delivery Australia wide. Then pop off the bottle tops and enjoy your beer journey! Our beer gift baskets come presented in a gorgeous keepsake wooden gift box for the ultimate in gift hamper presentation.