Amazing Chocolate Gift Boxes For Christmas
Author: Nikki Barnett Date Posted:14 December 2020
Charm Them With Chocolate And Make Christmas Complete
Chocolate. It's smooth, delicious and comforting.
Whenever you need a little 'pick-me-up' or want to send someone your love, chocolate is usually top of the list. Whether your passion is white, milk or dark chocolate, truffles, praline, or ganache, there's a box of chocolates out there just waiting. It's the one treat most people can't refuse.
Here at The Hamper Emporium we adore designing delicious treats for Christmas. Chocolate gift baskets and boxes are a superb way of tasting a range of artisan chocolates. There's nothing quite like the decadent taste of chocolate, especially when it's premium quality chocolate from Australia's top chocolatiers like Butlers and Ernest Hillier.
Beautiful Christmas hampers packed with a selection of chocolates and sweets are the fastest way to bring a smile. Choosing the perfect chocolate Christmas gift for that special someone is guaranteed to be a delight. If you love chocolate and sweet treats, browsing our range will be an enjoyable and mouth-watering pleasure to make every tastebud tingle.
From Beans To Boxes - In A Nutshell
Scrumptious chocolate plays an important role in people's lives the world over. We tuck into it when we're both happy or sad, and use it to convey a myriad of feelings to those close to us. So, have you ever wondered where chocolate comes from and how it's made?
Chocolate begins its life as beans on a cocoa tree, harvested from October to December. Packed between banana leaves, they are then sun-dried, packaged, and sent to the chocolate factory. Here, beans are roasted and broken down to reveal the meaty centres containing their wonderful cocoa butter. A mill then grinds these into 'cocoa liquor,' the elixir for our favourite chocolate products.
Blended with sugar and milk, the cocoa mixture is oven-dried to make a chocolate 'crumb'. Giant rollers then grind, squash and smooth, to produce a silky rich texture. The liquid chocolate is then poured into moulds to make chocolate bouquets and bars of chocolate, or poured over luscious fillings to make our favourite tempting bites. So, now you know!
12 Fun Facts For Passionate Chocolate Lovers
You would need to eat over 12 chocolate bars to equal the caffeine in a cup of coffee.

Chocolate is a valuable source of energy - one chocolate chip can power you for 50 metres.

Cacao was valued so highly by the Aztecs that it was once used as their currency.

The very first bar of chocolate was made in England by the well-known Cadbury company.

One ounce of cocoa contains 10% of our recommended daily intake of iron.

The global market for chocolate is worth over US$137.6 billion.

Milk chocolate is the most popular choice, however, men are particularly fond of dark chocolate.

A cacao tree produces 2,500 beans and it takes 400 to make a pound of chocolate.

White chocolate isn't strictly chocolate as it contains no cocoa solids or chocolate liquor.

Chocolate has a unique melting point at around 33° C, just below the human body's.

In 2011, Thorntons made the biggest ever chocolate bar which weighed in at 5,792.5 kg. The largest chocolate nut bar was made in 2020 by Reese's. It weighed 2,695kg and included pretzels, caramel, and peanut butter.

The largest chocolate sculpture, The House of Chocolate, was a 15m2 house made in Brazil which weighed 10,488kg.
The Silent Seduction Of Chocolate Gift Hampers
When hampers for tea lovers or hampers for coffee lovers just don't fit the bill, chocolate always comes to the rescue. Filled to overflowing with life's little luxuries, our chocolate hampers are filled with the comfort and joy of Christmas.
We think our pampering and gourmet chocolate gift baskets are one of the very best online gifts for her and him to send your season's greetings. Many of our sweet hampers are made for families and friends to share, with selections like the large Classic Celebration Hamper that everyone will love. With added nibbles and savoury titbits, these chocolate gift baskets are chock full of all your favourites from Australia's premium suppliers.
We've tucked some chocolate treats into most of our luxury hampers, but here are our top 4 picks for real indulgence for chocolate lovers.
As a change from wine and chocolate hampers, treat them to the hedonistic pleasure of sparkling champagne and candy. They will be thrilled with the bottle of Veuve Clicquot yellow label, with its wonderful palate and exquisite bubbles. The main attraction is the selection of tempting Christmas treats and a feast of the finest chocolates. From Willie's smooth white chocolate to the Butler's Gold chocolate box, and Ernest Hillier choc coated nuts, they will be in heaven. A champagne and chocolate gift hamper is a decadent way to celebrate Christmas or any special occasion.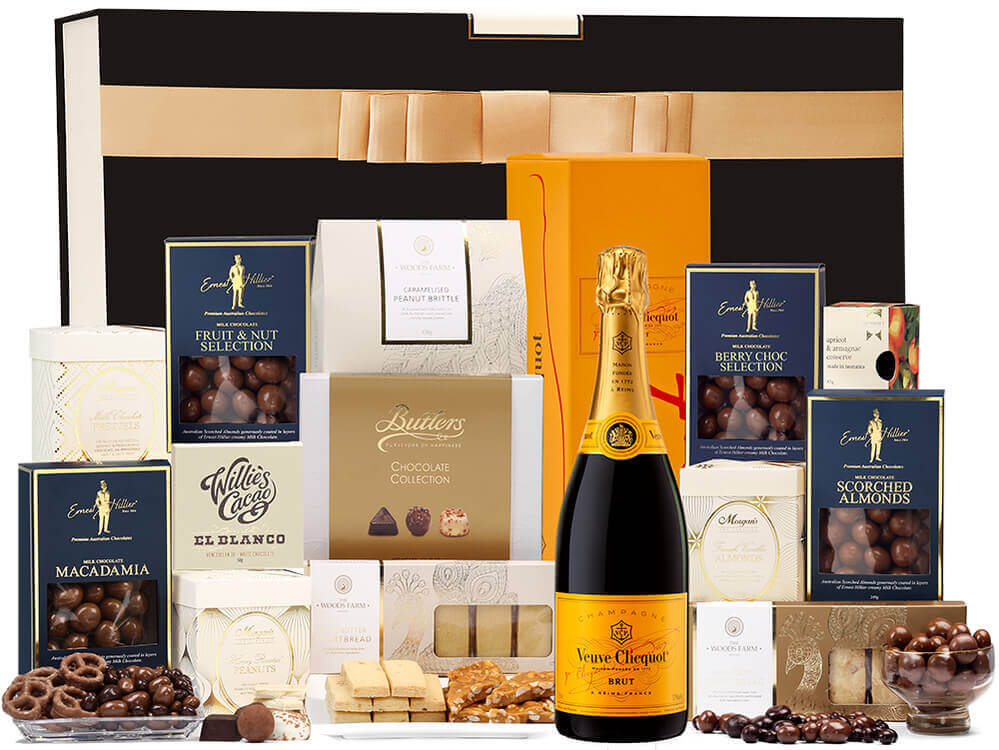 If you're searching for a chocolate nut hamper with extra special surprises, this deluxe chocolate hamper has all the ingredients for success. Delicious chocolate-covered nuts, pretzels and fruit treats are blended with the best smooth artisan chocolate delights to choose from. Add in toffee and peanut brittle, white chocolate, and The Woods Farm butter shortbread and it's a triumph of flavours and textures. Friends and family are in for a real chocolate feast.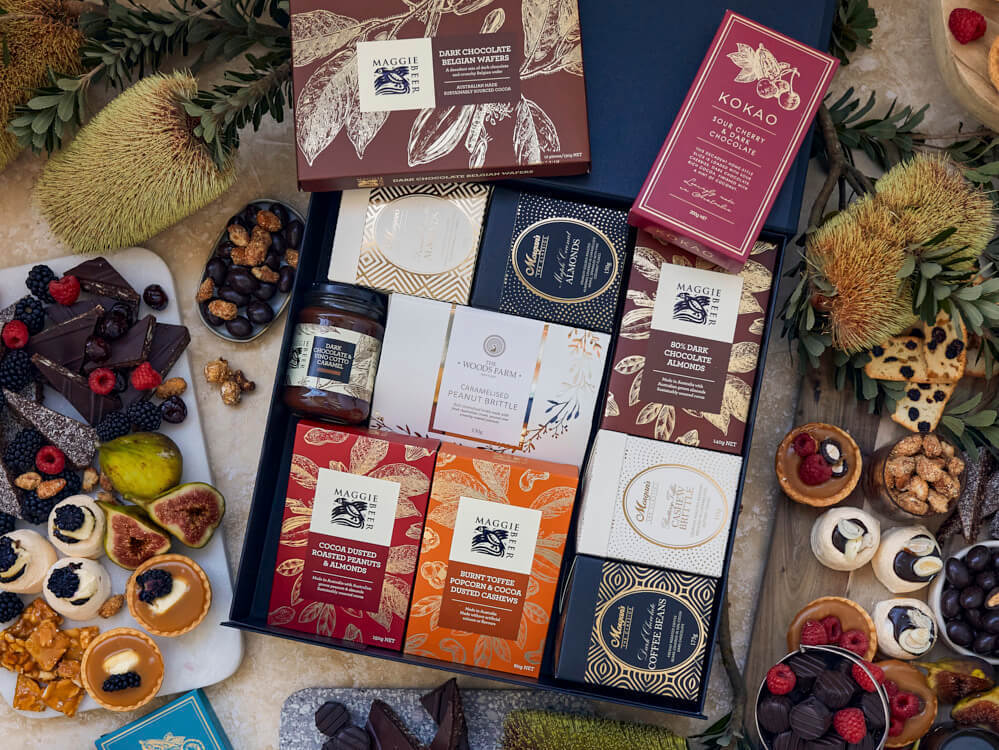 Our best value chocolate hamper, this is a beautiful homage to everyone with a sweet tooth. You'll find a range of sensational treats including an award-winning salted caramel sauce from Black St. The box of smooth Butlers chocolates are joined by the delights of scorched almonds smothered in creamy chocolate, caramelised peanut brittle and crème brûlée Christmas delights by Morgan's. This is a small chocolate hamper that would be amazing as a chocolate gift for teens or kids at Christmas.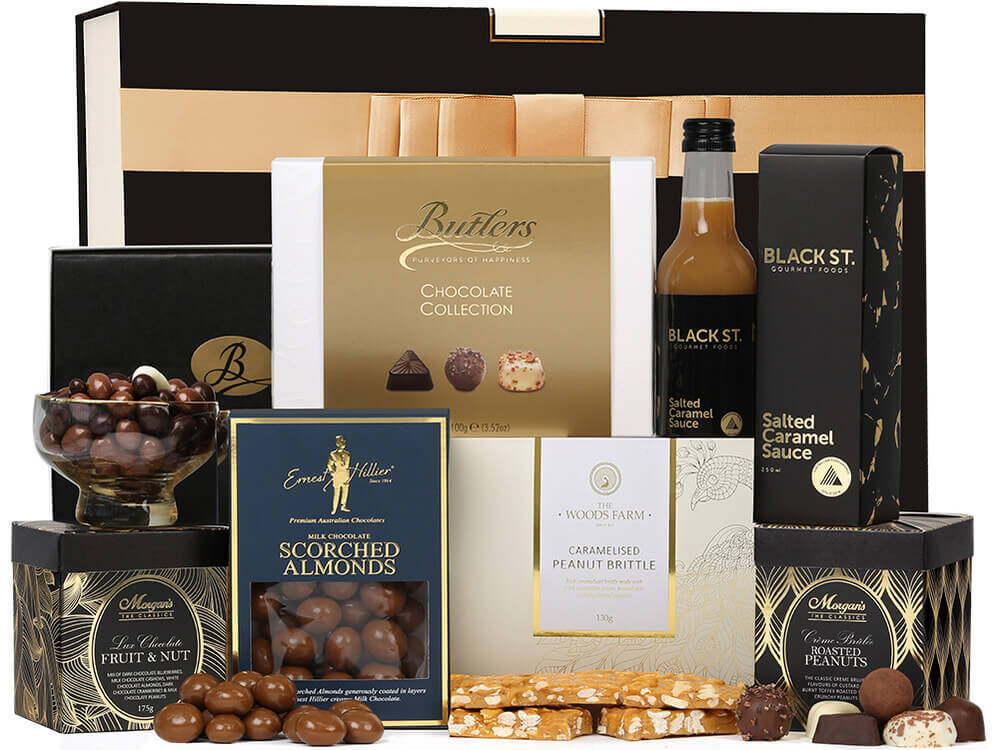 For an indulgent dessert gift basket, you can choose this festive chocolate hamper for Christmas that includes a box of limited edition, mouthwatering chocolates created specially for the season. Butlers Festive Menu chocolate selection includes their luscious Christmas inspired desserts like Spiced Berry Parfait and Christmas Pudding Truffle. This is a great choice for a gift for chocolate lovers this Christmas. It also includes a variety of chocolates with choc coated nuts, triple choc cookies, festive box of chocolates, hazelnut & raisin dark chocolate, and a whole range of other sweet Christmas treats.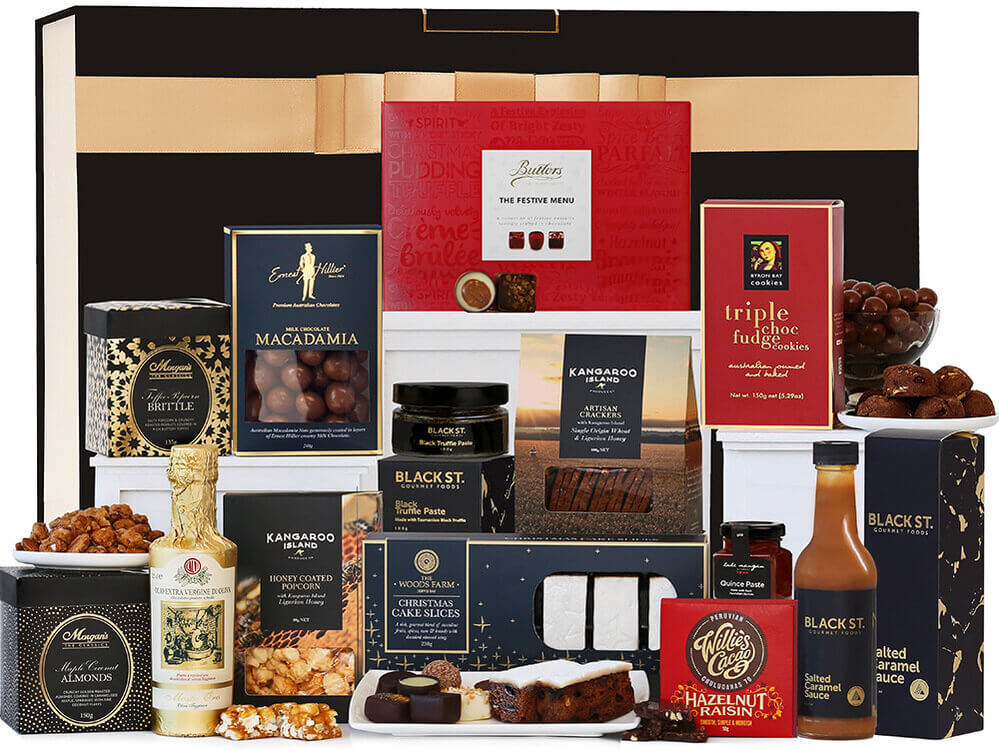 Chocolate Hamper Delivery Is Straightforward, Fast And Free
Christmas is our favourite time of the year, and there's a whole collection of tempting new gourmet Christmas hampers with chocolate waiting to be delivered straight to your door. If you're still searching for those indulgent gifts, you'll find pampering ideas like relaxing candle and chocolate gift baskets, perfect for a care package delivery. There are chocolates with wine, treats with champagne, and even warming whiskey and chocolate gift sets.
Chocolate hamper delivery is free throughout Australia, and all our fabulous sweet hampers come in gorgeous luxury keepsake boxes. Not only that, you will find a whole range of artisan and luxury gourmet chocolate brands at prices that suit your budget. Order now to get your chocolate gift delivered in time for Christmas Day.
Merry Christmas from The Hamper Emporium!