Christmas Gift Hampers For Him
Author: Loreena Walsh Date Posted:18 September 2019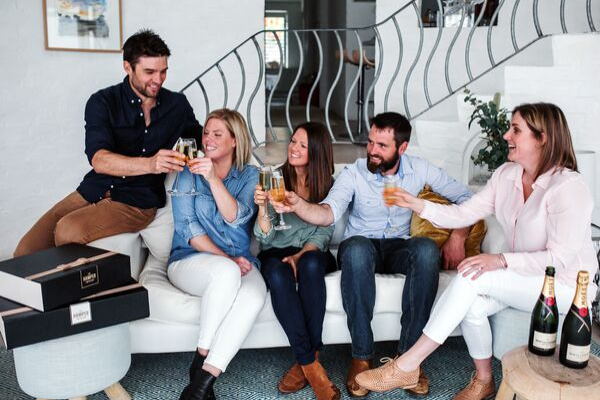 How To Choose The Perfect Christmas Gift Hamper For The Man In Your Life
We all get a bit frantic as Christmas draws near, especially if we have to buy for men. You know those funny, lovable blokes that are there when you need them, but never have a clue what they want as a present! You can always go along with old faithful, socks, shaving paraphernalia etc.; but our Christmas hampers for men offer a much more luxurious selection.
We have news for you; the modern Aussie man is not the stereotypical loud, brash, arrogant, unappreciative sod we once thought he was. Mind you, socks every year could make any man unappreciative!
Maybe your man is more aligned with one of seven types of men we dream of, or perhaps the modern Aussie bloke is a mixture of all of them. If he is, we have a hamper for him that will be perfect.
First off, we need to consider the different characteristics of these types when thinking of what to have in a gift hamper for men.
An Action Man
The outdoorsy type of male loves his freedom, loves the ability to be who he is. Strength of character is vital to them, as is their love of sports and the great outdoors. Happy on his own or in a crowd.
A perfect hamper for him would include the tastes of the outdoors, from all around Australia, a hamper that includes items like:
Kangaroo Island Kalamata Olives - this famous brand name is known for its fantastic award-winning, virgin olive oil made from their select olives. Fortunately, the olives are also supplied for Hamper Emporium to include in their Christmas hampers for him.
James Squire Craft Beers: No gift hampers for men would be complete without some top-class beer. You can get none better than this brand from the first Australian brewer.
A crate of beer, with selections from all over Australia, would make the perfect hamper for this bloke. Combined with nibbles like Byron's beef jerky, Tasmanian Roasted Eggplant Tapenade, Brewer's Nuts and many more delights.
Broadband Connector
This lad likes his mates, the more, the merrier. Often connects through sports, his mates are important to him. This bloke is similar to the action man but is not a loner. A gift hamper for him would be one he can share and enjoy with his mates.
The Beers of Australia Hamper, James Squire Ale Hamper and the Corona Beer Hamper are the perfect hampers for him. Food sharing among mates is a common occurrence and instead of the barbie, gift them with a luxury Foodies Hamper. This great hamper for him offers all the quintessential tastes of Australia, gourmet style!
Sensitive Cockatoo
This is in no way an effeminate man, just one who exhibits quiet sensitivity. Men have feelings, too, but it is not easy for them, as our culture expects men to be gregarious and laid back. Recognise his sensitivity with a gift hamper for him that reflects his many sides.
The Glenmorangie Whisky Tasting Hamper is an ideal hamper for him, with four bottles of Scotch whisky and luxury nibbles to compliment him on his whisky gourmet journey. Or what about a 'pamper hamper' it's not just about us girls you know! This fabulous gift hamper for men includes a bottle of the sophisticated Cape Mentelle' Trinders', Cabernet Sauvignon.
Having indulged in the use of L'Occitane products for men he can relax in his monogrammed luxury robe and enjoy his glass or two of wine and luxury nibbles. A personalised leather keyring completes this great hamper.
Nurturing Knight
The ultimate dad, this is a family man whose children are everything to him. A hamper that not only says thank you, dad, but conveys how much he is appreciated.
A fabulous hamper for this is the Sweet Epicure Hamper, whoever said men don't like sweet fare was crazy! These hampers for him offer delicious Australian artisan delights like,
Morgan's honey roasted peanuts, French vanilla almonds and milk chocolate pretzels.

The Wood's Farm's macadamia shortbread, pure butter shortbread and caramelised peanut brittle.

Ernest Hillier's chocolate macadamias, Berry Chocs, and Chocolate coated liquorice.
Amateur Comedian
We all have one of these men in our lives, the one who breaks up the tension with his humour. It's the go-to for stressful situations but also a way of facilitating relationships. Put a smile on his face with our gift hampers for men that include the Deluxe Ciders Hamper or the luxury of the Ultimate Foodies with Moët Chandon Hamper.
Both these hampers bring the best of Australian brands to be tasted and enjoyed, thanking your particular amateur comedian for everything he does.
Unassuming Romantic
A man who likes to romance, and is not ashamed to admit it, although not too loudly! Be romantic back with your choice of hampers for him. A bit of indulgence will be much appreciated. Consider the L'Occitane Discovery Set Hamper, decadence in a basket! Let him enjoy an at-home spa, with a plush robe, world-class L'Occitane men's toiletries and some luxury nibbles. Or spoil him with the extras special Classic Port Hamper. This includes Penfolds Grand Tawny Port, a ten-year-old matured port that goes very well with the artisan gourmet nibbles also included.
Retail Ranger
This fella enjoys the adventure of shopping but not the 'shopping'. Done and dusted is his motto, but he will at least go with you! Appreciative of the finer things in life, especially if they come from Australia, hampers for him would have to be rammed with goodies.
That's why we suggest the Premium Red and White Wine Hamper. This fabulous hamper for men comes in a luxury keepsake gift box - bringing him the taste of one of Australia's preeminent wine regions. The pairing of Cape Mentelle Margaret River Shiraz & Wallcliffe Semillon Sauvignon Blanc, along with some flavours of Australia gourmet nibbles; Perfect!
Our hampers are your answer to what to buy the blokes in your life, boyfriends, husbands, dads and friends. The delivery is free throughout Australia, and you can be confident they will be delivered as and when you want.
Don't forget your fellas don't fit into 'types' that easily, but are a mixture of all of them. Selecting one of our hampers for men will salute them all and certainly make for happy chappies!