Classy Bachelorette Party Ideas the Bride-To-Be Will Love
Author: Nikki Barnett Date Posted:9 February 2021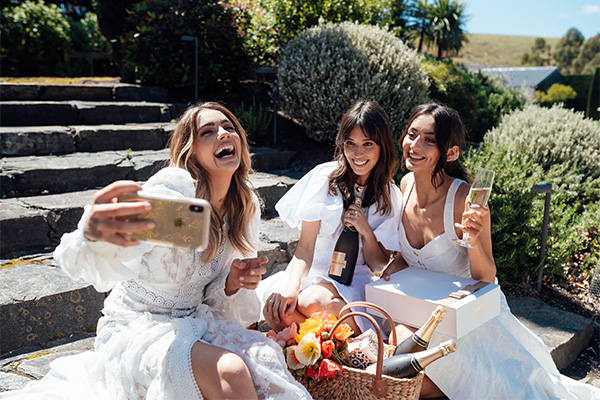 Tips For Planning A Sensational Day She Will Never Forget
Traditionally, bachelorette or hen parties were simple affairs. A lush dinner and drinks or a night on the town with friends was enough to pamper the excited bride-to-be. But nowadays, bachelorette party ideas have matured into sophisticated events or adventurous holidays in far-flung destinations.
If you're tasked with making the bride-to-be feel special, and her hens are a classy bunch, despair not. Obviously, L-plates and matching t-shirts are not the order of the day, but you're in the right place for inspiration.
The team at The Hamper Emporium has curated a list of their favourite classy bachelorette party activity ideas. They cater to all tastes and budgets from chic afternoon activities to the most extravagant packages around.
Here are our classy and sassy bachelorette party ideas for awesome activities and bride-to-be gifts she will remember forever!
5 Platinum Girl Bachelorette Party Ideas & Experiences
Hire A Country House - enjoy a weekend packed full of celebrating in self-catering cottage accommodation. Call in the caterers and plan some amazing bachelorette party game ideas. If the bride is a bit of a princess - you can even hire your very own castle!
Book A Stretch Limo - really take the hen party to another level with a luxurious stretch limo. They're fabulous fun, and you can make a whole weekend of adventure. If the bride to be wants more of a laid-back style event, a party bus is an alternative, complete with luxury leather seats, TVs and private bar.
Charter A Yacht - taste the high life with your private charter. Climb aboard a yacht or catamaran and cruise the coast with your bachelorette babes on a fun afternoon. Soak up the sunshine, party until you drop, or enjoy a complete chillout and relax with champagne on deck.
Hot Air Ballooning - treat your favourite bride-to-be to a heady and unforgettable experience. Float up to the skies with strawberries and champagne, reaching heights of 2,500ft. You and the girls will share a unique scenic life experience with your very own balloon and pilot. Hire two balloons for a his and hers combined bachelor and bachelorette party with a difference.
Take To The Water - for a classy bachelorette weekend, a cruise on the river offers versatile fun. Make it a houseboat bachelorette slumber party with her closest friends. Plan simple bachelorette party ideas for days packed with activities. Go swimming, drink cocktails, have a fishing contest and savour dinners under the stars every evening!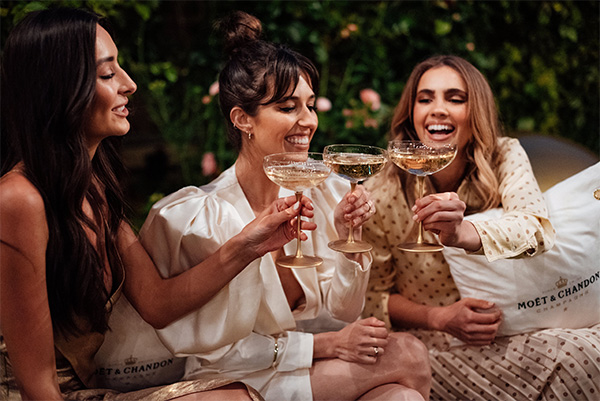 6 Ways To Make Any Bride Feel Special And Pampered
If you're all on a budget, you can still have a classy bachelorette party and spoil the bride-to-be rotten with a day spent with friends. It doesn't have to be low-key either with some careful thought and planning. Making her feel like the most special girl means seeking out some indulgences and treats that you know she will love.
Whether it's summer or winter, there are inventive and decadent outdoor and indoor bachelorette party ideas, games, and gifts that will make for an unforgettable day.
Cocktails Are Classy Mixes
Few things are more sophisticated and fun than shaking and stirring your own cocktail and mocktails. What better way to give her an indulgent time than tasting and naming new recipes? Set up a bridal bar with all the ingredients and tools to make mimosas, margaritas and martinis. Make wedding party punch and deck the bar with delicious food and nibbles. Order in a Chandon In Bloom Cocktail Hamper as the finishing touch just for her. It will be an entertaining and cool celebration!
Throw A Chic Tea Party
For any bride-to-be who loves fine china and finger foods, you can't go far wrong with a fabulous bachelorette tea party. Book into a swanky hotel for classic afternoon tea service and innovative entertainment. If it's summer, get creative decking out the garden and get to work with china teacups, delicious scones, sandwiches and sweets. As an added perk, tea parties need to include sparkling champagne and sweets. So, be sure to order at least one decadent chocolate hamper so you can all relax in style.
Go Camping Or Glamping
A superb outdoor bachelorette party idea is a traditional camping or cushy glamping weekend. Getting outside in the sunshine opens up all sorts of possibilities to make it an unforgettable party. If your bride-to-be loves the outdoors, then go hiking, climbing or fishing and build romantic campfires. If she's refined, opt for glamping with the full taste of luxury and elaborately decked-out tents. Forget roasting marshmallows on the fire and share bachelorette celebration gourmet baskets brimming with delicious food and decadent wines.
De-stress With Calm Pampering
If you want to really pamper a bride to be, then a relaxing spa day could be exactly what she needs. Book into a soothing luxury pool and spa retreat and enjoy an afternoon of facials, massages, steam rooms and chilling. Or give her a gorgeous glow with a home spa day spent wrapped in a cosy robe. Fill the room with fabulous bride care packages filled with treats of every kind. Lay on a tempting spread, chill the bubbly and get ready for a day of bliss.
Pump The Adrenaline
There are numerous adventure activities to choose from for a bride-to-be who adores action. Try abseiling, white water rafting, zip wires, bungee jumping or parasailing if you're looking for bachelorette party ideas without bars involved. Add a splash of adrenaline to the day and revel in a sumptuous dinner and drinks once it's all over. It will be a life experience you can share, and it will certainly detract from any fear she might have about getting married!
Bachelorette Beach Party
With beautiful summer weather, it's easy to take the party to the nearest beach. Stay in a cool hotel with fun and food limitlessly on hand, or take an exciting day trip. Set up a photo booth by the pool or laze away the day with your toes in the sea. Buy some matching floaties, heart-shaped glasses, sunhats and a surprise bride gift box for her. Pop open the chilled bubbly and dive into bachelorette champagne hampers of everyone's favourite treats and titbits.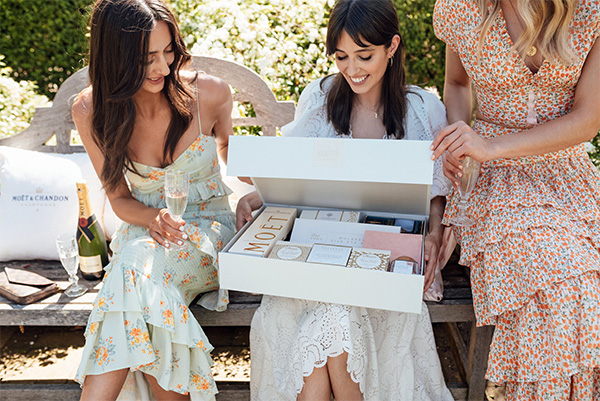 Here at The Hamper Emporium, we've taken bridal shower gifts for the bride Australia, and classy bachelorette celebration hampers to new levels. Sophisticated champagne tasting is in the mix for any successful day too.
Check out our full hampers for her collection for elegant additions that will add a finishing touch to a perfect day for the bride-to-be!