Corporate Wine Gifts For Christmas 2019
Author: Loreena Walsh Date Posted:11 December 2019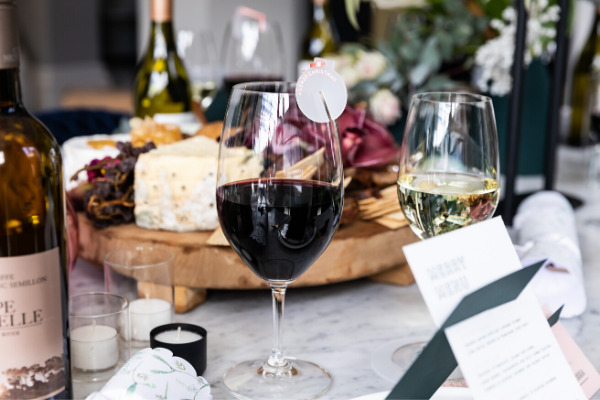 What Makes Wine Such a Special Gift?
Well according to Ernest Hemingway -
"Wine is one of the most civilised things in the world and one of the most natural things of the world that has been brought to the greatest perfection, and it offers a greater range for enjoyment and appreciation than, possibly, any other purely sensory thing."
Good wine is one of life's pleasures and one that Australians are growing more and more appreciative of. From the first vine cutting arriving on Aussie soil in 1788 to today, we have a worldwide reputation for fine wines. Due to the variety of our climate, a variety of wines are produced in several different ways. The main wines produced and enjoyed in Australia are,
Shiraz - one of the most beloved flavours and an excellent representative of Australian wines. Red, sexy, spicy quality drink. From the robust and intense Shiraz of South Australia to the youthful, sassy reds of Hunter Valley, there is so much choice.
Cabernet Sauvignon - nicknamed the 'King of red wine' this is decadent and velvety and goes perfectly with a good chunk of steak. Look to Margaret River & Coonawaara for some of the finest reds with the undertone of ripe red fruits, chocolate and a hint of mint or eucalyptus. Delicious!
Chardonnay - Accounting for more than half of Australia's wine production, Chardonnay has a long and colourful history. Produced in a range of climates you can find the vineyards in the humidity of the Hunter Valley, the crispness of the Yarra Valley or Adelaide Hills and the welcoming warmth of Margaret River. The industry attracted its fair share of larrikins, with names like Murray Tyrrell breaking with rules and traditions of the Northern hemisphere.
Merlot - This delicious smooth red has a reputation for being a bit sub-par, but it is a rep that belongs in the past. The merlot of 2019 has an earthy, dark fruit flavour that will impress. Be careful in your selection as some under par keep trickling onto the market. For a distinguished taste look for Margaret River or Gods Hill merlot.
Semillon - made from the golden-skinned grapes, this sweet, dry white wine is seen as the 'sleeping giant of Australia'. The warm, humid Hunter Valley produces some excellent Semillon. There are four distinct styles of Semillon that are, Unoaked single-variety, Oaked single variety, blended (oaked or unoaked) and dessert wine.
Pinot Noir - Some misconceptions exist about Pinot Noir, like, 'you can only get a good Pinot Noir or a cheap Pinot Noir but not both!' Wrong, you can have both of one of the sultriest, silkiest wines around these days, as Australian gain expertise in growing this notoriously difficult grape. Given that it has been around since Roman times, it can need a little persuasion and a lot of dedication to be as good as it can be, but when it is nothing beats it. Try Silent Way or Tolpuddle Pinto Noir and enjoy the history.
Riesling - known as one of the most versatile grapes in the world, you can find something to suit everybody's taste, from sweet and honeyed flavours to sharp, crisp freshness. Give Magpie Estate, Rag & Bone a try for a delicate honeyed taste or a Claire Valley Reisling; you will not be disappointed.
Sauvignon Blanc - Another grape that Australian vineyards produce many varieties from, and one Aussies love to love or hate. The taste is pungent, yet fresh and tart on the palate. Producers have gone back to traditional methods to put their individual stamps on their Sauvignon Blanc. Lookout for Amato Vino just outside Margaret River or the Natural Selection Theory wines from the Adeline Hills
What Makes Our Hampers Great Corporate Wine Gifts
That is what we want to share with you in this blog. As with all our hampers, we have selected the finest contents from Australian and worldwide artisan sources, produce that makes a gift hamper luxurious and delicious and the prices will suit everyone's budget, with corporate wine gifts from $89 upwards. Our corporate wine gifts are no exception; we include the fabulous bubbles of Moët Chandon & Veuve Clicquot that comes combined with fabulous chocolates or gourmet nibbles, like,
Chandon with Australian Chocolates & Nuts, $89 that includes the Australian sparkling Pinot Noir with a selection of nibbles that included dark chocolate-coated coffee beans, fruit & nut mix and toffee peanut brittle.
Moët with Australian Chocolates & Nuts, $129 that includes a bottle of the 'perfect for summer' Moët Candon with a tasty mix of Aussie nuts and chocolates from Morgan's Classics.
When it comes to the wine we include in our hampers; only the best will do. We include from the Margaret River wine region the very popular Cape Mentelle wines, including the Shiraz, Cape Mentelle' Trinders' Cabernet Merlot and the Sauvignon Blanc Semillon, that boasts 94 points from James Halliday.
You can also try award-winning Reserve Bark Hut Rd by The Islander Estate, a delicious, super smooth Cabernet Franc & Shiraz blend, dark fruits with hints of oakiness, vanilla and coconut - A connoisseur's delight.
We have wine hampers that will suit the taste of the most discerning connoisseur, like the,
Cape Mentelle Sweet Gourmet Hamper, $89, the Sauvignon Blanc Semillon combined with Sidney's artisan producer Morgan's honey-roasted peanuts, cashew brittle and French vanilla almonds.
Cape Mentelle Shiraz & Christmas Cake Hamper, $129, a perfect pairing of the vibrant shiraz with gourmet nibbles from Ernest Hillier & Morgan. Plus a handmade sumptuous Christmas cake from Baylies.
Celebration Of Christmas Hamper, $599, this combines the best bubbly with a superb shiraz that could be cellared for another 10 years, or enjoyed now! The hamper also contains a range of goodies from savoury delights like Luke Mangan Quince Paste & Valley Produce Cracker Thins Cracked Pepper. Tantalising sweets and biscuits including selections from Morgans and The Woods Farm.
Our wines and selected gourmet accompaniments make our hampers the perfect corporate wine gifts. We also provide options for you to add your branding, either using our templates or creating your own corporate design with our in-house graphic designer. Another plus, is we deliver free all over Australian and provided a tracking system so you know where they are at all times.
We also have a selection of personalised gifts to add to the hampers to make it that bit more special. There is no need to wrap as all our hampers come beautifully packaged, and we have included a free premium greetings card.