Delicious Gourmet Gift Hamper Ideas for Foodies
Author: Nikki Barnett Date Posted:11 May 2021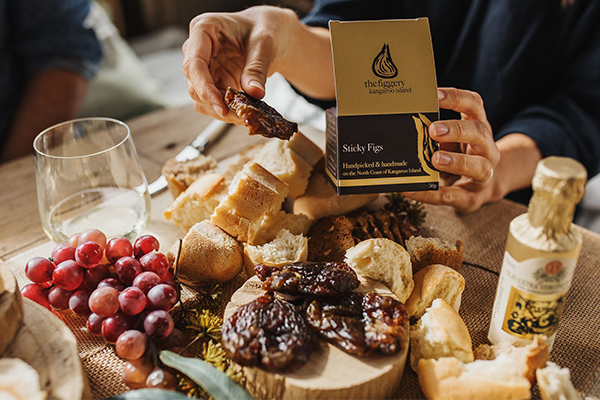 Tempting Food Hampers To Make Your Mouth Water
Food is the perfect gift for the passionate food lovers and creative chefs in your life. There's something exciting about receiving gift hampers packed with goodies. There's also no feeling quite like unpacking and unearthing the many delights in a foodies hamper, all carefully chosen to complement each other.
Whether it's a birthday or other special celebration, there are plenty of gourmet food gift hampers to tickle your taste buds at The Hamper Emporium. We've chosen some of our personal favourites for inspiration, packed full of Australian flavours.
From creamy chocolate and dreamy gourmet delights to specialist ingredients like black truffle paste, they are designed to satisfy. So, give those you love an authentic culinary experience to remember, or why not treat yourself to a little indulgence?
Finger Licking Gourmet Food Hamper Gift Ideas
Every foodie knows that the heart of any home is the kitchen. Home-baked goodies and hampers packed with premium gourmet ingredients will always be more than appreciated. Delight them with one of these home chef hampers or dinner party entertainer's gift basket ideas for a gift that will really be relished. Or add in some little homemade extras to our delicious gourmet hampers. They're perfect for every foodie and every occasion!
Afternoon tea - with a selection of rich biscuits and cakes
Grill master - with spice rubs, sauces, condiments and dips
Hot chocolate - paired with fun mugs and marshmallows
Chef's choice - mixed pantry condiments, seasoning and marinades
Cheeseboard - with assorted cheeses, crackers and chutneys
Film night - selection of titbits, popcorn and delicious chocolates
Picnic time - with artisan goodies, nuts, pretzels and fresh fruit
For nibblers - sweet and savoury snacks, candy, cookies and jams
Our 6 Top Choices For The Best Gourmet Hampers For Foodies
Don't worry if cooking isn't your favourite pastime - authentic artisan flavours are our passion! Your friends and family will love to tuck into one of our luxurious hampers chock-full with goodies from Australia's best gourmet food producers. They are overflowing with sweet and savoury treats and unforgettable taste sensations.
So, here are our top 6 decadent Australian gift hampers for foodies for every occasion and budget:
A bevvy of gourmet nibbles and tasty titbits make this affordable hamper the ideal accompaniment for drinks with friends. It's equally tempting for them to keep it all to themselves! Crunchy classic beer nuts, delicious nut mix and roasted peanuts add a savoury note. Toffee popcorn brittle and coconut roasted almonds bring a note of sweetness. There are even some delightful Kangaroo Island artisan crackers for them to spread and savour.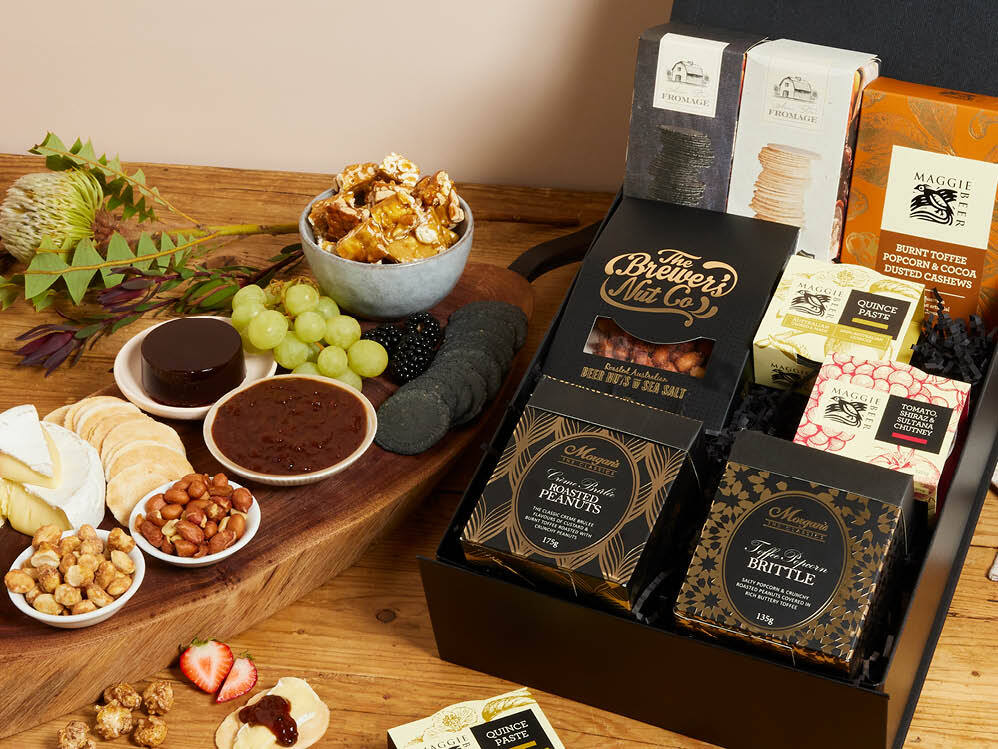 This heavenly hamper for foodies who love to entertain is packed full of exquisite flavours. It's perfect for anyone who loves to nibble or graze. There are roasted nuts to crunch and smooth olive oil for dipping. Two different types of artisan crackers are joined by a vibrant roasted capsicum & basil tapenade and Luke Mangan quince paste to spread. There are even deliciously tasty semi-dried Mediterranean tomatoes and lush organic Kalamata olives to pop on the top!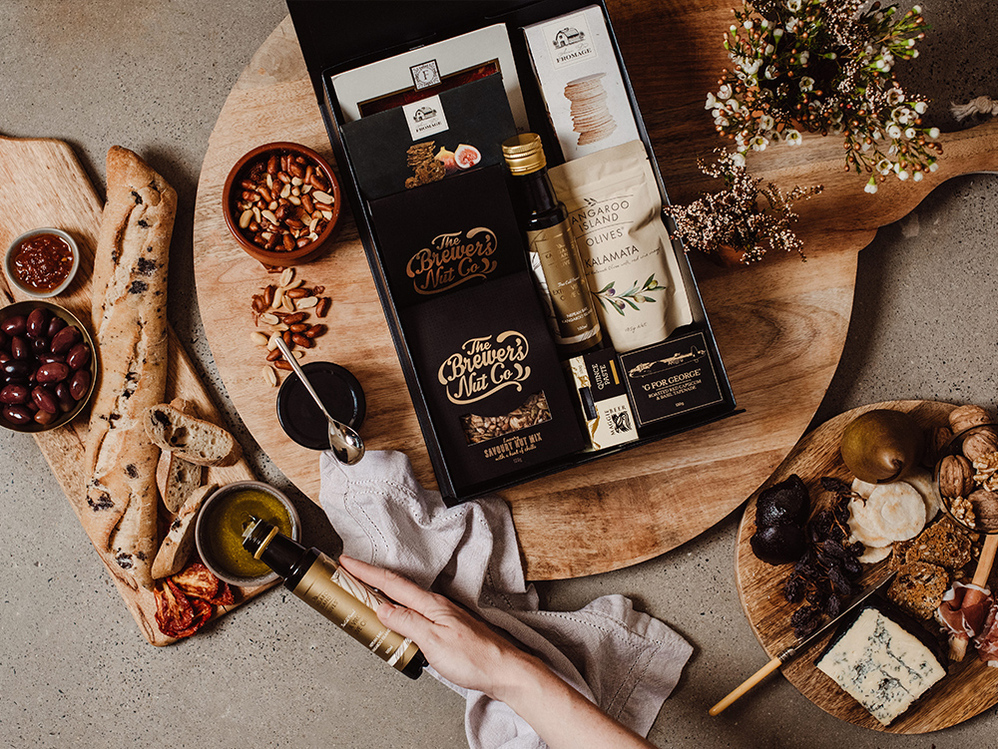 For any sweet-toothed foodie, this gift hamper is a dream come true. Stacked with melt-in-the-mouth treats, it couldn't be more tempting. Centre stage is a chocolate box assortment from Butlers joined by chocolate-coated almonds from Ernest Hillier. For crunch, there are crème brûlée roasted peanuts, peanut brittle and sweet coconut almonds. As if that wasn't enough, there's even some buttery salted caramel sauce to pour over desserts or icecream.
For anyone who loves both savoury and sweet delights, this hamper is an ideal choice. It's a dream of artisan treats for both their table and pantry. From rich Tasmanian black truffle paste to cold-pressed olive oil, there's a flavour everyone will love. There are tempting roasted peanuts, toffee brittle and honey popcorn for sweet, crisp snacks. For the pantry are a gorgeous Himalayan rock salt and grater set and hand-harvested Kangaroo Island garlic salt.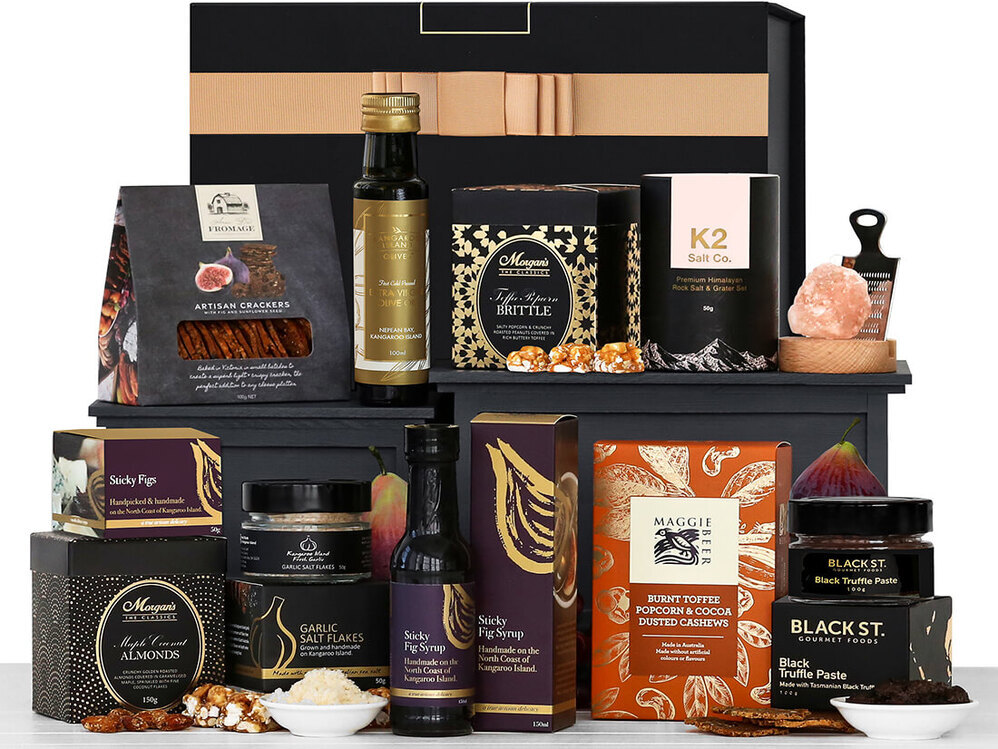 When it's a special occasion, only the very finest gourmet sweets and chocolates will do. This is an exquisite and decadent choice of hamper for gourmet lovers who adore every kind of sweet indulgence. It's overflowing with creamy smooth chocolate, from Willie's El Blanco white chocolate to fruit and nut coated delights. There are also rich toffee treats and crunchy nut mixes complemented by two different kinds of buttery, crumbly pure butter shortbread.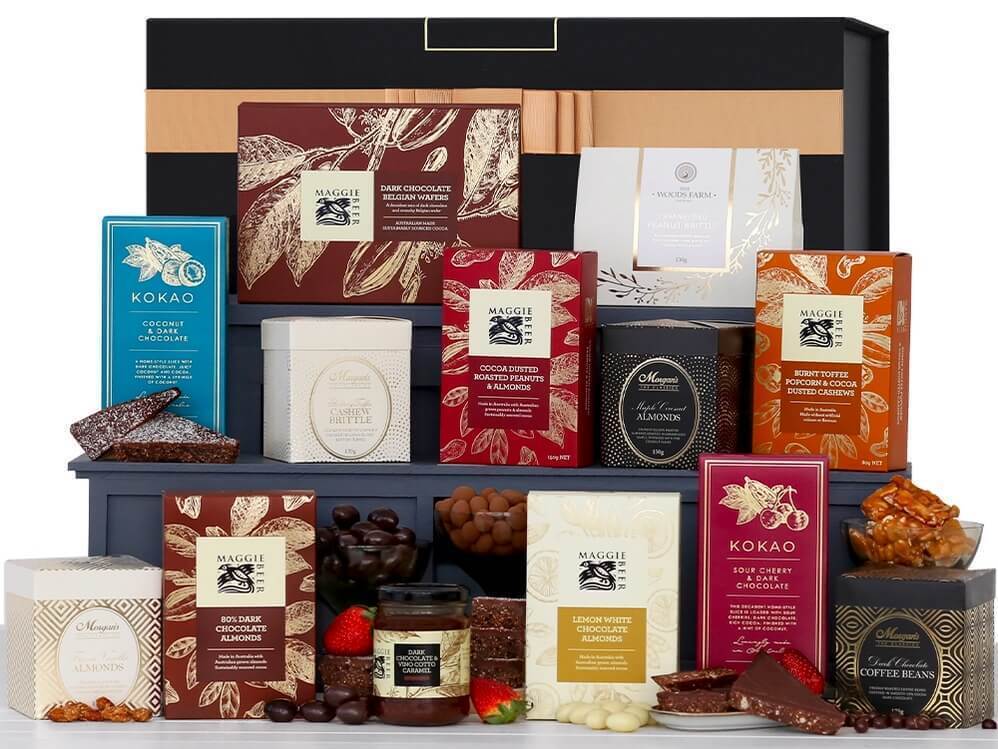 Our final choice of gourmet food hamper ideas is simply stunning. It's a veritable feast of heavenly tastes from spicy to sweet. Distinctive savoury treats range from cranberry & pistachio crispbread to luscious tapenades and black truffle paste. For sweet lovers, there are mouth-watering chocolates, candies, nuts and honey popcorn. With some flavour-packed, moreish products to stock up their pantry, too, it's a real foodies triumph!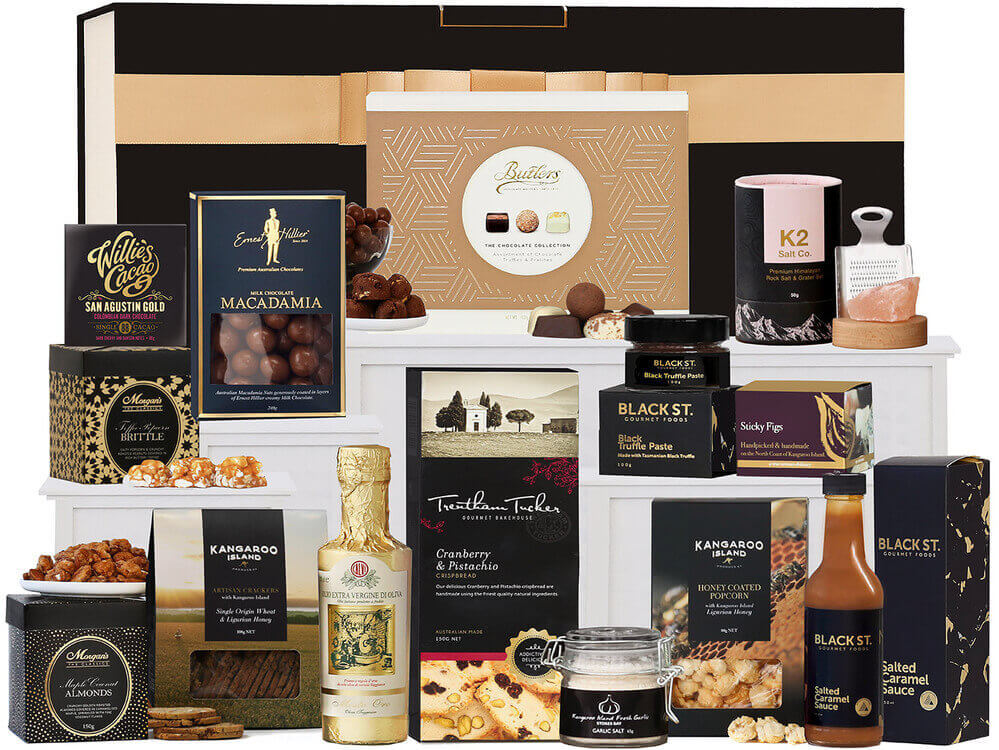 A Home Delivery They Will Relish From The Hamper Emporium
We have delicious gourmet gift hampers for every occasion, from a birthday celebration to a family Christmas. All our hampers are beautifully wrapped and come in a gorgeous black keepsake box with gold ribbon. Plus, our gourmet gifts for foodies Australia-wide come with free delivery. There's even a personalised gift card to send your love and best wishes.
If you're looking to add in their favourite tipple, too, then explore our full hamper range of fabulous gourmet food gifts. There's everything from craft beers and ciders to premium wine and sparkling champagne. All come with a selection of perfectly paired sumptuous gourmet food. You're sure to find something which captures your imagination and makes your tum rumble!