Essential Guide To Last-minute Christmas Gifts For Clients
Author: Nikki Barnett Date Posted:23 December 2019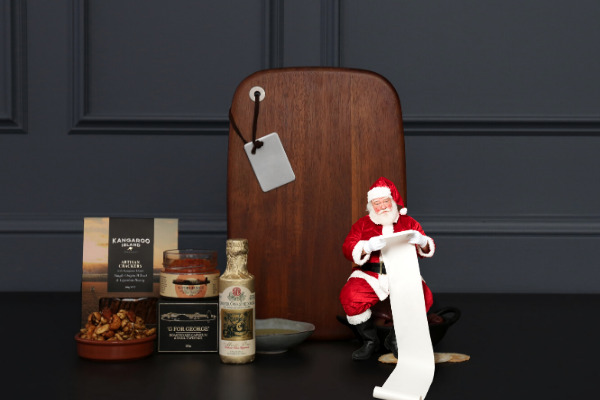 Are you running out of time and still haven't purchased your gifts for clients?
If you have read our blog on Gifts for Business Clients, then you will know just how important it is to show them you care! Don't panic - there are still some great last-minute corporate Christmas gifts to be found locally. You can even find some online goodies that will arrive in time, including our fabulous hampers.
It's never too late to show your appreciation with a meaningful gift. Remember that it's all about the thought at Christmas. There are many ways to show customers some last-minute corporate love!
Thoughtful Last-minute Corporate Christmas Gifts
Although you may not always know your clients personally, choosing something distinctive will ensure they remember you. Even if you suspect they have everything, going beyond the usual choice of corporate gifts and finding something unusual, is the answer.
So, if you're looking for last-minute corporate Christmas gifts, we're here to help. We have put our heads together to compile a list of 15 powerful ideas that will be memorable to your clients.
Coffee table books to spark conversation

Desk organiser with personalised stationery

Exotic candles or table lamps

The latest wireless headphones

Artwork or world travel map & pins

Plant trees in their company name!

Popular subscriptions or memberships

Charging station or solar phone charger

A favourite event, sports or concert tickets

Flowers or a terrarium of succulent plants

Gift cards or coupons for online classes

Merry Christmas USB technology

Set if customised golf balls & tees

Floating waterproof Bluetooth speaker

A charity donation from them
Hampers Packed Full With Festive Cheer
A hamper packed full of gorgeous goodies is one of the best last-minute corporate Christmas gifts around. It's what we love creating, and you can find perfect combinations of quality products to suit any client.
Here are our favourite choices of gift hampers that are sure to impress whenever they are received!
Gift Baskets To Thrill
Last-minute corporate Christmas gifts don't always need to be about food, so why not choose something a little different for your favourite clients? Our fabulous pamper hampers are the ultimate in luxury and style. You can find a wide selection of beautiful skincare products, vintage liquor, bubbly champagne and personalised real leather goods.
Why not gift a Cape Mentelle & Personalised Leather hamper? It features nourishing L'Occitane skincare products, a soft bathrobe and a personalised leather keyring. Or for the ladies, we love the Chandon Christmas Hamper! This is a spectacular choice for clients, with Christmas crackers each revealing a timeless piece of Mestige jewellery decorated with stunning Swarovski® Crystals.
Delight With Artisan Beer Or Spirits
As it's the festive season, you can't go wrong with designer beer or cider hampers for many clients. Craft beers offer a great alternative to the usual wine selections, and most Australians will just love them. You can also choose from a sensational collection of spirits. Wet their lips with deluxe ciders, Scotch whisky, rich cognac, oak-matured port and vintage champagnes!
Delivered in a customised wooden beer crate, one of our top choices is the fabulous Beers of Australia Hamper. Your client will savour a selection of flavours from the finest breweries from James Squire to 4 Pines Brewing Company. For the connoisseur client, it has to be the seriously impressive Classic Port Hamper, including a bottle of warm Penfolds Grand Tawny Port. As last-minute corporate Christmas gifts go, this is the ultimate thought.
Mouthwatering Chocolate Delivery
For a veritable feast of decadent flavours this festive season, feast your eyes on our mouthwatering chocolate hampers. Everyone likes this comforting indulgence and the 'feel-good' factor it brings. Christmas is the perfect time to try new creamy confections and candy treats. With names of the finest chocolatiers like Willis's Cacao, Morgan's and Butler's, your clients will be in choccy heaven.
If your clients like a tipple too, then our Moët Grand Vintage & Chocolates hampers are a superb option for last-minute corporate Christmas gifts. They're brimming with creamy chocolate selections from Morgan's and toffee popcorn brittle for a change in flavours. One of our best sellers is the stunning Luxury Chocolate & Veuve Hamper, so it's sure to be a hit! Think berries, nuts and pretzels swimming in Ernest Hillier creamy chocolate and a host of sweet and buttery treats!
Am I Too Late To Order A Gift Hamper?
Don't worry, we love the festive season so much we're still dispatching gourmet Christmas Hampers at the Hamper Emporium on Christmas Eve!
However, if you really are too late for last-minute corporate Christmas gifts, then why not stand out from the crowd? Send a sensational seasonal or New Year gift instead. Choose a beautiful corporate gift hamper today and include a personal message with a joyful wish for working together in the New Year!
Remember too; you can stamp any of our gifts with your own corporate branding for professional impact. Add beautiful double-sided satin ribbons printed in gold or silver foil and quality branded gift cards for that finishing touch. It's a lasting seasonal greeting that shows you value your clients!
So, don't leave it any longer - order your last-minute corporate Christmas gifts now!