Gift Basket Sneak Peek: Meet the Producers
Author: Nikki Barnett Date Posted:26 December 2020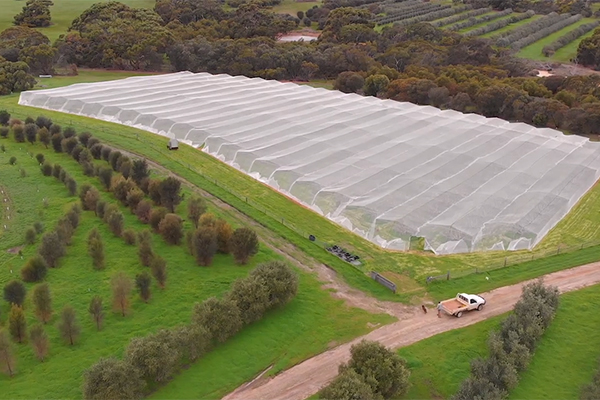 Kangaroo Island - Passionate Locals Producing Pure Quality
Kangaroo Island has a very special meaning to the team here at The Hamper Emporium. We have always been more than proud to partner with some of its incredible local producers. Their smaller brands grow because of their constant dedication, hard work and love. They are connected to nature; balancing their passion for farming with an untiring commitment to conservation and sustainability.
When raging fires ripped across the island earlier this year, it became one of the worst affected communities in Australia. Nearly half the beautiful landscape was devastated, taking with it wildlife, homes, crops and livelihoods. Many of those affected were smallholders growing olives, garlic, grapes, figs and oats, including farmers who were working alongside us.
We have always valued the relationships we have with these amazing people and are even more committed to filling our hampers with world-renowned Kangaroo Island produce. They have always had a special place in our hearts; now it's a much bigger space.
So, without further ado, let's take you on a trip to this incredible place and visit some of our wonderful suppliers and products.
A Brief Tour Of The Wonders Of Kangaroo Island
KI, as it's called by the locals, is the jewel of South Australia and filled with breathtaking landscape, wilderness and wildlife. From towering cliffs and sand dunes to forests and national parks, there's something extraordinary to see around every corner. More than a third of Kangaroo Island and its wildlife is currently protected in nature reserves, with vast areas of preserved wilderness. These border with lush vineyards, vast fields of grain, and grassland meadows with grazing sheep and cattle.
Pure white beaches and pristine water on the island attracts lovers of fishing, swimming, surfing and canoeing. Outdoor enthusiasts of all kinds are drawn to Kangaroo Island for bushwalking, biking and beachcombing. It's most famous for the thriving industry of local produce, gourmet foods and wines which is constantly expanding as farmers experiment with their crops. Everything from award-winning wines to sheep's cheese, organic honey or fresh seafood is waiting to be sampled, savoured and enjoyed!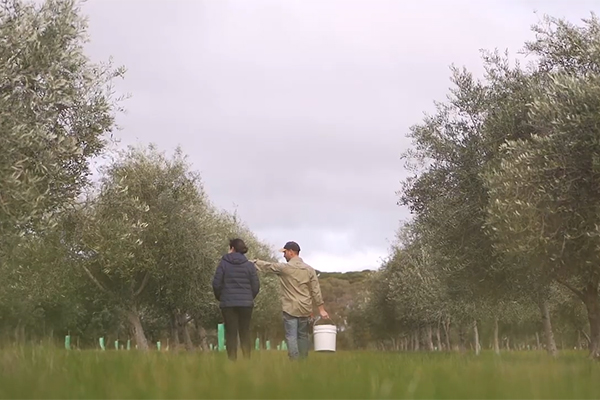 The Perfect Philosophy For Purity And Excellence
Kangaroo Island producers have developed a well-deserved reputation for sustainability and quality food which tastes divine. The passionate group of locals has overcome the many challenges of distance from the mainland, which has always demanded a relatively self-sufficient lifestyle. Mixed farms of livestock and grain blend with kitchen gardens, blossoming orchards and buzzing beehives. This diversity has led the island's producers to deliver what has become known as unmistakable quality and flavour.
There is a huge emphasis placed on the ethical production of food too, which has led to Kangaroo Island products being much sought-after. All their produce comes from farmers and suppliers committed to ensuring they work together with nature and protect the landscape around them. They have a shared philosophy which we would also like to share with you.
"To produce the best we can using natural and organic farming methods, reduce our footprint on the planet, and nurture and improve our immediate environment for the betterment of all things that inhabit this place."
Kangaroo Island Farmers Market In A Luxury Hamper
There's an extensive range of premium food, spirits and wine, oils, wool or health and beauty products which you can buy direct from Kangaroo Island suppliers. Here are some of our absolute favourite treats for all the foodies out there!
Kangaroo Island Artisan Crackers
Luxurious crackers made with wheat grown on the island and premium quality single-origin flour. For a mouth-watering twist, there's a hint of pure Ligurian Honey!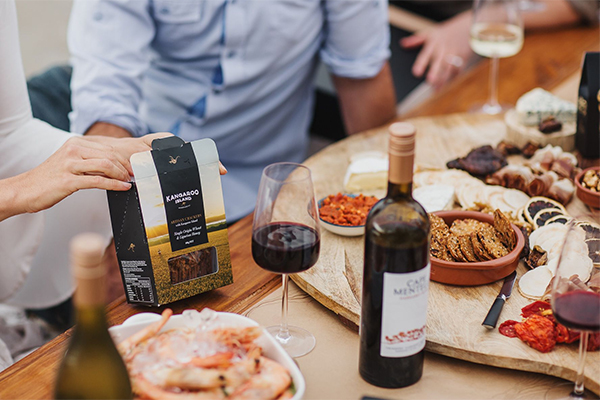 Kangaroo Island Garlic Salt
Grown with no pesticides and hand-harvested in the picturesque Stokes Bay countryside. The tastiest garlic flavour to sprinkle over BBQ meat or veggies, a cheese board or dips.
Kangaroo Island Honey Popcorn
This tasty snack features the purest strain of honey in the world. Produced from the only pure Ligurian honey bee strain, it's a sweet, smooth flavour you will never forget.
Kangaroo Island Sticky Figs
These juicy, plump figs are grown and handpicked with love and are completely preservative free. Sweet and delicious, they make the perfect partner for both sharp and creamy cheese.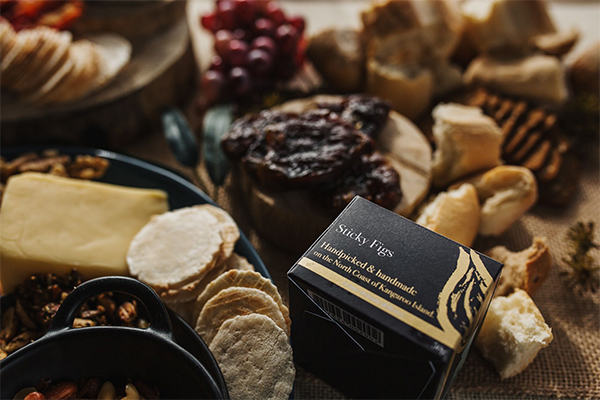 Kangaroo Island Sticky Fig Syrup
Figs are simmered in syrup and dried to produce this sweet and intensely flavoured syrup. It's a versatile pantry addition which can be splashed into almost anything for a pop of lushness.
Kangaroo Island Kalamata Olives
These lush, plump olives are grown organically and hand-picked on the island. A sensational flavour to pair perfectly with wines, summer foods, cheese boards or an antipasto platter.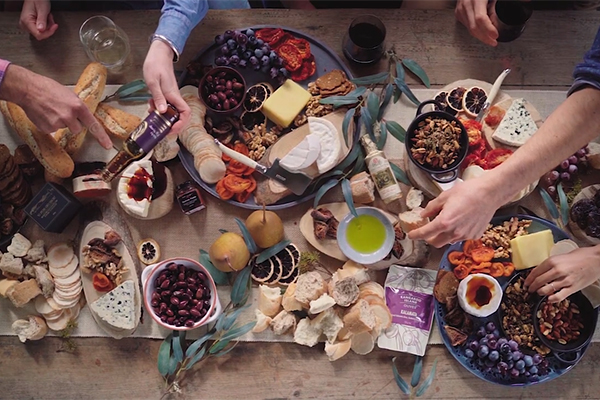 Experience Gourmet Kangaroo Island Produce with The Hamper Emporium
These fabulous ingredients feature in most of our range of gourmet food and wine hampers. They are the little luxuries in life which can turn a festive feast into a full flavour explosion. Browse our fabulous collection of Christmas hampers, and you'll find them there too.
The team at The Hamper Emporium all hope you enjoyed your sneak peek of Kangaroo Island and our incredible suppliers. These are remarkable people who are striving to rebuild their livelihoods and still steadfastly protecting our countryside and wildlife for future generations.