Gift Ideas For Champagne Lovers
Author: Loreena Walsh Date Posted:20 November 2019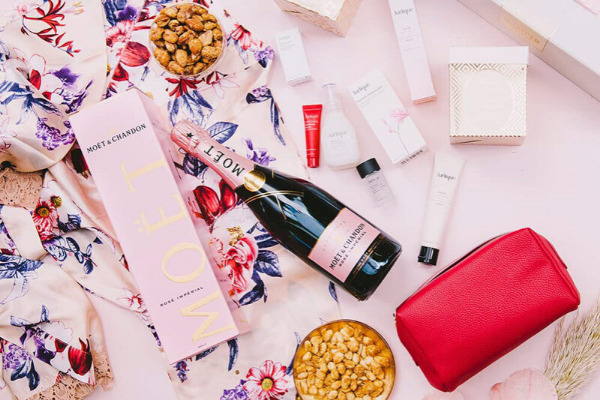 Creative Gift Ideas For Champagne Lovers - And Some Fun Facts!
The sound of a champagne cork popping is intoxicating and one of the most recognisable sounds around. It's also a sure sign that a celebration is on the way!
Here at The Hamper Emporium, we love selecting the best gifts for champagne lovers to make sure your celebrations always go with a bang!
Whatever the special occasion, whether it's a wedding, a new arrival or Christmas festivities, this luxurious tipple is always a winner. People love champagne and the sparkling bubbles it creates. Popular worldwide, there are currently well over a billion bottles in storage just waiting to become the world's best gifts for champagne lovers.
Any Idea How Champagne Is Made?
A lot of work goes into producing superior bottles of bubbly to make the best gifts for champagne lovers. Champagne is a type of sparkling wine, made so successful that it attracted a name all of its own. Dom Perignon created the original champagne, and the grapes can only be grown in a particular French region to be called champagne legally.
There are three different grape varieties used in its production; Chardonnay (98%), Pinot Noir and Pinot Meunier. The first infamous pressing of the grapes is called the 'Cuvee', producing sweet juice which immediately begins to ferment. During this primary fermentation, yeast and other natural ingredients are added to the mix.
Making champagne entails two full fermentation processes. During the second, a 'liqueur d'expedition' is added consisting of sugar, wine and brandy. A bottle of great champagne can be blended using several different pressings before the desired taste is achieved. Non-vintage champagne is then aged for one year, with vintage champagne requiring at least three years of aging.
Interesting Facts About Champagne
Creating the best gifts for champagne lovers requires a little knowledge of the subject of champagne. So, here are some fun facts to surprise your recipient with:
Champagne needs a sturdy bottle as it can hold a pressure of 100psi, which is more than three times that of a car tyre.

Staff called "riddlers" twist the bottled champagne 1/8 of a turn each day during the aging process.

There are over 49 million bubbles in a 750ml champagne bottle.

Once poured, champagne produces around 30 bubbles every second and will stay much more bubbly in a flute shaped glass.

Expensive grapes are used for the production of prestigious champagnes, and they are picked by hand to avoid any damage to them.

The different bottle sizes for champagne each have individual names, all derived from biblical sources.

The biggest, most magnificent champagne bottle is the Melchizedek which is 40 times larger than a standard bottle.

The term "Sabrage" is used for when the blunt side of a real sword is used to open a bottle of champagne during ceremonial occasions.

The longest flight of a champagne cork ever recorded was 177 feet or 54 meters.

Expertly popped champagne corks can fly at speeds of around 25 mph.

Placing a raisin in the bubbling champagne causes it to travel up and down the glass continuously. Great party trick!

The most luxurious and expensive bottle of champagne is Goût de Diamants. It has a handcrafted gold-covered bottle with an inset 19-carat diamond and will set you back around 1.2 million dollars for a bottle!
Ultimate Best Gifts For Champagne Lovers
Nothing completes the glamorous effect of sparkling vintage champagne more than its presentation or the addition of some thoughtful extra gifts. There are lots of champagne related small items available from t-shirts to keyrings and lucky gold charms. Here are some of our favourite ideas for the best gifts for champagne lovers. We've also included a selection of our very own luxury champagne hampers which are sure to delight.
Classic champagne ice bucket - a French version will add a taste of history.

Glittering champagne bucket style handbag.

Champagne bottle serving tray.

Set of iconic toasting flutes or crystal glasses.

Stylish coloured coupes engraved for that special occasion.

Amazing champagne tower with glasses designed for stacking.

A full magnum or a special limited edition vintage bottle of champagne.

Mouthwatering champagne truffles and pampering beauty products.
A Delightful Champagne Cork Tradition
Remember, it's also an endearing tradition after popping the champagne cork to turn it into a lucky talisman. Slit the top and slot in a coin to capture eternally the magic of that moment. Stop time in its tracks and create a memory that will last for a lifetime.
The best gifts for champagne lovers should always include this lucky charm as a beautiful keepsake. It will highlight the intensity of any special occasion and bring the owner luck and prosperity. It's a beautiful custom that you can ensure lives on. Over time, the cork will tighten its grip on the coin, making it impossible to remove. Then the magical spell can never be broken!
Champagne Hampers Designed With Love
The best gifts for champagne lovers are always a lovely surprise, but they don't always need to be for a special occasion. We tend to associate champagne with luxury and expense, but it also has a wonderful drinkability and an extremely food-friendly nature. It provides a fabulous everyday tipple and pairs easily with tasty gourmet foods or luscious chocolates.
Here are three of the best gifts for champagne lovers from The Hamper Emporium. Our fabulous champagne gift hampers can always brighten up someone's day - no special occasion needed!
Moët & Chandon produces some of the world's finest champagne, and this selection is one of the best gifts for champagne lovers that you can choose. This vintage cuvée is produced using top quality grapes from an exceptional harvest. A bottle of unique champagne, this is a superb limited edition and also a collector's item. To perfectly blend with its unique flavour, you will also find a fabulous selection of nibbles from Morgans. Savour the delights of dark chocolate coffee beans, crème Brûlée roasted peanuts and a succulent chocolate fruit & nut mix.
Jurlique & Moët Rosé Impérial Hamper
Pampering gifts are the perfect accompaniment for a bottle of bubbly, whether it's for him or her. One of the best gifts for champagne lovers is our women's Jurlique and champagne hamper. A limited-edition bottle of the infamous Moët & Chandon Rosé Imperial Champagne is teamed with a nourishing natural skincare range. Along with these pampering products are a Jurlique cosmetic bag and a luxurious silky floral robe. She can also feast on a perfectly paired range of gourmet treats from Morgans including honey-drenched crunchy peanuts and almonds roasted in French vanilla.
As Christmas is just around the corner, our final choice of the best gifts for champagne lovers is a hamper that is sure to spread some cheer and joy. An exquisite bottle of Veuve Clicquot Yellow Label NV Champagne is teamed with a veritable feast of festive favourites. It's brimming with goodies and savoury snacks. Artisan crackers, chocolate covered Macadamias, sweet honey popcorn and coconut roasted almonds. A sumptuous selection of world-class chocolates and delicious iced Christmas cake slices from The Woods Farm complete this indulgent collection.