2020 Guide to Group Baby Shower Gift Ideas
Author: Nikki Barnett Date Posted:15 October 2020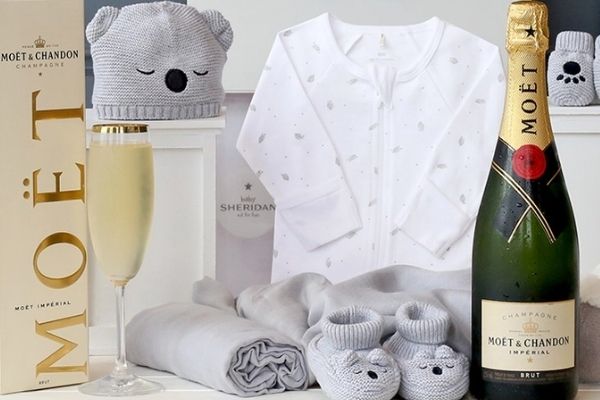 Baby needs to be showered and we are here to help
Baby showers are a wonderful way to celebrate the much-anticipated arrival of a newborn into a couple's life and a great opportunity to show some support to the new parents.
If you are looking for a unique baby shower gift, twin baby shower gift ideas or even some baby shower gift wrapping ideas, then you are in the right spot. No matter if there is a group of you buying a joint baby shower gift, or just one person looking for practical baby shower gifts, we are here to help.
Newborn hampers are a wonderful way of including a variety of practical but beautiful baby items that will help mum and bub settle in. The best newborn gifts will be used along the way while mum and bub are getting to know each other. We know how important it is to keep baby safe and healthy so including organic skincare and bath products are a priority.
What do you put in a baby shower hamper?
Firstly, it is always important to add essentials for the baby. Practical gifts such as teether, baby clothing, bibs and bathing items are a great start. Adding a gorgeous book Mum, Dad and baby can enjoy together at bedtime is a wonderful extra. Last but not least include a cuddly item the new bub can fall in love with instantly and your gift basket is close to perfection. Now wrapping it up beautifully and, ta-da, you will have a teary future mum on your hands.
As wonderful as it is to source your own hand-picked goodies for a basket and set it all up in your own home, it can also take up a substantial amount of time to research the safest products and the healthiest skincare. If you are already heavily involved in planning the baby shower for your friend or sister, then you're probably ankle-deep in nappy-cake preparations. Why not let someone else do the research for you?
We're Australia's experts in baby hampers
Here at The Hamper Emporium, many of us are parents and we understand just how important quality is when choosing the perfect baby gift. Our hampers are packed full of the best baby gifts you'll find. We create hampers with the perfect blend of quality, luxury and affordability so that you can send a truly stunning newborn gift with a choice of affordable options to suit your budget.
Our baby gift brands range from luxury children's wear brands, organic baby skincare brands, and world-favourite toys, teddies and storybooks. Not only will these gorgeous baby hampers bring a smile to their faces on arrival, but also provide keepsake memories to look back on.
Baby Shower Boy Gift Ideas
Shower a precious newborn baby boy with a selection of luxury gifts from the finest brands with our Sweet Little Boy Hamper. With gorgeous gifts from Sheridan, Pure Baby and Bubba Blue, along with sweet nibbles for the lucky new parents, this is the perfect present to welcome him to the world.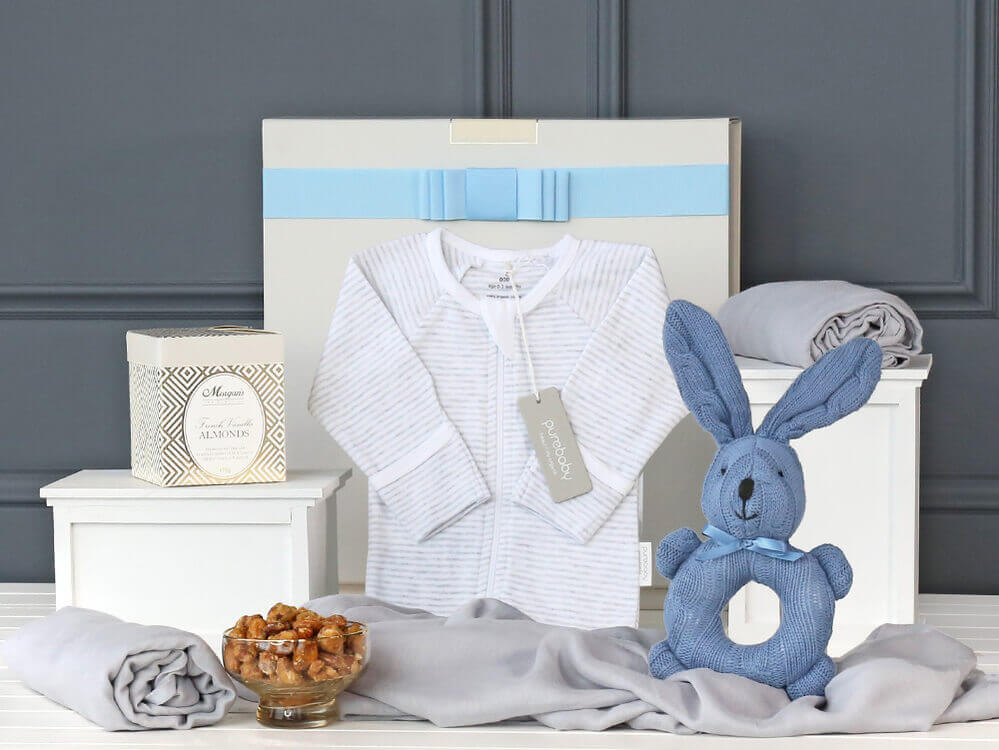 The stunning Sheridan and Pure Baby Boy Hamper is the best of the best for a newborn baby boy. Organic clothing, finest comfort and a snuggly new best friend, adorable baby shoes plus a stunning gold-lined journal for Mum to capture those precious memories.
Unique Baby Shower Gift
The gorgeous 'Personalised Baby's First Shoes' hamper will have the baby ready for their earliest adventures. This package includes embroidered blue suede shoes, beautiful organic babywear and My First Animalia based on the iconic Australian children's book.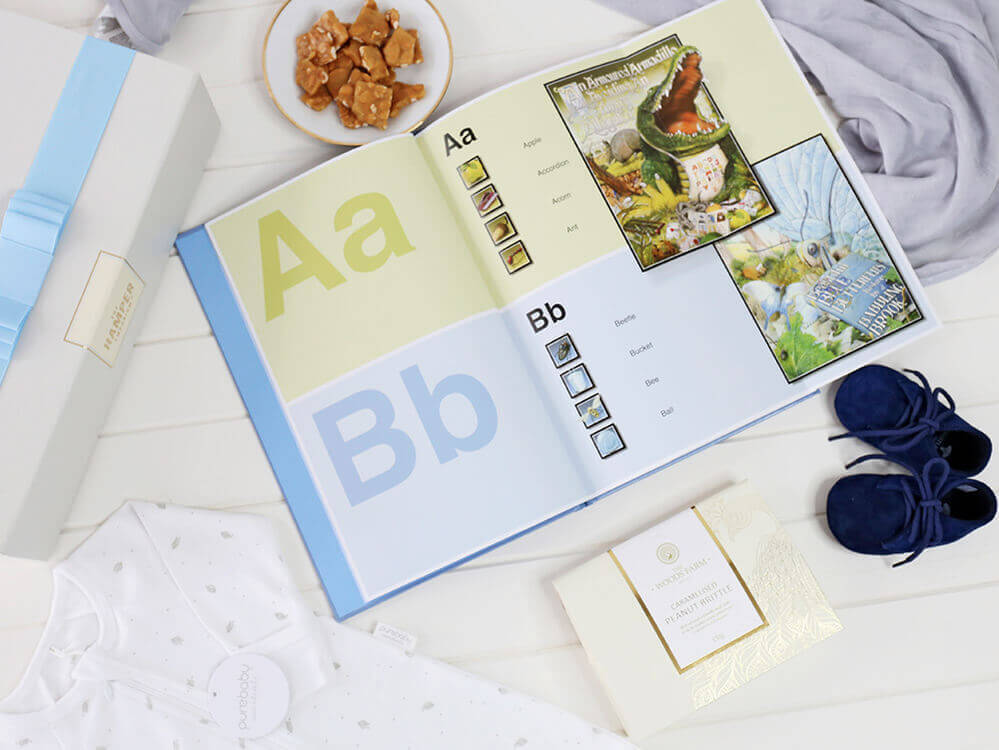 Baby Shower Gift for Mum
Go all out with the Iconic Essentials Hamper with Moet which includes gifts of quality from iconic brands such as Sheridan, Sophie La Girafe, L'Occitane and Moet & Chandon. A truly special gift hamper to spoil Mum and bubs at the same time.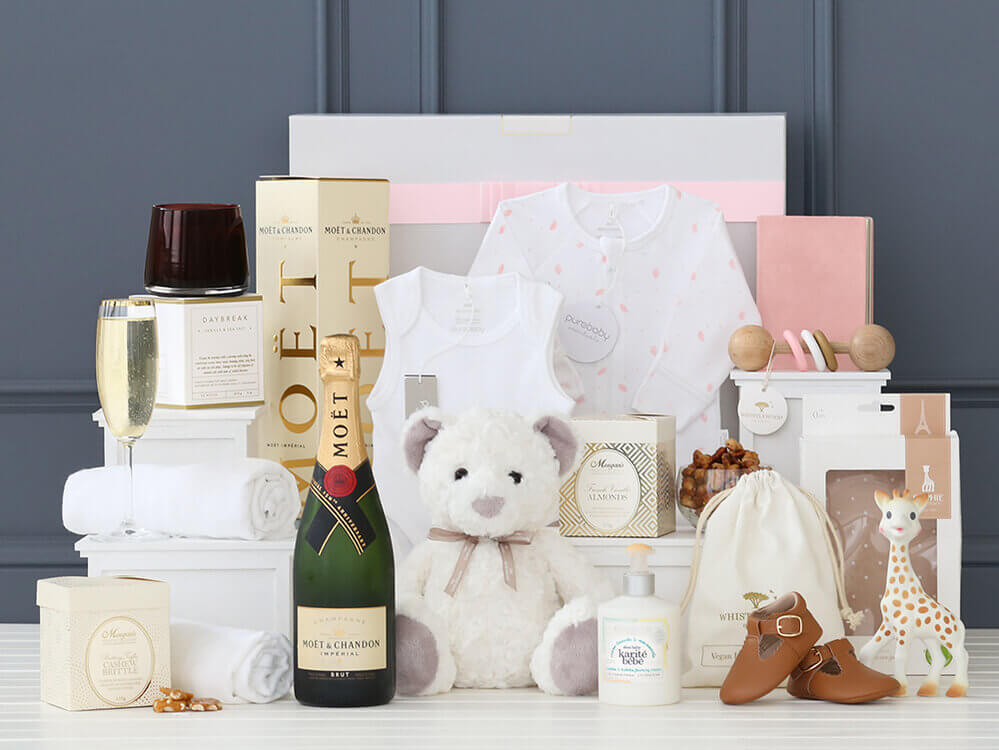 This hamper is a fantastic opportunity for a group baby shower gift that will stay top of mind with the new parents for a long time. Long after the nibbles have been eaten and the Champagne has gone, the many gorgeous gift ideas will remain and will be used by the new bub every day.
Put your trust in us when it comes to baby shower gifts
The presentation of a baby gift hamper is just as important as the gifts inside because we know that first impressions count.
All of our hampers here at The Hamper Emporium are presented in a gorgeous keepsake box. Our gift boxes are a neutral crème colour to ensure it is suitable for both girls and boys. We will add gender-specific touches if you'd like us to and we will add your personal message on a FREE gift card on top.
Plus, we offer FREE Australia-wide delivery for all of our gift hampers. There are so many wonderful baby gifts to choose from! Don't wait any longer to choose your gift. Browse through our wide range of gift hamper options and start counting down until baby's arrival.