Your Guide to Selecting the Best Baby Hampers
Author: Nikki Barnett Date Posted:6 November 2020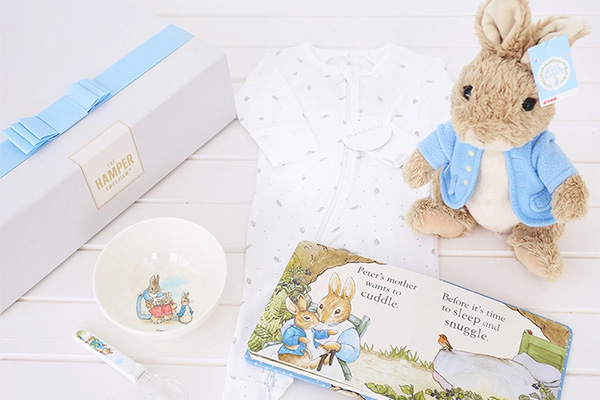 Welcome to Australia's Leading Baby Gift Store
Oh, how joyful the life of a sweet new human is! Celebrate the wonder and promise of adventure when you welcome a new baby into the world with a gift that's as beautiful as your little one.
Most of us have probably experienced the dilemma of finding the perfect baby gift. We're invited to a baby shower of a close friend but have no idea what to get for a newborn and a future Mum. We find ourselves Googling for ideas on what to buy for a new baby and trying to decide what the new parents need. Once we add up the costs of individual items, our shopping cart is overflowing and it seems like our baby gift is going to cost a fortune.
Or, we have children ourselves and absolutely no time for gift shopping to choose a gift for the beautiful new bub. If you're a parent, you probably know exactly what a new baby needs and what the new mum would love to be gifted. But if you're struggling to find time to browse the baby shops or to gift wrap your hand-picked goodies, it's time to browse online for the perfect baby hamper instead.
The Hamper Emporium is Australia's leading hamper company and the experts in baby gift hampers. We have done all the research, found gorgeous baby keepsake gifts, the best newborn skincare products, baby clothes, bath products, safe baby toys, cuddly teddies, and premium cot linens. Then we've gift wrapped them for perfectly presented baby gift baskets in a keepsake box, just for you.
Let us help you find the baby gift box most suitable for your occasion:
Baby Hampers for Girls
It is always so tempting to buy baby girl clothes as their little outfits are just so adorable. The Iconic Baby Girl Essentials Hamper has so much more than just essentials and will stun the fortunate parents. Soft organic cotton clothes, nourishing organic skincare developed for baby's sensitive skin, and snuggles from Sheridan's soft Sebastian Bear. Plus gourmet treats for Mum and Dad, muslin wraps, teething giraffe, plush bear, body suit, growsuit, baby shoes, and a rattle for bubba.
The Sheridan & Pure Baby Girl Hamper is a sweet luxury gift for a little baby girl that is sure to be pampered and loved. This hamper includes gorgeous Sheridan baby wraps, adorable pink & white growsuit, baby shoes, wooden rattle, scented candle, a luxury gold-lined journal for the lucky parents to capture memories in style, and more.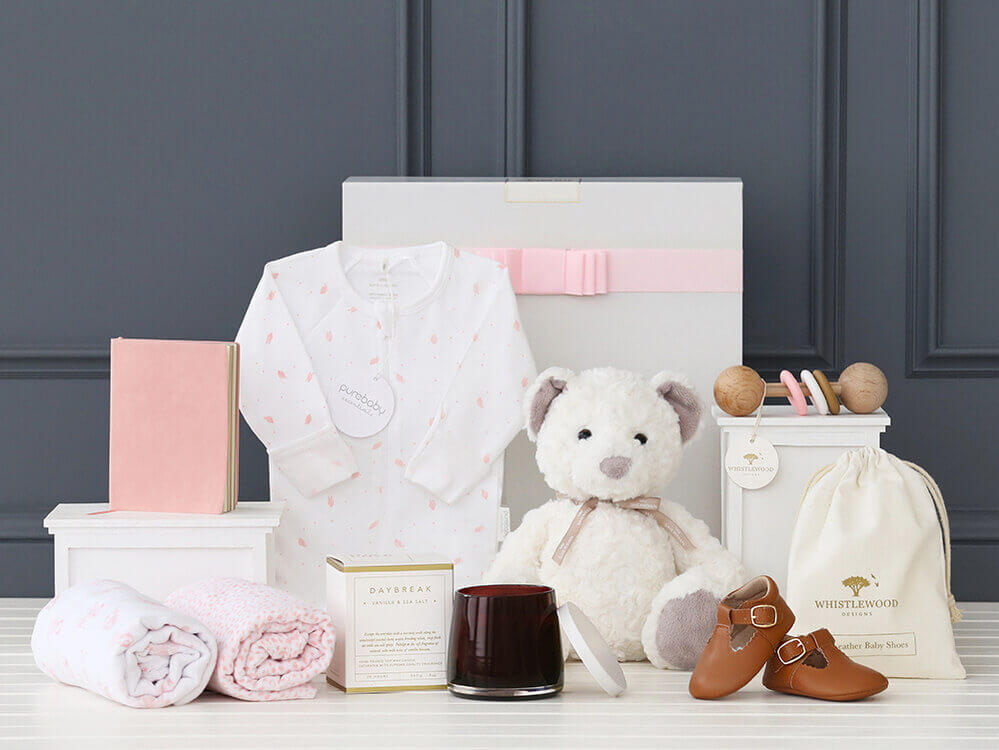 Baby Gift Packs for Boys
For a unique baby hamper for a special little boy, choose the Ten Little Fingers Ten Little Toes Baby Boy Hamper. This amazing gift pack is filled with gorgeous organic clothing from Pure Baby, a beautiful book from iconic Australian author Mem Fox, embroidered suede baby shoes and so much more.
The Sheridan Baby Boy Snuggles with Moët Hamper is a top-of-the-shelf luxury baby hamper to celebrate his arrival with Champagne. This beautiful keepsake box comes packed full of premium quality gifts for him and a bottle of Moët to toast his arrival.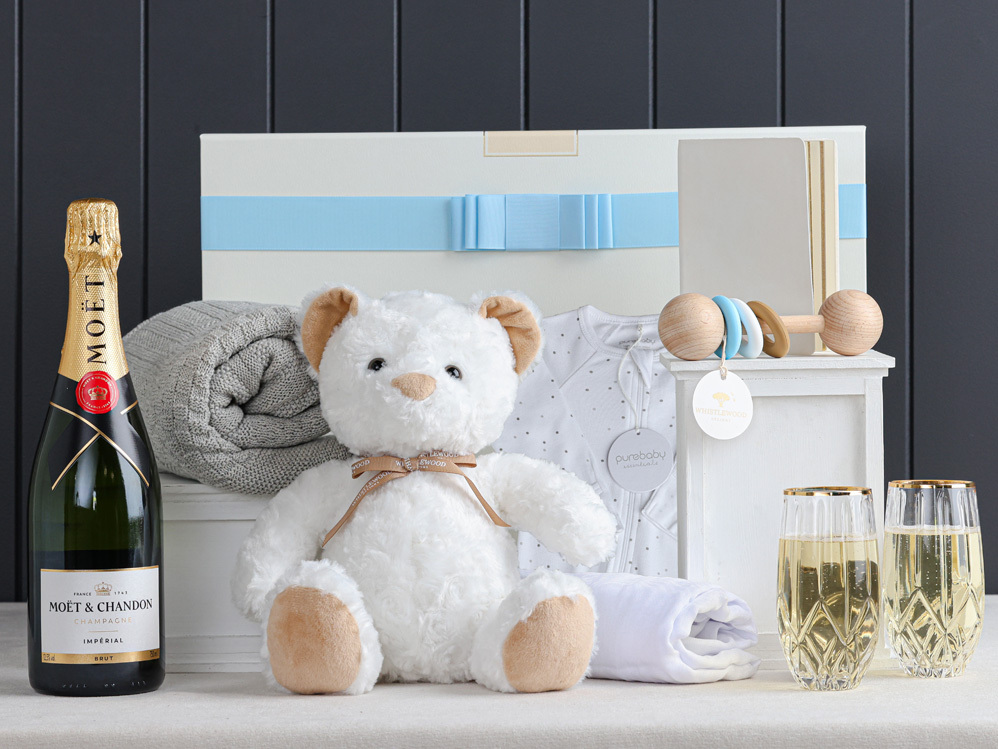 Neutral Baby Hampers
The Orla Kiely Baby Journal Hamper is a gorgeous gender-neutral baby gift box full of soft and luxurious accessories for baby and sweet treats for the lucky parents. This is a beautiful welcome to the world for the special little one.
The L'Occitane & Sheridan Baby Bath Time Hamper contains the perfect pampering products, gourmet nibbles and a soft cuddly hooded towel and bath mitten. This gift pack is the stunning mixture of two world-renowned brands that will delight Mum and be kind to bubba's skin.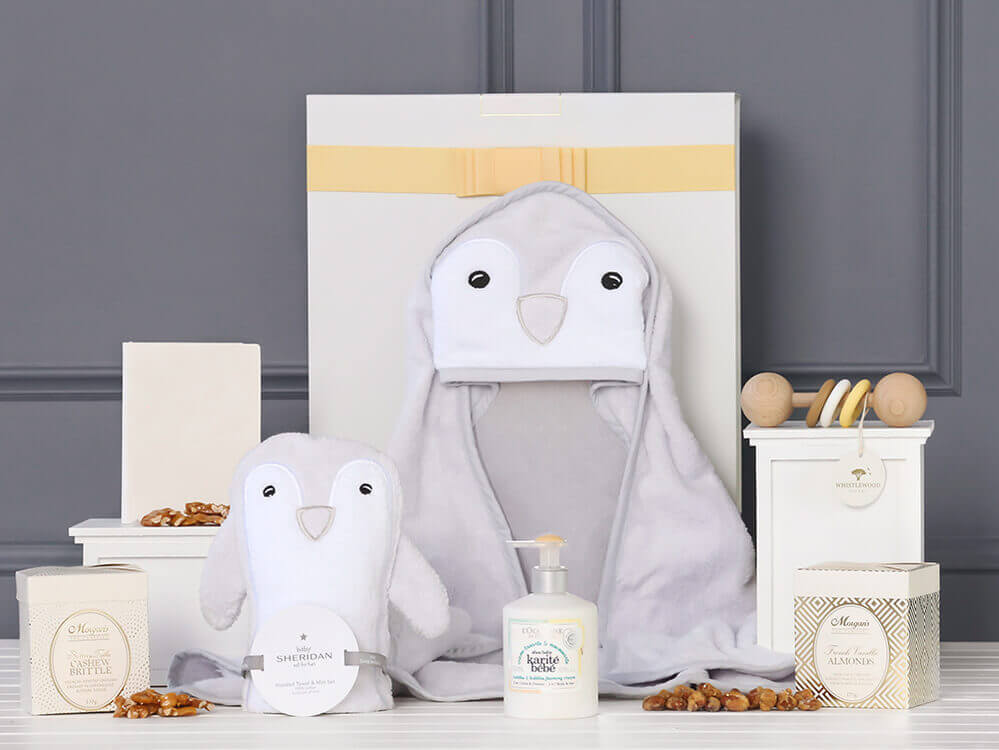 Unique Baby Gift Boxes
If you are looking for the magic of childhood in a gift hamper, the Jemima Puddle-Duck Hamper is the perfect gift option for you. Adorable Jemima Plush, a beautiful book and baby's first feeding set will bring joy to a new generation for years to come.
Peter Rabbit has been a favourite childhood character for generations of families since 1901 and has now been captured in this stunning baby hamper filled with essential baby gifts for a special newborn. The Peter Rabbit Hamper includes a plush Peter, the themed book, bib and feeding set to top this gift box off and make it even more unique.
It's easy to find the best baby hampers in Australia online
Our hampers are easy to order online, with multiple payment options and a track and trace facility so you know when your gift will arrive. You can shop from home and choose the perfect baby gift pack with the click of a button. Then, just wait for the exciting delivery to make it to your doorstep for the next big baby event. Don't forget to add in a personal note to the happy parents. We enclose a free greeting card for your message.
If you prefer, you can add your personalised gift card online and we'll deliver your gift direct to the new parents. We offer FREE shipping for all orders Australia-wide. At The Hamper Emporium, we love being a part of life's most memorable moments.