How To Plan A Wine Tasting Party
Author: Michelle Richards Date Posted:26 April 2022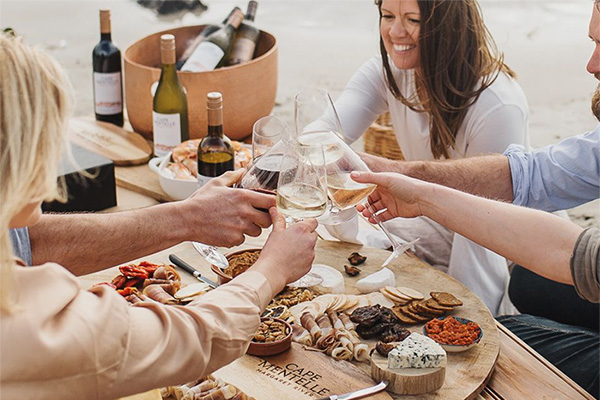 Wine Tasting Party Tips And Ideas For A Fun Event
A wine tasting event at home is a great way to get together with friends or work colleagues. It's easy to plan, and you don't need to be a wine expert to offer a fun cellar door tasting experience to your friends at home. Tasting different styles of wine, different grape varieties, wines from different regions, and different vintages is a great way to expand your knowledge of wine if you're a bit of a wine newbie. And it's just as much fun if your friends consider themselves wine connoisseurs and want to put their knowledge to the test.
You can make your wine tasting experience as casual or as formal as you like, from a relaxed weekend BBQ lunch to a sit-down dinner. A wine tasting party is perfect for adding a little pizzazz to a housewarming, a birthday dinner, or staff drinks for a little bonding time on a Friday afternoon. Hosting a wine party doesn't need to be complicated.
This guide will help you plan and host your own wine tasting party with tips on choosing wines, the best wine tasting format, how the experts evaluate a wine, plus food ideas – everything you need to make your get-together a huge success.
What You Need For A Wine Tasting Party
Wine glasses – Different styles of wine glass are preferred for tasting white wine, red wine, and champagne, although you can get away with standard wine glasses in a pinch.
Bottle covers – To hide the label and disguise the wine bottles in a blind wine tasting party format. Brown paper bags will do the job, although a nice wine gift bag with drawstring mouth looks a little nicer.
Water – Both slightly chilled still water and cold sparkling water to cleanse the palate between wines.
Food – At a minimum, you need plain crackers to cleanse the palate. Read more on the best wine tasting food ideas below.
Spittoons – For spitting if you're tasting a large number of wines, to get that full sommelier experience, or in case some guests don't want to drink the wine once tasted.
Pens and note pads – For guessing or making your wine tasting notes.
Wine tasting notes – These will usually be available on the wine makers website for some pointers on what you should be looking for when tasting each wine.
Friends – From two to ten friends, or even more.
Wine Tasting Party Ideas - Choose a Wine Theme or Tasting Style
Blind Tasting Wine Party
For a mystery blind tasting wine party, buy a broad selection of wines including whites, rosé, red, and sparkling wines. Each bottle should be concealed in a brown paper bag or wine bottle gift bag. Guests then taste each wine and try to guess the grape variety or blend. If you're feeling fancy, you can also try to guess the growing region, winemaker, and vintage. You could also have each guest rate the wines to choose a favourite without the bias of recognising the label. Whoever guesses the wine correctly, or rates it the highest, gets to take the bottle home (if there's any left!).
Wine Tour Tasting Party
Choose a well-known grape variety (like a Cabernet Sauvignon, Pinot Noir, or Sauvignon Blanc) and select a range of wines grown in different regions. You could sample wines from around the world, or stick to local Australian wines and choose coastal wine growing regions, cold climate vineyards, different soils and elevations, and see if you have a favourite.
Wine Value Comparison
Another option if you want to stick with just one or two grape varieties is to compare value for money. Pick a favourite wine variety that varies greatly in price, like a Shiraz, Merlot, or Chardonnay. Buy bottles of wine that range from $5 to $50 and do a blind tasting. This time, rather than guessing the variety, have your guests rate them from the cheapest bottle of wine to the most expensive, and then see which they think is the best value for money.
BYO Wine Favourites
You could have each person bring their own personal favourite bottle of wine to share. If you do, make sure to get a hint about what they might be bringing to make sure you don't end up with a dozen bottles of Moscato. Allocate some broad categories so that you get a selection of white and reds, or at least some variety! Being introduced to someone else's favourite bottle of wine that you've never heard of before can be a lot of fun. If it turns out that everyone has somewhat similar tastes, you might find it more interesting to swap to the Wine Tour format and get more in-depth.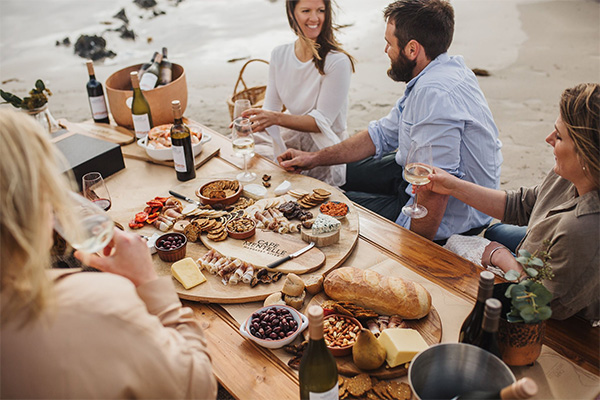 Easy Guide For How To Host A Wine Tasting Party
These are the most frequently asked questions about planning and hosting a wine tasting event at home.
How much wine is needed for a tasting party?
How much wine to serve at a wine party depends on the format and guest numbers. Depending on how you want to structure your wine tasting party, you could order enough so that everyone goes home with what's left of their favourite bottle. Or you could order the right number of bottles to finish them off over the course of the evening.
A standard tasting pour is less than one Australian 'standard drink'. For wine with an alcohol volume of 13%, a standard drink is 100ml. While a tasting pour is around 75ml. For the average 750ml bottle of wine, that's enough for ten tasting glasses.
Ideally, if your wine tasting party runs for three to four hours with plenty of finger foods or a couple of small meal courses, each guest could drink around five standard drinks, or around seven tasting pours. If you order seven different bottles of wine, you'll have enough for ten guests (including yourself) to each sample a tasting serve with no wine left over.
If you'd rather each enjoy a generous full glass of each wine, a single bottle will give you five 150ml glasses of wine. Ordering five different bottles of wine will cater for five wine tasters trying one glass of each wine. For a wine party of between five and ten guests, you'll need to order two of each bottle of wine.
If you're planning on tasting a larger number of wines, space out the white and reds over the evening, reduce the serving sizes, or follow in the footsteps of the professional tasters and spit.
What kind of food do you serve at a wine tasting party?
A cheese platter is considered essential for any wine gathering. If you don't plan on serving a full dinner menu, you could simply serve a selection of antipasto, bread sticks, cold meats, and finger foods. Serving the right food pairings for a wine tasting party will help keep your preparation work down, and will show off the flavours of each wine. A perfectly paired wine and cheese hamper is an easy grazing option for an wine tasting afternoon.
For tasting white wines, serve some mini quiches, sweet and savoury nuts, olives, grapes, plain crackers, and soft cheeses.
For sparkling wine, you could also add some caviar, pate, or fresh fruit.
The best foods to accompany red wines are more strongly flavoured cheeses, semi-dried tomatoes, olives, rich tapenades, charcuterie, spiced nuts, and gourmet crackers.
How do you set up for a wine tasting party?
The table setting
Set the table with a white table cloth or individual white wine tasting placements. A white background will allow you to better see the colour of the wine. Arrange your guests' series of wine glasses in the correct order from champagne flutes, to white wine glasses with a smaller bowl, red wine glasses with a large bowl to open up the wine's aromas, and small glasses for dessert wines. Each guest should also have their own water glass, spittoon, snack plate, notepad and pen.
In the centre of the table, arrange a larger fruit and cheese platter with plenty of options for crackers, sweet and savoury nibbles, nuts, olives, tapenade, quince paste, pate, and your favourite snacks. Arrange the cheese and snack platter across the table for maximum effect, and so that each guest can easily reach a variety of snacks.
Prepare and serve the wine correctly
The wines being tasted should be stored correctly to suit each wine. Make sure you open any bold reds at least an hour or so before you plan to serve them. If you need to decant the wines, do that early. If it's a hot day, they might need to be popped in the fridge for half an hour. Whites should be chilled down to around 10 - 13 ̊ C (about an hour or two in the fridge), and any sparkling wines to 6 ̊ C, or just above fridge temperature.
Correct wine tasting order
To best appreciate the flavour of each wine, they should be drunk in the correct order from lighter whites to bold reds, dry wines before sweet, younger wines before aged vintages.
The recommended order for wine tasting is: Sparkling Wines > Dry Riesling > Medium Bodied Sauvignon Blanc > Fruity Chardonnay > Rose > Light Sangiovese > Merlot > Shiraz > Cabernet Sauvignon > Non-fortified Dessert Wines > Fortified Wines.
How do you judge the wines at a wine tasting?
Half the fun of a wine tasting is making notes about each wine to see what each guest notices, and then comparing. As the host, you might need to take on the role of wine educator or prompt guests about how to make their own wine tasting notes. To make it fun for everyone, you could give hints about how to describe a wine.
Even the fanciest sommeliers use the 5 S's to evaluate a wine: see, swirl, sniff, sip, and savour.
See: look at the wine and note the depth of colour. This can give clues as to whether the wine was aged in oak, and its flavour intensity.
Swirl: swirling the wine around the glass opens up the aromas. Sweeter wines will also leave clinging streaks on the wine glass (called 'legs').
Sniff: appreciating a wine's aroma is a large part of the wine tasting experience. A wine's 'nose' is what you smell when it's in the glass. Guests might note fruit aromas, spices, fresh straw, or any number of different wine aromas.
Sip: for the first taste of a new wine, hold it in your mouth for a few seconds to taste all its complexities. This is the 'palate'. Make a note of acidity, bitterness, sweetness, and your overall impression of the wine.
Savour: when you swallow your sip of wine, the flavour profile will change. This is the wine's 'finish'. How long does the taste of the wine linger? Is there a stronger alcohol sensation in the mouth?
How do you cleanse your palate at a wine tasting?
Professional wine tasters will use plain bread and a glass of water to cleanse their palates between wines. For a wine tasting party, you might prefer spacing out each wine by a good 15 minutes so guests can chat about the wine and enjoy some crackers and snacks, and fresh water, before moving on to the next wine.
Are you supposed to spit out the wine at a wine tasting?
For professional sommeliers, oenologists, and winegrowers, fully tasting a wine means evaluating its appearance, its interaction with air, the wine's aromas, its taste, and its structure in the mouth. When you spit the wine, it mixes with air coming from your nose and brings out more of the wine's aromatic notes.
While spitting the wine might be an important part of a professional wine tasting, you can't argue with the fact that spitting any more than a mouthful is a waste of good wine. Have some fun at your wine tasting party and see what added complexities a good grumage and a spit reveals about your bottle of choice. If you're going to spit out the wine, supply your guests with their own spittoon just to keep things polite.
The Hamper Emporium Wine Tasting Essentials
Make it easy to host a wine tasting party with gourmet hampers that come with perfectly paired wine and snacks. This recommended selection of hampers offers at least six different bottles of premium Australian wine including a sparkling wine, two different white wines, a rosé, and two different bottles of red for the perfect range of wines and food.
The Chandon Celebration Hamper includes sweet treats and a bottle of sparkling wine to start.
For the perfect white wine, order a bottle of zesty Margaret River Sauvignon Blanc Semillon, Chardonnay, or a Pinot Grigio. For easy please options, choose either the White Wine & Nibbles Hamper for savoury starters including olives and semi-dried tomatoes, or the White Wine & Sweet Bites Hamper for more sweet treats.
Next is the Classic Cheese & Rosé Hamper which includes a summer light rosé and a great selection for cheese and crackers.
For your first red wine, the Red Wine & Gourmet Essentials Hamper is a mini hamper that includes a bottle of rich Cabernet 2019 plus a small selection of crackers and savoury nuts. Or choose the Ultimate Foodies Hamper with Shiraz if you want the full gourmet experience with chocolates, olive oil, sweet honey popcorn, sticky figs, and truffle paste.
If you'd like to compare different grapes from the same wine region, our Premium Red & White Wine Hamper includes a bottle of Australia's Barossa Shiraz and an Adelaide Hills Chardonnay.