How To Plan The Perfect Corporate Christmas Giveaways
Author: Loreena Walsh Date Posted:9 October 2019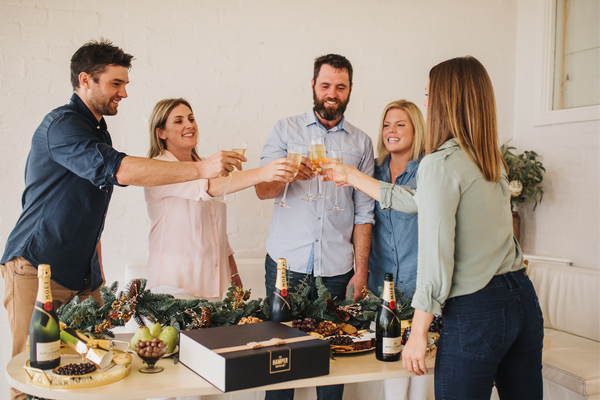 Christmas Comes But Once A Year - So You Better Start Planning Now!
Now is the ideal time to start planning your Christmas gifts. Yes, we know it's only October but the sooner you start promoting a chance to win, the more exposure your business will get!
While you are busy planning your Christmas marketing campaigns and the fun office get-together, it's important to remember corporate Christmas giveaways. There are some very good reasons for starting early, like ensuring you can find the perfect gift that represents your brand perfectly.
Promotional gifts, especially Christmas giveaways, are a cost-effective way to gain some real advantages in the corporate world. Here are ten good reasons why you should be planning them today ready for the holiday season:
It gives you a competitive edge

Develops and strengthens your B2B relationships

Keeps you in mind with clients

Maintains customer loyalty

Raises awareness of your brand

Improves image and perception

Generates leads and referrals

Increases sales

Saves advertising money

It shows you really care!
Remember your employees too. Christmas should be a fun time, and a beautifully presented gift basket will make your employees feel spoiled and appreciated. By giving gifts, you can improve staff morale, motivation and production - which is especially important as the year draws to an end. Remind them just how valued they are to you with some thoughtful, high quality, Christmas giveaways.
Useful Tips For Planning Your Christmas Giveaways
It's always sensible to find precisely the right corporate gifts, especially at Christmas. With some strategic thinking, you can make a statement and impress, whether it's a prospective client, loyal customer, CEO or employee. The trick is to find something they will appreciate and enjoy using. You don't want your Christmas giveaways to end up in a drawer with a collection of stress balls!
Here are some useful ideas to think about while you are planning your Christmas gift basket giveaway. Your Christmas giveaways should be the icing on the Christmas cake!
Choose gifts that are useful in daily life and can be kept, this means choosing quality products. This will help to increase your brand awareness longer term.

If possible, try to find gifts which are related to either the recipient or your own company — for instance, event tickets to promote your sports business would be quite fitting.

Consider Christmas giveaways that will help to increase your ROI. They should be capable of improving sales by impressing and attracting new business. A corporate Christmas Hamper would work beautifully for this.

Think about sending unique gifts that your competitors will not choose. This should set you apart and develop new working relationships.
Opt for gifts for sharing where appropriate. These will give you maximum marketing exposure and ensure that cosy Christmas feeling at the same time. Gifts that can be shared with friends and family allow for more opportunity for people to talk about your business. Choose items that can be easily customised with some refined corporate branding. Christmas giveaways are all about keeping your company at the forefront.
Get Personal And Think Quality
It's essential to embrace personalisation whatever Christmas giveaways you choose. Even if you brand your gifts, always include a charming handwritten message to make them smile. Try not to overdo your corporate branding, keeping it subtle and classy only adds to the wow factor you are trying to achieve. A great gift idea will always be remembered.
Stay within your budget of course, but don't compromise on quality when it comes to your Christmas giveaways. Choose gifts of distinction or put them in a gorgeous keepsake box or hamper.
Remember not to skimp on the finishing touches and packaging either. Attractive presentation creates an air of anticipation and excitement. Half the fun is in the ritual of unwrapping a Christmas present to see what's inside!
Seek Help If You Need To
If you simply haven't got the time or resources for all this planning, then don't let this stop you. Find some festive help! Here at The Hamper Emporium, we have preparations well in hand. Our new Christmas range here for 2019, and there's more than 35 to choose from.
What better idea for a spectacular and delicious Christmas giveaway this year?
Here are our top 3 choices for Christmas Giveaways that will spread joy and festive cheer: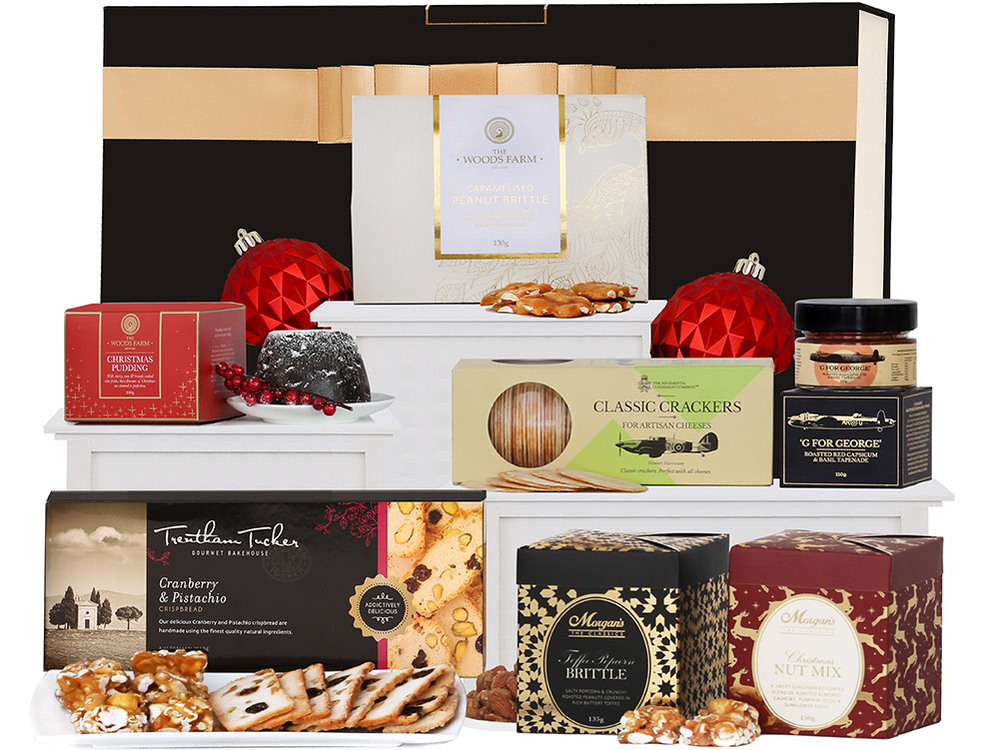 This is an ideal choice for individual Christmas giveaways for customers or staff this year, especially if you have a tight budget. It may be small, but it packs a substantial festive punch with its flavour sensations and indulgent artisan products.
Feast your eyes on traditional Yuletide fayre, from Woods Farm caramelised peanut brittle to cranberry & pistachio crispbread. Classic crackers, gingerbread flavoured nuts and roasted capsicum tapenade. There's even a luscious handmade Christmas pudding for some added sparkle.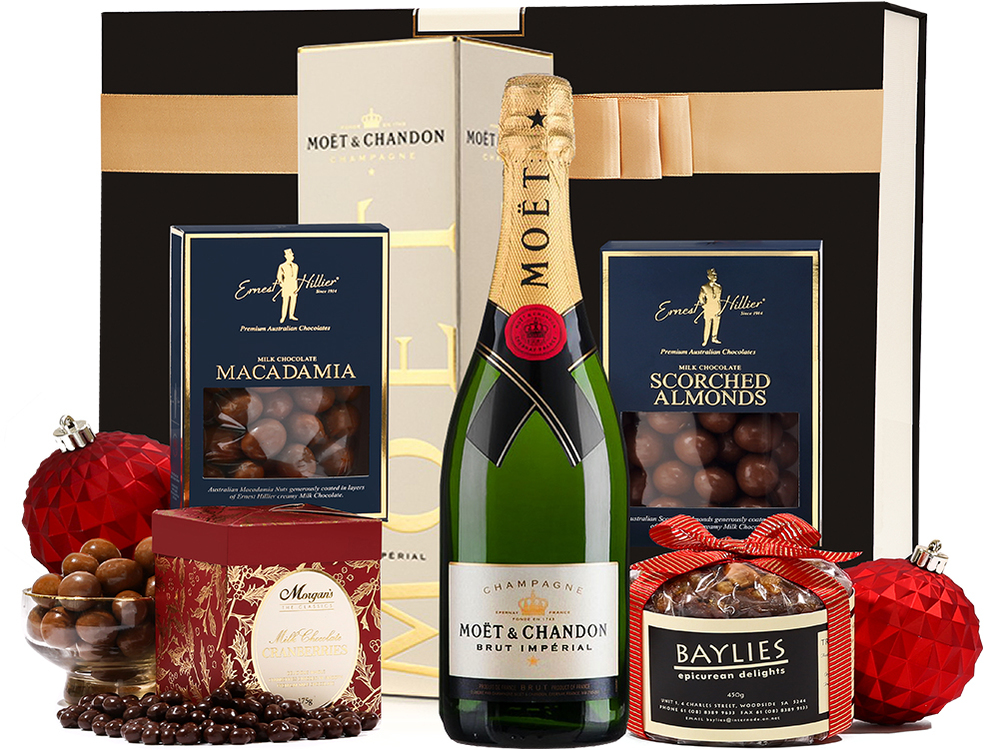 An indulgent choice for your Christmas giveaways that will stand out and make a lasting impression. There is nothing classier than a bottle of Moët & Chandon if you are looking for a gift for a special client or team member. It's also paired with refreshingly rich nibbles.
Milk chocolate macadamias, scorched almonds and brandy-soaked Christmas nut mix complement Moët & Chandon Brut Imperial NV champagne perfectly. This prestigious tipple is light and delicate, with a subtle hint of vanilla and grapefruit. Baylies Epicurean handmade cake makes this hamper a sheer Christmas luxury!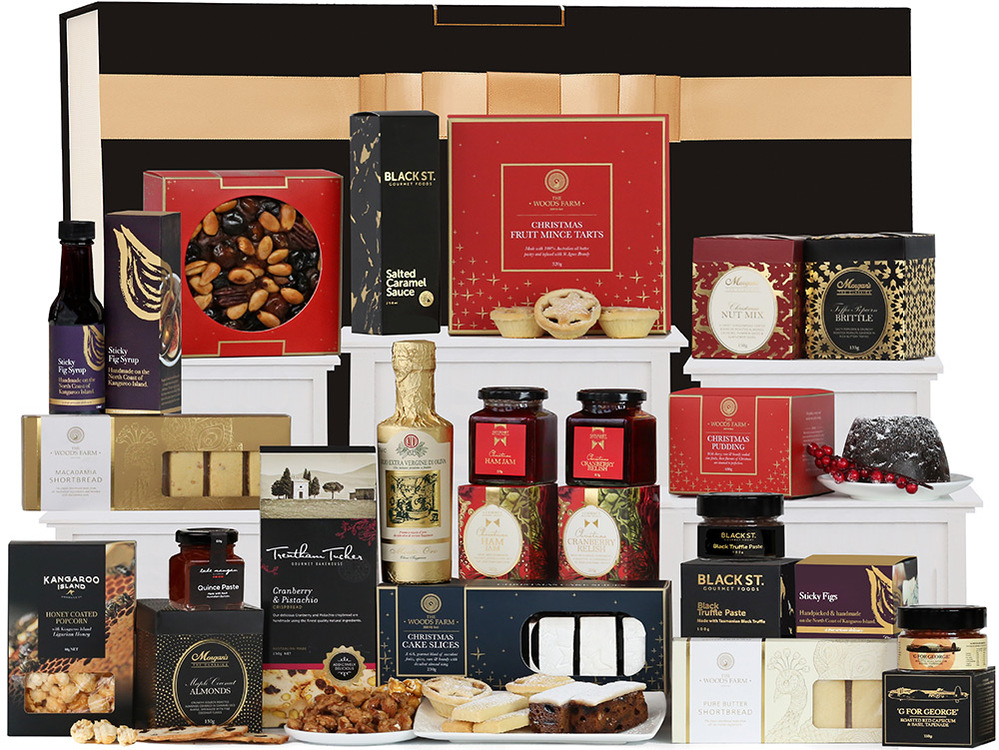 As Christmas giveaways go, this one will undoubtedly deliver the 'wow' factor. It's a tantalising idea for a highly esteemed customer or one to share for an office team. With an overwhelming collection of flavour savoury foods, it's a showstopper that will create an absolutely unforgettable celebration.
Loaded with exquisite delights, there are rich Christmas cakes, mince tarts with brandy-soaked vine fruits and butter-rich shortbread. Crunchy, flavoured nuts and crisp peanut brittle, together with sweet honey popcorn. Figs, chutneys and relishes add festive flavour too. This incredible hamper has everything you need to make a grand gesture and spread the Christmas spirit!

Leave The Presentation To Us!
Here at The Hamper Emporium, we just love all the finishing touches that make Christmas giveaways so special.
Your thoughtful Christmas giveaways will come in beautiful hampers, luxurious gift boxes or handcrafted wooden wine boxes. They are all designed to provide a keepsake that is useful and special. If you want to add some corporate branding, then there are numerous options from customised ribbons to beautifully branded gift tags. You can even use our Graphic Designers to create a unique look to suit your brand.
Yes, again, we know it's only October! But there really is no time like the present to start planning. Check out the exquisite options for Christmas giveaways with free delivery Australia-wide.
You can also take advantage of our bulk ordering option if you need to send our gifts to multiple clients. Then you can really sit back and relax!