How To Send A Get Well Soon Hamper
Author: Nikki Barnett Date Posted:13 May 2021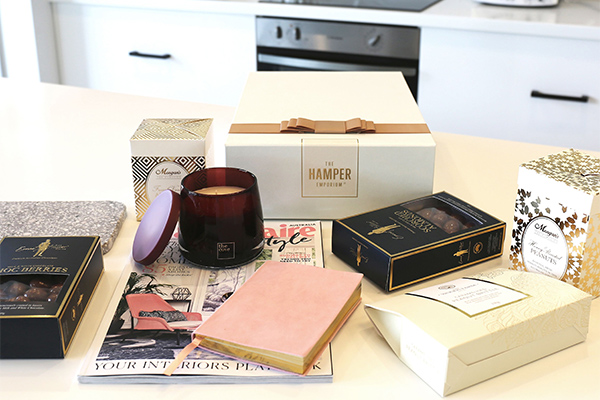 Raise Their Spirits With A Gift Of Fabulous Luxury Treats
Is someone you care about in hospital or feeling under the weather? Then it's time to reach out with a helping hand, heartfelt good wishes and something indulgent to cheer them up.
Whether they're recovering after an op, under doctor's orders in bed, or simply not feeling their usual happy self, saying 'get well soon' makes all the difference. With a fabulous food hamper brimming with fine food or pampering products, you're sure to make their day a little brighter!
So, if you're searching for a gift more meaningful than flowers or a punnet of grapes, dip into the choice of restorative get well hampers online with delivery from The Hamper Emporium. Anyone who's out of sorts is sure to adore something a little more comforting, cheery and luxurious.
How To Cheer Up Someone Who Is Sick
Thoughtful gifts for a friend going through a hard time with illness or recovering from surgery are always appreciated. A surprise delivery along with a motivational text to say you're thinking of them helps them to know they are not alone. If you can visit, bringing them food and drink that they love, or that you can share together, helps to give them something to look forward to. Comfort food when you're feeling down is a simple pick me up that works wonders.
Knowing what to send someone to cheer them up can be hard if they are in hospital or not up for visitors at home. To help you reach out to a friend who is sick, The Hamper Emporium can send gift hamper deliveries to hospital or direct to their door at home, along with a personalised gift card so they know their get well gift is from you.
Get Well Soon Hampers To Comfort, Revive And Stimulate
Sending your love or best wishes at a difficult time is a lovely gesture, and The Hamper Emporium team are here to help. All our beautiful get well soon gifts and thoughtful condolence gifts are carefully chosen and guaranteed to help them rally around and perk them up.
If they love sweet things, there's smooth chocolates, buttery biscuits and popcorn aplenty. Savoury taste buds will find more than enough gourmet foods, crackers, tapenades and olives to satisfy their palate. There are luxurious choices with and without their favourite tipple, too, from pink champagne to homemade cocktail kits. If you're looking for something to comfort and indulge, our pampering get well soon gift baskets are just the right choice to offer some needed relaxation and boost morale.
So, here are our top delicious choices for anyone who isn't feeling quite themselves. We guarantee they will help make their day!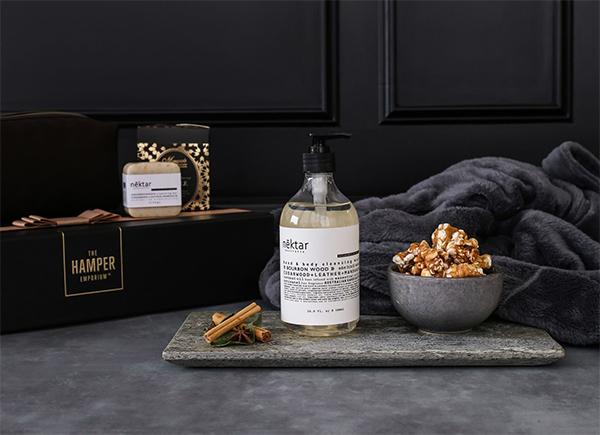 Get Well Baskets For Men
If your favourite man is not feeling quite himself, then treat him to a bit of indulgence from our range of Hampers For Men - full of tempting gourmet foodie treats and even a snuggly robe. Perfect as gifts for men in hospital, our Men's Nourish & Nurture hamper will soon revitalise him. He'll feel pampered with a range of gorgeous self-care products, including a shaving set and toiletries bag. There's even a selection of sumptuous milk chocolate treats to share with visitors!
Get Well Soon Gifts For Her
Nothing will cheer her up more than a thoughtful hamper of delicious, mouth-watering goodies. If it's a get well gift for a hospital homecoming, we think the Serenity & Relaxation hamper will do just the trick. With a comfy robe to lounge in and soothing organic tea, it's the perfect relaxation gift to get them on the mend. If rest and relaxation will aid recovery, then Luxury Tea & Relaxation Hamper is the get well soon gift hamper she needs to have her feeling better in no time. A gift box with relaxing tea, a sleep mask, candle and and handwash is wonderful as a pick me up for someone in hospital.
Wishing You Well Hampers For Food Lovers
Anyone on the road to recovery will love some gourmet sweet and spicy temptations, especially after bland hospital food. The delicious Foodies Hamper is brimming with artisan flavours and luxurious pantry items like Kangaroo Island garlic salt. If they're allowed a little tipple to aid recovery, we think the Ultimate Foodies hamper is just what the doctor ordered. Overflowing with delightful food choices, it also stars a premium bottle of rich red Cape Mentelle Trinders.
Online Chocolate Deliveries
You only need to browse our wonderful collection of Chocolate Gift Hampers to see that they will make any chocoholic feel a whole lot better. They make ideal get well gifts for hospital delivery, full of mood-lifting ingredients that promote happy feelings. The beautiful Little Luxury hamper pairs smooth choccy-covered treats with elegant gifts and a relaxing hand-poured candle. Chocolate get well soon gifts are perfect for men and women of all ages.
Pampering Get Well Gifts
When you're feeling under the weather, some time to relax and recuperate is a must. Our pampering get well gifts are designed to nourish and nurture with a host of skincare products, sumptuous accessories and chocolate nibbles. We think these are lovely to receive in hospital too. The Rosewater & Mulberry Silk hamper comes with soothing Jurlique products, a burgundy satin robe, a pure mulberry silk eye mask and vanilla almonds. What could be nicer?
Recovery Hampers To Cheer Them Up
Sometimes it really is cause for a big celebration after a stressful and worrying time. We think this calls for a get well gift which includes the exciting pop of a cork. All the family can join in with our luxury Chocolate & Veuve Clicquot hamper as it's bursting with choccie selections, treats, crisp candies and buttery shortbread. If it's a private moment, then the Vintage Moet hamper will toast in happy days and make them feel like a million dollars again.
Perk Them Up With Pampering Recovery Gifts From The Hamper Emporium
Our cheerful get well soon hampers all include free Australia-wide delivery and are dispatched the same day. The contents are all chosen with care and packed with love. They come in a stunning keepsake black box, wrapped with premium gold ribbons, and a lovely personalised gift card.
All get well soon gifts from The Hamper Emporium can be shipped directly to your recipient's home. Or if they're in hospital, why not send it to the ward as a lovely surprise? As most hospitals have some guidelines for deliveries, it's a good idea to contact them in advance. Then just check out our deliveries page for further instructions and any other information you need.
You can be sure our hampers will arrive on time and bring a ray of sunshine with them. Anyone who's convalescing or in need of a little 'pick me up' will appreciate the thought that's gone into your choice of get well soon gift. From gift hampers filled with artisan Australian fare to unique and cheerful pampering hampers, they are foolproof. Cheer them up with a hamper to deliver happiness straight to their doorstep or hospital ward.