How To Send Luxury Hampers to Australia This Christmas
Date Posted:4 November 2021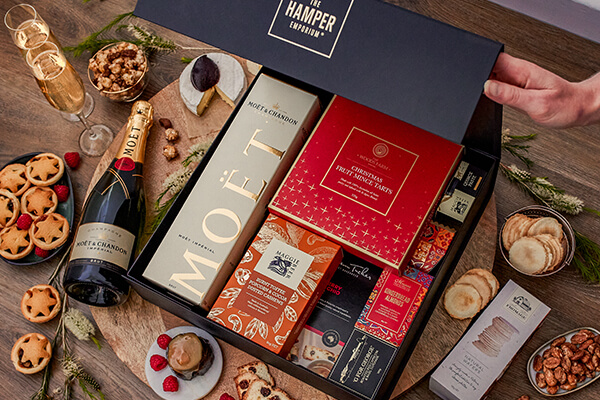 Send Gift Baskets Online Australia
No matter where you are this Christmas or where you do business, you can still send special gifts to those you love in Australia. The Hamper Emporium is Australia's leading expert in Christmas hampers and gift baskets. We can help you send a gift to celebrate the season anywhere in Australia.
Look no further if you want to thank your business contacts Down Under for their valuable partnership this year. If you want to spoil grandma in Sydney while you are in rainy England, if you're stuck overseas and missing family, or just want to treat your children on Christmas day while you are dancing the day away in Rio during retirement—we are here to help and are delighted to be part of your Christmas joy.
We offer Australia-wide delivery to any address and recommend personalised Christmas-themed gift cards and corporate branding options to make your gift stand out. Our Australian gift delivery options include standard and express delivery. We continue to send out orders on the same day if orders have been received before 10am Sydney time and the recipient is located within the Sydney metropolitan area. Delivery to major Australian cities like Melbourne, Brisbane, Adelaide, and Perth will arrive within 2-3 business days. Free delivery to towns throughout Australia from Coffs Harbour to Geraldton and anywhere in between will arrive within approximately 3-5 days. You can check for a more accurate estimate on our Delivery Time Calculator.
There are no hidden costs involved to our procedures or prices if ordering from overseas. No matter if you order from within the country or afar, it won't take any longer to send or receive your gift. Here at The Hamper Emporium we are proud to continuously offer FREE standard delivery Australia wide for all orders, even if you order from overseas.
We include multiple easy payment options for a seamless and stress-free gift purchase. Payments can be made with Visa, MasterCard, PayPal, AfterPay, zipPay or Direct Deposit. All our orders are processed and paid for in Australian Dollars but as a guide for you, our website allows for currency selection to keep on track with your budget.
The checkout process is easy and fast and you will have confirmation via email including your parcel tracking details. You can track your order so you know when your Australian friend receives their gift. Fast shipping means your special recipient will soon receive their surprise hamper to their door step with your personal message.
Christmas is nearly here!
We have a large selection of luxury hampers ready for you to order from overseas for your family in Australia. Here's a few of our favourites and most popular hampers in Australia for Christmas 2021.
The Everything But the Ham Christmas Hamper includes all the essential Christmas foods enjoyed in Australia like traditional Christmas pudding, cake, fruit mince tarts, ham glaze, cranberry sauce, and dessert brandy butter sauce just perfect on icecream. Decorate the table for Christmas lunch with snacks that come in cute Christmas bonbon packaging. This hamper will delight every recipient and makes an ideal family Christmas hamper to send to enjoy on Christmas day.
Elegant, luxurious but still affordable, the Christmas Mini Delight Hamper includes a hand-chosen selection of festive delights from Australia's finest artisan producers this Christmas. Presented in a custom-designed stunning gift box, the lucky recipient of this hamper will uncover the delicious joy of nuts, Christmas pudding, gingerbread almonds and so much more.
Prepare your tastebuds for the ultimate treat, the Christmas Decadence with Red Wine Hamper. This tasty xmas gift has it all—a delicious Australian shiraz red wine, sweet Christmas treats and classic gourmet nibbles. The perfect gift for someone who deserves only the very best. Wine and nibbles gift baskets are great to send to all the family. This Christmas hamper is perfect to send if you are away from your wife or girlfriend this Christmas and need a romantic long-distance Christmas present to send your love.
Here comes plenty of Christmas condiments ready for the Christmas table and a celebratory bottle of bubbles. You can order this from anywhere in the world and we deliver it to the lucky recipient within Australia. Either your fortunate family might be feasting on this on Christmas Eve or a special business associate might enjoy this with their team. The The Ultimate Christmas Foodies with Moët Hamper is packed full of luxury, a feast for kings and queens.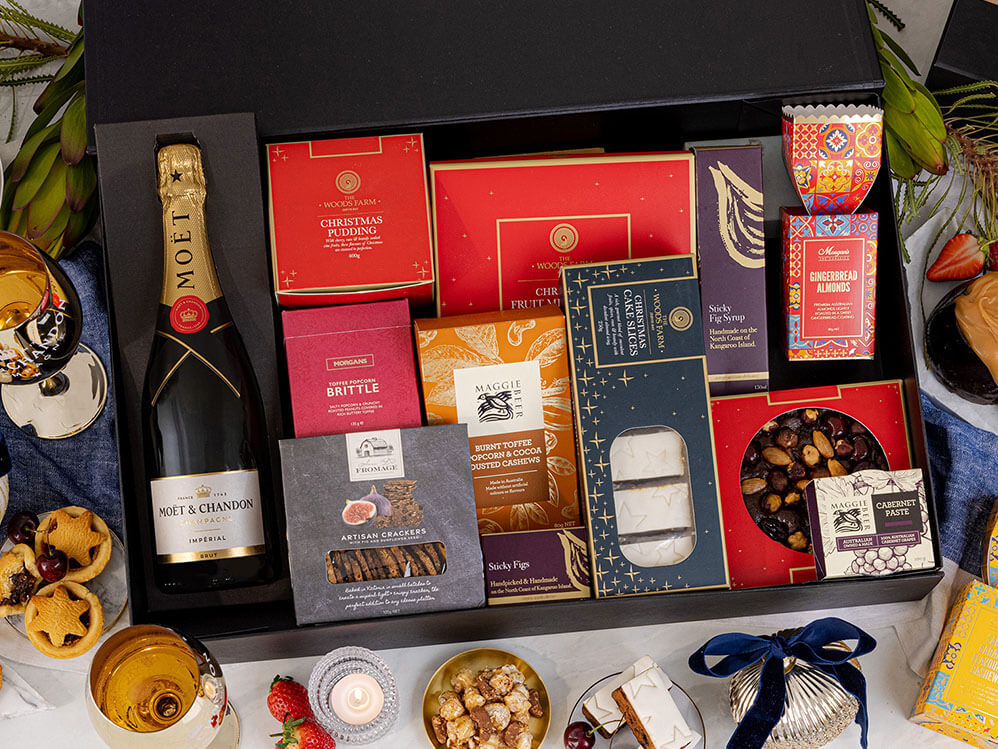 A party-pleasing hamper idea for sharing with co-workers at Christmas or as a gourmet gift for the whole family, this gourmet gift basket's wide selection is big enough to feed a happy crowd—no matter where they are in Australia. Send only the best nibbles, sweets and wine with The Celebration of Christmas Hamper.
Our popular festive hamper, The Deluxe Christmas Hamper is the ultimate in Christmas crowd-pleasing indulgence. Absolutely the most luxurious gift box you could send to family in Australia. This huge hamper is beautifully presented in a custom-made wooden gift box and will stun no matter who the lucky recipient is.
Get ready to celebrate with The Hamper Emporium
No matter what happens around the world between now until Christmas, when you choose The Hamper Emporium to deliver your luxury gift boxes throughout Australia, no customs delays or restrictions will slow you down. We have warehouses in Sydney, Melbourne and Brisbane and deliver for FREE to any address within Australia.
We love to provide our happy customers with luxurious hampers at affordable prices, year after year. Over 500,000 happy customers can attest that we are the best of the best and thrive on the gift of giving.
We offer company branding options, including unique business gifts added to hampers, premium corporate branded ribbons, gift cards and more. Get in touch and we will be able to help make your corporate Christmas dreams come true.
Send Extravagant Gift Baskets To Australian Friends
Whoever you choose to spoil or surprise this Christmas in Australia, you can't go wrong when choosing us. Whether you're searching for gourmet food and wine with a festive twist for a loved one, a corporate Christmas box, or simply want to fill someone's pantry during the holidays, we will have the perfect option for you.
We will help you send love from afar so you can treat the most important people in your life with a beautifully presented gift sent straight to their doorstep. Our Christmas hampers sell out each year and delivery cut-offs are earlier in 2021 due to the expected high volume of shipping orders and potential postal delays. So, be quick and place your order to avoid disappointment.

Express delivery recommended cutoffs
Sydney – Tuesday 21st December 10am
ACT – Monday 20th December 1pm
All other areas Australia-wide – Saturday 18th December 1pm
We will continue to take orders and dispatch hampers after these dates right through until 24th December 2021.
Free standard delivery recommended cutoffs
ACT – Thursday 16th December 1pm
NSW – Wednesday 15th December 1pm
VIC & SA – Monday 13th December 1pm
QLD, WA, NT & TAS – Saturday 11th December 1pm
We will continue to take orders and dispatch hampers after these dates right through until 24th December 2021.