How To Send Luxury Hampers to Australia This Christmas
Date Posted:1 November 2023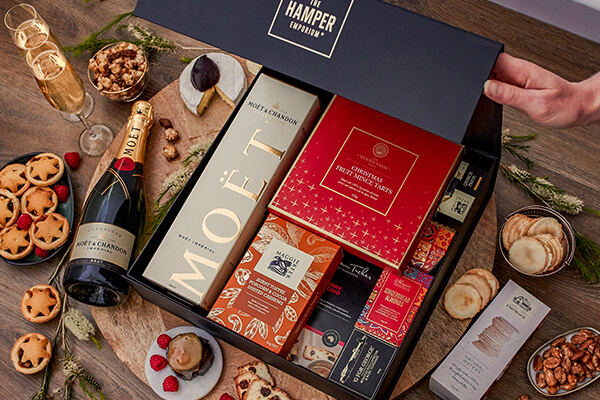 No matter where you live, The Hamper Emporium can help you send gorgeous Christmas hampers to your loved ones in Australia this festive season. We can deliver our Christmas gift hampers anywhere in Australia – from Sydney to Darwin to Hobart and everywhere in between. If you're looking to send hampers to Australia, we can help you do it quickly and easily.
In this blog post, we'll walk you through the process of sending a Christmas hamper to your loved one down under through us. Let's begin.
Why send The Hamper Emporium's hampers to loved ones in Australia?
"Why The Hamper Emporium?" You might be wondering. What makes us stand out from other Australian hamper producers? You see, Our hampers aren't just Christmas hampers. They're luxury in a box, complete with gourmet food, premium wine, and decadent Christmas goodies from Australia's most festive artisans. Each of our hampers is a masterpiece, and they'll make your gift recipient feel like a king or queen from the second they take a peek inside their gorgeous hamper.
Here are some more reasons why we're different:
We offer free Australia-wide delivery
Each Christmas gift hamper comes with a complementary and customisable card
Our hampers are tracked at each step of their journey
We offer same-day deliveries in the Sydney metro area on express shipping hampers ordered before 11 am Sydney time
We're an Aussie company offering hampers made in Australia

Our customer service team is based in Sydney and is happy to help

Our hampers are presented in luxury gift boxes your giftee will be excited to reuse

We offer corporate Christmas hampers
How to send gorgeous Christmas hampers to Australia via The Hamper Emporium
No matter where you live in the world, the process of sending luxury gift hampers to your loved ones in Australia for Christmas via The Hamper Emporium is the same. Without further ado, here's a step-by-step guide on how to do it:
Step 1. Choose Christmas hampers from our range
This first step is the hardest by far. The Hamper Emporium offers a beautiful selection of festive Christmas hampers, pamper hampers, chocolate hampers, wine hampers, and many other kinds of amazing hampers.
Select hampers from our range of Christmas hampers and press "add to cart". All of our hampers, except our cheese hampers, can be delivered to anywhere in Australia. Cheese hampers can be delivered to selected locations around Sydney, Melbourne, Brisbane, and Adelaide.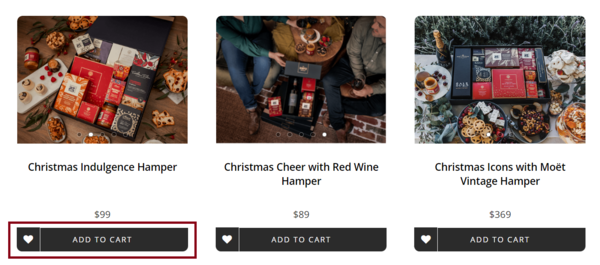 Once you're ready to begin the checkout process, select the checkout icon in the top right-hand side of the screen and select "checkout".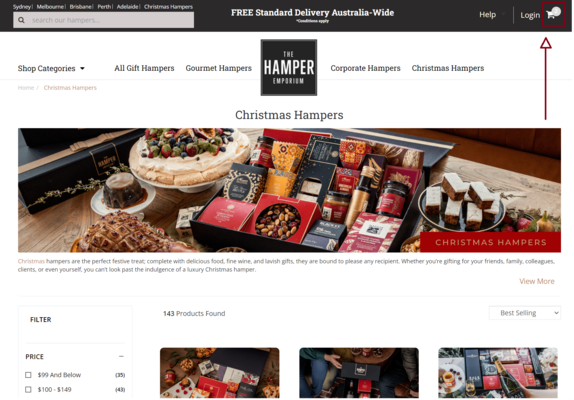 Step 2. Leave a message for your gift recipient's card
The checkout process begins with the page "Add Your Gift Card Message". As the name suggests, you can type out a message for the recipient of each gift hamper in your cart.
Each gift card message can be up to 500 characters long. We'll print whatever you wrote on your card during the packing process, and the card will be delivered alongside your gift recipient's hamper. If you'd like a blank card, you can tick "I would like a blank card".
You can also choose whether you'd like a free card or one of the premium cards made by our talented designers. If you don't want to include a gift card, press "no thanks" in the "gift card" field.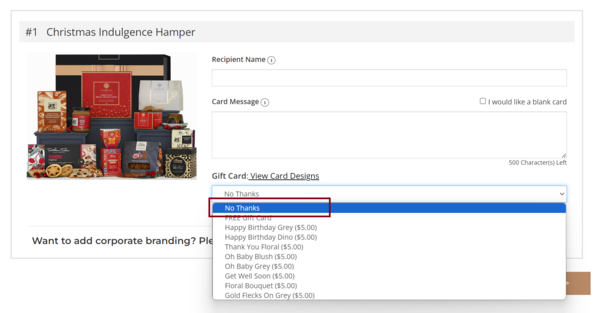 Once you're satisfied with your gift card messages, click "continue to checkout" at the bottom of the page.
Step 3. Fill in your details and your gift recipient's delivery details
Next, we'll ask you for your billing information. Please type your information into this section or sign in.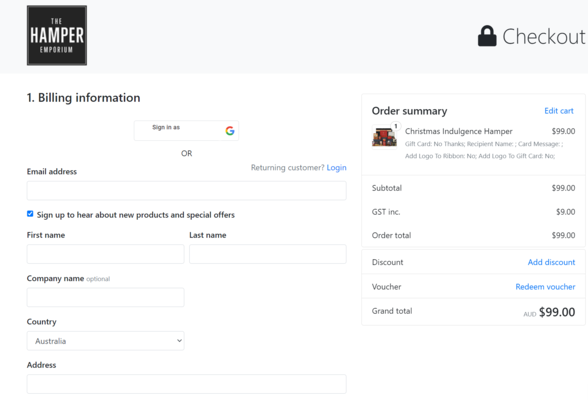 Next, scroll down to the "delivery details" section. This is the section where you add your gift recipient's address and information. Select either "different address" (if you're sending one hamper to one address) or "multiple addresses" (if you're sending hampers to multiple addresses). Fill in your giftees' names and addresses.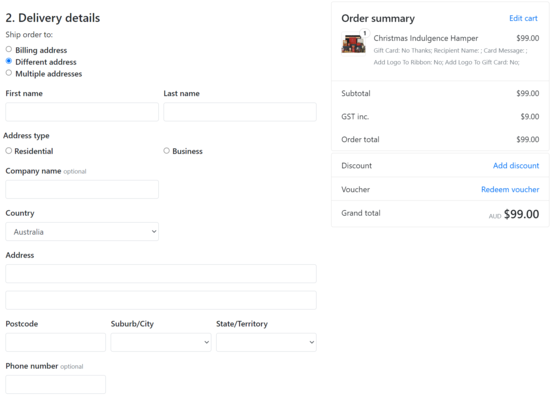 Then, scroll down to the "shipping methods" section and select your preferred delivery method. The Hamper Emporium offers complementary Australia-wide delivery, so we won't charge you or your gift recipients for the cost of standard shipping if you select that option. Express shipping and chilled deliveries cost extra.
Step 4. Finalise your order and receive your tracking number
Scroll down to the "payment details" section and select your preferred payment method. We accept Visa, Mastercard, PayPal, zipPay, Afterpay, and American Express payments.
To finalise your order, check that the details of your order are correct, and press "confirm and process order". We'll process your order and send you a confirmation email. Once your order has been processed, we'll send you a tracking number via email. You can use this number to monitor the delivery process.
5 Christmas hampers your Australian loved ones will adore in 2023
We have a large selection of gorgeous Christmas hampers, making it tricky to select the perfect hamper for your gift recipient. Here are a few of our favourite hampers for Christmas 2023:
#1. Everything But The Ham Hamper
Year after year, the Everything But The Ham Hamper remains one of our most popular gourmet Christmas hampers. One peek under the lid of this gorgeous hamper, and you'll see why! It features a decadent and generous selection of Christmas goodies from artisans like celebrity chef Maggie Beer, The Woods Farm, Morgan's, and Kokao, boasting exquisite flavours such as those in a handmade Christmas pudding, Belgian wafers, an almond bonbon, black truffle paste, sticky fig syrup, and brandy butter sauce. This hamper is a thoughtful contribution to your gift recipient's Christmas celebrations – they'll think of you after every bite.
#2. Christmas Decadence With Red Wine Hamper
Those shopping for family members with a sweet tooth will be delighted to discover this sugary hamper. This Christmas hamper boasts a gourmet collection of sweet morsels, with decadences such as iced Christmas cake slices, a gingerbread almond bonbon, lemon white chocolate almonds, a handmade Christmas pudding, and Belgian wafers. Every bite is pure foodie heaven, accompanied by sips of a rich South Australian shiraz from Mr Riggs that offers hints of red berries, spice, and smooth leather. Buy this hamper and spoil your relatives down under with festive indulgences.
#3. The Ultimate Christmas Foodies with Moët Hamper
When it comes to premium Christmas hampers with a foodie focus, The Ultimate Christmas Foodies With Moët Hamper is the cream of the crop. The star jewel of this hamper is a bottle of Moët & Chandon Brut Impérial NV Champagne. It's accompanied by a large collection of Christmas bites, sweet and savoury. Help your loved one far away enjoy cabernet paste spread across artisan crackers, unwrap a gorgeous Christmas pudding, savour some cherry and dark chocolate slices, and experiment with Tasmanian black truffle paste. Christmas is the ultimate season for foodies, so help the foodie in your life enjoy the best of the season with this hamper.
#4. Christmas Indulgence Hamper
Indulgences, especially of the sweet variety, are a signature of the festive season, and they're available in spades in the Christmas Indulgence Hamper. This luxury gift boasts treats like cranberry and pistachio crispbread, a handmade Christmas pudding, brandy butter sauce, Christmas fruit mince tarts, cabernet paste, and toffee popcorn brittle. This hamper balances sweet and savoury flavours well, delivering an epicurean experience your giftee won't forget in a hurry. Spoil your giftee with it this Christmas.
#5. Christmas Mini Delights Hamper
Maybe you don't necessarily want to fill your gift recipient's home with artisan flavours and Christmas smells, and you just want to send them a sweet reminder that you're thinking of them this Christmas. In that case, this mini hamper is for you. It's small, but full of love and life, offering gorgeous fruit mince tarts, capsicum tapenade, quince paste, burnt toffee popcorn and cocoa-dusted cashews, wafers, cranberry and pistachio crispbread, a gingerbread almond bonbon, and handmade Christmas pudding. It's the perfect gift to say "I love you and I miss you this Xmas".
FAQs about sending our Christmas hampers to loved ones in Australia
Arranging a gift to be delivered internationally can be a stressful experience, as it can feel like you're far removed from the whole process. To put your anxieties to rest, we'll answer any questions you may have about having a hamper delivered to Australia in this section.
How can I send a luxury hamper to Australia if I live overseas?
Creating your own Christmas gift baskets and sending them internationally is an option, however, the cost, time required, risk of the baskets getting lost, or risk of customs seizing items from the baskets make it a rather unattractive one for most people.
Sending a hamper with The Hamper Emporium is a much cheaper and safer option. All you have to do is select one of our gorgeous Xmas hampers, fill in your giftee's details, and place your order. We'll pack the hamper in our Sydney warehouse, print a message in a card for you, and make sure the hamper is delivered to your giftee's door. International customers are free to use our website just like domestic customers do – the process is exactly the same.
How can I track my gift recipient's Christmas hamper?
All of The Hamper Emporium's Christmas hampers are sent with tracked shipping. We'll send you an email containing a tracking number once your giftee's Christmas hamper is processed and ready to leave our warehouse. You can use that number to see where your hamper is on the AusPost website.
Who can I contact if something goes wrong with my Christmas hamper order?
Our customer service team is happy to assist you if something happens to go wrong with your Christmas hamper order. Our team is available via live chat, email, and phone between 9 am and 5 pm Sydney time on weekdays. You can also submit a request, and our lovely team members will get back to you.
You can also troubleshoot using our Help Centre.
Can you order Christmas hampers in Australia from the US?
Yes, The Hamper Emporium is very happy to accept orders for Christmas gifts and hampers from people in the USA. We now accept American Express, PayPal, Afterpay, and zipPay, so it's easy for Americans to order from us.
Can Canadians place an order for Christmas hampers in Australia?
Yes, Canadians can place an order for Christmas hampers and have them sent to gift recipients living in Australia through us. We have tons of beautiful hampers that your Aussie loved ones will absolutely adore.
Can I order luxury food hampers from the UK to Australia for Christmas?
Yes, The Hamper Emporium is very happy to accept Christmas orders placed by those in the UK. The ordering process for international customers is exactly the same, and we offer multiple digital payment options to make it easier.
Can you order Christmas hampers from New Zealand to Australia?
Yes, you can place a luxury Christmas hamper order from New Zealand and have it delivered to your giftee in Australia. We can even send some of our Christmas hampers to gift recipients in New Zealand – here is our New Zealand range.
Spoil your loved ones in Australia with our Christmas gift hampers
The Hamper Emporium makes it easy to find amazing gift hampers and have them delivered to your loved ones living here in Australia. Simply browse our range and select hampers for your giftees – we'll handle the card writing and delivery for you. We offer complimentary standard shipping Australia-wide and same-day deliveries on express hampers in the Sydney metro area ordered before 11 am Sydney time.
Spread the love and delight your loved ones with our gorgeous Christmas hampers this holiday season.