How to Make Your Own Christmas Hamper
Date Posted:29 November 2023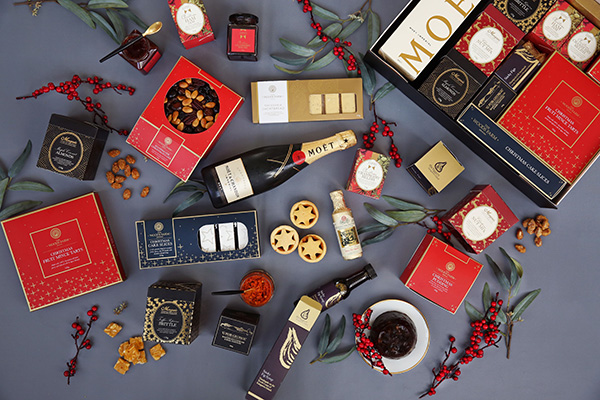 The festive season is full of decadent things, with hampers reigning supreme as one of the most indulgent gifts to get. For the lucky recipient, a Christmas hamper adorned with sweets is the perfect gift.
Here at The Hamper Emporium, we've mastered the art of preparing unforgettable Christmas hampers, and in this post, we're going to share some exclusive tips and tricks. Read on, and you'll learn how to make your own Christmas hamper.
Let's get started.
How to make your own Christmas gift hamper
We've divided the process of creating a Christmas gift hamper into six steps for simplicity, and without further ado, here they are:
Step 1. Choose a theme
Christmas hampers can be quite a personal gift, so during this first step, you'll need to choose a theme and brainstorm Christmas hamper ideas that your giftee would like.
You might be thinking that 'Christmas' is your hamper theme, and while that's true, it can be helpful to drill down further. Here are some themes you might like to consider:
Winter wonderland

A gift from Santa

Christmas for a sweet tooth

Christmas for a savoury snack lover

Christmas desserts

Hampers for a festive toast

Christmas BBQ
Step 2. Get inspired
The next step in any DIY project is to do some research and get inspired. We recommend searching Google with queries like "homemade Christmas hampers" or "DIY Christmas hampers". As you can see below, there's a lot of variation between hampers.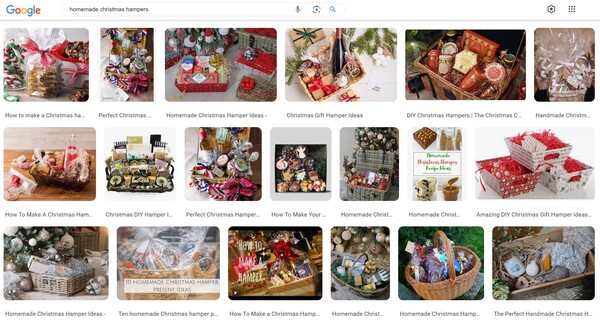 During this step, keep your gift recipient in the back of your mind and consider which of the hampers they would like.
Step 3. Buy a Christmas hamper basket or box
Next, it's time to buy a gift box or wicker hamper basket. There are pros and cons for boxes and baskets. Boxes are lightweight and easily recyclable, but they lack the charm of baskets and they can get damaged easily. Baskets make your hamper look classy and high-end, though they're more expensive and bulkier.
At The Hamper Emporium, we compromised by choosing a premium gift box that closes with a magnet. Our boxes won't break easily, they provide a luxurious feel, and they're still about 70% recyclable. We've heard from customers that they're perfect for storage.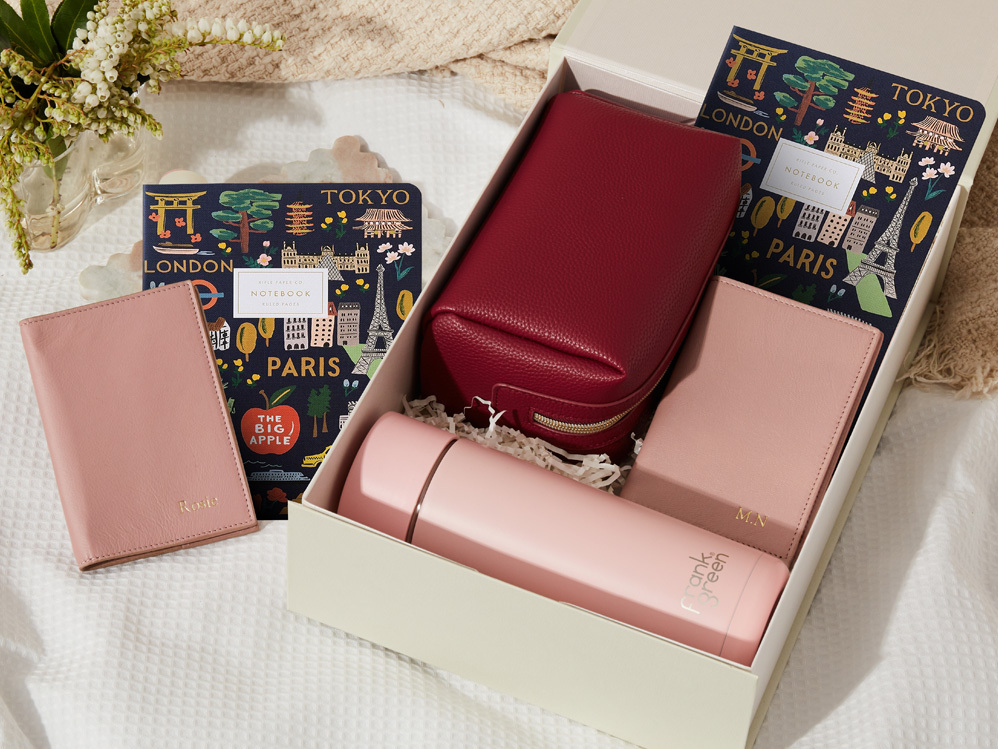 Step 4: Buy some items for the hamper
During this step, you'll need to go and buy the items you'll include in your hamper. Here are some Christmas-y suggestions:
Christmas pudding

Christmas cake

Panforte

A panettone

Gingerbread

Chocolate

Spiced nuts

Bonbons

Shortbread

Preserves and glazes

Caramels

Pretzels

Wine or champagne
We recommend choosing items that are compatible with each other, but different enough that your giftee won't get bored. For example, your hamper could feature a Christmas pudding, a jar of brandy butter sauce, some spiced nuts, and bonbons.
Step 5: Buy some hamper decorations and a card
You're nearly ready to put your Christmas hamper together, but there's one thing you're missing: decorations. You'll need tissue paper or cardboard padding to keep the items in your hamper in tip-top shape. You'll also need cellophane to cover your hamper, a ribbon to make it look appealing, and some tape to hold it together.
During this step, we also recommend buying a Christmas card to attach to the hamper.
Step 6: Assemble your Christmas hamper
Finally, it's time to put your Christmas gift hamper together. This is the fun part!
Start by removing the price tags from every item in the hamper and set them aside. Then, take your hamper filling and pour it in, making sure it's spread evenly. Place your hamper items into the box or basket neatly. Ideally, the items should be close together but not touching each other.
Finally, wrap your hamper up with cellophane, write in the card, and attach the card to the hamper with a ribbon.
And that's it! You've created your own Christmas hamper.
Homemade Christmas hampers vs. The Hamper Emporium's Christmas hampers
Now that we've covered how to make your own hamper, here's a comparison of homemade hampers and The Hamper Emporium's Christmas hampers:
Homemade Xmas hampers

The Hamper Emporium's Xmas hampers

Time required

2-3 hours

5 mins

Costs

Hamper basket

The contents of the hamper (at retail prices)

Hamper decorations

Shipping (if you're posting it)

The cost of the hamper (and because we buy at wholesale prices, you can save money)

Express shipping (optional)

Is it a personalised gift hamper?

Yes, a homemade hamper is a personalised hamper.

Yes and no. You can't customise the contents of the hamper, but you can leave a personal message on the card we provide.

Creativity required

Lots. You'll need to think of some great ideas that your giftee would like.

Little to none. Our gifting experts have already spent hours curating each hamper and designing the ultimate hamper opening experience.
Ultimately, while homemade hampers give you tons of freedom, they're often time-consuming to create and more expensive (because you need to buy things at retail prices).
FAQs about DIY Christmas hampers and gift baskets
In this section, we'll answer your top questions about making your own Christmas hamper.
What is a must-have when creating a Christmas hamper?
No Christmas hamper is complete without a classic dessert like Xmas pudding or Xmas cake. Another must-have is a nice basket or box to present your items in.
Is it cheaper to make your own Christmas hamper?
No, it's usually more expensive to make your own Christmas hamper. When you create a DIY hamper, you have no choice but to pay retail prices. As the price of everything has increased dramatically this year, the cost of the basket, decorations, and hamper items can add up quickly.
The Hamper Emporium also provides extras for free that you would need to pay for if you created your own hamper, including free standard shipping Australia-wide and a customisable card.
How long does it take to make a Christmas hamper?
It generally takes 2-3 hours to create your own Christmas hamper. It takes 1.5-2 hours to drive to the shops, buy the items in the hamper, and drive home (especially because you'll need to visit multiple stores). Putting the hamper together takes 30 minutes to an hour.
For comparison, it takes roughly five minutes to place an order for gift hampers on The Hamper Emporium website.
What do you put in a DIY Christmas hamper?
There are many items that will go in your Christmas hamper nicely, including:
Christmas puddings or cakes

Fruit mince pies

Panforte

Panettone

Jams, chutneys, and glazes

Chocolate, caramels, and lollies

Sweet and savoury nuts

Candied fruit

Wine and champagne
You'll also need a gift basket or box for your hamper.
How do you make a homemade hamper for Christmas?
Here's how to make a Christmas hamper:
Choose a hamper box or basket for your giftee.

Fill the hamper with festive treats, wine and champagne, and naughty little nibbles.

Add some Christmas-themed items like tree decorations, ornaments, and candles.

Wrap your hamper up in cellophane and tape it together.

Decorate the hamper with a bow and a card.
The Hamper Emporium makes buying Christmas hampers easy
We hope this blog post has helped you create your dream hampers for your lovely friends and family members. However, if the DIY road isn't for you, we also offer a huge selection of premium Christmas hampers. Packed with Christmas crowd-pleasers, sweets, wine and champagne, and more, they're guaranteed to impress. Whether you're looking for wine hampers, chocolate hampers, or pamper hampers, we've got something for you. Our hampers even come with free shipping Australia-wide and a customisable card.