How to Make Your Own Christmas Hamper
Author: Nikki Barnett Date Posted:20 October 2020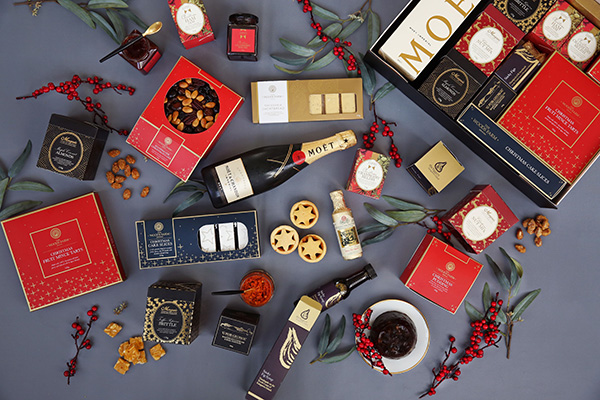 Spread Joy This Christmas With Gorgeous, Handmade Gifts
Nothing conjures up the atmosphere and exciting buzz of the festive season quite like the iconic Christmas hamper.
Here at The Hamper Emporium, we are already in the Christmas spirit and making merry. We love planning and preparing our fabulous range of sellout Christmas Hampers, so we are giddy with excitement well in advance of the big day. Christmas food and wine hampers are just the ultimate surprise, and everyone loves them!
So, for those who like some gift hamper creation inspiration, we would love to share our homemade Christmas hamper ideas with you. Take the time to plan, get creative, and your Christmas gift hampers are guaranteed to take pride of place under their glittering tree!
10 Reasons Homemade Christmas Hamper Ideas Rock
When you make your very own homemade Christmas hampers, you're giving something extraordinary. They are personal gifts which will add to the moment and create lasting memories to treasure.
Why you should choose a handpicked gourmet Christmas hamper:
Everyone loves them, especially if they have everything

You can choose different sizes and shapes

They can be practical, taste-tingling or indulgent

Gifts can be varied and specially selected

Christmas hampers are a personal touch

It's a collection of thrilling gifts in one package

Hampers make beautiful mementos and keepsakes

Selecting the best products is satisfying and great fun

They are thoughtful and show your love

Christmas hampers are really exciting to open!
How To Make A Christmas Hamper Basket That's Sensational
Whatever your budget, when you make your own Christmas hamper, make sure to add some sparkle. Designing impressive gift hampers is a lot of fun and will put you in a jolly mood. Let your imagination run riot and think about things they will love from useful gifts to a hilarious surprise. Gift hampers make fantastic presents and are a magical and personal way to wish friends and family Merry Christmas.
Think about the person, plan your contents, and choose a container that's the right size. You can use anything useful from a basket to a biscuit tin or shoebox. Of course, wicker hampers always look the perfect part at Christmas but your finishing touches will make anything look jolly!
Once you've chosen all your gifts, arrange them attractively. You can fill in any gaps with the smaller items, or even aromatic pine cones and coloured baubles. Pack with layers of festive red tissue paper and smother it in a clear cellophane wrap. Then comes the fun part of making it look magical. Add lavish Christmas ribbons and bows, sparkly tinsel, tree decorations or sprigs of leaves from the garden. Just follow your festive feelings!
Choosing A Yuletide Theme To Add A Touch Of Magic
When you make your own Christmas hampers, it's nice to focus on a theme and build from there. A festive occasion, family get-togethers or thoughtful personal favourites are all great ideas for how to make a Christmas hamper unique. As these usually help to stock the pantry too, you can always add tempting festive flavours. However, be as inventive and wacky as you want!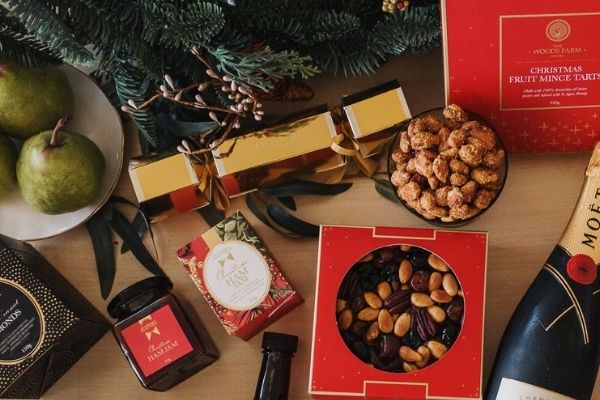 Here are some ideas from the Hamper Emporium to get you started!
Sweet Or Savoury Treats Hamper
If your friends and family have a passion for all things sugary or chocolate flavoured, then a sweet hamper is a perfect choice. Fill decorated jars and tins with candy and treats and add a selection of mouth-watering chocolates and fudge. You can make them packed with savouries, add a bottle of wine, or even make handmade sweets or cakes to include. Check out our range of delicious Chocolate Hampers & Sweet Gifts for some festive inspiration!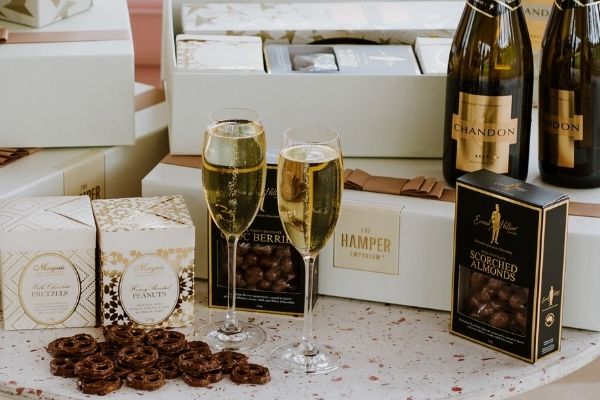 Festive Food & Drinks Hamper
If your craft talents lie more in the gourmet food area, then fill your hampers to the brim with the flavours of Christmas. If they love the indulgence of Christmas cake, for instance, then theme your baskets around that. Alternatively, you could add a tantalising mix of artisan products like our Gourmet Food & Wine Hampers, for the perfect Yuletide blend. It will suit all tastes and create just the right amount of excitement!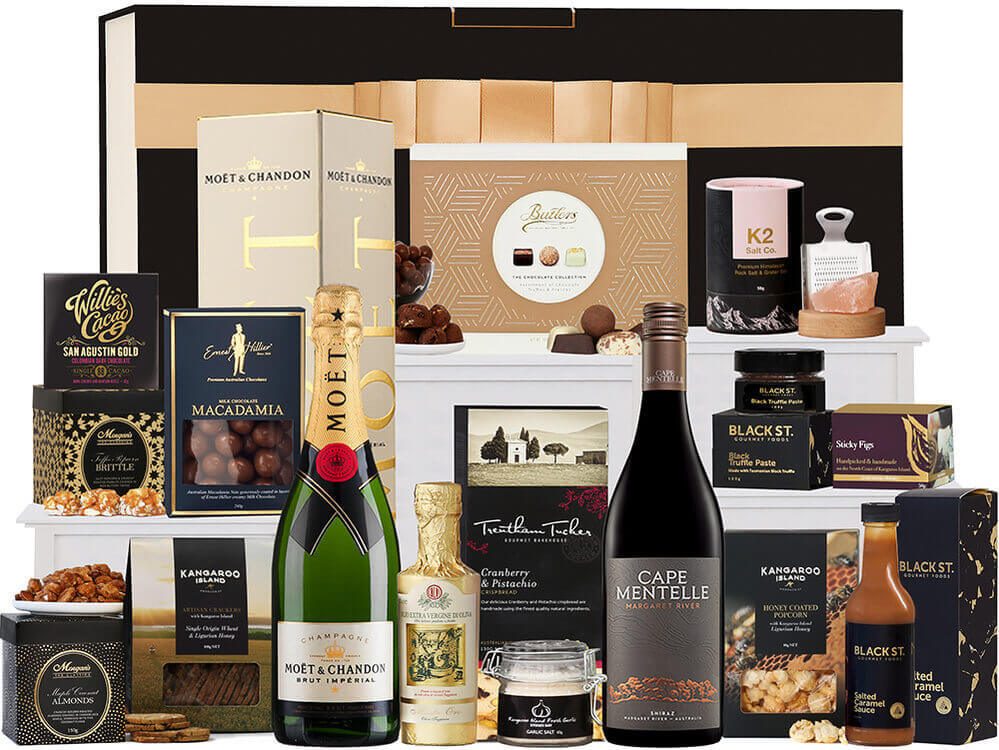 Romantic Couples Christmas Hamper
Instead of buying a Christmas gift for your favourite couples, why not give them a fabulously romantic hamper for two? Fill it brim-full of everything in twos; two colourful Christmas crackers, two delicious mince tarts, two premium bottles of wine. Get creative and the list is endless! For something exceptional, put your gifts in beautiful gold crackers and add a celebratory bottle of sparkling champagne. Our Moet & Swarovski Crystals Hamper will give you all the motivation you need!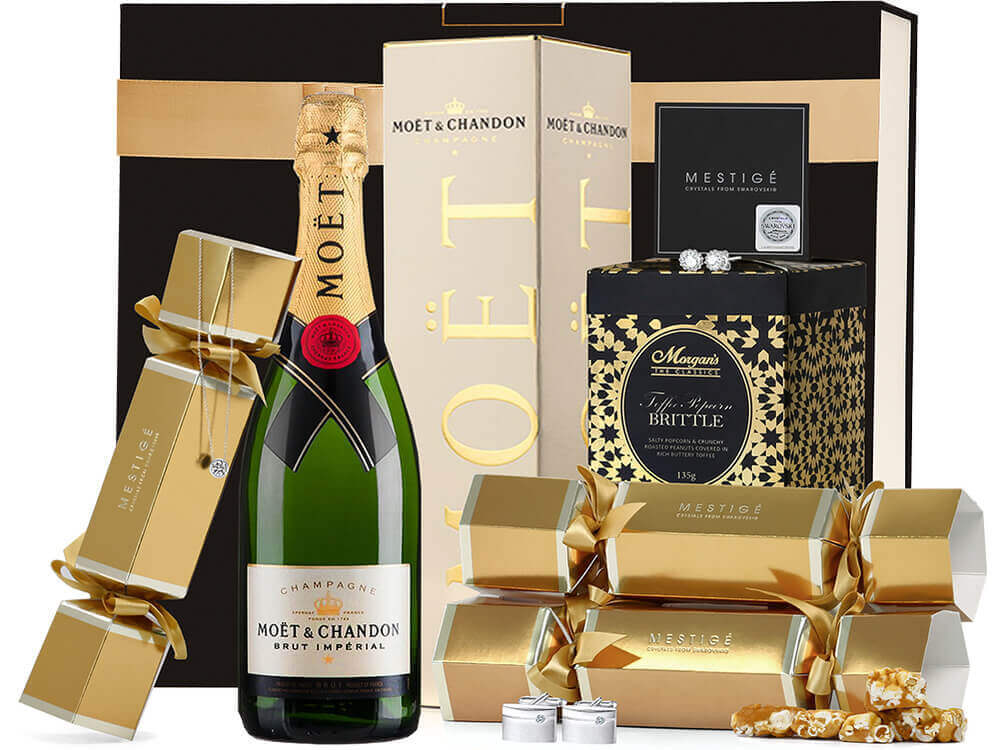 Personalised Pampering Hamper
Find the stress-relieving way to send your Christmas gifts with wonderful hampers that will pamper and spoil. Thoughtful self-care treats for lucky loved ones will always be appreciated. Choose soothing skin products, aromatherapy candles, silk eye masks and little touches of luxury. Our premium Pamper Hampers will guide the way. Add some dried fruits, cinnamon sticks or sprigs of berries if you think they don't look Christmassy enough!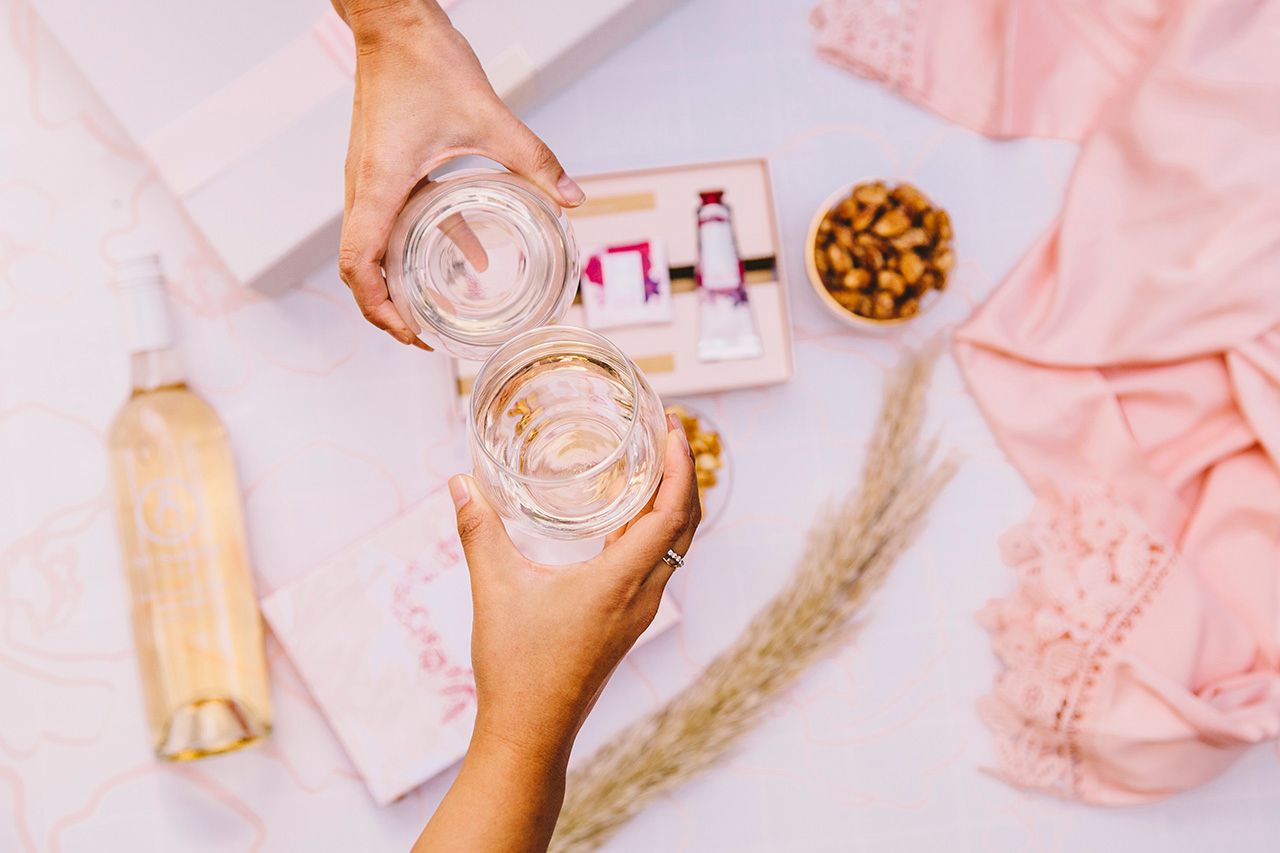 Magical Christmas Eve Hamper
On Christmas Eve, the thrill of the big day has arrived and everyone is buzzing in anticipation of the coming holiday. Why not gift a Christmas hamper full of small goodies and gifts to keep kids occupied? Or a Santa basket with fun treats for him and Rudolph? For the grown-ups, make it a Festive Christmas Hamper full of their favourite things, from sensational snacks and nibbles to a bottle of bubbly to pop at midnight.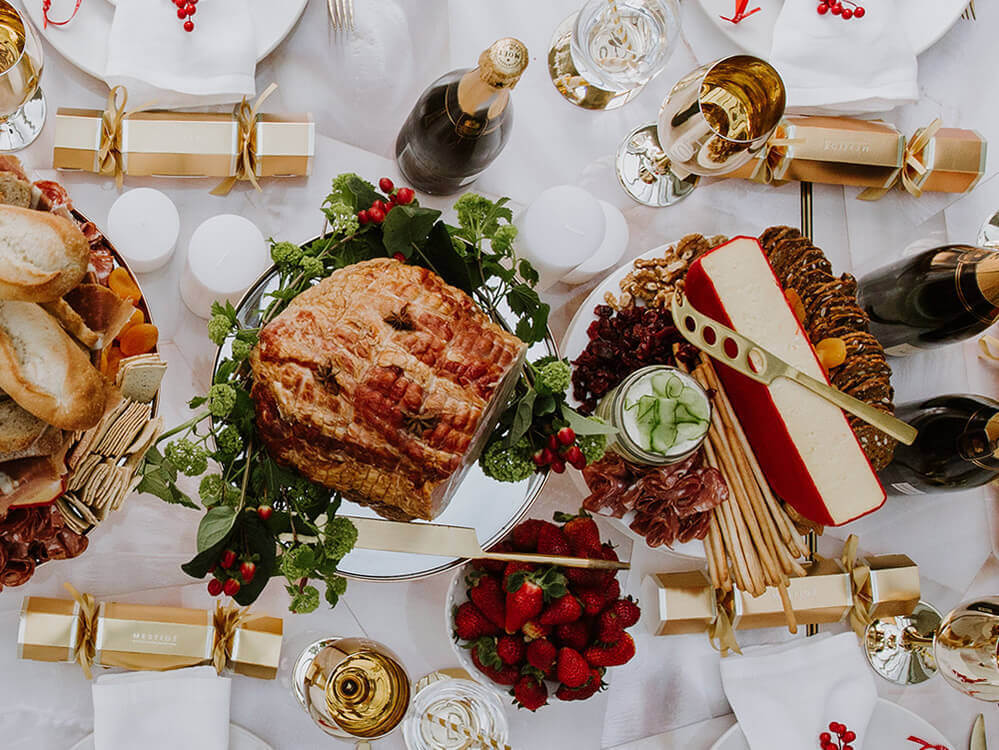 The Hamper Emporium Delivers With Santa
If you only have time to make some of your own gifts, then the vast collection at The Hamper Emporium can save the day. We have some of the merriest and most festive ways to send seasons greetings. Whether it's for a friend, family, or work colleagues, you will find just the right blend of pampering, luxury and joy.
Make your own Christmas hamper Australia wide by checking out our range of Christmas Hampers. Send your note to Santa today!