How to Organise a Virtual Christmas Party
Author: Nikki Barnett Date Posted:4 November 2020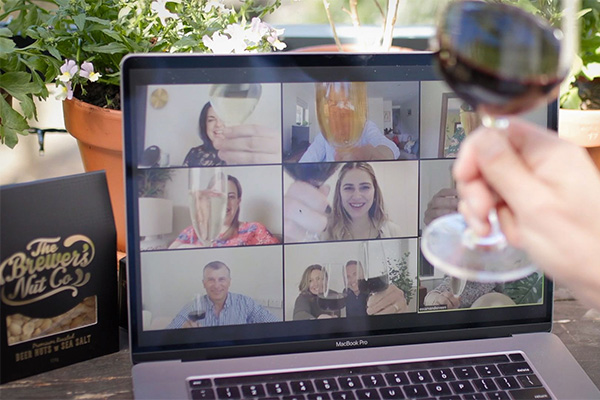 End of Year Office Party With A Difference
For many workplaces December means celebrating your successes, planning frantically for Christmas, and of course, the office party. There's nothing like relaxing with your colleagues after a long year.
That may not be possible for everyone in 2020. With Christmas just around the corner, and many companies still working remotely or limiting travel, some businesses may be tempted to cancel their end of year work parties.
Even if you can't host a large gathering, you should still plan a celebration for your team. End of year parties are great for staff morale and for strengthening relationships with your customers. So, what can you do to unite your team this festive season?
Christmas 2020 is going to feel a little different, but corporate Australia has come up with an innovative plan to ensure no one misses out on the traditional end of year Champagne and nibbles. A Virtual Christmas Party hosted online gives the opportunity for staff and clients to chat, and for everyone catch up with colleagues they haven't seen in person for a while.
Bring the party to them
Normally, your Christmas present to your team is as easy as paying for their meals or picking up the bar tab at the end of the night. You're going to have to get a bit more creative this year. After all, amidst rapid change and uncertainty, it has never been more vital to show your employees how valued they are.
We've noticed many of our customers have been repurposing their Christmas party budget into employee gifts. You could say 'thank you' by sending each staff member a gourmet food and wine hamper to enjoy. There's nothing quite like having a gorgeous gift box delivered to your doorstep, and as an added bonus, it's great for company morale.
But, for a truly memorable end of 2020 office party, we recommend planning the ultimate virtual Christmas party. This year, it's especially important to give remote employees the chance to relax, share a drink, and reconnect with co-workers.
How to plan a virtual Christmas party online
Set a date
If you've been working from home for so long that you can't remember what the office coffee tastes like, you might be feeling a little distant from your team. That doesn't mean you should give up all hope of a group celebration, though.
On the day that your office Christmas party was booked, let everyone finish work early and organise a Zoom call. Send out fancy Virtual Christmas Party invitations in advance so everyone can plan ahead. Ask everyone to RSVP with their choice of drink and dietary requirements. You don't have to tell them why! It will create a sense of anticipation knowing that something special is planned for their end of year party.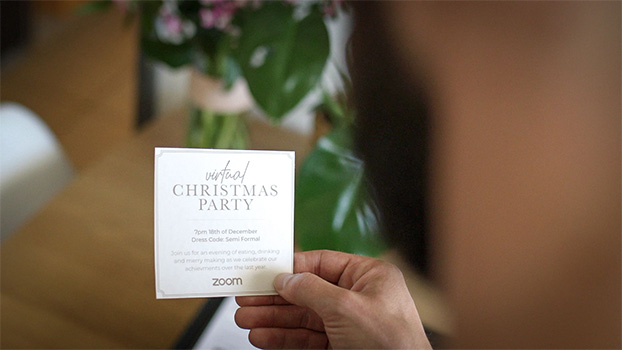 Order a selection of gourmet hampers
Once you know if anyone has a favourite wine, beer, or cocktail preference, and whether or not they prefer savoury over sweet, you can organise a range of gourmet hampers to be delivered to their door. The Hamper Emporium has all our most popular Christmas celebration hampers available for pre-order, so you can make your selection early. As well as the best traditional hampers filled with Christmas treats, we also have a new range of cocktail hampers that would really make your virtual Christmas party an event to remember.
Make sure you choose staff gift hampers that suit an online celebration. Any hamper with Champagne is perfect. The Champagne Festive Hamper will make a great impression with everyone. If someone prefers red wine and savoury nibbles, order the Red Wine & Nibbles Hamper. For those that don't want an alcohol gift, the Indulgence Christmas Hamper would be the best option. And for beer drinkers, the Beers of Australia Hamper will be their first choice.
For a really special treat, our gorgeous new Chandon in Bloom cocktail hamper comes with everything your staff will need to make their own elegant end of year cocktails at home. Chandon Brut Rosé, Belvedere Vodka, Fever-Tree Soda Water, and Bouvier raspberry and mint syrup, plus a gorgeous glass cocktail shaker, cocktail jigger, edible cocktail flowers, French vanilla roasted almonds, and more.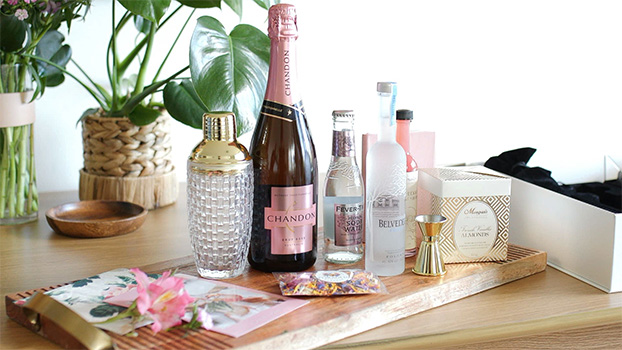 Dress to the nines
Encourage your team to dress up. For many, working from home has meant a steady decline into track pants and fluffy socks, so give them a chance to dust off whatever outfit they would have worn were the party face-to-face.
Whether you organise a theme or leave it up to each individual to wear whatever makes them happy, make sure you differentiate this day from all the others. You want your virtual Christmas party to be memorable for years to come. One way to make your virtual Christmas party special is to take lots of screenshots of everyone dressed up and raising a glass to celebrate.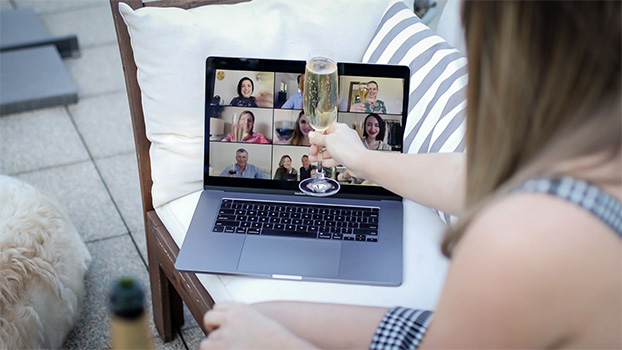 Relax and reflect
2020 will go down in history as a year of highs and lows. It has been hard on many people and businesses, but that's even more reason to celebrate together as a team. Your resilience—both as individuals and as a whole—has seen you through challenges that no one could have predicted.
Be sure to end the work year on a positive note. At some point during your virtual office party, make sure you give a short 'thank you' speech to recognise everyone's efforts. You could do this before everyone opens their gift hamper as a way to kick off the event. Before the party ends, ask everyone to share their greatest work success of the year (you might be surprised what they say!). No win is too small to be worth celebrating.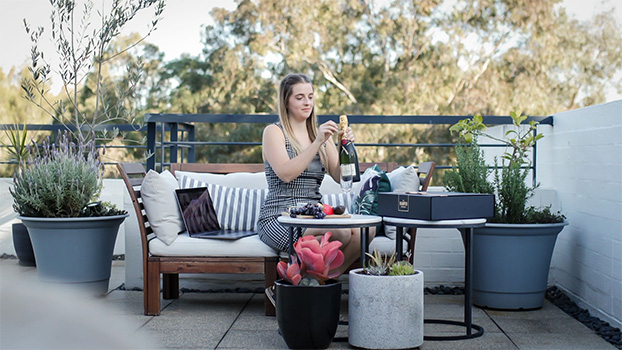 Tips for a successful virtual Christmas party
If you're hosting your online Christmas party on a platform you usually use for work, like Zoom or Google Hangouts, everyone will probably be familiar with how it works. But if other staff or clients will be joining who may not be as tech savvy with an online party or meeting, make sure to prep them in advance so they find the virtual format easy. Clear instructions for how the mute button works, swapping between gallery view and individual speaker view, and how to use the chat function will make their virtual party conversations more fun.
Make sure you designate several people to be the virtual Christmas party hosts over the course of the event. They should keep an eye out for anyone struggling with the technology as well as make sure everyone is having a great time. They could even organise a few ice-breaker events or Virtual party games.
More virtual Christmas party ideas
If your office usually hosts a Secret Santa gift exchange, you can still do that online. If no one has put their hand up to organise a staff gift exchange, it's simple to do. There are a number of Secret Santa planners online including generators where you simple add in everyone's name and email address (you can even upload a spreadsheet if you have a lot of staff). Then the online Secret Santa organiser automatically emails everyone a random giftee to buy for. Organise it well in advance so gifts are delivered to each person's house before the Virtual Christmas Party. That way, you can all open your gifts online at the same time.
A virtual work party to remember
Often, it's in trying times that we realise our own strength. This is true personally, professionally, and collectively. Hopefully, we'll only get one shot at organising the best ever socially distant virtual Christmas party. Five years from now your team may not remember the small details of your 2020 Christmas party, but they will still recall the feeling of togetherness. Make sure your gesture counts.
Kickstart your office virtual Christmas party
Score some brownie points with your boss and register your business for a chance to win gourmet Christmas hampers to kick off your virtual office party. The winner of our Virtual Christmas Party Competition will receive 15 hampers to get their party started the right way. From red wine to cocktails, you'll get a mix of different hampers so you'll have something for everyone delivered to their door!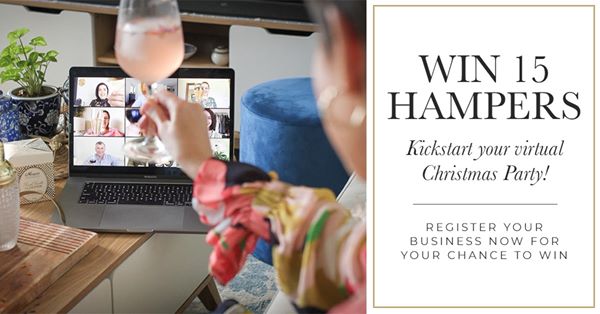 To get started, browse our range of corporate gift hampers and take advantage of our bulk order discount. Give 2020 a fantastic send off with the best virtual Christmas party ever and festive gift baskets from The Hamper Emporium.