Ideas For Planning A Milestone Birthday Party
Author: Nikki Barnett Date Posted:16 March 2021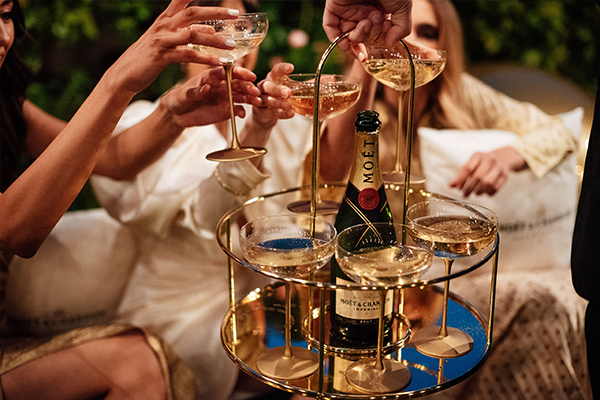 Celebrate Their Life With A Birthday Event To Treasure
Milestones birthdays are those momentous occasions that capture a moment in someone's journey through life. Marking these wonderful events in some way is an absolute must! Milestone birthday party ideas range from a simple backyard BBQ to a lavish party celebration.
A birthday get-together gives everyone the chance to raise a toast to the guest of honour and share in some reminiscing together. Since adults typically stop commemorating each passing birthday year with enthusiasm, milestone birthday party ideas should include an elaborate celebration to turn the spotlight on them.
At The Hamper Emporium, we think the recipe for success includes two vital ingredients - family and friends. Whisk these together with a huge splash of love and fun in equal measure, and they are guaranteed to create lifetime memories.
So, here are our ideas for planning a 50th birthday party for loved ones, together with tips on planning, destinations, themes, surprise gifts, birthday hampers, and even more!
Sensational Ideas For Planning A 50th Birthday Party
The ultimate milestone birthday celebration should capture the personality and essence of that special person. It does not have to be a standard party, but it does need to make them feel completely appreciated and loved. Unless you know they will enjoy a surprise event, it is a great idea to involve them in the planning, so you know they will adore it and can invite all their old friends.
Here are some exciting alternatives to a surprise birthday party to inspire your imagination:

A relaxing weekend away with the family at a favourite spot

An activity or adventure experience with like-minded friends

Cross something off their bucket list and really make their day

Organise a dining event with each course at a different restaurant

Plan an event centred around their favourite hobby or pastime

A relaxed and cosy get-together for informal drinks or a meal

Set up a fun garden party, afternoon tea, luxury picnic or BBQ

Go wine tasting at a local vineyard or try cocktail mixology at home

Plan something they have not done for years like horse riding

Host a fabulous themed house party for everyone to attend
How To Host A Birthday Party At Home
If you decide on a full-on house party, then a little pre-planning is in order to make sure it goes off with a bang. Preparing early is the best way to ensure everything goes without a hitch, and you remember all the finishing touches for a perfect event.
11 Things To Remember For The Host's To-Do List
Choose the date, ideally over the weekend, so guests are available

Make a list of friends and family to invite so you will not forget anyone

Pick a fun theme for the event and tie this in with birthday decorations and food ideas

Send out your 50th birthday invitations early so everyone can plan ahead

Set a realistic budget and book any special birthday party hire (like a photo booth)

Plan the main menu and any side dishes for the buffet, picnic or barbie

Add on a selection of drinks, snacks or hampers full of nibbles for the event

Match your décor, table arrangements, flowers and lighting to your theme

Prepare some entertainment, adult birthday games or activities to make it even more fun

Compile a music collection of their favourite tunes to entertain the guests

Think about giving party favours as a wonderful keepsake of the birthday party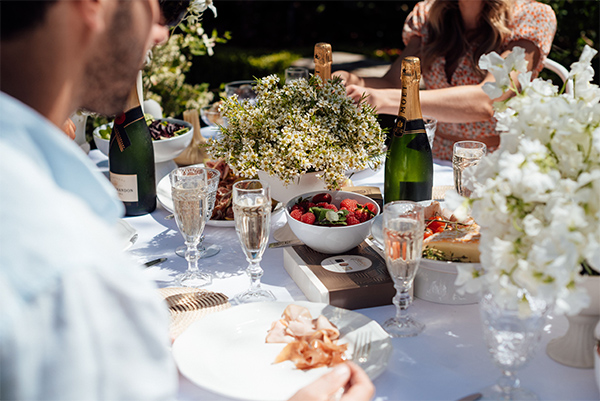 Birthday Party Themes
A themed birthday party is always guaranteed to be a success. When you are thinking about ideas for planning a 50th birthday party, themes make the process easier. Plus, they are a blast! You can coordinate everything from invitations to décor and create a cohesive event. Guests will have some extra fun too when they have to choose an outfit and play their part!
Here are just some of our 50th birthday party ideas for themes everyone will love.
Black and white birthday theme
Celebrating the big day with this theme is chic and elegant. It is an easy-to-manage dress code for guests and perfect for décor. You can make it as casual, upscale or formal as you want. A classic black and white theme for a birthday suits any milestone party.
Casino themed birthday afternoon
A great 40th birthday party idea is hosting a casino event. Everyone can get dressed up to the nines and have a fabulous time enjoying games of real poker or spinning the roulette wheel. Serve cocktails for a lavish affair.
Murder mystery birthday theme
These are great fun, and you can download everything you need and plan décor accordingly. Each guest is assigned a character in the plot and comes dressed up to find 'whodunnit'. Murder mystery or games themed birthdays are great ideas for a 30th or 40th birthday.
Decade disco themed birthday
Celebrating an era gone by and reliving the past with a 70s or 80s disco event is hilarious. Don flared jeans, floral tops and wigs and prepare for everyone to dance the night away. Choose the birthday decade of the birthday boy or girl, dress accordingly, and plan a playlist with top music from the year they were born.
Masquerade ball birthday party
This is the perfect way to celebrate a milestone birthday with delicious cocktails and laid back jazz. Ask guests to go all out on costumes and provide them with fabulous masks. A masquerade ball is also a great theme for an 18th birthday party.
50th birthday golden jubilee
Make your celebration a golden affair all about glamour and glitz. Think glittering lights, shimmering accessories, golden outfits and sparkling glasses of indulgent bubbly champagne hampers for a fun 50th birthday party idea.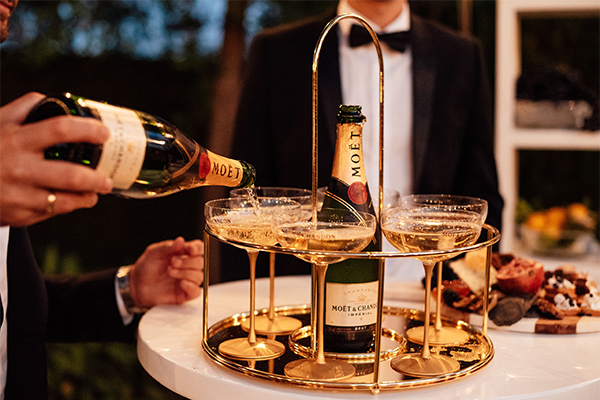 Personalise A Birthday Party With Memories And Gifts
Ideas for planning a 50th birthday party should also include adding those essential personal touches. It is, after all, dedicated to one very special person, so it needs to reflect their life and unique qualities. With each decade, people are less focused on material things, so adding special touches is important.
It can be something as simple as inviting an old friend or hand making a giant birthday cake. You could incorporate photos from their life or set up a photo booth to make new memories. Ask family and friends to contribute to a keepsake book with pictures or quotes.
Another lovely idea is to give small gifts guests can take away to remember the amazing party. You could make music CDs for everyone or gift something humorous which will always make them laugh. Make sure you have lots of videos and photos of the 50th birthday party, too, so memories can be shared for a lifetime.
Indulge In Delicious Treats From The Hamper Emporium
When hosting your 50th birthday party, The Hamper Emporium is ready and waiting to help with easy party catering ideas. Whatever menu you choose, no birthday party is complete without some sweet chocolate treats. Order a large hamper to cater to a crowd, or give a favourite selection of gourmet goodies as a birthday gift basket. Our food hampers can also fill in the gaps on your table with gourmet food and drink, plus they make the perfect pampering birthday gifts.
Milestone birthdays give us all the fantastic opportunity to look both forward and back and make that special person feel fabulous, young at heart and very loved.