Christmas Hamper Ideas & Secret Santas For Work Colleagues!
Author: Loreena Walsh Date Posted:18 November 2022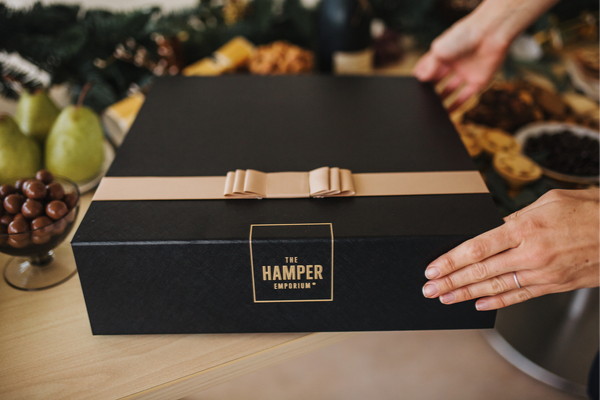 Doesn't it Come Around Quickly?
Christmas gift planning that is. It never gets easier either does it? Trying to be thoughtful, original and keep within a budget sometimes feels a bit overwhelming. So, today, The Hamper Emporium wants to ease your burden a little with some Christmas Hampers ideas.
There are many reasons for giving at Christmas; you could be the boss or manager of a company buying for your staff or clients, wanting to make Christmas a shared celebration.
Buying for individuals in a large office or company can get very expensive, and often the presents are trinkets that don't have much 'user-value'; in that, they go into a drawer, or on a shelf and basically never really see any use.
One of the best ideas for office gifting, other than a Hamper Emporium Christmas gift hamper :), is a Secret Santa. Why?
It allows for only one present to be stressed over,

It lets you have set amount to use, avoiding over or underspending.

The budget can be slightly higher as only one gift is expected, making the choice of a gift that little bit better.
Set a day and time for the Secret Santa gifting, and that can be the office or company Christmas party.
Another excellent idea for your special Christmas office party day is to collect some money from all or persuade the boss to payout and use our Christmas Hamper ideas to select the perfect one for your party.
Christmas Hamper Ideas For The Office Party
The Hamper Emporium has a large selection of Christmas Hampers ideas for every sort of office Christmas get-together. We not only have our excellent Christmas Hamper selection but we also have our Corporate Christmas Hamper selection which you can pre-order, include your branding or logo and the delivery is free all over Australia. Not forgetting you can bulk order also - especially useful if you have a few Company Christmas parties to cater for!
This fabulous hamper is a gourmet feast for every palate. It's a festive food odyssey! In the beautiful keepsake box, you will find premium delights for everyone, including, Kangaroo Island Produce Co Artisan Crackers to eat with Luke Mangan Quince Paste. Then for the sweeter tooth among you, enjoy Morgans Toffee Popcorn Brittle or their excellent Maple Coconut Roasted Almonds.
Then again you could be enjoying the flavour of The Woods Farm Christmas Cake Slices or some more Kangaroo Island Produce Co Honey Roasted Popcorn. Then there is also, an oh so tasty Byron Bay Triple Fudge Box. Plus three more delicious chocolate treats, Willies 70% Dark Hazelnut and Raisin, Butlers Chocolate festive menu and last but not least, Ernest Millers Chocolate Macadamias. A little extra plus is the Calvi Mosto Oro Olive Oil, Black Street Gourmet Salted Caramel Sauce and their divine Gourmet Tasmanian Black Truffle Paste.
This is another very exciting hamper that will delight even the fussiest of your colleagues! This spectacular hamper will make 2019 parties something to remember. Filled to overflowing with tasty goodies, expect to find a range of artisan delights. These include:
Regimental Condiment Co Roasted Capsicum Tapenade

Luke Mangan Quince Paste

Morgans Toffee Popcorn Brittle + Christmas Nut Mix + Maple Coconut Roasted Almonds

The Woods Farm Macadamia Pure Butter Shortbread + Pure Butter Shortbread + Christmas Fruit Mince Tarts + Iced Christmas Cake Slices + Handmade Christmas Cake + Handmade Christmas Pudding

Trentham Tucker Cranberry & Pistachio Crispbread

Kangaroo Island Produce Co Honey Roasted Popcorn

Gourmet Regional 'Ham Jam' Cherry Chutney + Cranberry Relish

'The Figgery' Kangaroo island Sticky Figs + Sticky Fig Syrup

Black Street Gourmet Salted Caramel Sauce + Gourmet Tasmanian Black Truffle Paste.
Now that is a list to delight any food lover, and make a food lover out of someone who is not customarily bothered!
If you are a slightly larger office or want to splurge on a bit more, then our final Christmas Hamper idea would be, wait for the drumbeat!
This hamper was designed with the idea it's what we at The Hamper Emporium would love to have at our Christmas party. Of all our Christmas hampers ideas we happen to like this one the most.
As with all our hampers, it comes stacked with goodies. Goodies that bring the taste of Christmas uniquely and stylishly to all at your celebrations.
You will find an assortment of the finest in Australian and Tasmanian treats. There are nine selections in the savoury department and thirteen top choices in the biscuits and sweet collection. Then we have wine and champagne plus the inevitable and expected Christmas treat, chocolates with 11 different selections.
The pantry also brings a touch of class to everyone's palate with five very moreish delights. This hamper starts the festive season in the right way.
Not Christmas Hamper Ideas But Some Great Secret Santa Ones
Now, we have shared some great Christmas hamper ideas for your office party or even as an individual gift, here, as promised, are some ideas for Secret Santa ideas for the different offices. Of course, these can all be used in any Secret Santa and are all easy to find online. So no dragging yourselves into the crowds searching for that perfect Christmas gift. Why do things the hard way when The Hamper Emporium make it so easy?
For a mixed office - $30 - $60
All Women - $30 - $60
All Men - $30 - $60
All Young - $30 - $60
All of these perfect secret Santa gifts can be found online at Gifts Australia, making your Christmas shopping so simple and stress-free!
And don't forget to check out the amazing range of Christmas Hampers ready for Pre-Order now. You might also want to see our range of corporate Christmas Hampers that can be branded and personalised with your company logo and colours!