Make Their Christmas Memorable With Chandon
Author: Nikki Barnett Date Posted:21 December 2020
Send Them Bubbles In A Bottle With Stunning Chandon Hampers
When the pop of a cork and the sound of fizzing champagne or the bubbling of Australian sparkling wine fills the air, you just know it's time for a joyful celebration. For spreading a little love and happiness, our stunning Chandon hampers are true crowd pleasers. These are hampers to celebrate the summer, add sparkling bubbles to the day, and come brimming with irresistible treats and gifts.
Tempt your loved ones with Christmas gifts of Chandon experiences just for them. Choose from rich, smooth chocolates and sweets, delightful gourmet treats or pampering care packages. All of them paired with a bottle of the most loved sparkling wine in the world. There's even a fabulous Chandon Christmas hamper for a gourmet feast to remember.
Indulge your loved ones with these exclusive hampers, carefully chosen to dazzle and delight. This Christmas or New Year's, The Hamper Emporium knows our fabulous Chandon wine hampers will add more than extra sparkle to the day. Here's why!
When you send festive greetings this year or ring in the New Year with a Chandon hamper, you're in for a very special treat. You can also win a spectacular weekend away for 6 people! The Hamper Emporium and Chandon will then whisk you away to explore the wonders of the Yarra Valley. It will be a luxurious adventure you will never forget, including once in a lifetime experiences.
Staying in beautiful boutique accommodation, you will enjoy an exclusive wine tour, tasting, and eco-immersion with Domain Chandon. Savour gourmet food from top chefs at every meal, relax for a picnic lunch at the Billabong, and even plant your own vine. Always wanted to have a hot air balloon trip? You'll do that over the Yarra Valley too, along with so much more. This is an amazing bucket list experience to remember. So, whether you choose a classic bottle of Chandon, a sparkling rosé or a summery limited edition, keep your fingers crossed!
Chandon Always Offers Something Sensational To Sip On
The Moët et Chandon label dates back to 1743 and marketed its very first vintage champagne way back in 1842. Chandon's iconic NV Sparkling Chardonnay Pinot Noir Brut is a perfect choice for most special occasions. With a fruity aroma of citrus, pear and nectarine, it also has a delicate hint of spices and roasted nuts. A lush sparkling wine with a crisp finish that is perfect for most foods.
When you're celebrating the magic of summer in Australia, Chandon NV Brut Limited Edition is a vibrant choice for all tastes. With a classic Chardonnay pear flavour, hints of apple, lemon zest and blossoms, it pairs well with everything from nutty cheese platters to creamy foods. Its elegant label is inspired by the eye-catching landscape of the Yarra Valley.
For those who adore pink champagne and summer spritzers, Chandon Rosé Sparkling Wine is a striking choice with a fruity, fresh flavour. With a creamy texture and delightfully dry, it combines layers of fresh strawberry, pomegranate, redcurrant and cherry. Its versatility means it's food-friendly, sensational with chocolates, and makes the most fabulous summer cocktails.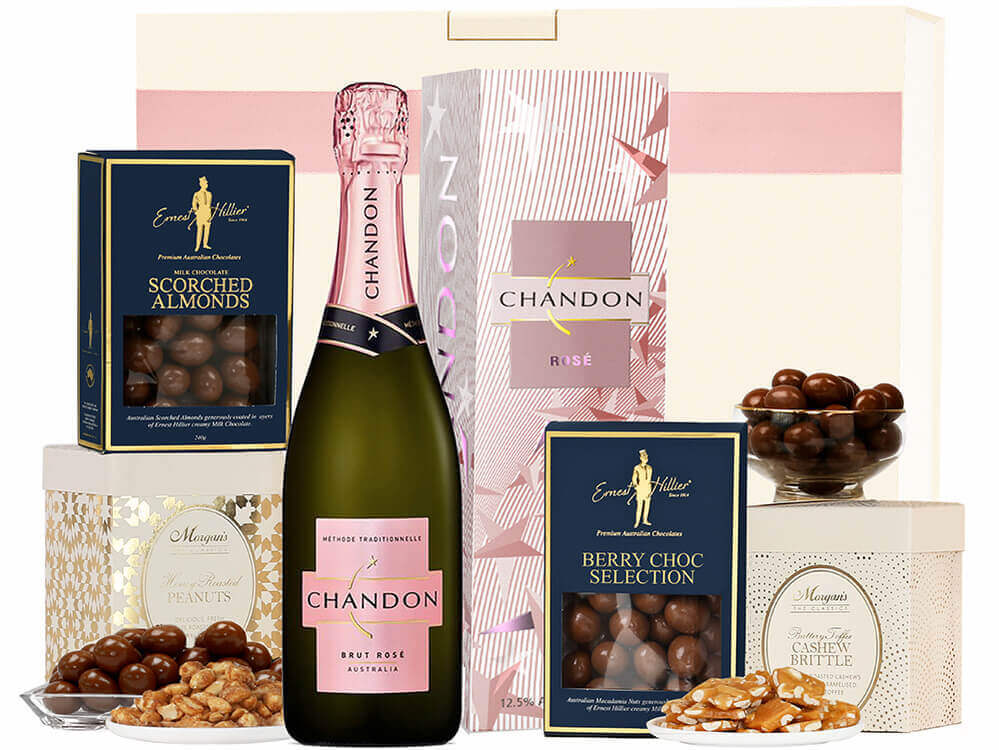 So, take your pick and send them a sparkling, unforgettable surprise or a chic cocktail hamper to make their day. Chandon hampers are brimming with all the festive essentials, gourmet savouries and tasty treats that evoke the spirit of Christmas. Our classic celebrations hampers are just perfect for a New Year's party. Chandon sparkling wine and your next celebration is a match made in heaven.
Our Top Choices Of Chandon Sparkling Wine Hampers
Nothing is quite as glamorous and alluring as a bubbly sparkling wine beautifully presented and paired with extra gifts you know will thrill. They make thoughtful and elegant Christmas gifts which are sure to delight and be thoroughly enjoyed. Our Chandon wine hampers are simply delicious and overflowing with gourmet goodies or wonderfully pampering gifts. Chandon gifts are perfect for a New Year's celebration hamper. They're also lovely to give and perfect for sharing around!
Here are our favourite ideas for champagne and sparkling wine lovers from our selection of luxury Chandon hampers!
Christmas is here, so our first choice is a hamper for lovers of gourmet food and festive flavours. An exquisite bottle of Chandon Sparkling Chardonnay Pinot Noir is teamed with a veritable feast of goodies. Overflowing with sweets and savoury snacks, you'll find everything from quince paste to toffee popcorn brittle. There's also a decadent collection of delicious Christmas treats including fruit mince tarts and handmade alcohol-infused Christmas pudding from The Woods Farm.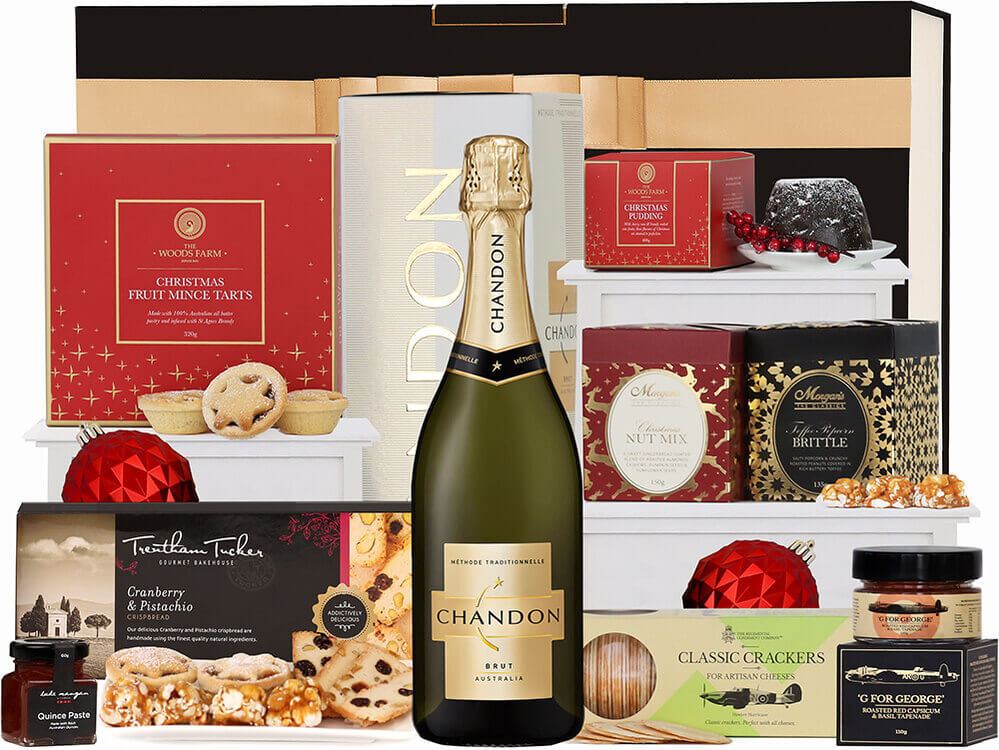 If romance is in the air or you want to surprise a loved one with something extra special, we love this elegant Chandon hamper. It's a touch of class and festive luxury in a box. A vibrant Chandon NV Brut Limited Edition is joined by gold Christmas crackers and gourmet treats. An indulgent and sophisticated choice, she will adore the classic Mestige jewellery which features crystals from Swarovski®. There's even a crystal tie clip, so it's one to be shared over a glass of bubbly cheer. If you plan to start the New Year with a bang, this is the perfect celebration hamper.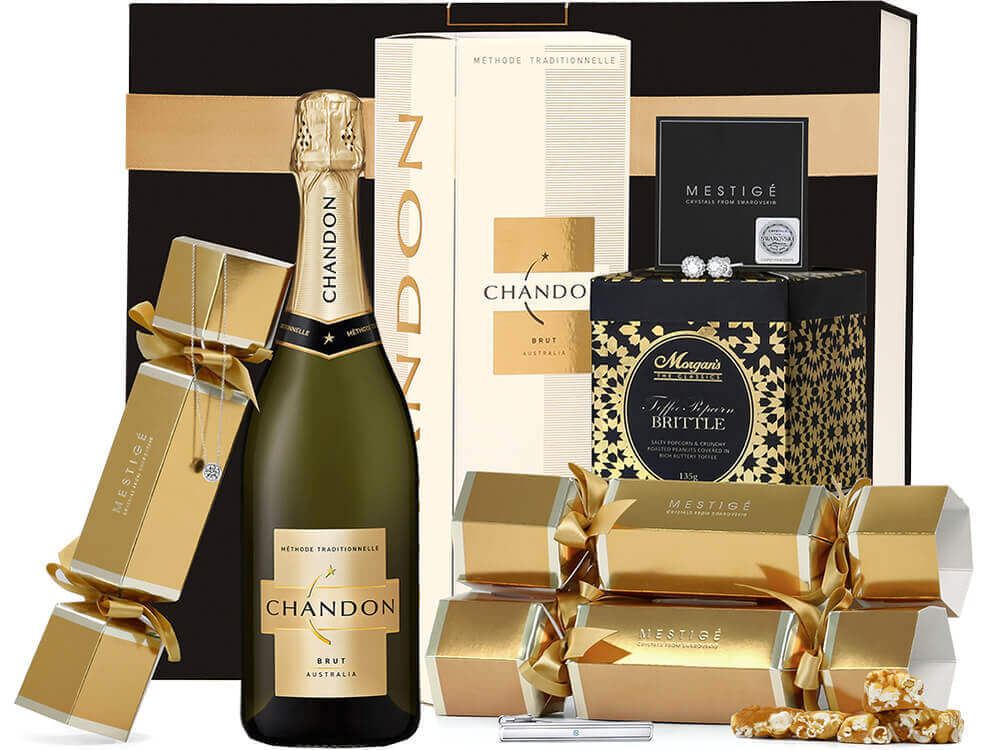 For your sweet-toothed loved ones, this Chandon wine hamper will be perfect. Sweet treats and sparkling wine are a divine combination. A bottle of Chandon Sparkling Chardonnay Pinot Noir is the centrepiece; one of the world's finest sparkling wines. To blend with its light, fruity flavour and versatility, there's a wonderfully indulgent selection of crunchy nibbles from Morgans. Toffee popcorn brittle, crème brûlée peanuts and succulent coconut roasted almonds will make their mouths water.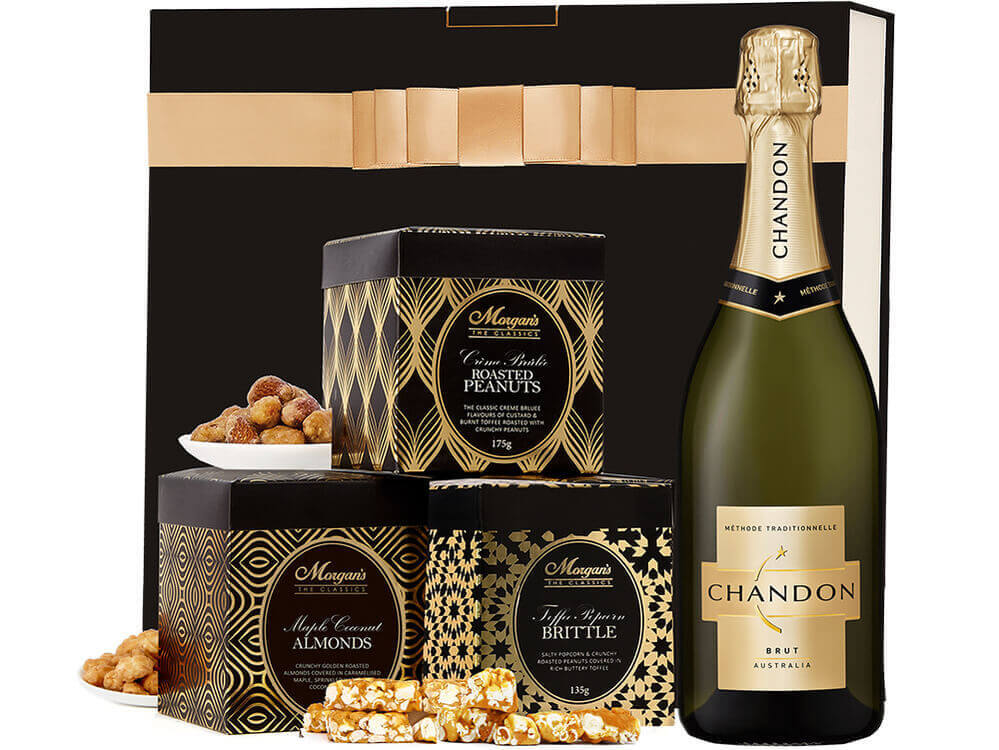 When your Christmas gifts call for pampering, premium Australian sparkling wine is the perfect accompaniment. A stunning gift for the ladies in your life, this L'Occitane Chandon hamper is perfection. A beautiful summer limited-edition of the award-winning Chandon comes with a host of indulgent gifts. Nourishing natural skincare, a blush satin robe and a gold-lined notebook will make her pampering complete. She can also dip into delicious gourmet nibbles from Morgans, and mouthwatering chocolate treats from Ernest Hillier while she relaxes.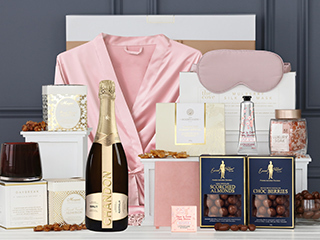 Good Luck From Everyone At The Hamper Emporium!
Celebrating with the finest sparkling wine is intoxicating, and it's also one of the nicest ways to send loving thoughts and Christmas cheer. If you have a reason to raise a glass and make a toast at your New Year's party, it's time to explore our collection of luxury hampers. Here at The Hamper Emporium, champagne lovers and sparkling wine aficionados are truly pampered in 2020 with a full hamper collection that will leave you spoilt for choice.
Remember, if you choose a sensational Chandon hamper, it might also be your lucky day as you can win a trip to the Yarra Valley! This exciting Chandon promotion will end on the 28th of February 2021 at 11:59 pm (AEDT), so don't delay. We offer free delivery Australia wide, and you can send bubbles of joy straight to their door.