Make Your AFL Grand Final Party A Little Bit Fancy!
Author: The Hamper Emporium Team Date Posted:23 September 2019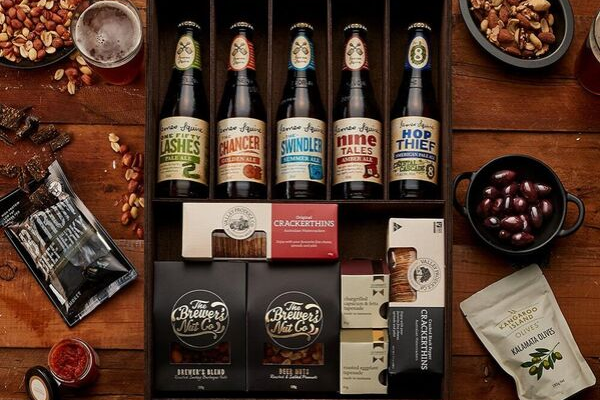 2019 AFL Grand Final Hampers To Cheer Your Favourites On
Well, did you see that coming? Tigers vs Giants for the 2019 Toyota AFL Grand Final! Did you get roped into the idea it would be an all Victorian final? Richmond vs Collingwood, many thought that was the way of it, but the stunning performance of the GWS Giants astounded all. So who are you cheering for? The robust and efficient well-drilled team of Richmond or the gritty determination of the Giants?
Whichever team you support, this is one special day. So, let us help you make this year's Grand Final the best you have ever hosted or attended.
Are you ready to have the best AFL Grand Final party? Don't worry if you are not; we are here to help.
Want to be able to spend your time focused on the game yet still provide beverages and nibbles? Take a gander around the super luxurious 2019 AFL Grand Final hampers we have available. No last-minute dash around the shops, everything boxed and delivered to your door for free!
Did You Know?
Devout footie fan or not, the 28th September is a day circled on most Aussie calendars. It is a time for mates, families even coworkers to get together and celebrate a long-held, well-loved tradition. One of our Hampers is just the ticket for making the 2019 AFL Grand Final day that little bit more special.
Before we get into that, we thought we would offer you some 'obscure facts' on our grand footie tradition. Then you can drop them into conversations to show how much you know - even if you don't!
When the game first started in 1858, there were no time limits for the matches. First to two goals was the winner.

While John is a common name, there is only one John on the AFL list - John Butcher of port Adelaide.

Australian Rules Football is not just played in Australia. You can find it in over 80 countries, including Denmark, Sweden, America, Canada and South Africa.

Harry Taylor, the Geelong defender, predicted the 2010 AFL Grand Final would end in a draw. Wonder what his 2019 predictions are?
Now we have shared some conversation snippets, let's discuss how to make your AFL Grand Final party stand out above the rest!
Any party is an excellent opportunity to spend time with loved ones or meet new people. We have some great ideas for you to upgrade your day! Our 2019 AFL Grand Final hampers suit every budget and celebration style there is.
Here are our top hampers to up your game on Finals day that include alcohol and nibbles providing you with super luxurious 2019 AFL Grand Final hampers.
Choose A Cider Hamper As Your 2019 AFL Grand Finals Hamper
The Deluxe Ciders Hamper; this excellent hamper reflects the growing popularity among Australian cider drinkers. Men under 30 have taken to the crisp fresh taste of cider, as have a large percentage of the ladies.

Enjoy the refreshing flavour of the award-winning Hills Cider Company Pear and Apple Ciders. This eco-friendly company out of the Adelaide Hills uses a 'land-to-hand approach providing ciders that are made with 100% Adelaide fresh fruit with absolutely no added concentrate, sugar or water.

Young Henrys Cloudy Cider brings a touch of tartness that is gluten-free and vegan-friendly. This company employs 100% Aussie apples in the making of their brew.

James Squires Orchard Crush Apple Cider bring s fizzy, zesty taste to your palate, another top-quality brew from an excellent brewery.

Monteith's Crushed Apple Cider is a dry New Zealand import that compliments the other ciders.
Choosing this as your 2019 AFL Grand Final Hamper is a great way to ensure the perfect blend of delectable ciders and some specially selected nibbles.
Specially selected items that will undoubtedly make Grand Final day stand out as one of the best also includes:
Kangaroo Island's sumptuous olives

Brewer's Nets selection and

Byron Beef Jerky, alongside

Gourmet crackers and delights such as Capsicum & Fetta tapenade
Choose A Beer Hamper As Your AFL Grand Final Centrepiece
What would the AFL Grand Final day be without a beer?
Well, at The Hamper Emporium we think the day deserves the best Aussie beers around. We have four excellent beer hampers that will tickle your taste buds and slip smoothly down your throat. Keeping you hydrated as you cheer on your favourite team. Tigers or Giants?
James Squire Ale Hamper - a selection of the best in craft beers. Enjoy the different flavours and aromas that include:
One-Fifty lashes Pale Ale

The Chancer Golden Ale

Nine Tails Amber Ale

Hop Thief - American Pale Ale

The Swindler Tropical Pale Ale
​
These all come in a custom-made wooden beer crate packed full of gourmet nibbles that perfectly complement the beers.

Corona Beer Hamper - enjoy the fresh taste of imported Corona beers, just right for a special occasion like the 2019 AFL Grand Final. Also includes some of the best Australian nibbles like,
Kangaroo Island Kalamata Olives

Brewer's Nut Co. Classic Beer Nuts

Brewer's Nut Co. Savoury Nut Mix

Byron Beef Jerky'

Smokey' Valley Produce Cracker Thins - both plain and cracked pepper to dip into regional Gourmet dips like Roasted Eggplant Tapenade or Capsicum & Fetta Tapenade
​

Microbreweries of Australia Hamper - exceptional craft beers, presented in a custom-made wood crate. Includes beers from the finest microbreweries around Australia, plus a selection of tantalising gourmet nibbles. Beers include,
Burleigh Brewing My Wifes Bitter - Burleigh, QLD

Lord Nelson Three Sheets Pale Ale - Sydney, NSW

Murray Craft Brewing Co Angry Man Pale Ale - Anna Bay, NSW

Bridge Road Brewers Pale Ale - Beechworth, VIC

Feral Brewing Hop Hog Pale Ale - Swan Valley, WA
A perfect way to celebrate, or commiserate a goal, from either Dustin Martin or Toby Green!

Beers of Australia Hamper - an excellent way to celebrate the premiere match of Australia. A selection of the best of the best from around the country that includes, alongside the gourmet nibbles of course,
Little Creatures Pale Ale 330ml - Fremantle, WA

James Squire The Chancer Golden Ale

4 Pines Brewing Company Pale Ale - Brookvale, NSW

Young Henrys Newtowner

Cricketers Arms Keeper's Lager

There you have it, a selection to choose your 2019 AFL Grand Final Hamper from, the best of Australian goodies delivered to your door for free. Yep, you read that right; deliveries are free throughout Australia. These will make your Grand Final celebration that extra bit special. If you are a wine or whiskey drinker, never fear! Hamper Emporium has a selection that will satisfy everyone's tastebuds!