Never Go Wrong With Food As A Gift
Author: Loreena Walsh Date Posted:25 November 2019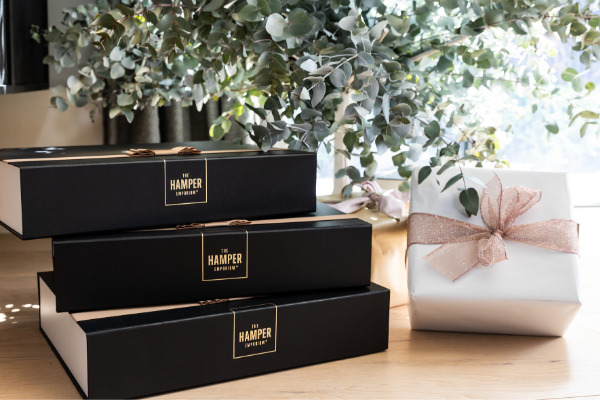 You Can Never Go Wrong With Food As A Gift This Christmas
The Christmas season arrives at exactly the same time each year, yet it seems to sneak up on us all unexpectedly. There's always so much to organise, and we are left frantically searching for last-minute Christmas present ideas for friends and family.
Of course, we think that impressive luxury Christmas hampers from The Hamper Emporium are a great solution!
Although they are best known as a staple corporate gift, they certainly don't need to be an impersonal afterthought. Today, giving hampers or baskets has evolved into a whole new world of indulgence and personalised gifts. Everybody loves to give and receive elegant presents that are not only enjoyable but consumable and shareable.
With some careful planning, any hamper of tasty goodies or chocolate gifts will create a unique, appealing and thoughtful gift that will be remembered. When you are frantically searching for those last-minute Christmas present ideas, you just can't go wrong with a gorgeous food basket. It's packed full of flavoursome favourite treats, and everybody loves to eat them!
Thoughtful Last-Minute Christmas Present Ideas
If the Christmas countdown is close, there are also a plethora of other exciting Christmas gifts ready to choose from online. You can find a fabulous range of affordable products that are just that little bit creative and different.
At The Hamper Emporium, we have carefully curated a list of interesting last-minute Christmas present ideas that are sure to impress. It's our surprise gift to you.
Leather Bling - smartphone holder, tablet case, wallet, journal, purse, handbag, holdall, weekend bag, briefcase, belt, gloves, wrap bracelet or watchband.

Cashmere Accessories - mittens, hat, scarf, robe, cardigan, poncho, travel wrap, muffler, blanket, sweater, socks, travel set.

Timeless Jewellery - birthstone earrings/bracelet, gold ear pins, alphabet studs, love bracelet, silver charms, personalised necklace.

Top Technology - Bluetooth speakers, wireless headphones, smartphone wallet, travel tech case, Echo Dot with Alexa, portable charger.

Outdoor Gardening - indoor herb growing kit, BBQ or picnic set, apron and tools, folding stool, gardening journal, bee nester, bird feeder, wooden potting bench.

Pampering Products - acupressure mat, bamboo bathtub tray, foot massager, essential oils, diffuser, exotic candles, Himalayan salt lamp.

Kitchen Homeware - cheeseboard & knives, ceramic bakeware, engraved knife block, smoothie blender, traditional pestle & mortar, french press.

Original Thoughts - Sands of Time hourglass, leather wall art, keepsake box, executive games set, wine barrel clock, telescope, a personalised snow globe.

Experience Vouchers - cookery course, murder mystery dinner, afternoon tea, survival course, zip wire, hot air balloon, craft workshops, spa day.
Build Your Own Basket Of Christmas Cheer
When you are racking your brains for last-minute Christmas present ideas, remember that you can include handmade items. They add a really personal touch and are especially useful if you don't have much time for shopping. Making your own unique gift hampers is a fun idea!
Start by reading our blog The Art Of Creating Perfect Christmas Hampers, where you will find all the tips and tricks you need to create last-minute Christmas present ideas. Then choose a beautiful box or hamper, pick your theme, and start from there. Build your gift in layers. This way, it is thrilling to unpack, and there's always something new waiting to reveal itself.
Your themes for these last-minute Christmas present ideas can be as creative as you want. You can even choose one of the main gifts from the list above and then pack your hamper to the brim with luscious goodies. Think fancy olive oil, rich balsamic vinegar, artisan crackers, olives and crunchy nuts. Coffee or tea, delicious biscuits, homemade sauces, chocolates, fudge and cakes are superb additions. We love the idea of adding Christmas crackers too!
The festive season's speciality and indulgent foods are the ones that are perfect as last-minute Christmas present ideas. You could even pack your gift hamper with a full Christmas dinner for somebody who lives alone. Try to choose items they would not necessarily buy for themselves, making them both thoughtful and memorable.
5 Reasons Why Hampers Are Great Last-Minute Christmas Present Ideas
Everyone loves a surprise under the tree, and a Christmas gift hamper is just that. Perfect last-minute Christmas present ideas, full of decadent and delicious gifts to savour, enjoy and share around.
There's a huge variety of choice which will suit everyone's taste: full-bodied wines and craft beers, luxury chocolates and savoury cheeses, homemade produce and gourmet foods. Gift hampers can be easily personalised to suit all your family and friends. Try a travel fan hamper packed with international flavours, pampering products for him or her or a hobby themed craft hamper.
For affordability, gift hampers are great last-minute Christmas present ideas. You can pack them with indulgent treats and presents to suit your own budget. Sending gift hampers is a lovely tradition on any special occasion. Giving or receiving presents and eating good food go hand in hand and will certainly put a smile on everyone's faces.
Order Christmas Gift Hampers That Thrill
You can make sure this festive season is extra special by ordering luxurious food and wine hampers from The Hamper Emporium. Full of last-minute Christmas present ideas, our website provides a fast and easy way to do your shopping. Each gift hamper is simply brimming over with mouth-watering, delicious gourmet goodies and Christmas treats and tipples.
These edible delights are a festive and fun way to show someone you are thinking about them. From rich, decadent gourmet food to pampering packages and Moët hampers, our gifts are designed to add sparkle and merriment. There will be the perfect last-minute Christmas present ideas to delight your loved ones near and far this Christmas and much excitement when they are received.
You can send them anywhere in Australia by express delivery too. So why not browse our fantastic collection today and see just how magical The Hamper Emporium is at this joyful time of the year?