Planning The Perfect Romantic Christmas Eve For Her
Author: Loreena Walsh Date Posted:29 November 2019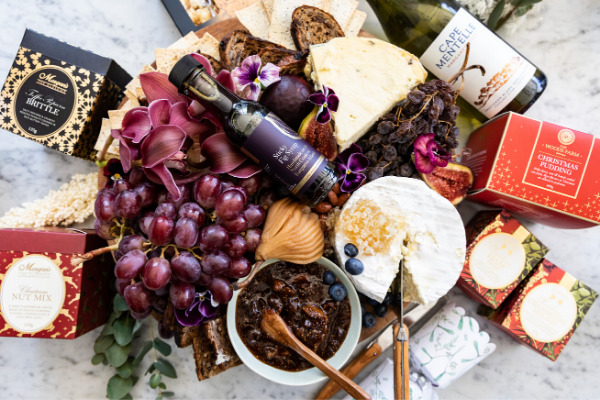 Planning The Perfect Romantic Christmas Eve For Her
Most people absolutely love the Christmas season. It's a joyous holiday filled with happy memories and the best time to catch up with friends and family for some fun. Spending a wonderful time surrounded by loved ones just can't be beaten.
Here at The Hamper Emporium, we always start early and celebrate like there is no tomorrow!
Christmas is also a time that's much more romantic than any other, including Valentine's Day. So, there's nothing more special than wearing your male hearts on your sleeve and showing that special lady in your life how much you appreciate her.
It's easy to say "I love you" this festive season. Simply plan some wonderful, romantic ideas for her Christmas. Start by spoiling your partner with a thoughtful and amazing Christmas Eve she will treasure and remember forever. Feel the love!
Why Christmas Eve Is Such A Romantic Time
Anticipation - The excitement of Christmas approaching is intoxicating. Romantic ideas for her Christmas should always include sharing and enjoying the anticipation together on Christmas Eve.

Moments Together - Christmas is a time for families, but even if you are newly dating, special moments on Christmas Eve together create lasting memories.

No Expectations - unlike Valentine's Day, there is no pressure for men to do something extravagant and overly romantic. It's purely about enjoying the quality time together. Lovely Festive Movies - Romance always blossoms when you watch those wonderful old movies together or share your childhood favourites.

Christmas Sparkle - Romantic ideas for her Christmas Eve should include some sparkle. Fairy lights, candles, and streets filled with twinkling Christmas decorations all fuel the romance of this special evening.

Tasty Treats - This is the time of year for indulgence, so food and drinks come high on the romantic ideas for her Christmas Eve menu. Tucking into delicious festive delicacies is sure to help romance flow.

Cosy Atmosphere - The magical festive feeling is at its height on the eve before Christmas. Warm, inviting and stirring, it creates a romantic feel in the very air we breathe.
So, when you are thinking about romantic ideas for her Christmas, be sure to begin right here on the night before.
Create Your Own Christmas Eve Traditions
The most meaningful and heartwarming part of Christmas is, of course, giving gifts. But one of the most romantic ideas for her Christmas is actually about the tradition itself.
Many countries and families have established quaint traditions which have survived throughout the years. You can also create your own as a couple and do something special for her at the same time! They will then continue for years to come, and be romantic ideas for her Christmas that you enjoy together, long after you are married.
The festive season can be a busy, hectic time and these established holiday traditions are a delight to look forward to every year. They are returning memories that ensure you always find time just for the two of you. These traditional romantic ideas for her Christmas are such a lovely thing to have in your relationship. And she will just love them!
Romantic Ideas For Her Christmas To Remember
Whatever you choose to do, it doesn't have to be a big gesture or an expensive event. This is all about small moments of shared enjoyment and things that you have in common. Romantic ideas for her Christmas Eve traditions should be personal to you both. Do them together with laughter and love!
Make a small stocking of funny gifts for each other

Write notes to exchange next Christmas Eve

Order Christmas Hampers and dig in together

Add some special items or messages to the tree decorations

See a Carols by Candlelight concert or Christmas play

Have an old Christmas movie marathon on the sofa

Make your own New Year calendars with photos

Go for a romantic late-night walk together

Plan a romantic weekend or short break away

Cook a fabulous candlelit Christmas Eve meal together

Go carol singing around the local neighbourhood

Prepare a special barbie and cocktails for two

Visit your nearest Santa and sit on his knee!

Pay it forward and spend time on charity work.
Make It Simple With A Quiet Christmas Eve In
Although date nights are great fun, planning romantic ideas for her Christmas Eve should also include some quiet time before the big day. A cosy night at home together is sure to get the romance flowing. All you need is each other, along with some festive drinks and a host of mouthwatering and tempting food and snacks. Add your own personal touch, from books to movies, and keep it simple!
Make sure that you include your chosen traditions and have an uninterrupted evening of romance to savour. This is one of the most exciting, fun and interactive times of the year for any couple. We guarantee your other half will love your romantic ideas for her Christmas Eve and you will have a happy, relaxed and memorable time together.
Have Santa Deliver A Tantalising Hamper For Two
After all the preparation of your romantic ideas for her Christmas Eve, if you are too tired to cook, then we fully understand! Sharing a sumptuous gift hamper of seductive treats can be the icing on the cake, and even become one of your much-loved Christmas traditions.
There are lots to choose from here at The Hamper Emporium, all with express delivery to ensure that Santa doesn't arrive late. Here are our top three suggestions for hampers that will absolutely delight her and add an extra glow to the evening. Romantic ideas for her Christmas Eve do not come better than this!
This is a really festive gift hamper brimming with delectable savouries from buttery toffee popcorn brittle to flavoursome tapenade and crunchy cranberry & pistachio crispbread. You can share your first seasonal taste of tangy Woods Farm Christmas mince tarts and a luscious Christmas pudding without anyone knowing. There is also a bottle of spicy Islander Estate Shiraz Cabernet to share together and raise a toast to Christmas Day.
This is a timeless hamper choice when you are thinking about romantic ideas for her Christmas and really want to spoil the lady in your life. Watch her face as she opens a selection of golden Christmas crackers and sees what's inside. Each one reveals a different piece of beautiful Mestige jewellery decorated with glittering Swarovski® crystals. To top it off, you can both savour a vibrant bottle of Chandon sparkling Chardonnay Pinot Noir and popcorn peanut brittle.
For a really indulgent Christmas Eve, feast your eyes on this fabulous romantic gift hamper. It is simply brimming with treats including artisan crackers, rich roasted almonds, luxury fudge and sweet honey popcorn. She will love the selection of pantry items, festive chocolates and slices of iced Christmas cake to nibble. Pop the corks on bottles of Cape Mentelle Merlot and Sauvignon Blanc Semillon to complete your perfect evening.