Planning a Mother's Day High Tea At Home
Author: Michelle Richards Date Posted:22 April 2021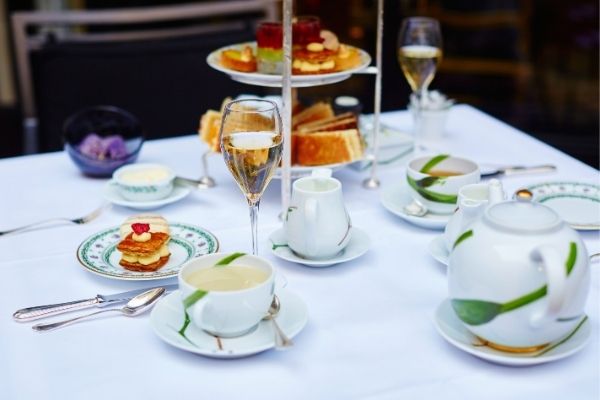 Treat Mum With Our Relaxation & Tea Hamper
Give Mum the treat she deserves with an indulgent High Tea experience. Our gorgeous new tea and relaxation hamper is here just in time for Mother's Day. We'll help you make your mum's day a special one this year with a lavish high tea at home. If you've never hosted a traditional British tea party, don't be intimidated. It's actually very easy and lots of fun. Our guide for how to host a tea party for any occasion will help you create a fabulous day for your mum with a fancy afternoon tea or the perfect high tea experience.
Grown-up kids could invite mum, close friends, and important mother-figures to a lavish affair to make it an afternoon tea party to remember. Or if you're looking for ideas for something nice to do on Mother's Day for your wife, putting together a high tea is lots of fun to enjoy as a family. You can help the kids to treat your wife to a fun high tea afternoon with all the trimmings.
What is the difference between 'Afternoon Tea' and 'High Tea'?
Afternoon tea and high tea are two traditions steeped in British history. While the differences between them are subtle, they are worth noting if you're looking to plan an authentic high tea at home. The main differences between afternoon tea and high tea are a direct result of their origins. Afternoon tea, or low tea, was traditionally served on a low table to encourage relaxation and conversation. While a high tea was served at a dining table or counter on high-backed chairs. Afternoon tea was a dainty snack, whereas a high tea included a much larger selection of substantial foods.
What is Afternoon Tea?
A British afternoon tea was traditionally a treat of black tea, light sandwiches, cake, and scones served in the parlour or garden. It was considered a leisurely snack to share whilst whiling away the afternoon before it was time for a late dinner. Afternoon tea was originally the province of the upper class who had time to just sit and enjoy conversation with friends and important callers. Afternoon tea service was presented on a beautifully set table with fancy tea cups, lace linens, and tiered serving trays. Guests would relax on comfortable sofas around the fire, or outdoors enjoying the late afternoon sunshine.
Appetisers for an afternoon tea menu might include cucumber tea sandwiches, scones with jam, bread with marmalade, cupcakes, or fresh strawberries and cream.
What is a High Tea?
A traditional high tea wasn't as fancy as some people assume. Workers in 18th century Britain who didn't have time for a leisurely cup of tea of an afternoon would need to wait until after work to enjoy tea time. High tea soon became quintessentially British and was enjoyed by workers and aristocrats alike. The later hour meant a pot of tea was served with more hearty dishes. Along with a strong black tea for a pick me up, this after-work meal included a buffet of more hot and filling meals. Rather than lounging on comfy couches, tea drinkers would sit together around the family dining table or at a high counter to enjoy their buffet.
High tea would generally contain a mix of savoury and sweet dishes. A popular high tea menu might include a combination of sliced cold meats, pickled vegetables, smoked salmon, finger sandwiches, potato salad, Scotch eggs, savoury flans, steak and kidney pie, crackers with cream cheese or butter, spiced teacakes, berry tarts, fruitcakes, and candied fruit peel.
Hosting a High Tea for Mother's Day
Planning a tea party is lots of fun. If you want to surprise mum with a gorgeous high tea at home, there's a few things to organise before the day. Ideally, your Mother's Day gift should match the tea theme. Giving her the Time for Tea Hamper or even more decadent Luxury Tea & Relaxation Hamper will set the scene. Our range of Mother's Day hampers that include tea come with a selection of gifts like a scented candle, relaxing bath soak, silk eye mask, a keepsake mug, organic English Breakfast tea, Morgan's French vanilla almonds, a choice of lounging robes and more. Mum can enjoy a day of relaxation while she looks forward to her Mother's Day high tea.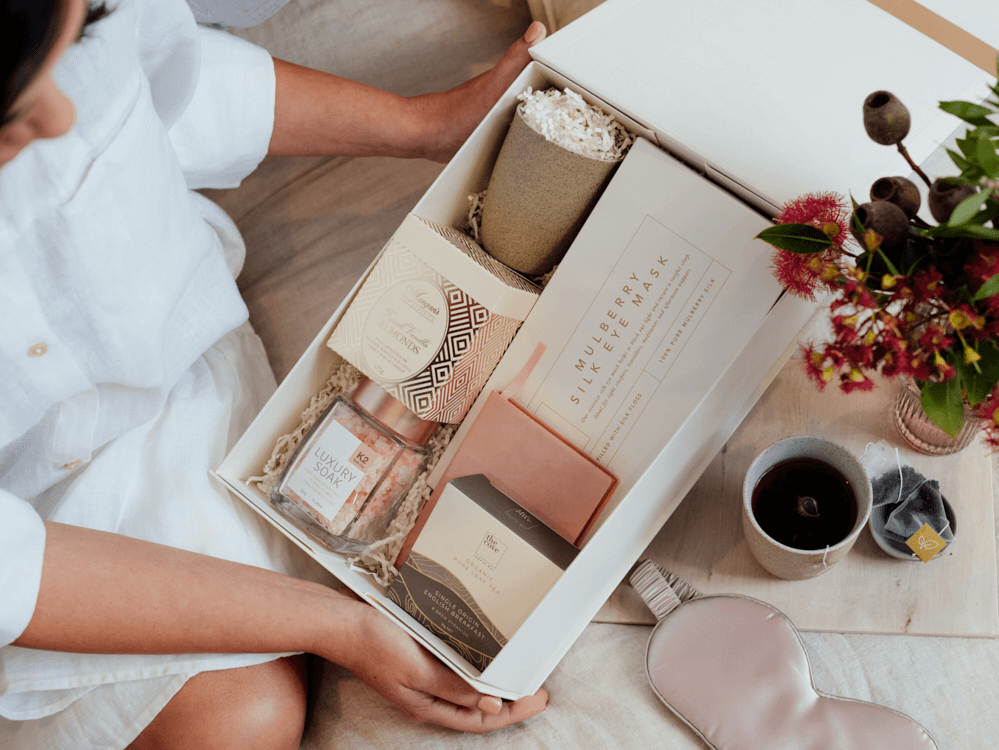 Invitations
Every tea party needs a fancy invitation. If you're inviting a few mums around to share the day, you could create lovely handwritten invitations and mail them out as Mother's Day cards to the important women in your life. For your own mum, you could simply include a little teaser mentioning your afternoon plans in her Mother's Day card. If you're ordering the L'Occitane relaxation and tea hamper, you can add your special invitation to mum's high tea in your message on the gift card that's included with your Mother's Day hamper.
Decorating the Table
Whether you choose a low table with comfy seating for a fancy afternoon tea party, or you are planning a more elaborate high tea meal with multiple dishes served on a larger dining table, decorations are essential. Use a formal table cloth with bunting, lots of flowers, candelabra, and lace doilies or placemats.
Setting the Table
A tea party is not a tea party without fancy tea cups and saucers. Choose fine china with traditional prints or delicate teaware. It doesn't matter if the tea sets match. You can round up a collection of cute and whimsical tea settings from the op shop for a fun vibe. A selection of different tea pots makes it easy to brew and serve a variety of teas for your guests. You'll also need a selection of cake stands or tiered serving trays that can be piled with treats and savoury titbits.
What Food is Served at a High Tea?
You can surprise your mum with her favourite desserts and a combination of finger foods to share. Little cakes, savoury pastries, scones, and devilled eggs are all easy menu ideas. The only essential is tea. The organic English Breakfast tea featured in our Mother's Day tea hamper is a traditional favourite. This single estate, high-grown organic black tea blend has a smooth bold flavour that makes it perfect for a tea party. English Breakfast is a great tea to enjoy with milk and honey, or with lemon. It has a strong enough flavour to be a good choice of tea to pair with dessert for afternoon tea, or with any high tea menu.
Perfect Tea and Dessert Pairings
Buttery and creamy desserts are the perfect choice to pair with English Breakfast tea. Scones and cream, shortbread, or macarons are good pairings for an afternoon tea. For something more filling for a high tea menu, try pairing the tea with a cheese and onion flan or mini quiches. These offer a similar texture in the crust while mum will enjoy some extra delicious savoury flavours. For desserts, the creaminess of mini cheesecakes or custard tarts naturally matches the sweet milkiness of English Breakfast tea.
High Tea Sandwiches
Any authentic high tea needs finger sandwiches. Offer a selection of crustless triangles on dainty plates. Cream cheese and smoked salmon has traditionally been a favourite tea sandwich and is easy to make. Buttered cucumber sandwiches, egg and watercress, roast beef and tomato, sliced apple and brie, plus pate and cheese are more simple tea sandwich ideas that kids will enjoy making for mum.
Order A Mother's Day Relaxation & Tea Hamper
Celebrate Mother's Day with your mum with the perfect hamper for a tea lover and these fun tea party ideas. A relaxed afternoon tea or high tea at home is a lovely way to savour time with your mum and treat yourselves to some delicious teatime desserts. There's nothing better than spending an afternoon relaxing with the most important people in your life surrounded by tea and cake. It's a great way to make any lazy Sunday a special occasion, but is an extra special idea for Mother's Day.