Planning a Successful Networking Event
Author: Nikki Barnett Date Posted:26 January 2021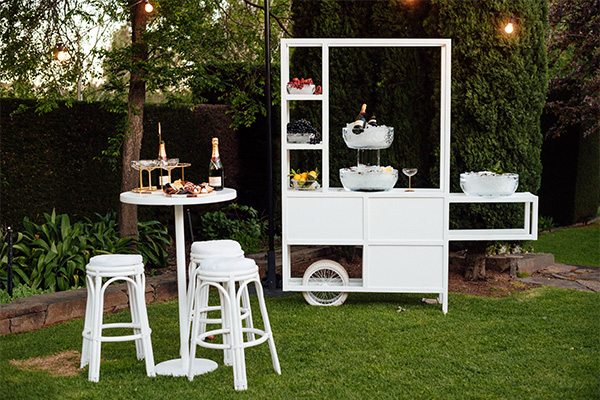 The Best Networking Ideas For Your Business
Making the decision to organise a business lunch or host a corporate event can be intimidating! Despite knowing how important networking is for business growth, the work involved in organising and hosting a corporate event is often enough to make business owners shy away from the stress and pressure of planning the perfect event.
Networking ideas for small business need to strike a balance between that safe and enjoyable business dinner with long-established clients that gains you nothing, and investing your yearly profits in an epic 2-day World Business Forum event by booking out the local Mantra resort. The secret is knowing how to start to grow your business with scalable corporate events.
Social networking business ideas can be as simple as catered afternoon drinks to introduce a new service offering, or impressing potential clients with a fun and stress-free corporate dinner. If you have bigger goals for your corporate event, don't lose sight of the fact that the most successful networking ideas are those that create an opportunity for discussion and easy interaction between guests.
Face To Face Business Networking In A Digital World
Event marketing is a great promotional strategy to encourage interaction between brands, customers, and related businesses. But shifting the focus of your marketing strategy from promotional to conversational is likely to be the best business decision you make.
While most of your business dealings may happen online or over the phone, and your staff may be great at developing digital business relationships, face-to-face networking has a range of advantages.
When done right, face-to-face business events open lines of conversation and enhance client relationships. They promote the honest exchange of information and, best of all, create a personal connection throughout your extended business network. In-person corporate events immerse your potential clients in your unique brand experience and deliver your brand message direct.
Business Networking Ideas For Your Business
Successful social networking events expand your business connections and highlight your skills. Your event doesn't need to be large to be effective. The best business networking events create an intimate atmosphere that builds connections, encourages the sharing of ideas, and shows your business to be innovative and forward-thinking.
Regular, well-run corporate networking events are a great way to keep your existing clients coming back and expand into new business markets at the same time. If you're not sure where to start, it helps to find unique business networking ideas that suit your industry. Some examples of fun business networking ideas include:
Construction business marketing ideas to boost networking opportunities could include a joint event with a local sports team or community program.


Marketing ideas for small retail business might tap into the local creative scene with an evening networking event showcasing local artists or musicians.


Good networking ideas for the healthcare industry could involve putting together a series of teams in a local fun run or charity walk followed by a private brunch for staff and their families.
Checklist For Planning A Corporate Event
1. Decide on your corporate event goals
Establish your goals and objectives as the first step in planning any corporate event. Business networking events and corporate dinners are often held for a variety of reasons including to land new clients, to further business negotiations, brand awareness, to promote new services or products, or to celebrate business success. What is the purpose of your corporate event?
2. Decide on format
Are your business goals best met by planning a business networking event to allow your staff, clients, and suppliers an informal occasion for socialisation and conversation? Or will your corporate event include opportunities for learning with presentations or planned discussions?
Each of these business marketing events requires a very different planning strategy, so it's important to be clear on what format will best suit your business goals. If you're planning a brand-awareness marketing strategy to run alongside your corporate event, consider partnering with another local business or an established business network for greater impact.
3. Create a guest list
Decide first who are the key players for your business event. Who is the primary audience for your business function? Are there stakeholders who will need to attend your corporate function? Are there multiple business partners you are hoping to engage? For a network marketing event, it's important to consider potential conflicts of interest between guests. While guests are often encouraged to bring their partners or a colleague to a corporate function, most business networking events will be invite-only. For even greater impact, you could create an event community online with social sharing of event details, sponsored hashtags, and brief video content from planned presentations or other items of interest.
4. Select a date and time
Deciding when is the best time to hold a business networking event will depend on a variety of factors. It's important to strike a balance between avoiding peak season or the busiest time of the day and week for your guests, while also not cutting into their leisure time with your corporate event. The best day to host a business event is generally considered to be either a Tuesday or Thursday in most professional industries. You also need to decide if your corporate event plan suits a breakfast, lunch, or dinner function. For an internal business event that is more informal, a brunch meeting with coffee will catch attendees while they are fresh, but it doesn't leave you with much room for extended networking or socialisation. A corporate lunch event is generally a more affordable marketing idea for small business and can be flexible in terms of theme and format. A business dinner or evening event is often the best idea for successful networking or business negotiations, but can also be more difficult to organise.
5. Choose a location
The best location and venue for a business networking event will depend on your business goals, event format, guest numbers, and ideal time. Small business marketing events would be well suited to the head office lunch room or a local hotel conference room with catering or presentation facilities. A formal conference venue or restaurant might be a good idea for a luxury corporate client event. If impressions count, a unique marketing idea for a brand-boosting event could include a more public function with entertainment and branded gift baskets. Reserving the outdoor dining area of a local café, or planning a self-catered outdoor function with food and wine creates a fun and relaxed atmosphere for mingling that your guests will enjoy.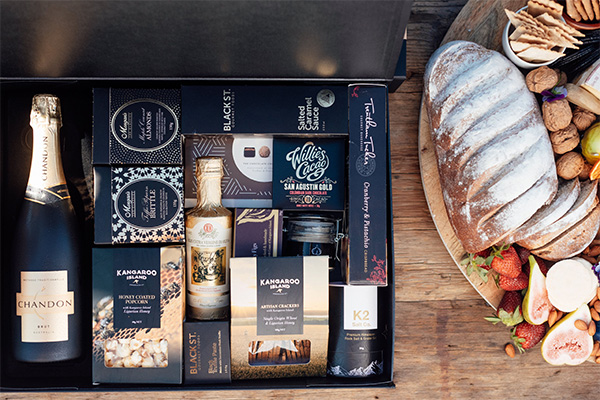 Easy Hosting Ideas For A Corporate Event
Branded gourmet food and wine hampers offer both a corporate gift and catering solution for a business event. Choose a gourmet snack hamper without alcohol to serve to invited guests alongside fingers foods or simple wraps for an easy lunch and learn format. Or, for a more formal occasion, choose a food gift basket with wine or champagne. For a special touch, corporate gift baskets can be branded or include a personalised message to each of the attendees or as a gift for event presenters.
Order a large food hamper with chocolates, sweet biscuits, crackers, tapenade and other premium gourmet snacks to serve at your business meeting or event. Arranging multiple food platters or food and drink stations around the conference room looks fantastic and is an easy way to create conversation zones for people to gather while also encouraging guests to mingle.
If you need more ideas for the best corporate hampers to make an impression at your event, contact the dedicated corporate team at The Hamper Emporium.