Planning the Perfect New Years Eve Party At Home
Author: Nikki Barnett Date Posted:30 December 2019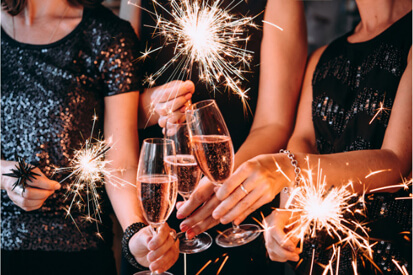 New Year's Eve celebrations can be expensive, stressful and exhausting! Coming so soon after the Christmas celebrations can make planning a New Year's Eve party all of that and more. Although, the alternative of going out to a celebrate can be all of that and more!
Having a New Year's Eve party at home can be fun for all ages, families who maybe couldn't go out, lack of babysitters on that night being the biggest reason can get together at a family or neighbourhood party. If it is your turn to host a New Year's Eve party, don't stress, follow our simple tips and have a wonderful time seeing in 2020.
Five Tips To Help Throw The Best At Home New Years Eve Party 2020
Set The Tone
For most of us being outside, or around the pool is the best place for the party. Do ensure, those non-party areas of your home are clearly indicated, as simple as having their doors closed. A toilet sign is always a good idea. Or a sign saying not to enter, please. Most of your guests will know you and respect your wishes. Make sure you have a good music system and areas set up for drinks, food and dancing - plenty of seating is necessary also, use cushions or pool floats if around a pool. Music is essential to creating the right mood and tone before the party ask your guests to send your their favourite songs and create a customised playlist.
Set A Theme
Optional, but often a great ice-breaker and lots of fun. It doesn't have to be a formal black-tie do or fancy dress, you could have wigs & shades, and everyone has to come in a wig-wearing sunglasses, Hawaiian pool party, grass skirts and leis. Your guests will enjoy getting creative.
Also do not be afraid to go 'sparkly' or 'twinkly', lights, candles all add to creating a unique New Years Eve party atmosphere. Activites
New Year's Eve is a long night and conversation can sometimes start to run a little dry, having some planned activities on hand can help fill those 'quiet' moments. Options, like having every one writing down their New Year resolutions or predictions and maybe guessing whose are whose. Whatever the age folk love to hunt for things, so maybe arrange to have some 'first-foot' gifts to be discovered! Read more about first-foot traditions below.
If children are present, it's even more important to have some planned activities, whatever you plan, let them get less and less energetic as the evening progresses.
Plan Your Food
As New Year's Eve tends to be a more extended party than usual, so d to break the night up with different food. Planning with family, friends and neighbours share the food between you all. A BBQ is easy to plan, but you can also provide savoury and sweet food choices by asking your guest to bring their 'speciality'. Normally the host will provide appetisers, and this is where Hamper Emporium can help to save you lots of time in preparations.
Our hamper selection can provide a host of gourmet treats to delight all your guests, from savoury lovers to the sweet-toothed friend. Take a look at our Ultimate Foodies Hamper or the Epicure Hamper, packed full with treats like the delicious The Woods Farm roasted nuts, Luke Mangan Quince paste, Black St. Gourmet Tasmanian Black Truffle Paste or Trentham Tucker Cranberry & Pistachio Crispbread, plus choices of popcorn and toffee nut brittle. Some of the hampers also include a range of gourmet chocolates including the fabulous Australian Ernest Hillier brand.
Our hampers also include a range of fine wines from the Margaret River Cape Mendelle vineyard, along with Moët Chandon Champagne - which will certainly be a great addition to your New Year's Eve drinks.
Plan Your Drinks
It is usual for guests to bring their drinks to a party, but as the host, it falls to you to have enough drink, alcohol or non-alcoholic on hand. The best idea is to organise a welcome punch or a signature cocktail and make sure there is enough bubbly to toast in the New Year. You know your guests and asking them to bring their favourite drink should not be a problem.
If you decide you are providing all, then do make sure you know what your guests like to drink and ensure you have enough to go round. Nothing spoils a party more than running out of alcohol. An extra tip here - don't put it all on display. Bring out extra as needed. Also make sure you have enough water, sparkling and still available to keep everyone hydrated. Soft drinks, of course, if the kids are at the party, and don't forget those that will still be up for midnight, a non-alcoholic sparkling fruit cocktail or special ice-cream milkshake.
Around The World New Year's Eve Traditions
Around the world celebrations for the New Year start on December 31st and go over into January 1st. Here a few of the traditions you that will be happening on December 31st 2019 - January 1st 2020.
Scotland and parts of the UK - the first footing tradition continues to modern-day. This involves the 1st person, stepping into a household during Hogmanay, the Scottish New Year celebration, they would traditionally bring,
Silver representing good luck and financial prosperity

Bread representing food

Salt representing flavour

Coal representing warmth

Evergreen representing long life

Drink, normally whisky, representing good cheer
Spain & Spanish speaking countries - a dozen grapes are quickly eaten, symbolising the coming months.
Italy & southern USA - legumes, namely lentils and black-eyed peas, are eaten. The symbolism here is the legumes resemble coins, and it is about ensuring financial success over the coming year.
Cuba, Austria, Hungary, Portugal and other countries - serve pork on their New year Days tables as pigs are symbols of prosperity and success in some cultures.
Netherlands, Mexico & Greece - ring-shaped pastries and cakes, are served to symbolise the year has come a full circle.
Sweden and Norway - serve rice pudding with an almond hidden inside on New Year's Eve, whoever finds the nut can expect 12 months of good fortune.
Romania - people dress up as dancing bears to chase away any evil spirits.
Japan & South Korea - ring in the New Year, literally, with bells!
Johannesburg South Africa - here it out with old, that is furniture, usually thrown out the window!
Denmark - smashed plates on your doorstep bringing good fortune for the coming year.
South America - If you want the coming year to be full of adventure you do the 'suitcase walk' people walking around New year's Eve with empty suitcases.
Fireworks at midnight - whatever you live, people the world over enjoy the fantastic firework displays, either live or on the TV. If you are lucky you could be at Sydney Harbour, Auckland Sky Tower, New Zealand, Nathan Philips Sq in Canada or the exotic Copacabana Beach in Brazil.