Support Local with Australian Gourmet Hampers
Author: Nikki Barnett Date Posted:19 January 2021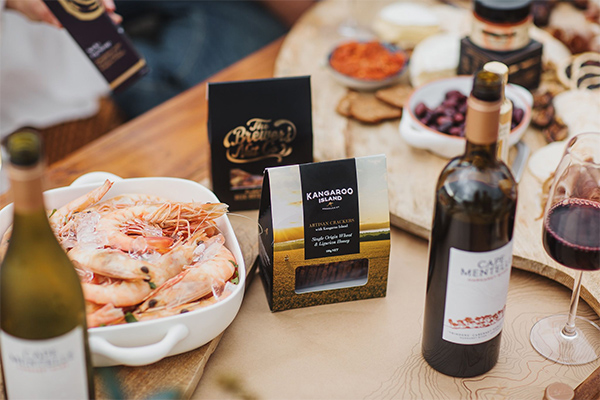 Supporting Australia's Finest Gourmet Producers
The Hamper Emporium is always proud to support local Australian regional fine food producers, wine makers, brewers, and chocolatiers. We have a large selection of hampers featuring 100% local Australian made products. If you love supporting local as much as we do, you'll love exploring our range of Aussie hampers filled with premium products from Australian gourmet brands.
From the city of Sydney, to the quiet bays of Kangaroo Island, scenic coastal stretches of Western Australia, and everywhere in between, we bring you a roundup of some of our most popular gourmet brands and products made in Australia.
Kangaroo Island Fresh Garlic
Kangaroo Island Fresh Garlic is locally farmed and harvested by hand in the gorgeous countryside of Stokes Bay on Kangaroo Island in South Australia. Since 2015, Kangaroo Island Fresh Garlic have perfected their growing techniques to produce high yields of quality, pure, pesticide free, 100% Australian garlic. The 2019-2020 bushfires on Kangaroo Island were devastating. Volunteer firefighter, Shane, returned from fighting the fires to find everything on the farm had been destroyed… all except for the garlic shed, with the previous weeks' harvest safe inside, and his beloved dogs.
Rebuilding with the help of Kangaroo Island locals, they have now doubled the amount of land planted out to garlic and had a bumper 2020 crop. The Hamper Emporium is proud to stock their delicious garlic salt just perfect for sprinkling on any meal for an amazing flavour boost. Make garlic bread to die for, garlic sautéed prawns, or sprinkle over lamb chops for the perfect Aussie BBQ.
Ernest Hillier Premium Australian Chocolates
Ernest Hillier Chocolates is one of Australia's most loved chocolatiers. Founded in 1914, it was Australia's first chocolate manufacturer. Based in Melbourne, Ernest Hillier is now Australia's oldest privately owned chocolatier. The company's product range includes over six hundred different milk and dark chocolate products including chocolate nuts and choc coated fruits and berries. If you love chocolates, you'll love our gourmet Australian chocolate gift baskets featuring the taste sensations of Ernest Hillier.
Byron Bay Cookie Company
This Australian artisan cookie company started in 1990 by baking fresh cookies at the local markets in the coastal paradise of Byron Bay in New South Wales. They grew to sell their cookies in cafes across the country and expanded with their online gourmet cookie store. Byron Bay Cookies are 100% Australian, full of luscious ingredients with incredible flavour pairings you'll fall in love with—Australian macadamias, mango, passionfruit, pecan, and everyone's favourite triple chocolate cookies. These delicious cookies with dark chocolate and creamy fudge are also suitable for vegetarians. Their cookies are a perfect match for our sweet hampers and offer pure indulgence with each bite. Baked by cookie lovers, for cookie lovers, we love supporting these iconic Aussie artisan bakers.
Morgan's Fine Foods
Showcasing Australian nuts, and made right here in Sydney, the Morgan's range includes rich, buttery caramelised toffee coated crunchy roasted cashews, honey roasted peanuts, Australian almonds roasted in a classic French Vanilla flavour, milk chocolate pretzels, freshly roasted coffee beans covered in smooth, rich, dark chocolate, and crème brûlée roasted peanuts. Sweet nuts are the perfect accompaniment to any gourmet picnic or Aussie weekend BBQ.
Brewer's Nut Co.
Based in Sydney, the Brewer's Nut Co. makes the perfect range of savoury nuts to pair with Australian wine, beer, or cider. Their classic Aussie beer nuts are the perfect accompaniment to any beer hamper. And their premium savoury nut blend of roasted peanuts, cashews, almonds, pumpkin seeds and sunflower seeds seasoned with a hint of chilli, rosemary, garlic and sea salt is the perfect moreish snack to pair with any beverage or cheese platter.
Cape Mentelle Wines
The Cape Mentelle vineyards in Western Australia's Margaret River wine-growing region produces some of Australia's best Sauvignon Blanc Semillon, Chardonnay, Shiraz and Cabernet Sauvignon. Established in 1970 by experimental winemaker David Hohnen, and his brothers Mark and Giles, Cape Mentelle helped put the Margaret River on the global wine producing map. Their pristine coastal location, unique soils, and 50 years of viticultural history has more than established the region's reputation for fine winemaking.
With their ongoing commitment to Sustainable Winegrowing Australia, Cape Mentelle uses hand weeding and winter grazing with sheep to control weeds around their vines without compacting the soil or using fossil fuels. They make their own compost with grape marc enriched with other components such as manure from the Margaret River egg farm or woodchips from local trees. And, all water in the vineyard is recycled 100% thanks to a fully self-contained rain and surface water treatment system and precision irrigation. Their 'Trinders' vineyard was first planted in 1988 and produces semillon, sauvignon blanc, cabernet sauvignon, cabernet franc, merlot and shiraz. The Hamper Emporium has a range of gourmet food and wine hampers featuring wines from Cape Mentelle including their 'Trinders' Cab Merlot, Shiraz Cabernet, and Sauvignon Blanc Semillon.
Chandon Sparkling Wines
Chandon is the only Australian sparkling wine producers with genuine French heritage. In 1986, founder Robert-Jean de Vogüé and his oenologist Renaud Poirier brought the méthode traditionnelle of France to an old dairy farm in Victoria's Yarra Valley. Since then, Chandon has expanded with vineyards at three distinct cool climate elevations in Victoria's Strathbogie Ranges and King Valley to produce their Chardonnay, Pinot Noir and Pinot Meunier varietals. They continue the practice of France's Champagne region of two separate fermentations – one in barrel, and the second in the bottle for a minimum of 12 months, to produce exceptionally fine, delicate bubbles. In the latest 2021 James Halliday Wine Companion, Chandon was honoured with some great results with their Chandon's NV Brut Rosé receiving 97 points and their Vintage Brut awarded 95 points.
The Hamper Emporium loves the range of Chandon sparkling wines for any special occasion celebration. Even better, until 28th of February, when you order a Chandon hamper you'll automatically have a chance to win the ultimate Australian eco-luxury weekend escape to the Yarra Valley for you and five friends.
James Squire Ales
Master brewer Chuck Hahn (from Hahn's Brewery fame) launched Australia's boutique beer James Squire ale range in 1998. As Australia's first brewer, James Squire has a yarn-worthy history. From chicken thief and convict, arrival in Australia in 1787, his appointment as the Governor's bodyguard, and multiple marriages during which he became a publican, baker, butcher, money-lender, local constable and, eventually Australia's first experimental brewer.
The James Squire craft beer range has continued to grow under its chief brewer with its unique, flavoursome and thirst-quenching Australian beers including pale ales, apple cider, lager, and pilsners. You'll love The Hamper Emporium's selection of beers from the James Squire range paired with all 100% Australian gourmet snacks including Byron Beef Jerky, Australia's Brewer's Nut Co. beer nuts, olives, crackers, and gourmet tapenades.
Enjoy Our 100% Australian Gourmet Hampers
Special occasions should be celebrated with Australian sparkling wine and sweet treats. Savour a bottle of the Chandon Sparkling Chardonnay Pinot Noir NV alongside a delicious selection of gourmet sweet nibbles. Delve into the treats by Sydney brand Morgan's—their maple coconut roasted almonds, crème brûlée peanuts and toffee popcorn brittle are pure luxury.
Need a celebration hamper with more premium Australian chocolates? This 100% Australian hamper includes a premium selection of Ernest Hillier chocolates and sweet nut candies from Morgan's. Your chocolate lover can toast to a special occasion with Chandon Sparkling Chardonnay Pinot Noir Brut NV.
Or, choose the Chandon Sparkling Brut Rosé. This gorgeous Pinot Noir led sparkling wine with notes of fresh strawberries and pomegranate is the perfect chilled summer sparkling wine to enjoy with friends and family. Paired with our popular selection of Australian chocolates and sweet nuts, this gourmet gift basket is worth celebrating.
This 100% Australian gourmet food and wine hamper features Ben Riggs Sulis Langhorne Creek Cabernet. This rich and powerful red wine is delicious served with roasted lamb or a spicy curry. Savour this wine with its dark spice and earthy tones displaying a palate of plum, cranberry and ripe berry fruits overlaying cured charcuterie and roasted coffee bean. While you can cellar this wine for several years, we recommend enjoying it now with Kangaroo Island artisan crackers and a selection of Australian nuts from the Brewer's Nut Co.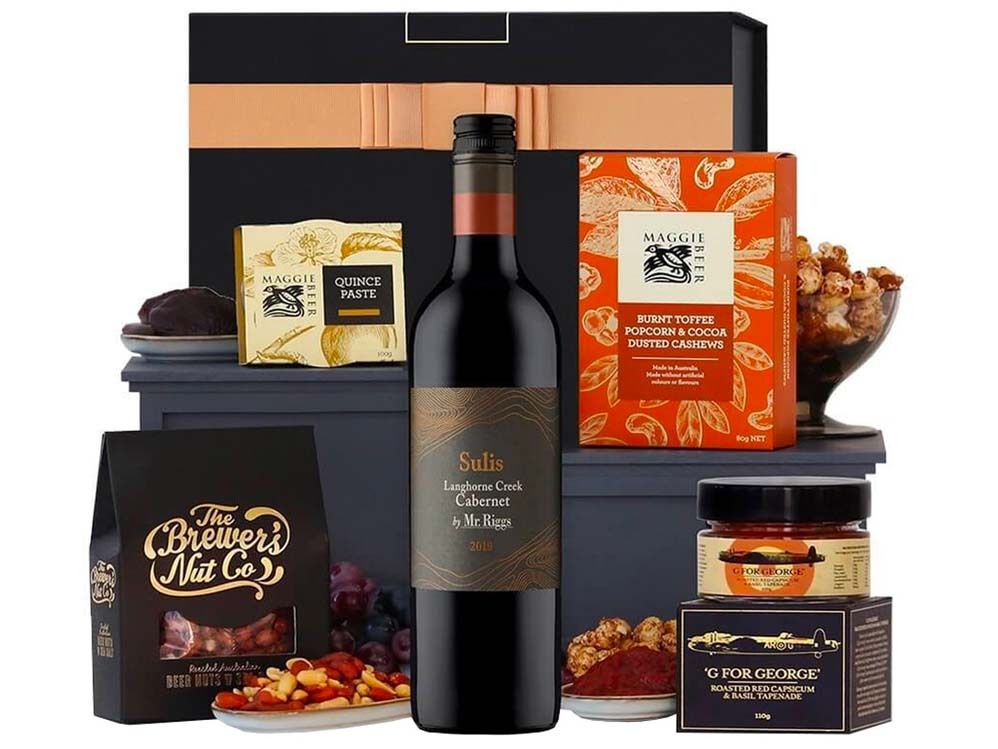 This perfectly balanced SBS blend of vibrant fruitiness with lime and citrus notes balances a palate of yellow peach and nectarine. The coastal character of the wine makes it perfect to enjoy with Aussie seafood. For the ultimate cheese platter, enjoy it with savoury nuts and Kangaroo Island Artisan Crackers. This deliciously textured cracker is made in South Australia using single origin wheat and Ligurian honey from the pristine Kangaroo Island with cranberries, hazelnuts, flaxseed, pumpkin seed and poppy seeds.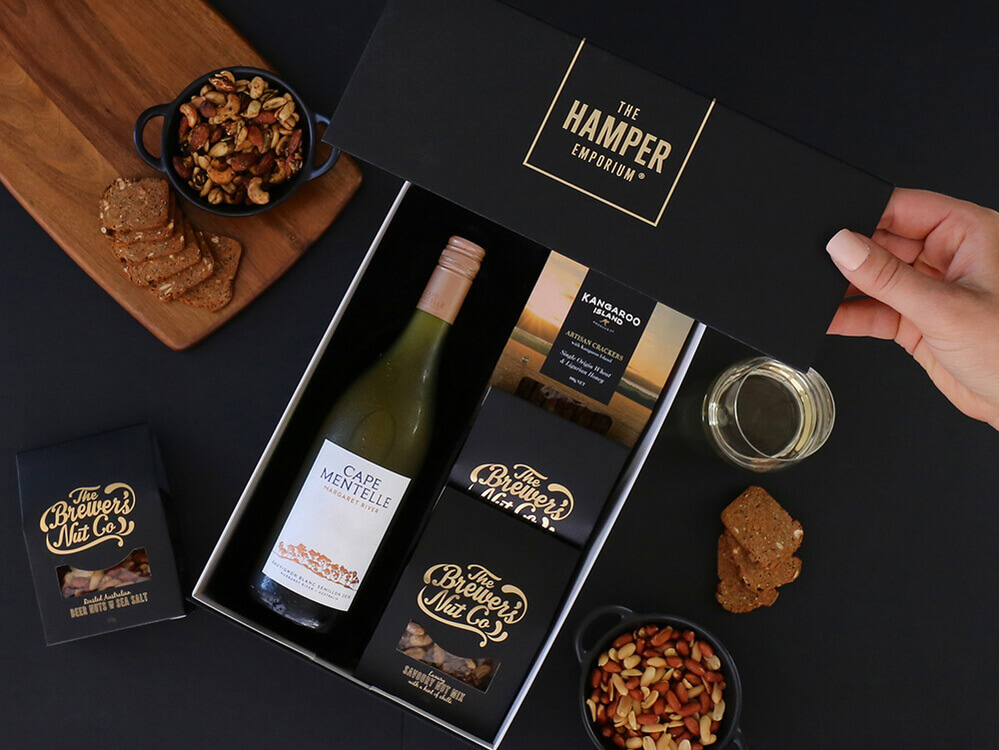 Or, for the sweet tooth, pair the Cape Mentelle Sauvignon Blanc Semillon with a selection of Australian sweet nuts from Morgan's including everyone's favourite honey roasted peanuts, French vanilla almonds, and cashew toffee brittle. The perfect afternoon wine hamper to enjoy pool-side.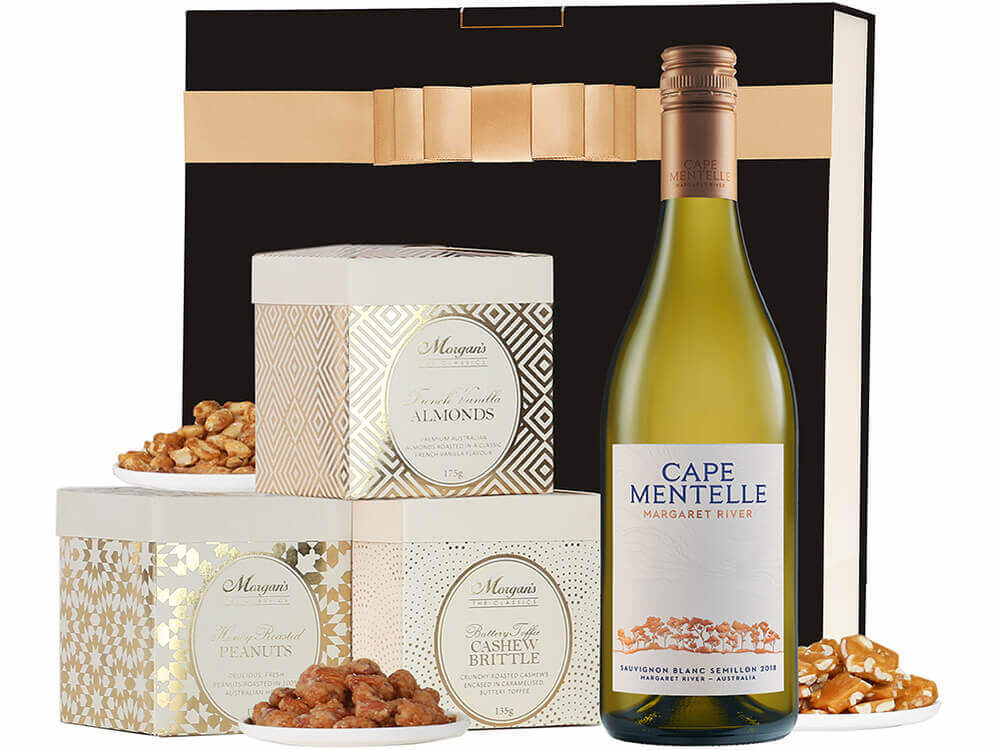 Our favourite mini hamper to kick off any Australian gourmet BBQ. With a selection of 100% Australian sweet treats and savoury snacks, you can pair this with your favourite beer or wine. Enjoy Kangaroo Island artisan crackers, savoury Aussie nut mixes from the Brewer's Nut Co., and a selection of Morgan's sweet candied nuts.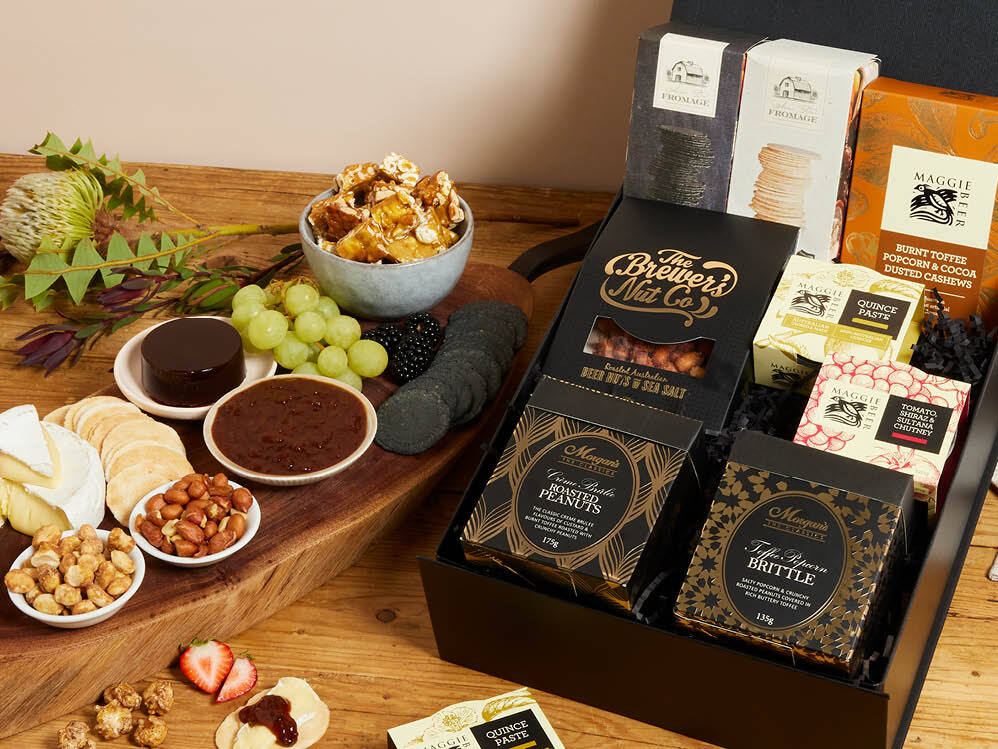 Australian Beer and Cider Hampers
Each of our Australian beer and cider hampers features a premium selection of 100% Australian made gourmet produce including organically grown Kangaroo Island Kalamata Olives, Byron Beef Jerky, plus savoury nuts, dips, and crackers.
We love showcasing Australian producers, and the Gourmet Regional Produce Co. offers the best of Tasmanian preserves and tapenades. No gourmet Australian spread is complete without the burst of flavour from their roasted eggplant tapenade and their mouth-watering capsicum & creamy fetta tapenade. Byron Beef Jerky is made from 100% grain-fed lean Australian beef, in the beautiful Byron Shire Hinterland. And, plump, juicy and bursting with flavour, the organically grown Kangaroo Island Olives are 100% Australian. This is gourmet Australian produce at its best.
Take your mates on a journey around Australia with the best brews, ales, nibbles and more found in our Beers of Australia Hamper. This hamper is perfect for enjoying on hot summer nights outside under the stars. You won't have to leave home to enjoy beer tasting with lagers and ales from Freemantle WA, Sydney NSW, and Melbourne VIC, including Little Creatures Pale Ale, 4 Pines Brewing Company, Young Henry's Newtowner, James Squire The Chancer Golden Ale, and Cricketers Arms Keeper Lager.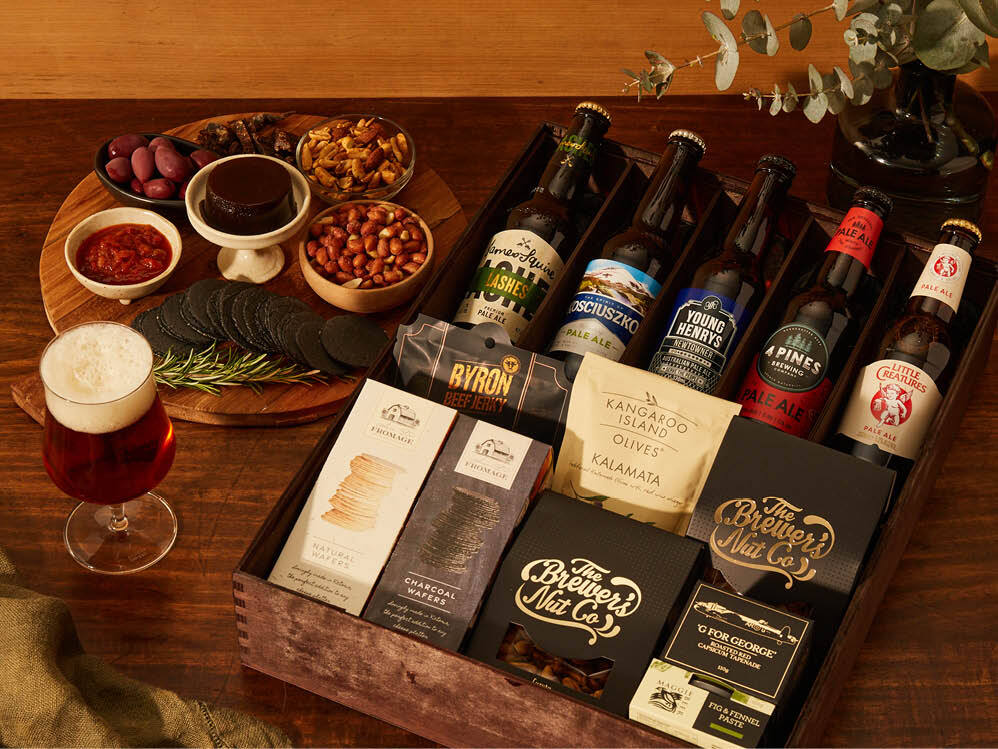 We recommend the MicroBreweries of Australia Hamper for true lovers of Australian beer. It contains Australia's finest microbrewery craft beers along with delicious Australian nibbles. Expand your beer lover's horizons with a gift that lets them try a range of new brews. They'll love sampling the Murray Craft Brewing Co. Angry Man Pale Ale, Feral Brewing Hop Hog Pale Ale, Burleigh Brewing Fig Jam India Pale Ale, Lord Nelson Three Sheets Pale Ale, and Bridge Road Brewers Pale Ale. This beer and snacks gift basket has everything you need for a gourmet beer tasting afternoon.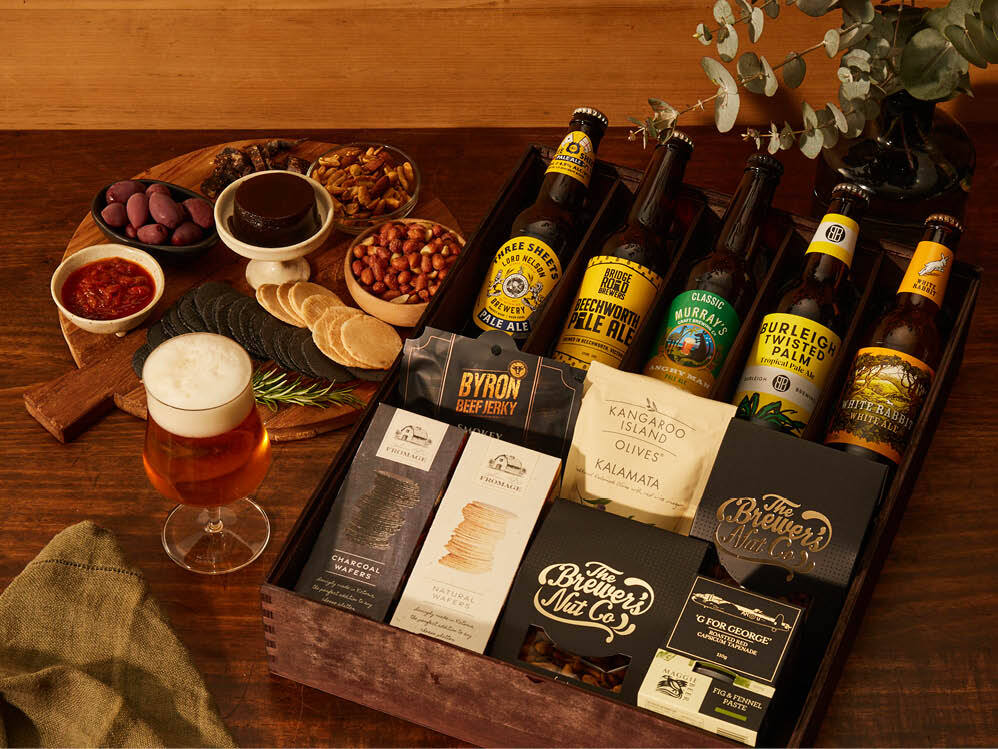 This Aussie craft beer and snack hamper features five of the best James Squire craft beers including The Chancer Golden Ale, One Fifty Lashes Pale Ale, The Swindler Tropical Pale Ale, Broken Shackles Lager, and Nine Tales Amber Ale. Share with your mates and enjoy a selection of favourite Australian savoury snacks from Tasmania's Regional Gourmet, the Brewer's Nut Co. and Byron Beef Jerky, and Kangaroo Island olives.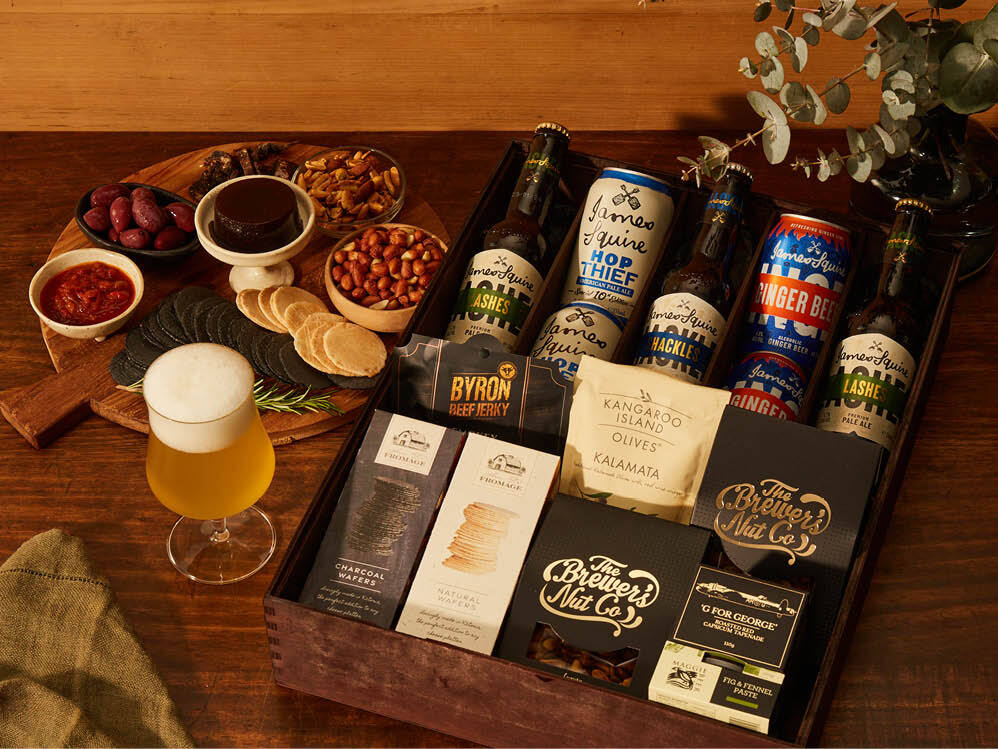 There's nothing more refreshing on a hot summer's day than an Australian apple cider. Enjoy the taste sensation of five totally different ciders including the tart Young Henry's Cloudy Apple Cider made in Newtown, the fresh-pressed Pipsqueak Apple Cider from Fremantle, a Matilda Bay Lumber Yak Cold Brew Cider, the easy-drinking Cheeky Tiki Dry Cider from Bundaberg, and the Ol' Scrumpy Natty Cider from Beechworth.
Support Local with Australian Gourmet Food and Wine
The Hamper Emporium has even more delicious regional Australian produce in our range of foodies hampers including Kangaroo Island honey coated popcorn, sticky figs from Australia's The Figgery, and aromatic Tasmanian black truffle paste from Black St. Gourmet. We love connecting our customers with Australia's finest regional producers. Explore our full range of hampers and indulge in the finest Australian food and wine for your next summer picnic. We offer free delivery on all our hampers Australia wide.