The Best Gin Mixers And Cocktail Party Ideas
Author: Michelle Richards Date Posted:18 February 2021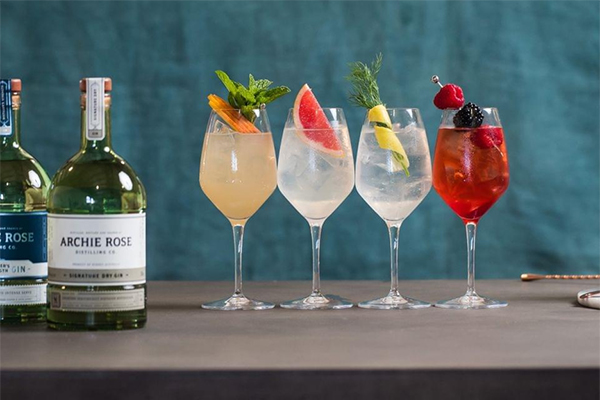 Introducing Our New Gin Hampers
There's no better way to create a fun evening at home to celebrate a special occasion than with a cocktail party. You can transform any get-together with friends into an evening to remember with a few elegant cocktail party ideas. Get creative (or even a little competitive) creating your own cocktail recipes, or just shake and stir your way through a list of the most popular cocktails to find your favourites.
If you're planning a cocktail party, or you'd like to stock your home bar with a few of the most versatile spirits and mixers, there are a few essentials that will make it easy to put together a fun range of different cocktail ideas to suit all tastes.
There are only six base liquors needed to make most cocktails: whiskey, vodka, gin, rum, brandy, and tequila. They each have a unique and distinct flavour profile, and pair with different mixers. If you want to start simple, then we recommend sticking with the three essentials with a bottle of whiskey, vodka and gin. To get started, we have a range of spirit hampers with all the essentials plus a few of our favourite gin hampers for those dedicated gin lovers.
What spirit makes the most cocktails?
If you asked most people which spirit makes the most cocktails, they might say vodka. In fact, the most versatile spirit for cocktails is gin. While everyone is probably familiar with the classic dry martini, the refreshing gin and tonic, and a fruity gin mixer, there are so many more cocktails you can make with a good bottle of gin. From a shiraz gin mixer to a rich hot toddy, we'll share ideas for easy cocktails and the best mixers to have with gin.
Best gin mixers and non-alcoholic ingredients for cocktails
You don't need a top shelf full of fancy ingredients or professional bar tools to whip up a great range of cocktails for a party. But there are a few essentials and basic ingredients you will need to stock your home bar.
Simple sugar syrup – Make your own sugar syrup by mixing equal parts of caster sugar and boiling water in a saucepan and stirring over a low heat until the sugar dissolves. Let it cool, and then bottle to use.
Citrus juice – Your choice of fresh lemon juice, lime, or orange juice. A citrus gin and tonic
Flavoured liqueur – While these are optional, a few good liqueurs and flavourings for making cocktails at home include Vermouth, Campari (or Aperol), Bitters, and a non-alcoholic elderflower cordial.
Non-alcoholic mixers – A range of tonic water, soda water, or even lemonade are all good to mix with gin.
Fresh fruit and garnishes – Gin is such a versatile spirit that it goes with everything from cucumber and grapefruit, to pineapple and strawberries. You can also try mint, basil, edible flowers, citrus zest, or even aromatic sweet spices like star anise or cloves for simple cocktail garnish ideas.
Easy 3 ingredient cocktail recipes with gin
Learn how to make the best gin cocktails at home with these simple cocktail recipes. If you can master these simple gin mixers, and then learn a few simple bartenders' tricks to add a little flourish to your cocktails, these can be extravagant enough to suit even the fanciest bridal shower cocktail ideas.
Gin and Tonic
The classic G and T should be the first gin cocktail you master. You can build on this for a whole range of easy gin mixers.
60ml Gin

120ml tonic water
Method: You can make this right in the glass without a cocktail shaker. Just fill a highball glass with ice, pour over the gin, and top with tonic water. A premium elderflower tonic water is perfect for a good G & T. Garnish with a wedge of lime, blood orange, or even a wedge of pear.
Citrus Gin and Tonic
A simple gin and tonic is transformed with a splash of your favourite citrus. This is the perfect easy cocktail idea for summer.
60ml Gin

120ml tonic water

40ml freshly squeezed citrus
Method: Fill a tall glass with ice, add your gin, and top with tonic water. Then add a generous squeeze of lemon, lime, or orange juice for a refreshing citrus gin and tonic. Squeeze a length of orange peel over the cocktail to extract the fragrant oils, rub the squeezed peel around the rim of the glass, twist it, and then pop it in the glass for an extra burst of citrus flavour.
Royal Tea Cocktail
There are a few variations on the gin and tea cocktail recipe. This is our favourite for a warm and cosy gin cocktail for winter.
45ml Gin

45ml Earl Grey tea (strong and freshly brewed)

20ml lemon juice
Method: Brew the tea to your taste (with sugar or honey if preferred). Combine all ingredients in a shaker, and pour into a warmed glass. Garnish with edible flowers, a sprig of lavender, or a lemon wheel.
Variation: For a light summery twist, allow the tea to cool. Prepare in a shaker with ice, pour into a glass and top up with 45ml of soda water. This gin mixer idea also works in larger quantities as a great poolside cocktail jug recipe.
Gin Gin Mule
50ml Gin

100ml ginger beer

A few drops of bitters (or a splash of lime)
Method: Simply half-fill a highball glass with ice, pour gin over ice, top with ginger beer, add a few drops of bitters, and garnish with a slice of orange.
Variation: For a sweet tooth, add 15ml of simple syrup and a muddle of mint leaves.
Gin Gimlet
A gin gimlet is a summery fresh variation on the classic gin martini. If you like a classic sour cocktail, you'll love this.
60ml Gin

15ml freshly squeezed lime juice

15ml simple syrup
Method: Add gin, lime juice, and sugar syrup to a cocktail shaker, fill with ice, and shake. Serve in a cocktail glass or martini coupe glass. Garnish with a twist of lime.
Variations: The gin gimlet is also delicious made with the Archie Rose Rosella Sour cocktail gin. Or, try adding either a couple of fresh basil leaves (or mint leaves for a traditional South Side Cocktail) to the cocktail shaker, strain into a glass, and garnish to suit.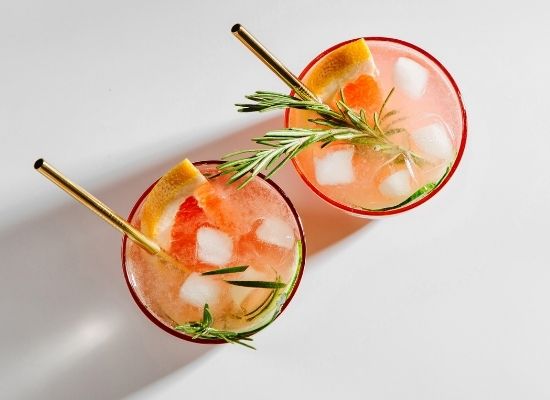 Best gin cocktail recipes to make at home
Once you've mastered the more simple gin cocktail recipes and discovered what's good to mix with gin to suit your tastes, it's time to try something different with a few recipes for a cocktail party that both look and taste amazing.
These quick and easy cocktails show off your fancy bar skills and make the most of the fun range of different cocktails you can make with gin. We've included a mix of the best gin cocktails for a summery outdoor cocktail party, and some delightful winter warmers for those cool fireside evenings. A few clever cocktail garnish ideas and quality bar glasses will transform your drinks into glamourous cocktails.
Wine and Gin Sour
The egg in this cocktail recipe doesn't have any effect on the cocktail's taste, but adds a delicate foamy head and a lovely rich mouthfeel.
30ml Gin (use a Dry Gin or Rosella Sour gin)

30ml Shiraz or other full-bodied red wine

30ml lemon juice

15ml sugar syrup

1 teaspoon egg white (about ¼ of a whole egg white)
Method: Combine all the ingredients in a shaker without ice and shake well to froth the egg. Add ice and shake again. Strain into a tumbler over fresh ice. Garnish with edible flower petals.
White Lady
If you're looking for drink ideas for a girls cocktail party, this is the perfect classy cocktail for a 1920s vibe.
45ml Gin

30ml lemon juice

15ml Cointreau orange liqueur

15ml sugar syrup

half an egg white
Method: Add gin, lemon juice, Cointreau, sugar syrup, and egg white to a cocktail shaker. Shake well to fluff up the egg white. Add ice, shake again, and strain into a chilled cocktail glass or coupe. Garnish with a thin slice of lemon floating on the silky foam top, or an orange twist on the glass.
Hot Buttered Toddy
This classic gin cocktail is best made to share. If you're looking for cocktail jug ideas or warming winter cocktails for sipping around the fire, this is our favourite. This cocktail recipe is enough for four.
120ml Gin

40g butter

40g brown sugar

1 teaspoon of ground cinnamon (or 2 cinnamon sticks)

½ teaspoon nutmeg

40ml orange juice

1 cup of boiling water
Method: Add butter, brown sugar, cinnamon, nutmeg and orange juice to a cocktail jug. Mix together into a paste. Add boiling water and stir until dissolved. Add gin and stir before serving in individual glasses. Garnish with star anise or a curl of orange rind.
Variation: If using cinnamon sticks, prepare all ingredients except the gin in a saucepan over the stove. Bring to a very gentle simmer. Strain into a cocktail jug, add gin, and serve.
Pink Negroni
This vibrant pink gin cocktail looks as good as it tastes. It's a fun twist on the classic gin Negroni, which is usually made with equal part of dry gin, vermouth, and Campari.
30ml Rosella Sour Gin

30ml Sweet Vermouth

15ml Aperol (or Campari)

15ml fresh lemon juice
Method: Combine the gin, vermouth, aperol, and lemon juice in a cocktail shaker with ice. Shake well. Strain into an old-fashioned glass over ice. Garnish with strawberries, a wedge of pink grapefruit and edible flowers, or a sprig of tarragon.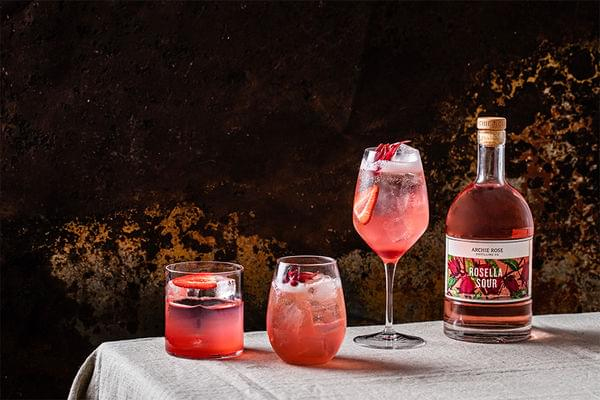 Image credit: Archie Rose Distilling Co.
Premium Gin Hampers For Your Cocktail Party
The Hamper Emporium has three great new gin hampers featuring a bottle of premium gin from Sydney's leading craft distillery, Archie Rose. Each of these spirit gift hampers would be ideal as a foundation for your next cocktail party. Our indulgent Archie Rose Signature Gin Hamper is the perfect alcohol pamper gift hamper to kickstart a girls cocktail party weekend or as a gorgeous bridal shower cocktail party gift. This gin hamper includes a bottle of premium dry gin, sweet treats and chocolates, a luxury robe, candle, bath soak, and silk eye mask.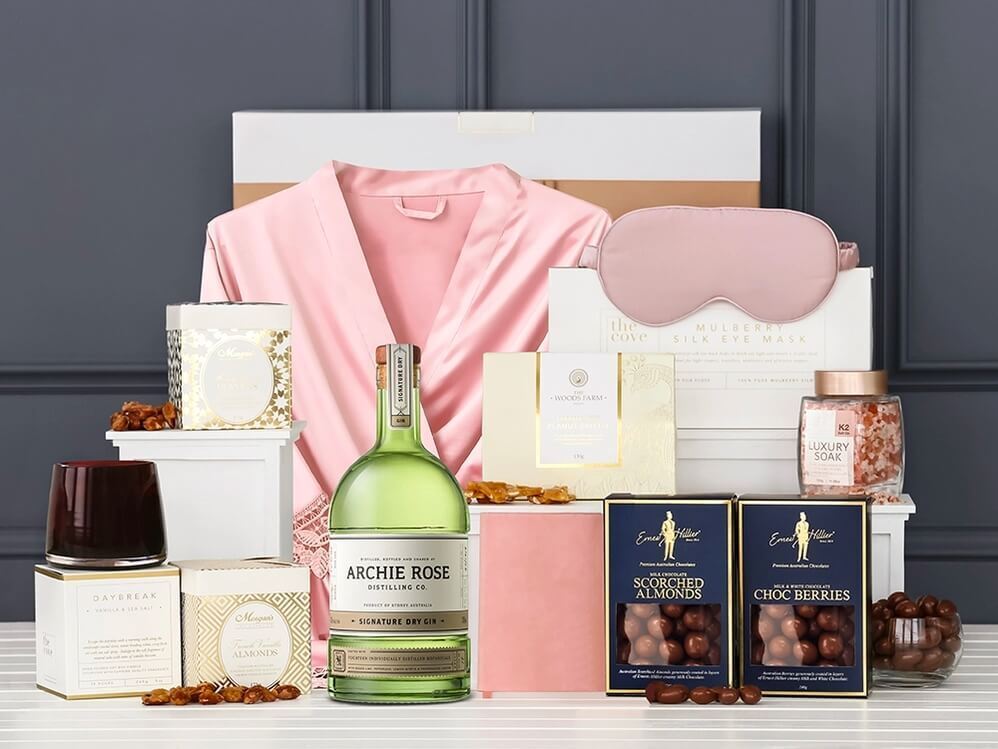 If you're kicking back with your bestie, order a classic gin hamper for yourself and a cocktail hamper for her to start your cocktail party! The Archie Rose Rosella Sour Cocktail Hamper includes a ready-to-pour pink gin cocktail from Sydney's favourite distillery. Whether it's on ice or in a spritz, enjoy dry gin mixed to perfection with hibiscus and tropical fruits. You'll love the balance of strawberry, coconut, and a slight hint of pineapple tartness. This sour pink gin cocktail hamper also includes sweet nuts, a satin robe, candle, bath soak, and cosmetics bag.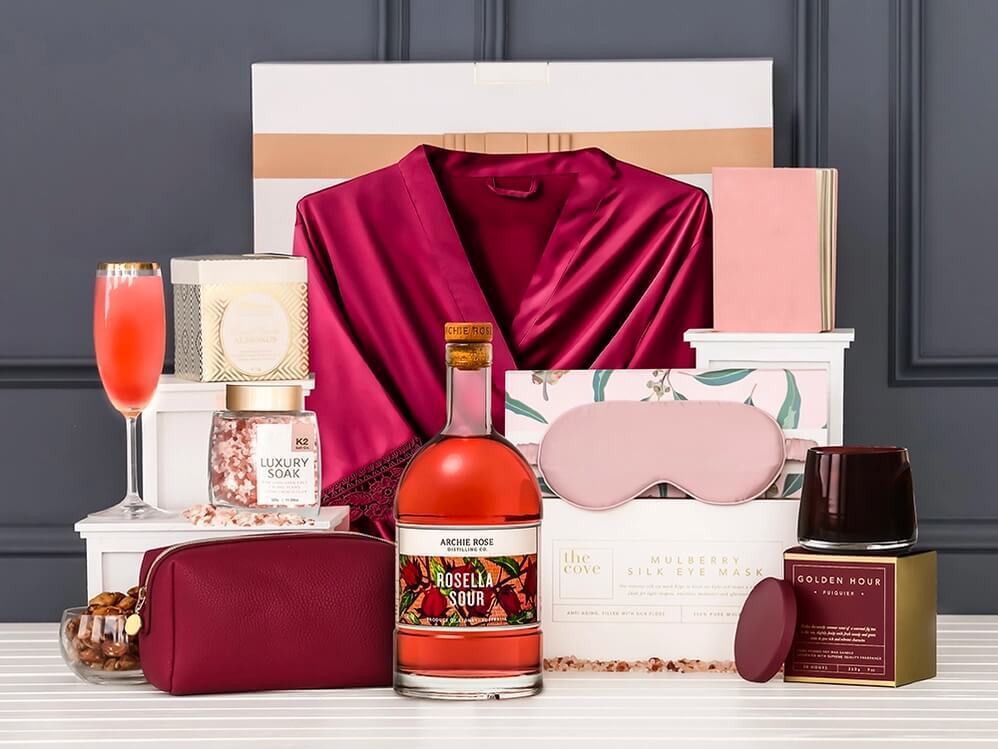 If you need cocktail party food ideas, try the Archie Rose Gin Celebration Hamper for a bottle of premium Archie Rose Signature Dry Gin and a delicious mix of sweet and savoury nibbles. You can focus on mixing up the best cocktail recipes with your gourmet snacks taken care of. This gin celebration hamper includes an impressive selection of sweet treats with white chocolate almonds, toffee popcorn brittle, and maple coconut roasted almonds. Everything you need to get the party started.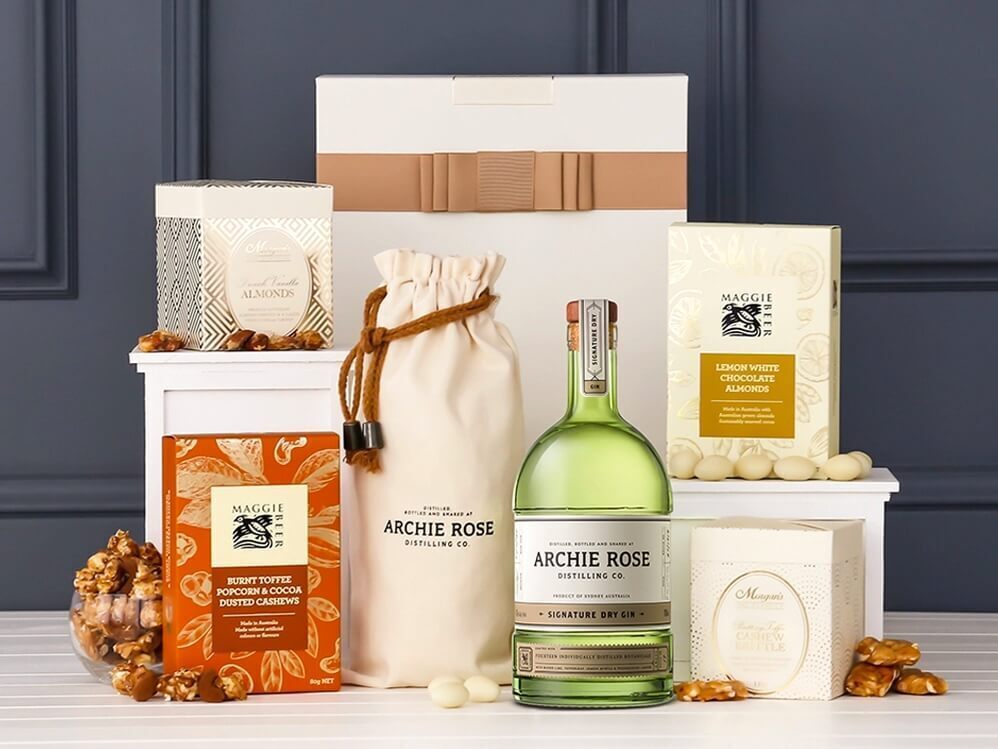 Gin & cocktails are perfect for every occasion, whether as Melbourne Cup hampers, a 40th birthday party, Christmas, or any special event. Browse our full range of Spirit Hampers to find even more great party hamper ideas.