Thoughtful Ways To Pamper A New Mum
Author: Nikki Barnett Date Posted:21 January 2021
Send Your Love With Exquisite New Mum Gift Baskets
Welcoming a new cute bundle of joy is an exciting time for everyone—there's nothing more snuggly and cuddly. Becoming a mum can be an exhausting and rewarding time in any woman's life, so she deserves something gorgeous to start her little family on their adventure.
Here at The Hamper Emporium, we adore creating pampering gift hampers and new mum care packages brimming with creature comforts. Help a new mother adjust to sleepless nights with sensational skincare, plush robes and everything she needs for some pure relaxation. Gift her something fabulously indulgent to brighten up her day!
If you really want to get something for baby too, then you'll find adorable new baby hampers filled with cuddly toys, soft baby clothes and beautiful accessories. We also pop in a bottle of sparkling champagne and a host of delicious treats for mum.
10 Delightful Keepsake Ideas For Baby She Will Adore
Baby keepsakes are a lovely thought and something any mum will cherish forever. Share her excitement and wonder with unique gifts for new mums that are loving additions to the nursery. You can slip them into your new mum gift basket and give her an extra surprise!
Here are the top 10 baby keepsake gift ideas on our list:
Baby journal, memory book or diary

Super soft baby blankets and swaddles

Beautiful baby first-year photo album

Baby portrait and ornate picture frame

Plush toy or baby's first teddy bear

Bespoke storybook or your own childhood favourite

Cute baby suitcase keepsake box

Birthday calendar and horoscope prediction

Engraved bangle or baby jewellery

Personalised nursery decorations
10 Ways To Boost Her Spirits And Really Make Her Day
A baby's arrival always prompts a flurry of adorable gifts, and while every mum loves gifts for baby, it's easy to forget something for her. Often, the most appreciated gifts are ones bought exclusively for her. Thoughtful gifts for new mums encourage a new mother to take some time out, and remind her that taking care of herself is just as important as caring for her new baby. She can enjoy her pampering new mum gifts when she has a quiet moment and will feel beautiful again!
The smallest things can make a huge difference in the way a new mum feels about herself. Giving her a little treat and spending time together whenever you can is priceless. Make new memories, share experiences, and remind her she still has a normal life! Sometimes, the best gifts for new mums are a few moments to themselves or time out with friends to recharge.
We've compiled 10 totally wonderful ideas to pamper a new mum that will recharge her batteries and bring a smile. These are the simple things new mums need for themselves.

Take a leisurely weekly walk and talk in the fresh air with baby in tow

Host an afternoon home spa with scented candles and beauty treatments

Treat her to your new recipes or cream cakes and deliver them to her door

Plant beautiful blooms or place flower planters outside her favourite window

Buy her some audiobooks or music so she can relax when baby sleeps

Do her shopping for her and add in some thoughtful small treats

Hand deliver her favourite delicious selection of indulgent chocolates

Plan a champagne afternoon at home with her closest friends

Make her some cute notebooks for jotting down her daily memories

Gift her some soft, pretty pyjamas and join her on the sofa in yours
Choosing The Best Modern Hamper Gifts To Spoil New Mums
Finding time out for new mums can be almost impossible, so new mum pampering gifts are relaxing, indulgent and guaranteed to make sure she unwinds. Luxury pamper hampers are something just for her. These are collections of nurturing skincare and satin lounge robes, celebratory champagne, mouth-watering chocolates or her favourite gourmet treats. What could be a better gift for a new mum?
Sensational Spa Event In A Box
The Jurlique Rosewater & Mulberry Silk Hamper is one of our favourite choices. It's simply gorgeous and packed with hydrating products and stress-relieving goodies. There's a beautiful hand poured candle to set the scene and pink bath salts to soak away the strains of the day. Added to this are a stunning mulberry satin robe and eye mask, a lovely leather style makeup bag and a gold-lined notebook. There are also some French vanilla almonds to nibble on in the bath! Essentials every new mum needs!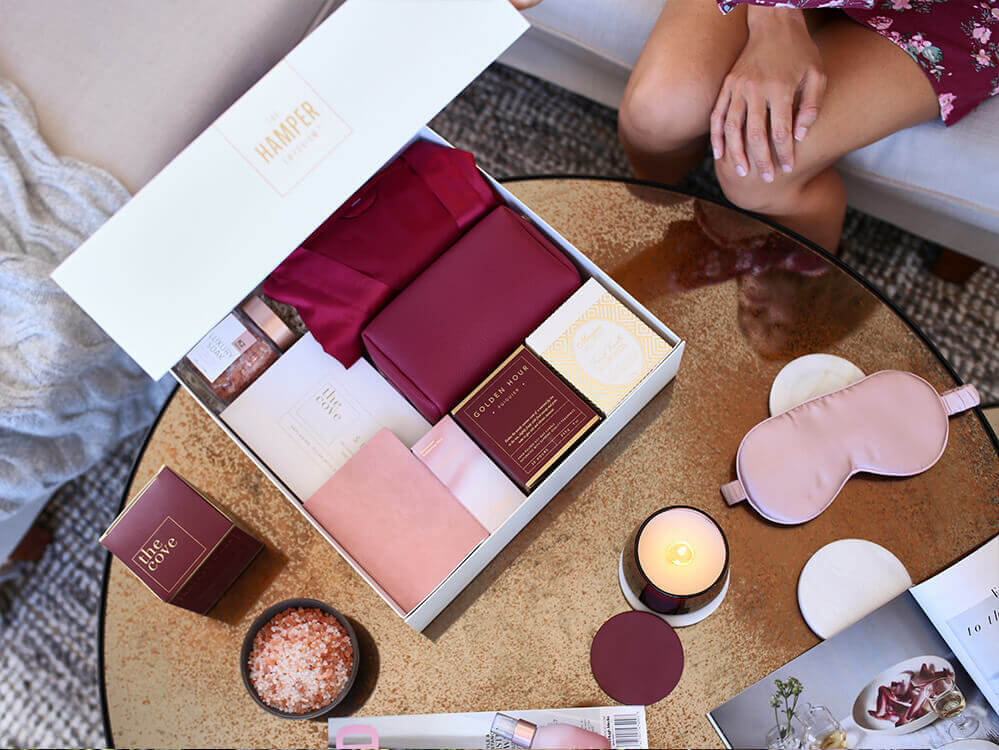 Bubbles For Glasses Not The Bath
Our L'Occitane Cherry Blossom & Veuve Clicquot Hamper is a truly decadent treat. No pamper session is complete without a little sip of sparkling Champagne. This is a gift she will really appreciate as it's pure indulgence and overflowing with pampering products. It comes with a thick blush satin robe, delicately scented soap, delicious gourmet treats and chocolates. Of course, there's also a bottle of Veuve Clicquot Rosé for a relaxing pop!
Hugs And Treats In A Gift Hamper
For something elegant to make her day special, A Little Luxury Hamper is a superb choice for a special gift for a new mum. There's a 'Golden Hour' candle to create a relaxing atmosphere and a whole range of delicious treats to savour. It's brimming with chocolates from Ernest Hillier and a range of roasted nuts and caramelised toffees to tempt her tastebuds. There's even a beautiful gold-lined journal to plan her next relaxation session in.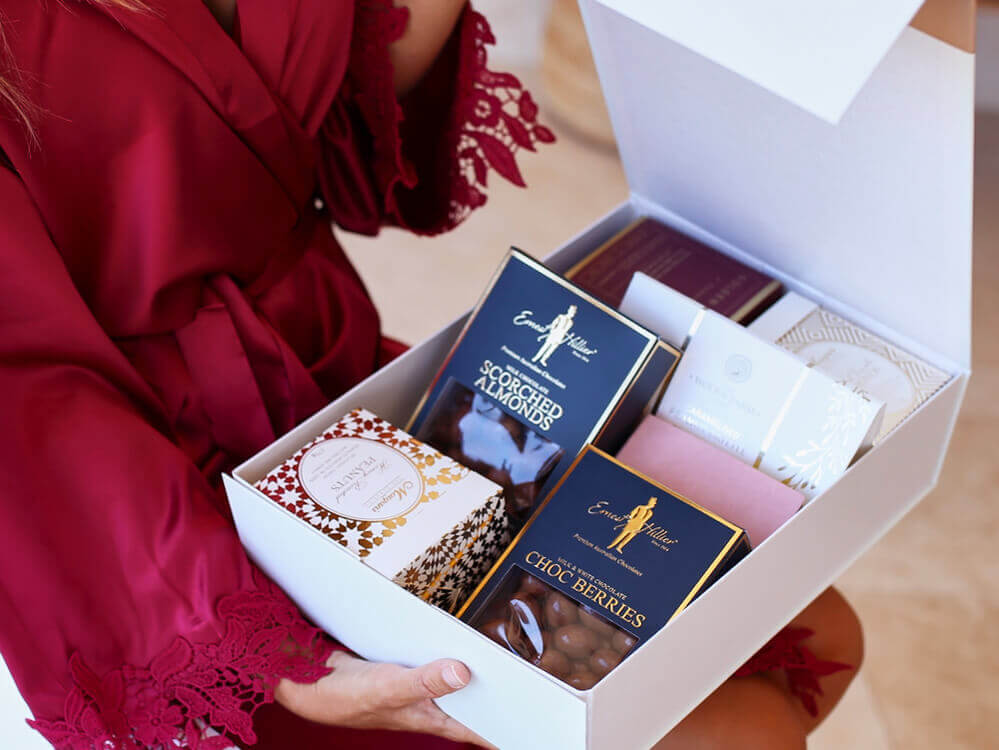 Pamper Hamper For Foodie Mums
If her idea of relaxation is having the time to indulge in her favourite foods, the Sweet Epicure Hamper fits the bill perfectly. It's a world of sweet flavours featuring creamy selections of smooth chocolates, and fruit and nut coated delights. Two different toffee brittles, roasted nuts, vanilla almonds and butter shortbread from The Woods Farm will soon have her feeling cosy, calm and serene. The best gift for new mums craving a sweet pick-me-up at the end of the day.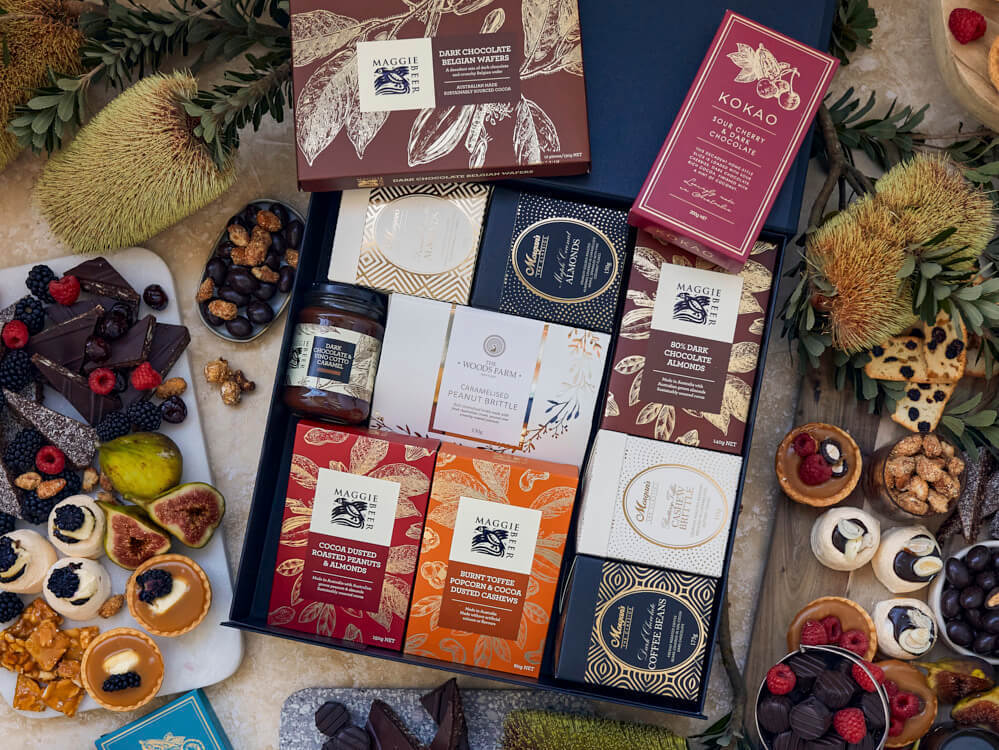 What Are The Perfect Relaxation Gifts For New Mums?
After reading this, we're sure you know the answer! You're sure to find the ideal pampering hamper for any mum, whether she loves mouth-watering chocolates or relaxing spa treatments—or both! Browse our full collection of indulgent hampers for gift ideas and some of the most decadent gift hampers for new mums in Australia.
Each of our gift baskets for mum and bub is carefully packed and comes in a beautiful keepsake ribboned box with a personal gift card from you. They look absolutely gorgeous even before they're opened. There's free Australia-wide delivery if you want your pampering gift delivered to her door, and we guarantee they are all irresistible!