WOW Your Clients With Christmas Whisky Hampers This Year
Author: Nikki Barnett Date Posted:6 November 2019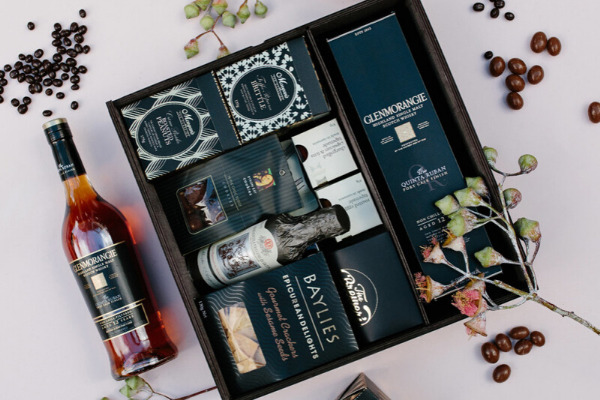 Nothing gives you that warm glow more than the sublime amber nectar that is whisky, and it is even more enjoyable when combined with our exquisite Christmas hampers.
Apart from Christmas of course! When you combine the two in our Christmas Whisky Hampers, you have a perfect celebration of fiery warmth, comforting flavours and festive spirit.
In honour of this, here at The Hamper Emporium, we decided to find out a little more about this popular 'dram' and introduce you to our incredible Christmas Whisky Hampers. If you're looking to impress your clients, boss or favourite man this Christmas, then you really should look no further.
Have a little whisky taster and enjoy!
Whisky Is Really Beer With A Kick
Yes, it really is! Traditional Scotch whisky is usually made from barley which is fermented in exactly the same way as beer. This distiller's beer is then used to produce the 'beloved water of life'. Whisky can be made from any grain-based product. However, the infamous whisky made in Scotland and included in our Christmas Whisky Hampers always contains malted barley. Corn, rye and wheat are often used to produce American whiskey, and Indian whiskey even includes molasses sugars!
Whisky is fermented, distilled and then matured for years in oak cask barrels. As with any spirit, the final product will vary. Popularity depends not just on the taste, but also where the grain is produced and the distillery located. It is, therefore, an incredibly diverse spirit with many divisions of flavour, characteristics, style and general appeal.
We did a great deal of studying before we chose the perfect one for our Christmas Whisky Hampers!
Whisky was christened from the Gaelic drink "uiscebeatha" and translates literally to "water of life". There is great debate about the spelling, but the consensus is that only Scottish distilleries can name their products whisky. Whisk(e)y belongs to everyone else. So now you know why you are purchasing a Christmas Whisky Hamper!
Age Means Everything
Whisky aging is the most important part of the process which takes place in the wooden cask, between distillation and bottling. During this ageing, whisky completes six different processes, interacting with the cask. The whole process changes the whisky's chemical make-up and defines the eventual character and flavour of the end product.
Some producers even like to use casks which have been used previously for aging other spirits like Rum or Madeira, adding an extra flavour. The specific wood used for the cask is important, and whisky can only mature in these casks. It can last over 100 years in a glass bottle, but it will not age or alter its flavour. An opened bottle of whisky from one of our Christmas Whisky Hampers can remain good quality for around 5 years.
As with many kinds of drinks, age means everything. In 2018, a 60-year-old bottle of Macallan Valerio Adami took the record as the most expensive whisky ever, selling in an Edinburgh auction for £848,000. Unfortunately, you won't find one of these in our Christmas Whisky Hampers!
Interesting Wacky Whisky Facts
The first record of whisky production is from Scotland in 1494.

Scotland alone exports more than 35 bottles of whisky every single second.

There are more than 5,000 varieties of single malt whisky available.

From over 300,000 types of barley, only a few can be used for producing malt whisky.

Whisky has been to the International Space Station, testing its aging in zero gravity.

The word whisky replaced William for the phonetic alphabet in 1956.

An average whisky measure has 64 calories, less than a banana.

An apprentice must work for 4 years before they are allowed access to their own cask.

The largest bottle of whisky ever produced was a 1.7m bottle with 228 litres of whisky.

World Whisky Day is celebrated in nearly 50 different countries worldwide.
The Glow Of Glenmorangie Christmas Whisky Hampers
Glenmorangie is infamous in the whisky world, so that's why we chose it for our prestigious Christmas Whisky Hampers. The distillery was founded in the Scottish Highlands way back in 1843 by William Matheson. Glenmorangie whiskies are prized worldwide and are multi-award-winning, renowned for the purity, smoothness and magnificent flavour. Their range of single malt whiskies consistently achieves a place in the top three for worldwide sales.
There are some interesting reasons for this!
Glenmorangie uses the tallest stills in Scotland, with long necks that are a similar height to an adult giraffe.

The hard water from Tarlogie Springs is used in production. This is unusual, as soft water is used in most distilleries, as it usually produces the best whisky.

Glenmorangie use casks that complement their whisky flavour, made from white American oak from the Ozark Mountains in Missouri. The company now owns its own forest where the casks are made. They are then used to make bourbon in Kentucky before being shipped to the Scottish distillery.

Distilleries can reuse casks up to 6 times, but Glenmorangie uses them only twice so that the depth and complexity of flavour are maintained.
Now It's Time For Whisky Tasting!
So, now you know all about whisky, how about treating someone special or your favourite clients to a versatile taste sensation with one of our Christmas Whisky Hampers?
Our Glenmorangie Whisky Tasting Hamper is one of our most popular Christmas Whisky Hampers. It's a journey through four fabulous whiskies, each a unique blend of expertly crafted flavours. It's also packed with luscious treats to complement whisky, from Kalamata olives to savoury chilli nuts and quince paste.
Glenmorangie Original - world-famous whisky, aged for 10 years and synonymous with a smooth, perfectly balanced flavour.

Glenmorangie Lasanta - a wonderful warm, spicy flavour created during 2 years of additional aging in Spanish sherry casks.

Glenmorangie Quinta Ruban - rich, sensuous aroma and taste from extra aging in ruby port pipes.

Glenmorangie Nectar - extraordinary, distinctive flavour experience created by maturing the whisky in French casks.
All our Christmas Whisky Hampers are beautifully presented and perfect for any special occasion, but especially for the festive season. If you already know their taste in whisky, then you can opt for the Glenmorangie Lasanta Hamper or the Glenmorangie Quinta Ruban Hamper. You can make them even more personal with sensational Christmas Whisky Hampers containing a personalised keyring, leather washbag or whisky tumblers!
Our Christmas Whisky Hampers all have the ultimate wow factor for your clients. They are designed to impress anyone who loves a stunning 'wee drop' and delving into the world of taste sensations. You can even add some sophisticated corporate branding for that final professional festive touch.
We guarantee they will be more than impressed!