Where Can I Get the Best Quality Corporate Gifts in Sydney?
Author: Nikki Barnett Date Posted:29 October 2020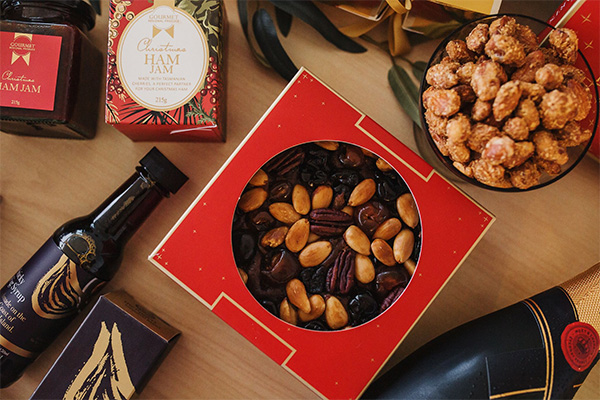 Get ready for the busiest time of the year
As we count down to Christmas, don't leave your important clients doubting your continued commitment to them, or risk your staff second-guessing your ongoing appreciation of their hard work. Corporate gifting is an important symbol of gratitude, appreciation and acknowledgment at the end of a busy year.
Showing your clients and employees how much you appreciate all they have done to help your business get through a challenging year is important in the corporate world. What you give now, you will receive tenfold later.
It might have been a tough year, but it's important to reward your loyal staff and customers. Who was there supporting you through business shut downs and upheavals? Who was there still chasing the big goals alongside your team? Don't let them be an afterthought. Put saying 'thank you' on the top of your list of things to do for your business this Christmas.
Avoid the Christmas madness on the streets
You definitely want to avoid heading to the shops and fighting the Christmas crowds in Sydney or Melbourne in 2020. Luckily, all the best corporate gifts and promotional products for your business can be found at The Hamper Emporium. Shopping online is the best way to get your corporate gift basket delivered to the Sydney CBD or Melbourne city centre.
We know you're already run off your feet during the busiest time of the year. There's no reason to juggle your business corporate gift shopping or join the crowds of other holiday shoppers and tourists. You can order premium gifts for clients direct from our warehouse in Sydney so there's no shipping delays. You won't be stressed about your order not arriving in time for Christmas!
If your business is located in the Sydney metropolitan area and you are looking for corporate merchandise last minute, The Hamper Emporium offers same day delivery if we receive your order before 10am Sydney time.
Do all of your corporate Christmas shopping conveniently from the office by shopping online for gifts in Sydney. We can have your gift basket delivered to your office doorstep, or even use multiple delivery addresses per order to get your corporate gifts delivered directly to your important clients throughout Sydney and Australia-wide.
Why not get in early for your Christmas Gifts?
Don't leave your client and staff gifts until the last minute. Browse our gift options, order now, and that's one more task ticked off your Christmas checklist. We'll take care of everything so that your gifts will be delivered while you focus on the most important things to your business. Finish the year off successfully by reaching your business goals and knowing that you have expressed your gratitude in time to those who matter.
For a limited time, The Hamper Emporium, is offering a Corporate Christmas Early Bird Special: Get 10% off your order now if you order six or more hampers using our bulk order form and pay in full by 5pm on the 13th November 2020.
Our famous sellout Christmas Hampers are back for 2020
These popular hampers are available for delivery Australia wide and are ready for Pre-Order now.
This end of year just got more delicious with the Festive Cheer Christmas Hamper. Celebrate in style with this hamper packed full of the finest quality products sourced from the world's best producers. For a delicious red wine, try the Cape Mentelle 'Trinders' Cabernet Merlot and a curated selection of savoury and sweet treats just perfect for a Xmas feasting.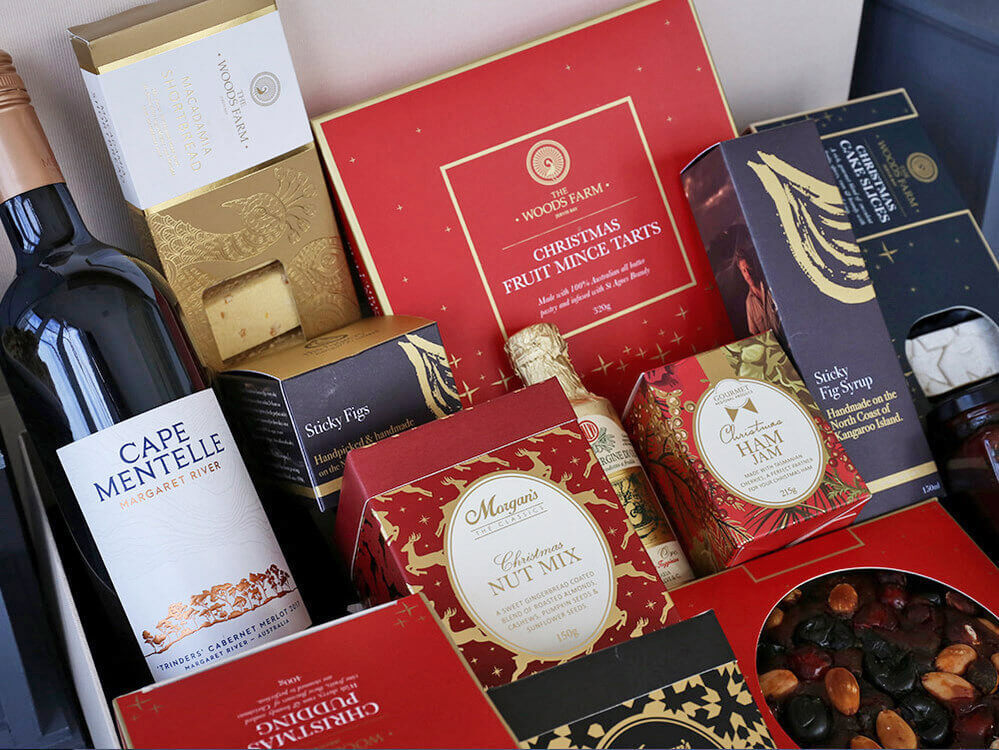 Make 2020 a memorable experience after a rough start for many businesses and finish off with a bang. An ultimate Christmas table addition, the Everything But The Ham Hamper is the glorious gourmet feast for your team's grazing table.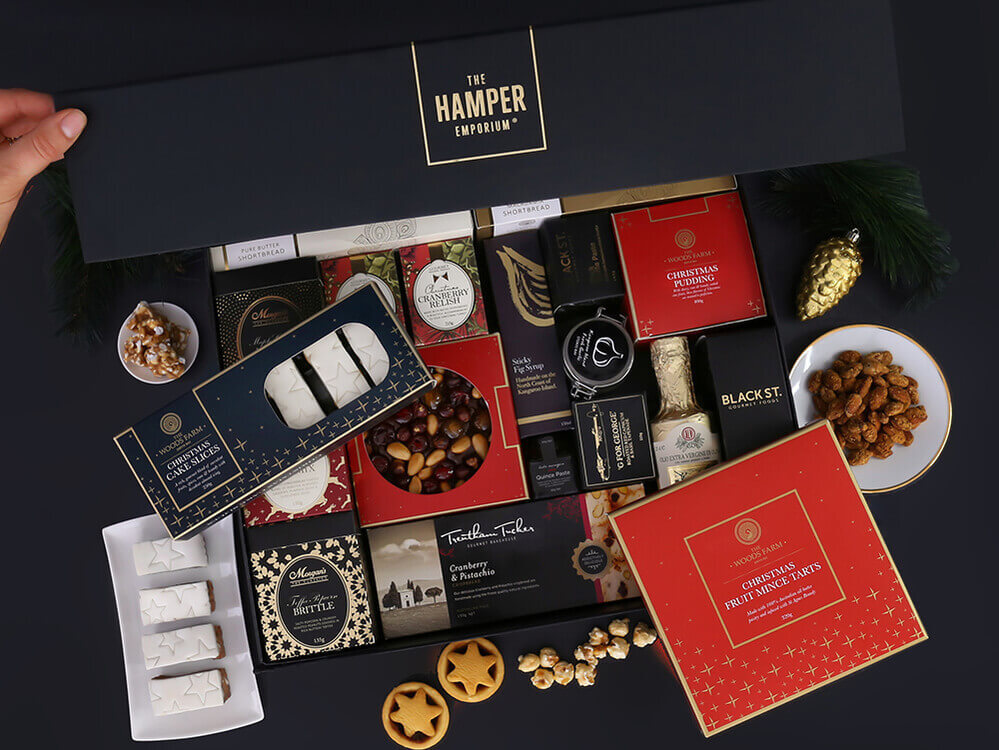 Our pinnacle hamper is The Deluxe Christmas Hamper. This ultimate crowd-pleasing Christmas gift box is full of incredible Australian wines, the world's best French Champagne and fine festive goodies. The perfect hamper for a staff Christmas party. Your clients and staff won't know where to start!
We offer gift hampers for every budget and every occasion. Go all out and send a stunning luxury staff gift to your department's Christmas lunch. Or surprise all your important clients with affordable, gourmet gift boxes fit for a king. You can never go wrong with a beautiful foodie gift basket—young and old, family, friends or colleagues—everyone loves a great hamper loaded with amazing treats sourced by the experts.
Why choose The Hamper Emporium for corporate Christmas hampers?
If you are a Sydney business, we're a great match—because so are we. Every year we send out hundreds of thousands of hampers to businesses in Sydney, many on behalf of our corporate customers. We offer a great range of gift baskets, custom branded boxes, ribbons and gift cards that look great. Ordering in bulk makes the process so simple.
For a special touch, you can add corporate branded gifts for your clients that are personalised with your logo and business name. We offer keyrings, chopping boards and so much more. Get in touch with our corporate team and we can help you through the first steps together. Just select the corporate gift hamper you want to send to your customers, upload your company logo, and we will do the rest for you. Yes, it's that easy!
Are you an early bird or last-minute shopper?
We don't judge at The Hamper Emporium; we are just delighted to be part of your Christmas joy. However early or late you are in arranging your corporate Christmas gifts, you can trust us to get your gift baskets delivered on time—especially if you are located in the Sydney CBD area!
We offer FREE Australia-wide shipping plus deluxe corporate gift wrapping and gift cards. If you decide to follow 300,000 happy customers and trust our team of Australia's leading hamper experts, you won't be disappointed with the premium range of gourmet treats arriving at your doorstep.
Stay happy and stay merry—even through the most hectic time of year.