Why Strategies For Corporate Promotional Gifts Work
Author: Loreena Walsh Date Posted:15 November 2019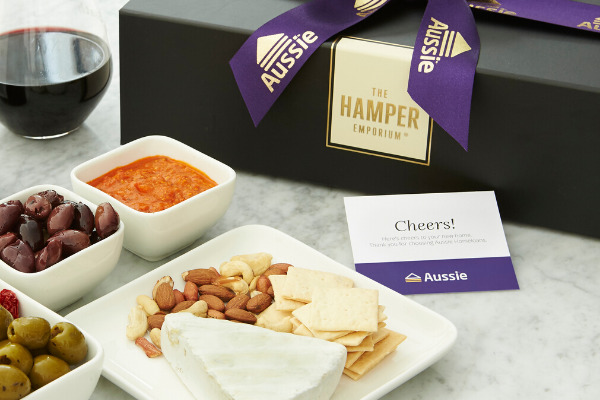 Why Strategies For Corporate Promotional Gifts Work
Are you searching for an effective way to build your brand? Then promotional gifts could be part of the solution. Amongst their many benefits, using them as part of your marketing strategy helps to raise awareness and make your business logo instantly recognisable.
Some people are still unsure as to whether promotional gifts are worth the investment.
Will promotional products or branded items really make a big difference? Here at The Hamper Emporium, we know that our luxury food and wine hampers certainly do!
Successful companies do this for a very good reason. Promotional gifts are a cost-effective and powerful tool when marketing your business.
What Benefits Do Promotional Gifts Bring?
Along with nurturing relationships and customer loyalty, here are just some of the excellent reasons why promotional gifts add to your marketing strategy.
Low-Cost Marketing Option
Most companies would love to have an extensive advertising and marketing budget. Reaching out effectively to customers entails numerous different marketing tactics, many of which can be expensive. From social media campaigns to TV or magazine ads, the options are endless, and the use of promotional gifts is often undervalued.
However, they are an affordable way to distribute your marketing message and amplify your brand. Campaigns can also be implemented easily alongside existing marketing methods. Whether you choose mugs or gift hampers Australia loves, placing your branded promotional gifts in your client's hands can make a huge impact.
Brand Recognition And Exposure
Brand recognition and awareness are highly important factors in the business world. Big companies with big budgets readily pay high amounts of money for advertising deals and endorsements. The world of sports, for instance, is awash with highly sought-after sponsorship deals.
Famous brands like McDonald's or Coca Cola are instantly recognisable the world over. Opting for branded promotional gifts provides something of real value for your customers and also puts a familiar face to the name. Carefully chosen gifts will remain in their home or office over time, keeping you and your business at the forefront of their minds.
Increased Brand Familiarity
Adverts on TV or billboards are usually gone quickly, but the subconscious effect on your mind lingers on. Seeing any particular branding or images on a regular basis builds strong familiarity. The same principle applies to branded promotional gifts.
When customers use your gifts, your branding is also being exposed to more people. More than 65% of people are able to recall branding on promotional items received in the last year, and more than 85% keep promotional gifts, increasing your exposure even more.
Double As Business Cards
Promotional gifts work in a similar way to business cards, introducing you to your customers and clients. Your company information is passed on in an inventive way and gifts are much more useful than a regular business card. When you give branded promotional gifts, you are introducing yourself and your business to clients, new and old.
Branding is not just about your company colours and logo either. To maximise your promotional gifts or products, you can include valuable contact information and your slogan or business message. They are the perfect professional business card that customers can keep, use and enjoy.
What Should I Choose As Promotional Gifts?
Your final choice will depend on your actual business, your marketing strategy and your budget. Many other smaller factors can influence the type of promotional gifts you opt for too, including the time of year or client preferences.
Generally, the vast majority of companies tend to opt for versatile items such as:
Stationary: notebooks, sticky pads, pens, pencils, rubbers.

Work Accessories - business card holders, diaries, address books, technology items.

Office Accessories - mugs, glasses, paperweights, calendars, desk tidiers.

Clothing - caps, hats, socks, gloves, t-shirts, sweatshirts, sweatbands.

Bags - laptop bags, backpacks, sports bags, carrier bags.

Vouchers - gift cards, eCodes, event tickets, experience days.

Corporate Hampers: gourmet food, wines/spirits, chocolates, pampering items.
Although these listed items are commonly used, it's always best to get as inventive as you can. The more thoughtful and personalised your choices are for promotional gifts, the more treasured and successful they are likely to be.
The Advantage Of All Year Round Gifting
Corporate promotional gifting can be an extremely cost-effective marketing tool when appropriately planned. It can offer an essential way for businesses to gain extra leverage in an extremely competitive marketplace. It makes sense that this marketing strategy doesn't just revolve around popular holidays and companies can benefit by utilising gift-giving throughout the year. Clever promotional gifts can be used for a whole range of opportunities from new product launches, employee rewards or major project deals.
Smart marketing strategists understand that corporate promotional gifts offer a fast, effective way to foster brand loyalty, develop increased business and motivate staff. When effectively prepared and executed, a strategy can bring huge success in revenue sales and brand reputation and awareness.
There Is No Better Time To Start
So, maybe it's time to consider your marketing options and search for those perfect promotional gifts today. At Hamper Emporium, we have sourced the finest gourmet products and luxurious gifts that will delight your customers all year round. With the festive season on the horizon, why not take a look at the delicious range of Australia's best Christmas Hampers and spice up your marketing plan?
There is a full range of corporate branding options and services available to really add that extra sparkle to your memorable promotional gifts too.
You know it makes sense!