Your Ultimate Guide To Christmas Gift Hampers
Author: Nikki Barnett Date Posted:14 October 2019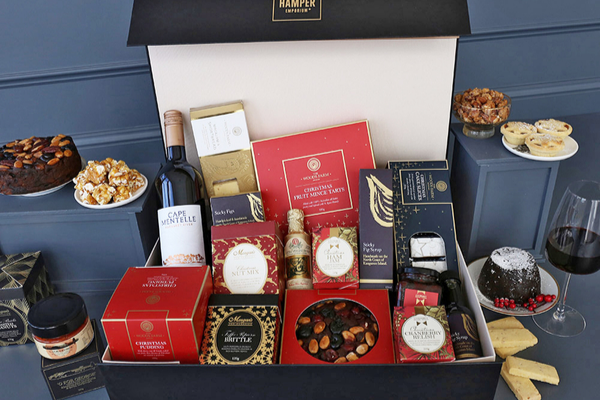 The days are flying by, and before you know it, the Christmas spirit will be upon us!
Here at The Hamper Emporium, we have been busy trying to make the task of Christmas shopping for friends and family a little bit easier. You either love it, or you hate it! Finding gifts for family, friends and workmates can be an added pressure at this busy time of year. So, we want to put Santa's spotlight firmly on delicious, decadent Christmas gift hampers.
Everyone loves a surprise. Especially if you can catch a tantalising glimpse of what's in store peeking out of the top. We think there's nothing better than a Christmas gourmet gift hamper filled with quality products to delve into.
Of course, Christmas gift hampers are our passion, but they are also Santa's ultimate little helper. Here are just some of the reasons why you should consider our hamper range this gift-giving season:
10 Reasons Christmas Gift Hampers Are The Best Gift
1. They are perfect for people who have everything
A super thing about Christmas gift hampers is that they satisfy a wide range of varied tastes. You can personalise them for men and women, old and young, corporate colleagues or the CEO. Our hampers and gift boxes also make great Christmas giveaways too or add an extra sparkle to any festive celebration. For those that seem to have everything they need, hampers provide an exciting option which will tempt with hearty high-quality ingredients and surprise gifts.
2. You don't have to leave home to shop
We love this idea, as it means your Christmas shopping can be a pleasure and totally stress-free. Instead of fighting your way through traffic, you can relax on the sofa and treat yourself to a nice beer and some early mince pies.
It's easy to compare our wide range of Christmas gift hampers and make your choices. Then place an order in just a few clicks. Plus, we deliver Australia wide - for FREE! And don't forget you can also place a bulk order if you are shopping for more than 6 corporate gifts (to different addresses) at once.
3. Christmas gift hampers are beautifully presented keepsakes
There's no need to worry about wrapping paper, ribbons and bows. Our Christmas gift hampers come in a gorgeous keepsake or handcrafted wooden boxes all ready to be placed under the Christmas tree. In our corporate Christmas Hamper range, we add your personal gift card and can even help with classy branding to suit your business. Of course, if you want to add some extra sparkle and finishing touches, or an additional special gift, it's easy!
4. Gift hampers come in all shapes and sizes
Our Christmas gift baskets are designed to meet a range of budgets and tastes. Take your pick from a selection of sizes, prices, and hand-chosen luxurious contents to ensure you give the gift of a gourmet Christmas this year. We want to ensure you can find a thoughtful mini personal gift or a humongous hamper to share around. Whether you're looking to spend $90 or $900 this Christmas, there's sure to be something to tickle your fancy.
5. They are useful and practical choices
With this kind of popular and practical gift, you can be absolutely sure that Christmas gift hampers are going to be used. Not to mention thoroughly enjoyed! You can never have too many gourmet treats, mouth-watering chocolates or sparkling bubbles at this time of the year. Inspired by the fabulous flavours of an authentic Christmas, these unique choices are guaranteed to be savoured. Never fear, because you can always find a gift basket for a person under the age of 18 years, or those who choose not to drink alcohol, in our range too.
6. The products are specially selected
Any good Christmas gift hamper will be brimming with a combination of unique, quality choices that you can't find in the local supermarket. We have tracked down the finest and most delicious brands and must-have products sure to impress. From local Kangaroo Island delights to names like Swarovski®, Moet & Chandon, Baylies, Butlers and Islander Estate.
7. It's a variety of exciting gifts in one
With a Christmas gift hamper, your recipient is not just getting one outstanding gift. They can enjoy the anticipation of unpacking numerous goodies. A tantalising fusion of delicious gourmet treats, biscuits, savoury titbits and exquisite wines. There are also gourmet hampers with unique themes including craft beers, champagnes, beauty products and pampering packages.
8. Christmas gift hampers are personal
Take the time to pick the right one, and your Christmas gift hampers will undoubtedly stand out under the tree! Everyone enjoys receiving a personalised and thoughtful present. Hampers are loved because they contain special gifts, are a unique thought, and look absolutely stunning. They are also lovely keepsakes which can be used again and again. You can add your own design for that extra special festive touch too.
9. They say a thousand words
When you choose your Christmas gift hampers this year, you can make them something extraordinary. It doesn't have to be one of our fabulous Christmas themed ones either. You can choose for:
The chocoholic & sweet tooth - packed with chocolate & artisan sweets

A beer buff - craft beers, ciders & delicious gourmet nibbles

The wine lover - award-winning wines paired with international flavours

For the ladies - from Moet to personalised beauty products

For the men - choices from Whiskey tasting to personalised leather

Just because - luxurious festive pampering experiences for all
10. They have the surprise element
Nobody ever thinks about asking Santa for a Christmas gift hamper! It's an entirely unexpected item and one that really has the satisfying 'wow' factor. It will be a festive surprise that's savoured and remembered for the rich variety and luxury choice it brings. It's that delightful gift that can either be enjoyed alone or heartily shared with near and dear. There's nothing quite like it for a special gift.
Create Memories With Christmas Gift Hampers
Now you know why Christmas gift Hampers are so versatile, why not check out our full range? It's our best one yet for 2019. You'll have a great shopping experience too, we can promise you that!
The season of goodwill is when good food and good company top the bill. Our Christmas gift hampers will make everyone that little bit merrier, whoever they are. So why not join us in creating some special and lasting memories this Christmas!