A Guide To Choosing The Best Wines For Beginners
Author: Nikki Barnett Date Posted:13 June 2023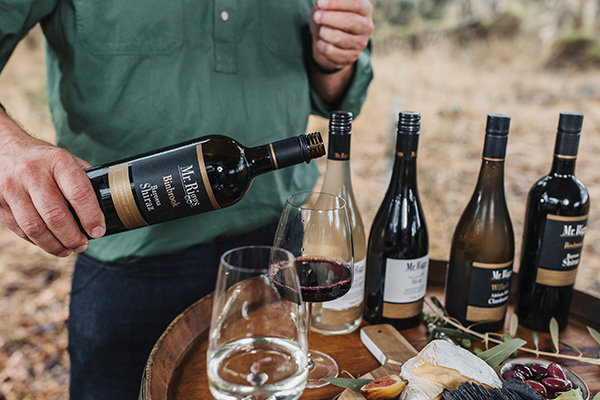 Red & White Wine Recommendations For Beginners
Are you ready to delve into the world of wines? It may be an acquired taste, but learning how to choose and drink wine shouldn't be intimidating. In fact, learning to love wine is a whole lot of fun, especially when you choose the right ones. The best way to find your favourite wine is to keep trying new varieties and take note of your journey as you experience each taste.
There are over 100 different grapes grown in Australia, with everything from refreshing summer wines for easy drinking, to everyday reds for dinner parties, and those more complex vintage flavours.
If you're choosing a wine hamper as a gift but you don't drink wine yourself, it may be hard to know which wine to buy. Or, you might already know what style of wine you personally prefer, but you don't know enough about wine varietals to choose a wine that someone else might like. So, join the team at The Hamper Emporium as we try to make things a little easier.
Here's our guide to wines for beginners, along with everything you need to know about getting started. With this guide to the most popular types of wine in Australia, you'll soon be able to treat all your friends to a little wine gift delivery with confidence!
How do beginners drink wine?
When you're just getting started, there are some simple guidelines that can be helpful. Many of the best wines for beginners have smooth fruity flavours and are low in tannins and acidity. In the beginning, it's best to stick with highly rates wines from a good winery. Many beginner wine drinkers make the mistake of choosing a cheaper bottle just in case they don't like it... with the end result being an inferior wine that they won't enjoy.
Try these tasting tips for drinking wine to gain confidence in choosing the right style of wine before splashing out on special-occasion bottles.
Only pour enough wine for one or two sips into your glass until you're sure you like it




When you sip it, hold it in your mouth for a few moments to absorb the full flavour




If it's not to your taste, don't be afraid to pour the remainder away discreetly!




Before you try another wine, cleanse your palate with a cracker or piece of bread




Try sparkling wines, whites, and rose before moving on to the headier red wines




Read the wine tasting notes on the bottle to get an idea what to expect




Don't be afraid to ask your friends questions - it's a great way to find wines you love
Should I start with red or white wine?
Most people tend to first enjoy lighter-bodied white wine, then later move on to favouring dry, oaky reds with distinctive flavours. If you're a sweet-toothed dessert lover, you might want a little sugar in the mix. Some of the best sweet wines for beginners are Moscato D'asti with bubbles and a hint of peaches and Gewurztraminer, which is also slightly spicy. If you want to jump straight to reds, then Zinfandel has the sweetness of lush plums and milk chocolate.
Here are some of the terms used for describing wines:
Sweetness - the opposite of sweet in 'wine speak' is a dry wine
Tannins - wines with fewer tannins are smoother and more drinkable
Acidity - this can make white wine crisp, tart and refreshing
Body - a full-bodied wine is thicker when you swirl it in your glass
Taste - includes aroma and aftertaste explained with descriptive words
How do I choose a good wine?
All wine is here for your happiness and enjoyment. How to start drinking wine and choosing which ones to try is entirely personal. Wine is simply fermented grape juice, and the blend of grapes gives it a distinctive aroma, body and flavour. The best wines for beginners are probably the single grape, less complex ones that don't overwhelm the taste buds, but there are other factors to consider too!
Other flavours - your own food preferences will influence your taste in wine. Do you like sweet things, the sharpness of bitter oranges, or the spiciness of a tasty, rich curry? If you have a sweet tooth, you might prefer sticky dessert wines.




The occasion - if you're choosing a wine to share with friends, opt for an all-around Aussie crowd-pleaser. These are in the middle range of sweetness, tannins, body and acidity. Lower alcohol wines can also be a good place to start.




Menu options - when food is on the table, it can be a nice touch to complement your menu. The food you eat with wine will change the way your tastebuds interpret its flavours. Generally, white wine pairs with seafood and chicken, and red wine with meat dishes.




The purpose - if the wine is taking centre-stage, it's worth choosing something special. As a mixer, you can choose a less expensive wine. Using it for spritzers, sangria, hot toddies, or cocktails means the flavour and body are not so important.




Connoisseur tastes - when wine expert friends are arriving, choose a high-quality 'second-label' wine. This will give you an impressive expert touch at a fraction of the cost. A wine with a good Halliday rating will help measure quality, style and character.
If you're choosing a good wine to give as a gift, then red wine is generally the safest option, especially if you choose a light red and pair it with savoury crackers and cheese. Wine and cheese hampers make a great gift for any occasion.
What is the best red wine for a beginner?
Light-bodied reds that are not too bold and soft on tannins like pinot noir and cabernet are good for beginners. While you'll hear people say that red wine tastes better with age, this is not strictly true. In general, any wine you buy is ready to drink, and you don't need to shy away from screw tops either. The best red wines for beginners to try are also the best casual drinking reds and are generally well-liked. Our red wine hampers feature these favourites:
Pinot Noir
This is a light-bodied, versatile red, with some varieties being fruity and others earthy. Depending on where it's made, prepare for herbal aromas, flavours of cherries and dark berries.

Cabernet Sauvignon
Cabernet (and cab sav blends) is an excellent red wine for beginners and highly popular because it pairs so well with food. It's full-bodied with hints of dark fruits, warm spices, liquorice, vanilla, and black pepper.
Shiraz
Australian Shiraz is a wonderful first red wine to try and introduces you to some bold flavours. It's typically fruity and full-bodied, with intense aromatic smoky notes of dark fruit and spices.

What is the best white wine for a beginner?
An easy drinking, light white wine with a little sweetness is the best place to start. We recommend pinot grigio (or pinot gris) and sauvignon blanc, which are also two of the most popular whites in Australia. White wines are well known for their fruity freshness, which is a classic choice with seafood. They not only pair well with food but are an exquisite and crisp choice on a summer's day. White wines are a versatile choice to begin your wine drinking experience for any occasion. Our white wine hampers feature some of these popular varietals:
Pinot Grigio
Pinot Grigio is one of the most popular white wines around the world. It's crisp and light-bodied with strong primary fruit flavours of lime, lemon and nectarine and subtle floral overtones.
Chardonnay
Chardonnay is a delicious choice for beginners with a little sweetness and aromas of honey and apricot. It can be smooth and crisp or bold and oaky, depending on the grape-growing climate.
Sauvignon Blanc
Sauvignon Blanc is quite an acidic, full-flavoured choice with grapefruit, lime and grass notes. The primary fruity flavours depend on exactly how ripe the grapes were when harvested.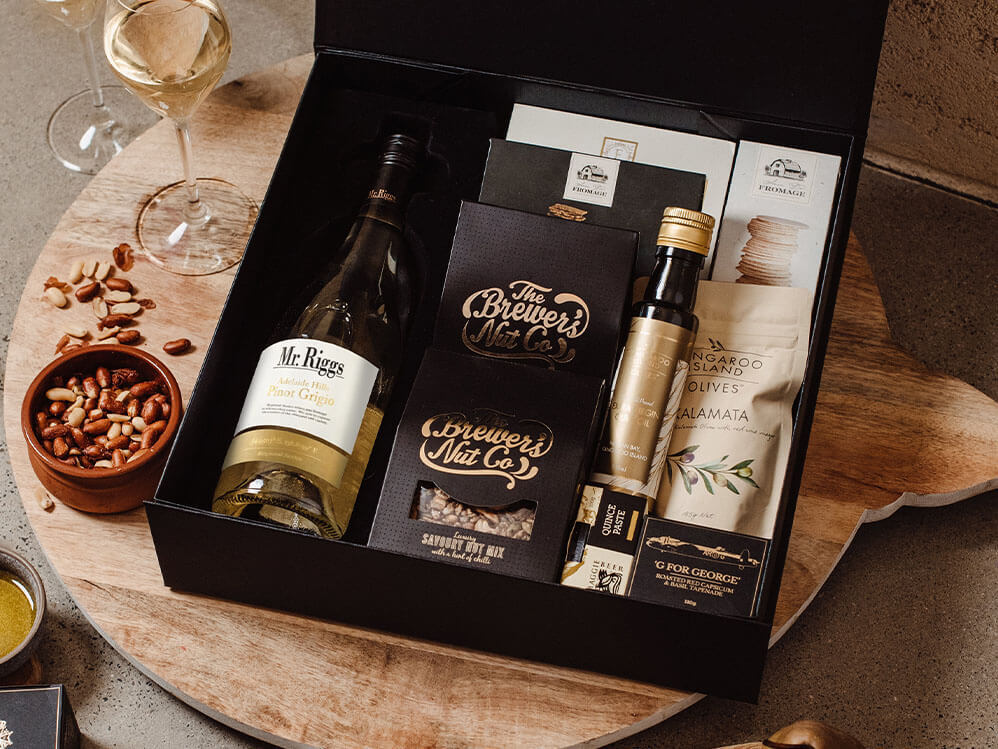 Start Tasting With A Wine Gift Delivery From The Hamper Emporium
When you want to treat yourself and try something that little bit extra special, our wine gift hampers include premium wines and sparkling wines of all kinds. If you're choosing wine for a beginner, it's a great place to start too. You'll find a selection that includes the most popular wines in Australia as well as from vineyards as far away as France. Our wine delivery Australia is guaranteed to impress your connoisseur loved ones too!