Benefits Of Giving Corporate Gifts
Author: Nikki Barnett Date Posted:9 September 2019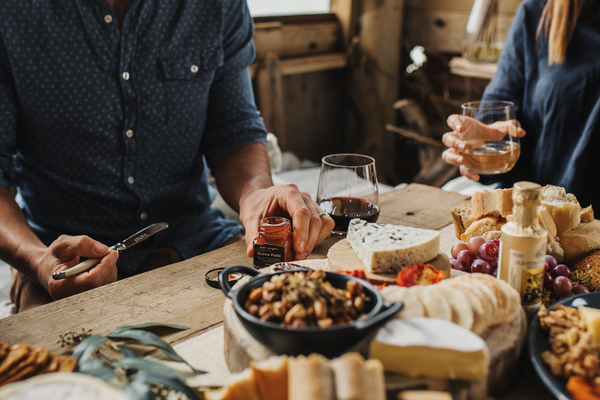 Christmas will be soon upon us and what better way of telling your clients you value and care about them. This is important to any working relationship, and one way of saying this to them is with a corporate gift. While not a new idea, it is a powerful one that resonates throughout your business. Selecting the right gift has additional benefits beyond the pleasure of receiving, or even giving them brings.
Given the season there is an expectation of gift exchanges both to employees, customers and suppliers. Hamper Emporium specialises in luxury Christmas hampers and a full range of ideas for gifts for clients. Our expert team are always on hand to help with content, design and incorporating your branding in the gift.
Giving a gift can bring additional positive benefits in that it -
Spreads Goodwill
Something that is sadly in short supply in our busy competitive world. Giving a gift at any time of the year says something about you and your company. Maybe even more so than at Christmas when it is expected. When giving a gift at Christmas goodwill is inherent in the gesture. The positive message that goes out is that you, as a company, cares about the recipient, be it client, supplier or employee. Consider how you would feel if you received a Champagne Festive Hamper? Very, very happy!

Sends a Value Message
Everyone appreciates being valued. Giving a gift sends that message very clearly to employees and clients. The gifts chosen should be respectful and take account of likes and dislikes.
Not sure what to give? Well, food is always a good idea. If you want, you can contact the Hamper Emporium team and make sure your gift hampers contains just the right goodies for you to send. Let a bottle of Australia's excellent Cape Mentelle Shiraz or Glenmorangie Whisky state your message loud and clear.
A Morale Booster
Letting your employees know you are thinking of them by gifting them is a powerful resource that can have a knock-on effect. Being caring is not a negative and does not have to be expensive, but recognising someone is having difficulties is a welcoming and positive message.
Spa hampers are a great gift to a female recipient. Not too intimate or familiar, but displaying thought about who they are, and a lady loves nothing better than a spa and some exquisite beauty treatments. Hamper Emporium's pamper hampers can be varied to suit but include Jurlique luxurious skincare, a soft robe and Morgans luxury nibbles.

Now let's not forget that the male of the species likes a morale booster now and again too. It might not be a spa, but how about some unique beers? Maybe a hamper that takes you on a tour of Australia's micro-breweries? Or the fabulous craft beers of James Squire? A cider man? Then, the Deluxe Cider Hamper with a range of top-class nibbles is just the ticket!

One hamper that goes down very well at Christmas and is a definite morale booster is the Glenmorangie Whisky Tasting Hamper. Let them enjoy the smooth lemon & honey taste with a touch of toffee and vanilla that is Glenmorangie 10yrs Old Original. Plus any of the other equally delectable whiskies with some Kangaroo Island Olives.
Strengthens Relationships
Building relationships is a given part of running a good business, and one way to strengthen those relationships is by appropriate gifting. That means, no going overboard and gifting too much, too often. That can have a detrimental effect and cause embarrassment or even make your recipient suspicious of your motives. Christmas is a perfect time to reach out to others with a thoughtful gift. A gift that shows gratitude and appreciation without being effusive strengthens the bonds between giver and receiver.
Strengthens Long Distance Relationships
In the world of business, your colleagues, suppliers and customers can be based away from you, technology has opened the world, and spread us out! If you can't be there in person selecting the right gift sends several messages, but ultimately is a positive way to foster long-distance relationships. Hamper Emporium is the ideal solution for long-distance gifts. Not only is delivery free within Australia, but you have the team on hand to make sure your gift fits the bill. From expensive luxury hampers to the unique and creative, you can find what you need to leave a lasting impression with your gift choice. We also offer shipping options for non-alcoholic gift boxes to New Zealand for your NZ corporate gifting needs.
Makes You Memorable
A gift makes an almost instant impression on the receiver of the gift. But, in business, you want more than a first impression, you want to be noticed and remembered in the right way. Giving several items to be used over a period of time is an excellent way of ensuring this. Especially if the items carry your branding, logo or represent your corporate image. This is easily achieved at Hamper Emporium from the boxes used to the ribbon, wrapping and cards that make your hamper special.
Gives Back To Those Who Work For You
Acknowledging, rewarding and expressing gratitude to your staff and suppliers is a great way to develop good working relationships. A reward for a job well done goes a long way in keeping people happy. It does not have to be a phenomenal expense. The cost is justified in the growth of relationships with the people concerned. Which, in turn, makes for a better working environment, happy staff also equate to a more productive team.