Celebrating Mother's Day with Annabel Bower
Date Posted:2 May 2022
Meet Annabel Bower
Annabel Bower is a mother, food stylist, chef and author. You may recognise her work—she's one of the powerhouse creatives behind many of The Hamper Emporium's photoshoots.
Passion Is Her Driving Force
Annabel's love of food led her to train at Ballymaloe Cookery School in Ireland when she was 21. This training gave her a paddock to plate philosophy and dedication to supporting local producers. Back home in Australia she ran a busy catering company for many years before moving her focus to recipe writing and food styling.
At the heart of everything that inspires Annabel is family. She is the proud mother of 5, aged 2 to 12. Her 4th child Miles was stillborn, and after experiencing the utter heartache such a loss brings, she established the Miles Apart Foundation to raise awareness of the impact of baby loss and wrote the book Miles Apart to support others navigating the grief of losing a baby.
She Makes Culinary Magic With Her Business 'Food By Annabel'
There's something about food that brings people together, which is what Annabel loves most about it. From an early age she was baking brownies for friends and offering to help cook at her parent's dinner parties, little did she know that this 'hobby' would lead to a 20+ year career in food.
A genuine passion for local produce and a love of exploring new recipes and flavours have stayed with Annabel throughout her career as a caterer and now as a food stylist. The skills and knowledge she amassed from years in the catering kitchen are drawn upon daily when writing recipes for clients and styling delicious scenes for editorial and marketing content.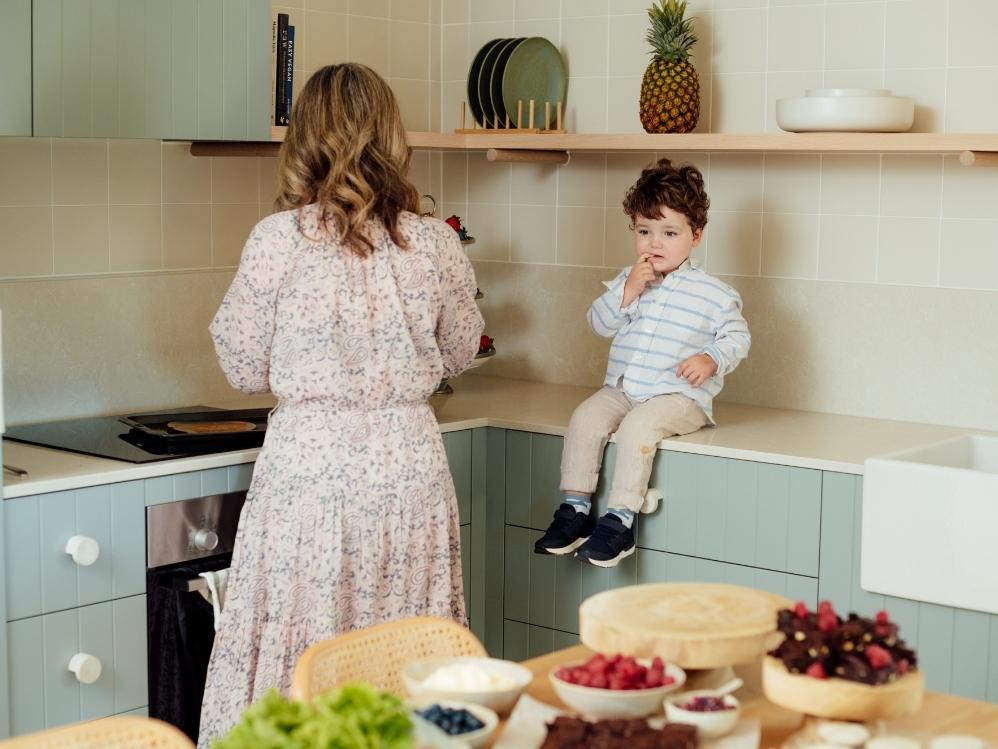 So many moments in life, big or small are centred around food, preparing it, sharing it, and taking time to enjoy it with those dear to us. Annabel is happiest when cooking for others, whether it's a simple dinner with family, an elaborate feast, or a photoshoot brief, equal energy and love are poured into the dishes and how they are presented.
In her own words, 'I feel incredibly lucky to have turned my passion for food into a career which has led me to meet and work with so many incredible people; chefs, producers, and writers from all over Australia. Food for me is a way of showing love and making people feel special, I love nothing more than writing recipes for others to recreate and helping style gorgeous scenes full of delicious Australian goodies.'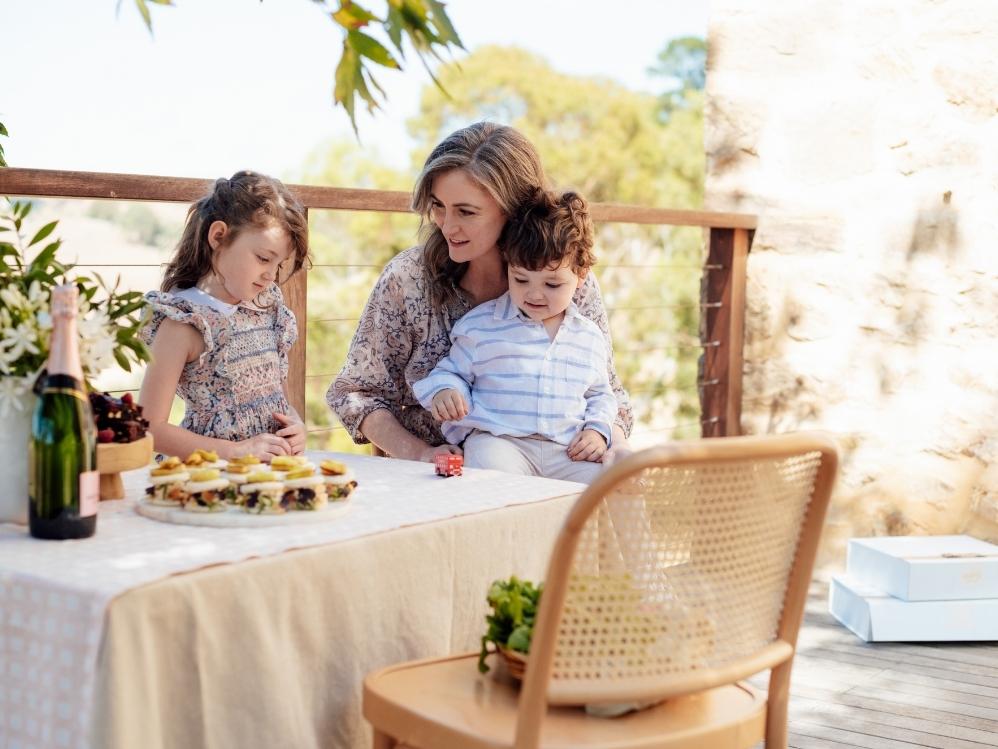 Annabel's Go-To Mother's Day Recipes
Herb and almond dusted chicken and leek sandwiches
This is the perfect picnic food, or an elegant addition to a high tea. The recipe makes 30 mini sandwiches.
You will need:
1 x standard white or wholemeal block loaf thinly sliced

125gms butter melted

750gms Chicken Breast

½ cup white wine (or water)

2 leeks, green top removed

2 cups whole egg mayonnaise

½ cup parsley leaves

¼ cup tarragon leaves

The zest of 1 large lemon, reserve juice

1 cup toasted almond flakes

½ cup mixed herb leaves, parsley, mustard leaves, tarragon, chervil

Salt flakes and freshly cracked pepper

Small circular cookie cutter approximately 4 cm in diameter
Steps:
1) Preheat oven to 180 degrees Celsius.
2) Place chicken breasts in a ceramic baking dish, sprinkle with salt and pepper. Add lemon juice and wine (or water) and cover tightly with foil. Bake for 25-30mins at 180 or until chicken is opaque and fully cooked.
3) Allow to cool and rest before dicing into 1cm cubes. Place chopped chicken in a large mixing bowl. While the chicken is resting cook the leeks.
4) Slice the white part of the leek into 1/2cm circles lengthways. Melt 25grams of butter in a heavy based frying pan, add sliced leek and allow to colour for 1 minute. Add a few tablespoons of water and cook until the leek is soft, and the water has evaporated.
5) Mix mayonnaise, herbs, three quarters of the almond, lemon zest, salt, pepper and three quarters of the cooked leek.
6) Add three quarters of this mixture to the chicken, stir well to combine. Add the remaining mayonnaise mixture if needed to coat the chicken evenly.
7) Melt the remaining butter completely. Stir well. Lay out the slices of bread, using the circular cookie cutter, cut 3 circles out of each slice. Using a pastry brush paint each circle of bread lightly with butter on one side.
8) Top half of the circles with 2 generous tablespoons of the chicken mix. Spread out evenly to the edge of the circle. Use the other 1/2 of the bread to complete the sandwiches, placing the buttered side on top of the chicken mixture.
9) In a low sided dish mix the remaining almond flakes with the mixed herb leaves. Roll each sandwich in the mixture to coat the exposed section of chicken mixture.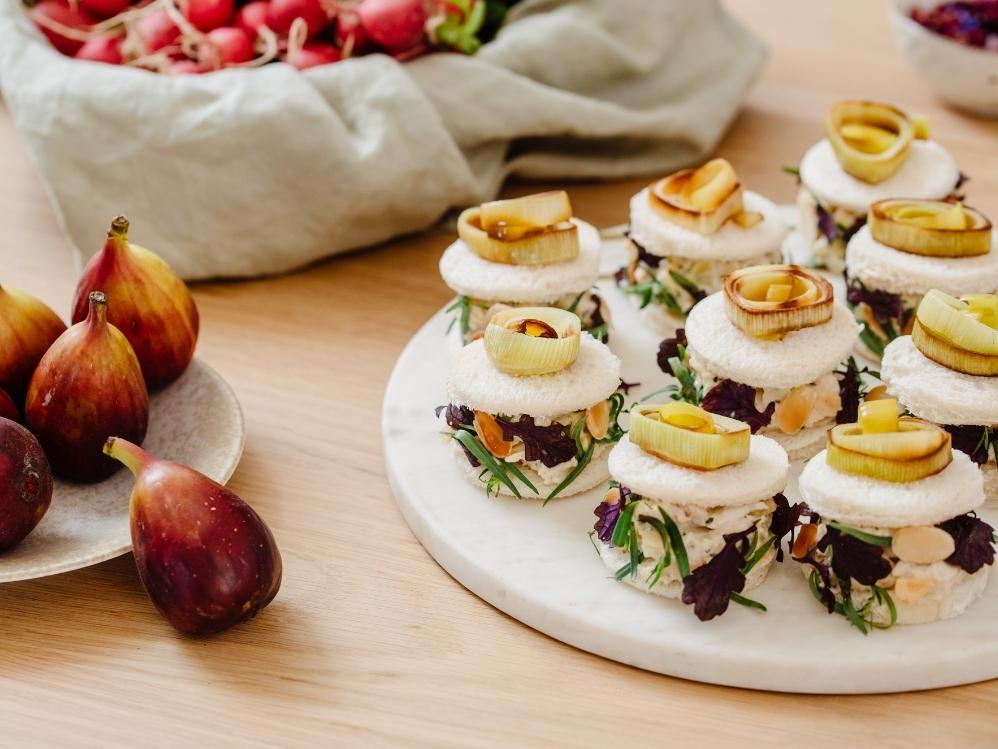 Double chocolate and raspberry brownies
This tasty dish makes the perfect Mother's Day treat.
You will need:
250 grams 70% dark chocolate chopped

250 grams unsalted butter in 1cm cubes

1cup soft brown sugar

1/2 cup castor sugar

4 whole eggs

1/3 cup sifted cocoa

1/2 cup self-raising flour

125 grams frozen raspberries

100 grams white chocolate chips or chopped white chocolate

Crème fraiche, fresh berries, and dried edible flowers to serve with brownies

1x 20cmx30cm ceramic baking tray
Steps:
1) Preheat oven to 160 degrees Celsius.
2) Line a ceramic 20x30cm dish with baking paper.
3) Melt the butter and dark chocolate together in the microwave in one-minute intervals, stirring between each. Otherwise, melt butter and chocolate over a Bain Marie stirring constantly until fully melted.
4) Add sugars and whisk thoroughly to combine. Next add the eggs one at a time, whisking each in completely before adding the next.
5) Add sifted cocoa and flour to the bowl. Fold through the chocolate, butter, egg mixture with a spatula.
6) Stir in the white chocolate to the mixture and pour into prepared tray. Sprinkle frozen raspberries evenly over the top of the brownie batter and bake for 35-45 minutes.
7) Cool completely before slicing. For a firmer fudgier brownie pop in your fridge before cutting.
8) Serve with big dollops of crème fraiche and fresh berries. Sprinkle with dried edible flowers.
9) Place on a platter in a single layer, top with the reserved circles of cooked leek and sprinkle with any remaining herbs and almonds.
The chicken mixture can be made 2 days in advance, the sandwiches are best assembled just before serving.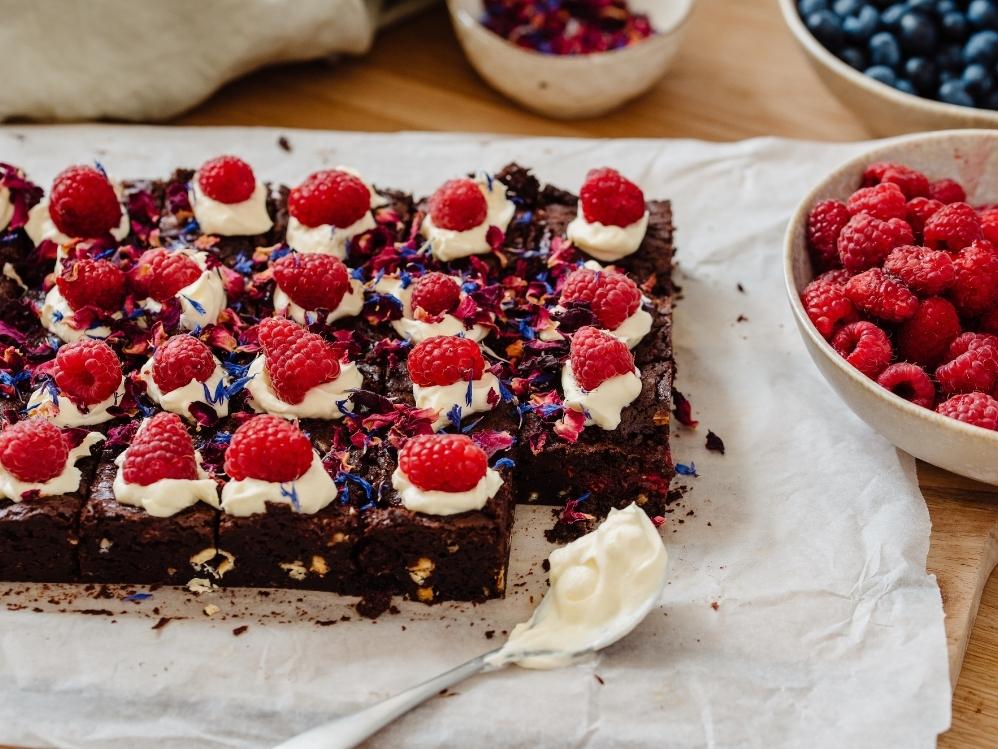 Make Memories This Mother's Day
We all know that mums deserve the world. Spoil your one-of-a-kind mother by making her one of Annabel's gorgeous recipes!
If you want to delight her tastebuds with a gift instead of a meal, take a look at our Mother's Day hampers filled with gourmet food and delicious wine alongside more pampering treats.