Close The Deal With Settlement Gifts
Author: Michelle Richards Date Posted:20 July 2021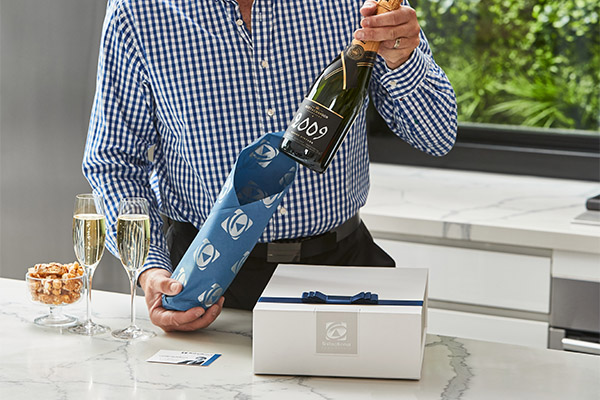 Why Settlement Gifts Are Powerful Relationship Building Tools
Settlement gifts are much more than a wonderfully thoughtful gesture to your clients. They're a fabulous way to forge strong relationships and foster repeat business. Showing clients genuine appreciation is easy when you give them something unique to remember you by.
At The Hamper Emporium, we love nothing more than delighting buyers and vendors with inspiring and luxurious settlement gift boxes. For businesses in the construction industry or real estate agents, settlement gifts really make an impression. We know the opportunity to delight clients with something extraordinary is just too good to miss.
Fostering these important relationships has many benefits, not least encouraging loyalty and word of mouth referrals. So, if you're wondering what to give as a settlement gift and how to make your corporate hampers personal, we have some valuable tips and tricks.
What Kind Of Settlement Gift Ideas Are Guaranteed To Impress?
Buyers and vendors are usually happily surprised when they receive a closing gift as it's not something expected. How you show your appreciation is really up to you. Some keep it simple with professional settlement gift card ideas, along with a beautiful flower or plant. Others select gifts like personalised home accessories appropriate for each person.
However, in most surveys, closing gift baskets are by far the most popular choice. Delicious drinks, food and sweets always tickle the tastebuds and tick the right boxes! For a real estate settlement gift, celebratory gift boxes for a new home are always appreciated by clients. Whichever you decide on, make sure each one sends a message of heartfelt thanks and good luck. These small investments can reap big rewards in the future!
Handy Checklist For Do's And Don'ts Of Settlement Gifts
What goes into selecting the perfect closing gift for your client? Well, the best gifts are those that can be enjoyed, used and are tailored to their lifestyle. A cheap, thoughtless settlement gift is not going to leave a positive impression, so it's essential it hits the mark. Here are some ideas on how to make your real estate gift box or settlement hamper extra special to get you started:
Add a personal touch
Do add your own personal touch to any settlement gift, as this will make your client feel much more appreciated. For instance, if you choose a luxury wine hamper, make sure it has a keepsake box, or treat them to personalised wine glasses, a chopping board with engraved swing tag, or branded keyring.
Make it indulgent & practical
Choosing a closing gift means making your client feel extra special. It needs to be a little indulgent, practical, and also fit their needs. A new homeowner may love a settlement gift box that includes a host of pampering products after all their hard work!
Support local artisans
Finding gifts that support local business makes it that little bit more meaningful. A hamper filled with artisan food or Australian craft beers and ciders will usually always go down a treat. You can always add a chic cheese platter or knife set for their housewarming gift!
Plan your strategy
It's important not to think that 'one size fits all' when choosing settlement gifts for real estate or builders to give to clients. Not everyone likes the same things, so the standard wine and chocolates might not be appropriate sometimes. Find out what they really love to avoid a costly faux pas.
Get creatively inspired
Settlement gifts are about making people feel valued, so try to choose something unique. If they love whisky, then a hamper brimming with complementary nibbles and treats is perfect. Or send them pink champagne, signature gin or the perfect mixology cocktail kit!
Keep branding minimal
Tastefully designed corporate branding for your real estate gift boxes is essential. Over-the-top gift bags full of promotional material can be viewed as generic and an excuse for marketing. But, if your branded corporate gift baskets feature subtle touches that blend seamlessly, for example, with coloured ribbons or custom wine sleeves, it will elevate your gift.
Choose your timing
People are excited on moving day, so many useful gifts, especially gourmet food hampers, can have optimal impact. However, you can also give a settlement hamper after they have settled in, which offers an excellent opportunity to say hello, reconnect and catch up with their moving experience.
Deliver it by hand
If you can, always make sure you hand deliver settlement gifts in person. Your personal connection can be a vital part of the relationship and create lasting memories. When you're forced to use doorstep delivery, remember that all-important personal gift card!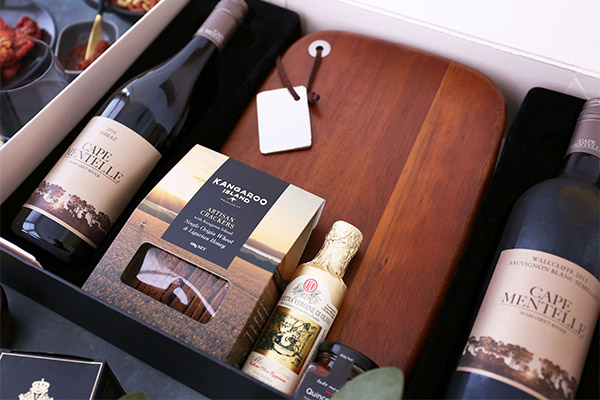 Stock Their Kitchen And Bathroom With Little Indulgences
The biggest reason why settlement hampers make unique closing gifts for sellers and buyers alike is that the day of closing is so fraught. Every new homeowner is aching to put their feet up and relax in a home filled with groceries, cool drinks and nibbles. What's nicer than a beautiful basket stocked with gourmet delights for the fridge and pantry?
Settlement hampers are perfect for making life a little easier on the day. They come with all their favourite flavours and drinks or sublime toiletries and pampering products. Stocking their new kitchen and bathroom with treats may sound like a small gesture, but it says a lot. It means they can soak in the bath, relax with great food, and raise a sparkling toast to their new life.
Finding Fresh Settlement Gift Ideas At The Hamper Emporium
If you're ready to leave a lasting impression with settlement gifts, then browse our full collection for inspiration. There's a simply stunning range of unique, decadent and mouth-watering hampers. From little luxuries to deluxe celebration hampers their whole family can share, we're sure you'll find the perfect choice. No move is ever complete without some sensational nibbles and vintage sparkling champagne!
At The Hamper Emporium, we can handle all the planning and work for you, including orders for bulk closing gifts and corporate gifts. If you want sophisticated corporate branding adding, we can do it tastefully and minimally, then you just add your own personal message. You can even enjoy free delivery Australia wide and same-day delivery options. Nothing is quite as nice as receiving a surprise handover gift just when you need it.