Corporate Gifts With A Twist This Valentine's Day
Author: Loreena Walsh Date Posted:3 February 2020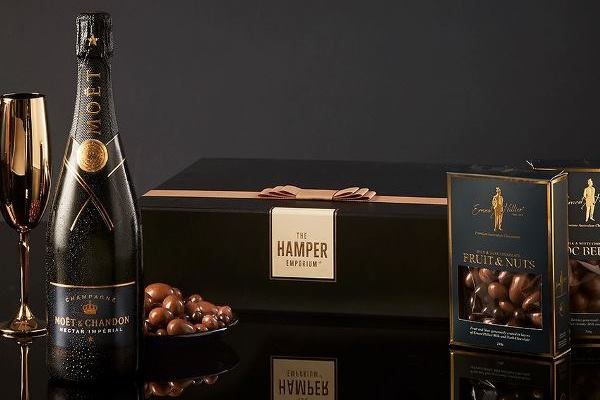 Valentine's Day is traditionally focused on romantic relationships, but we like the idea of sharing it with everyone! It's the perfect way to add a bit of fun to an otherwise dreary day at the office. Feel the love with business gifts to bring a Valentine's smile to employees, colleagues and even customers too.
Everyone appreciates feeling loved, and this year Valentine's day falls on Friday, February 14th, so if you have to be at work, then you might as well have some fun with it.
Just like a romantic relationship, workplace and client relationships need nurturing too, so what better way than by sharing fun social events and exchanging cards or corporate gifts? We'll be painting the office pink and red this year!
Have Fun With Valentine's Day In The Workplace
Here at the Hamper Emporium, we find any reason we can to celebrate and have some office fun. Who says Valentine's day is just about romantic gifts, we love our workmates and our friends too, so we love to make Valentines a day of appreciation for everyone that is important to us.
So how to best celebrate Valentine's Day at the office? Make it about caring, compassion and respect! Show some love with gifts for staff on Valentine's Day.
Give the team time to get creative and craft Valentine's Day cards for colleagues that offer messages of appreciation or do our favourite thing of all and share a giant corporate gift basket, after all, they always make the best corporate gifts. Explaining how and why a colleague is appreciated will bring a bevvy of smiles and a great working atmosphere.
Here are our fun Valentine's corporate gifting ideas for 2020
Decorate the office walls with cute messages and hearts

Have a romantic photo competition with prizes

Order a fabulous luxury gourmet food hamper to share

Play old romantic songs in the background

Phone colleagues and wish them happy Valentine's Day

Plan a special surprise themed lunch break

Have a gift exchange of small corporate gifts

Make a funny Valentine's video on Youtube

Organise a fun outing or lunchtime adventure

Bake a huge heart-shaped cake to share

Choose a charity and spread that Valentine's love

Show you appreciate your staff on social media - make it public!
Tell Customers You Love Them With Cards Or Corporate Gifts!
February 14th is a fabulous little-used marketing opportunity. Start by showing your appreciation for customers and strengthening your business relationships too. It's the ideal time to reach out to customers with warm Valentine's Day thoughts, a charmingly funny card or attentive corporate gifts for clients.
Recognition creates a loyal client base, and everyone always wants to feel appreciated. They might even reciprocate with some extra business in 2020!
Writing a corporate Valentine's Day message for cards or personal corporate gifts is far easier than it sounds! Here are our top tips on how to craft the ideal text for your favourite customers:
Personalise your card with your favourite sentiment

Add your company logo to the card or envelope?

Use your personal words to express customer appreciation

Sign with a name that adds warmth e.g. "John and your friends at ABC"

Include an offer, special discount or an invitation to connect

Always remind them just how much their business is valued

Be friendly, warm, authentic and genuine
Break Out The Valentine's Day Corporate Hampers
You simply can't go wrong with our inspired selection of Valentine's Day corporate gifts and gourmet food and wine hampers. Each contains truly wonderful delights and delicious artisan products.
You can add personalised messages for clients and have them delivered free to their doors on Valentine's Day. Alternatively, order for the office and share some romantic treats with the team. Either way, we at the Hamper Emporium promise to keep your Valentine's secret!
A delicious, tempting corporate gift for Valentine's Day, brimming with mouth-watering chocolate goodies. Packed full of famous brands, your customers or colleagues will enjoy award-winning products like salted caramel dessert sauce. Chocolate fruit & nut mix, caramelised peanut brittle and Butlers chocolate assortment are just a few of the wonderful flavours. What better way to show you care?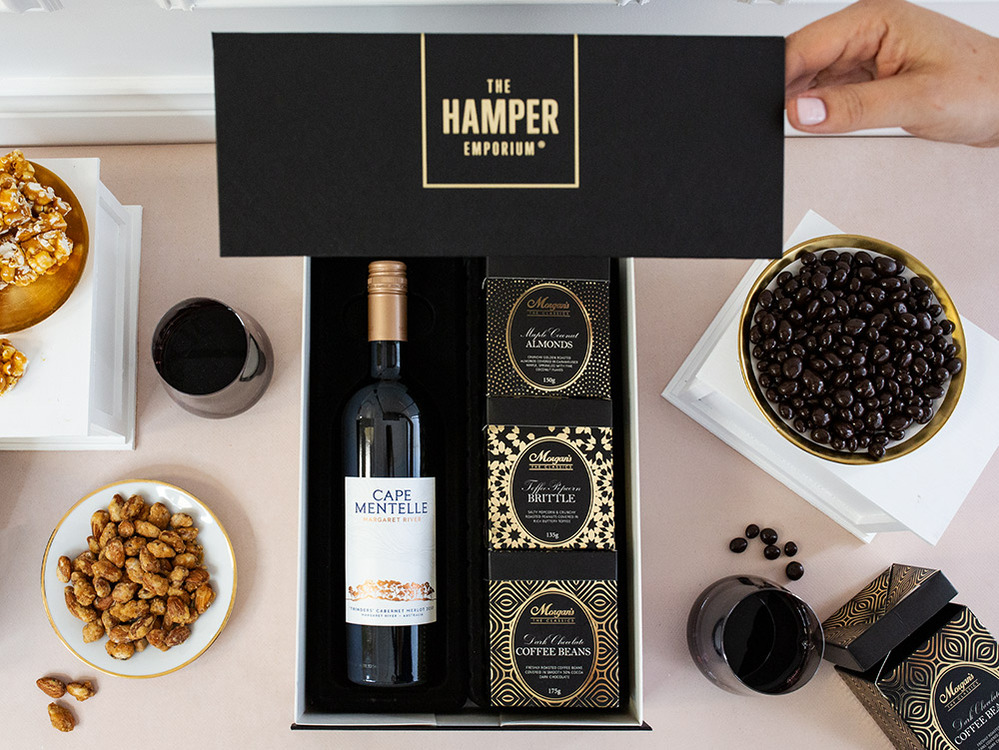 Cape Mentelle Trinders & Chocolates $89
An indulgent hamper packed full of an exquisite selection of gourmet treats and nibbles that clients or workmates will enjoy. The taste of Morgan's classic creamy chocolate coffee beans, buttery toffee popcorn brittle and coconut almond crunch are to die for. A bottle of rich, fruity Cape Mentelle Cabernet Merlot completes this collection. A great choice for your Valentine's Day corporate gifts.
If an office celebration is the order of the day, then check out this decadent Emporium Hamper. It's made for sharing with a crowd and is sure to generate some affectionate feelings! There are savoury and sweet treats, with a connoisseur collection of chocolates and mini packs that will leave taste buds tingling. Champagne and sophisticated choices of red and white wine complete this stunning corporate gift. A wonderful Valentine's Day celebration that will not be forgotten.
Your Genuine Thoughts Are Timeless
For both colleagues and customers, a friendly card, note, box of chocolates or corporate gifts are sure to make their day. Reaching out with a genuine message of appreciation is guaranteed to thaw even the coldest of hearts on Valentine's Day!
Delivering impressive customer service and thanking employees for their hard work is an all-year focus. Valentine's Day offers the perfect time for sharing your sentiments and reconnecting with people, so don't miss the opportunity. Organise your cards, corporate gifts for Valentine's Day or stunning corporate hampers today.