Creating the Perfect Newborn Baby Gift Hamper
Author: Nikki Barnett Date Posted:6 August 2021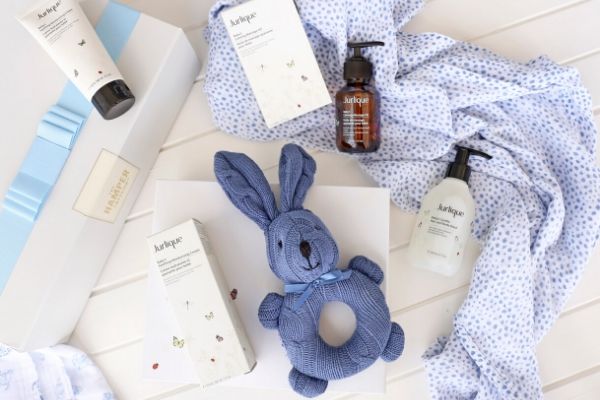 How To Make The Perfect Newborn Baby Gift Hamper
If you are expecting a beautiful new life to be brought into the world this year, then we are sure you are getting excited. A new baby is a miracle that deserves wonderful celebrations, memorable moments and the very best of gorgeous gifts for Mum & Bub.
At the Hamper Emporium, we know that fabulous newborn baby gift hampers are one of the most popular choices for the joyous occasion. They are a perfect way for family and friends to present several cute and useful baby items in one fabulous package.
So, today we're sharing our tips on how to create a unique baby gift basket yourself, from start to finish. Along with some of our favourite choices from The Hamper Emporium, of course!
Why Newborn Baby Gift Baskets Are The Ideal Gift
For new mums, they are about to enter one of the best, most fulfilling and utterly exhausting times of their lives. Gifting newborn baby gift hampers means you can help them prepare with a collection of useful items. You can't go wrong, as they are creative, colourful, packed with goodies and extremely easy to personalise.
Gift baskets and hampers can be useful, practical, thoughtful or just plain fun! Depending on what you choose to add, no two will ever be the same. Each item in the newborn baby gift basket should be something useful and functional, but you can add in special treats for Mum too. It's a memorable gift that will be treasured and help fill their new nursery with love.
When you make one yourself, or choose a baby basket tailored to their interests, it adds that extra special personal touch. It's something that will thrill any new Mum and make the baby shower or special occasion even more memorable.
A Homemade Project Filled With Love
Planning and designing unique baby gift hampers is easy and is also a fantastic way to show special attention and lots of love and affection!
Depending on your budget, the first thing to think about is your planned contents and then choose a hamper or basket that's precisely the right shape and size. It can even be any useful container from a bowl to a bath or bucket. Let your imagination run wild and think about what suits Mum's personality or something she would love.
Baskets of natural fibres like willow, straw, bamboo or cane

Cloth lined wicker hampers can be used for baby's storage

Canvas boxes and nursery bins are an excellent alternative

Plastic bowls and buckets will always come in useful later

Baby bathtubs are perfect if you have a lot of items

Pretty covered boxes and tins if you are on a tight budget
What Items To Put In Your Newborn Baby Gift Baskets
Hamper gifts for newborns give you complete flexibility for contents and price. You can decide to focus on the baby's gender, the time of year, or of course, a fabulous personal theme. As unique baby gift hampers usually help to stock Mum's essential baby supplies, chosen gifts are generally useful everyday items. However, you can be as thoughtful and creative as you want!
Here are some ideas of lovely items for your homemade newborn baby gift hampers:
Pure baby care: organic baby lotion, oils, shampoo, skincare, wipes, nappy rash cream, nappies

Practical baby gifts: baby thermometer, pacifiers, bottles, bibs, bath towels, sponges, hooded bath gown

Pretty baby grooming: baby hairbrush, cotton wool, cotton buds, nail trimmer, sunscreen lotion, sun hat

Pampering baby clothes: babygrows, onesies, rompers, socks, booties, gloves, cardigans

Plush accessories: baby teething rings, bath toys, rattles, activity chains, mobiles, musical toys, cuddly teddy bears

Popular books: baby board books, bedtime books, childhood favourites, alphabet books

Presents for Mum: bottle of champagne, delicious chocolates, treats, pampering products, personal gifts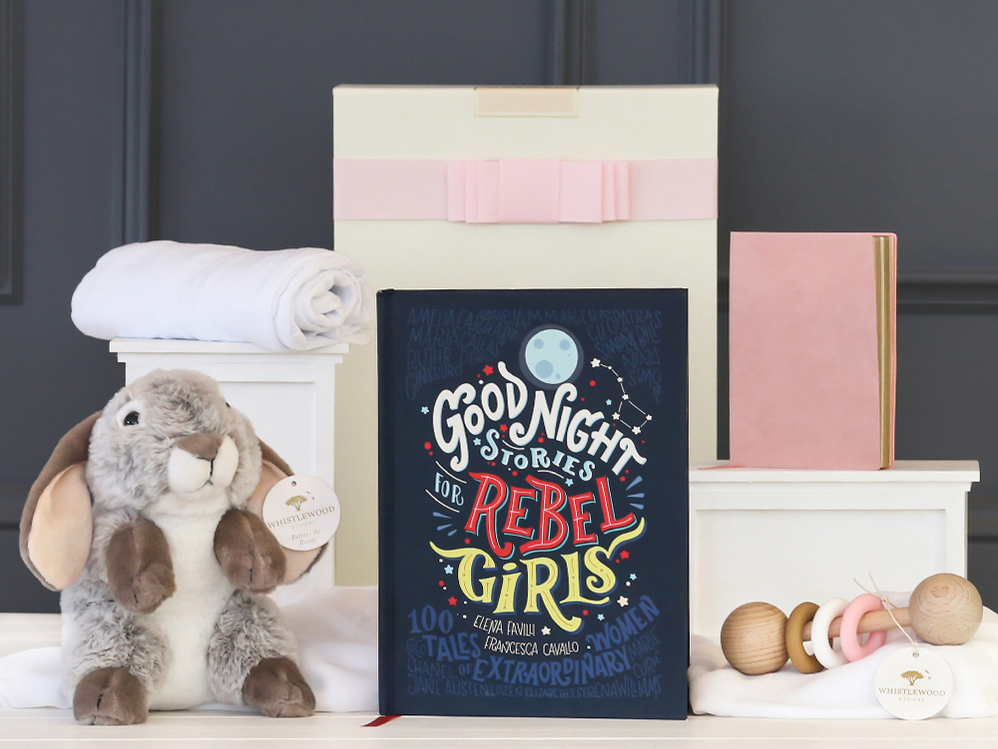 How To Personalise Your Newborn Baby Gift Hampers
Nothing makes your unique baby gift hampers more special than adding a thoughtful touch. Personalising is easy and could include inscribing the new bundle's name on your chosen items. You can glue cute wooden letters on the basket or make the baby's name with a beautiful bead chain. Alternatively, choose one individual item to personalise and have it displayed at the top of your gift basket.
Once you have decided on all your contents, arrange them nicely and fill any gaps with smaller items. Include layers of soft tissue paper in Mum's favourite colour and perfect it with a clear gift wrap. To make your newborn baby gift basket even more colourful, add lavish sets of ribbons or delicate paper flowers. If you have chosen to make a themed basket, then follow your own creativity!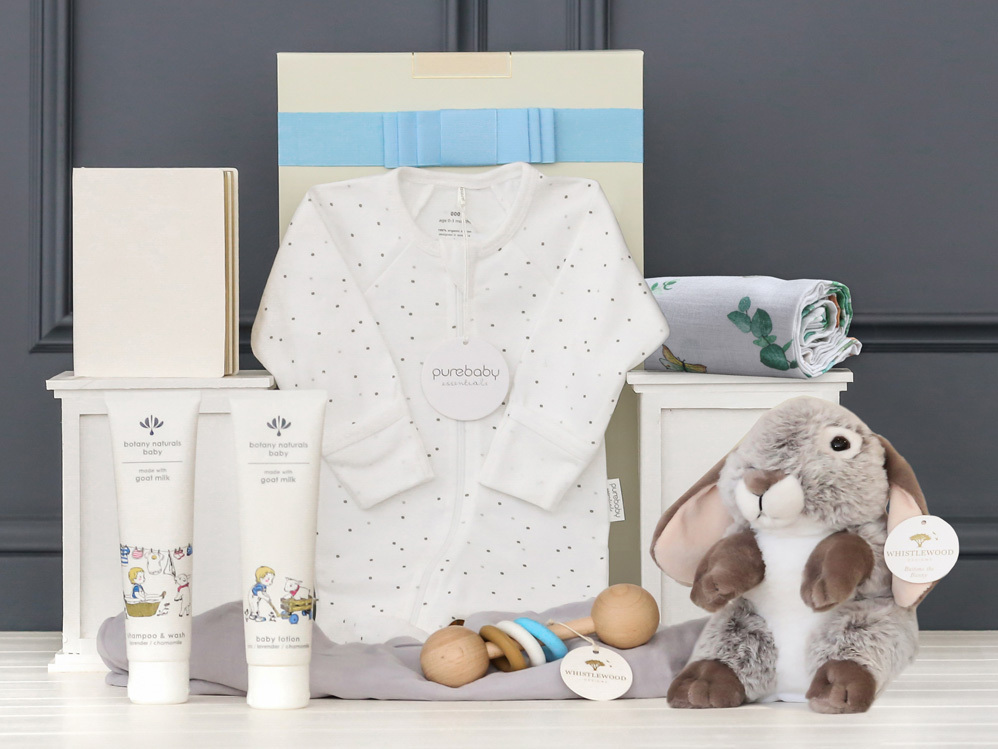 Let The Hamper Emporium Give You A Helping Hand
Of course, you may not have time to design and make your own baby gift. If this is the case, then The Hamper Emporium make celebrating that incredible new bundle of joy easy and enjoyable. Just take a look at our wide selection for stunning newborn baby gift basket ideas!
We specialise in the most wonderful ways to say 'congratulations' to a new Mum. Whether it's a baby boy or girl, you will find gorgeous, pampering ways to welcome a new life into the world. There are unique newborn baby gift baskets filled with exclusive products and pure, organic ranges to cater for every budget and each different baby celebration.
Our fabulous baby hamper ideas and baskets for Mum & Bub will celebrate a new birth or make lovely baby shower gifts, including gender-neutral options. Why not browse them now and see just how cute and thoughtful they are. Choosing one should be fun and exciting, and we know you will find a baby gift that you will absolutely love.
If you need ideas for what to put in a baby hamper, you'll discover that each of our baby baskets is well balanced with baby keepsakes and essentials. Each of our newborn baby gift baskets is filled with a wonderful selection of the cutest organic cotton baby clothing, adorable soft toys, pure skincare products and keepsake books. Beautifully presented, they are lovingly packed, and you can add your own personal message for that extra loving touch!