Easter Gift Ideas For Adults Who Love Chocolate
Author: Michelle Richards Date Posted:24 March 2022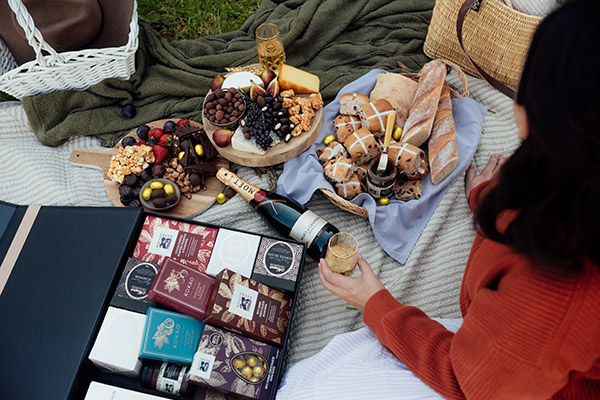 "There is nothing better than a friend - unless it is a friend with chocolate."
― Linda Grayson
The best thing about Easter is enjoying delicious Easter eggs and chocolate treats. For a chocolate lover, our Easter hampers offer the most divine dark chocolate eggs. These rich, smooth, dark chocolate mini eggs are ideal for a grown-up Easter treat. Pop them in a bowl to share for Easter lunch, hide them for the best adult Easter egg hunt, or keep them all to yourself.
You're never too old for chocolate at Easter time! Premium quality dark chocolate eggs and gourmet treats turn an everyday Easter basket into a luxury treat for adults.
Why Is Chocolate The Perfect Easter Gift For Adults?
Good quality chocolate is smooth, melts in the mouth, is incredibly tasteful, sensual, comforting, and delicious. While mass-produced chocolate can be good, sometimes very good, nothing really surpasses the gourmet, high cocoa mass chocolate made from premium ingredients by artisan chocolatiers. If you have not tried 80% pure dark chocolate eggs, you need to order one of our new chocolate Easter Gift Hampers for a taste of the divine. Don't forget our chocolate Easter egg gifts can also come with the perfect accompaniment with a bottle of wine or some bubbly, like Chandon or Moёt to mark the Easter celebration in style.
As with all our hampers, care has been taken to select the best chocolate from Australia and around the world. You will find a range of our selected chocolate gifts in pamper hampers, sweet hampers and specific chocolate hampers as well as our limited edition Easter gifts for adults.
The chocolatiers we have selected offer a range of delectable gourmet choc treats, all with a signature style. You will find chocolate covered nuts & fruits from the Australian gourmands at Morgans, alongside The Woods Farm confectioners, and everybody's favourite Maggie Beer chocolates. You'll be spoilt for choice with our dark chocolate Easter eggs that are perfect for an Easter gift idea for adults.
What do you give an adult for Easter?
Adults can be tricky to buy for at Easter time. We've found it can be especially hard to know what to get a man for Easter. We've listed our favourite ideas to make your online Easter gift shopping easy.
Easter Bites Hamper
This is a great Easter gift idea for those with a sweet tooth. This is an affordable Easter gift for a boyfriend or girlfriend who enjoys the finer things in life. At only $79 and with our free delivery it can be sent all over Australia, getting to your recipients in time for Easter without you having to go out and find a gift! Inside the keepsake black and gold presentation box, you will find:
Kokao coconut & dark chocolate cake slices

Morgan's toffee popcorn brittle

Morgan's French vanilla almonds

The Woods Farm caramelised peanut brittle

Maggie Beer cocoa dusted roasted peanuts & almonds

Dark chocolate and vino cotto caramel dessert sauce

Maggie Beer dark chocolate mini Easter eggs

Plus a lovely embossed card for you to add a personal greeting.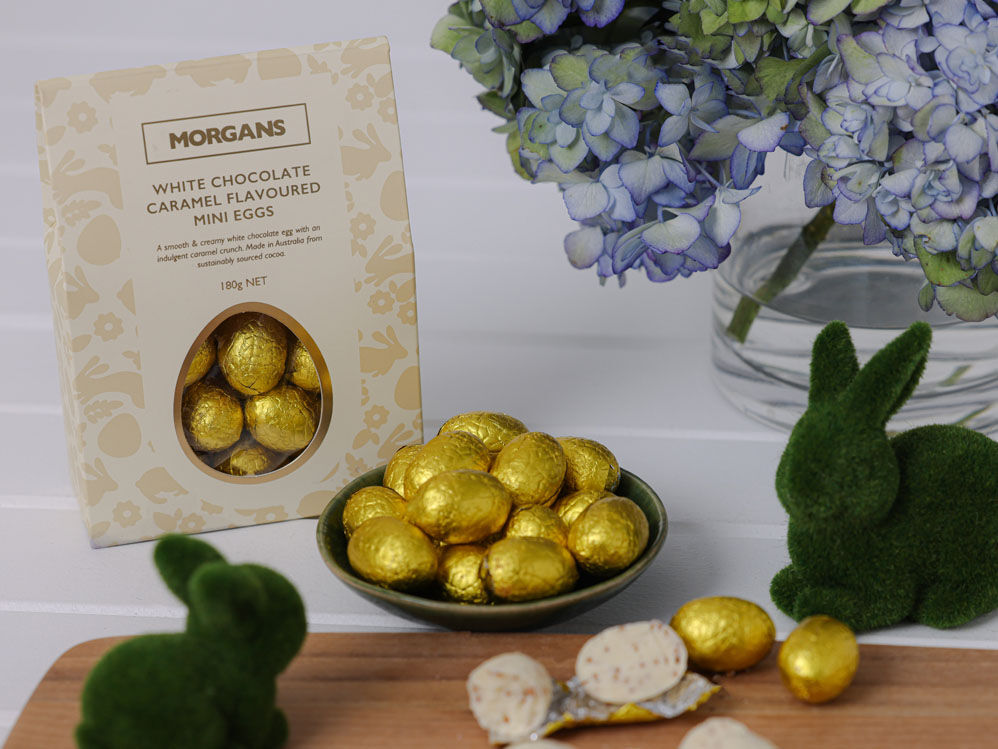 Moët Champagne Easter Sweet Epicure Hamper
The best of Australian chocolate with the finest bottle of bubbly, a real treat for a luxury Easter gift idea for adults. This is an incredible Easter gift designed to really make an impression. Give this as an Easter gift for couples to share, or as a luxury family sharing gift for Easter Sunday. You recipient will be delighted to receive the beautifully presented gift box with its gold card for a personal message and when opening it will discover:
Morgan's Dark Chocolate Coffee Beans

French Vanilla roasted almonds

Maple roasted almonds sprinkled with coconut

Roasted almonds in a rich, buttery toffee brittle

The Woods Farm caramelised peanut brittle

Maggie Beer 80% dark chocolate coated almonds

Roasted peanuts and almonds dusted with pure cocoa

Dark chocolate bites with crisp Belgian wafers.

Roasted almonds coated in premium lemon infused white chocolate

Dark chocolate and vino cotto caramel dessert sauce

Sour cherry and dark chocolate cake slices

Roasted almonds coated in premium lemon infused white chocolate

Maggie Beer Dark Chocolate Mini Eggs

Moët & Chandon Champagne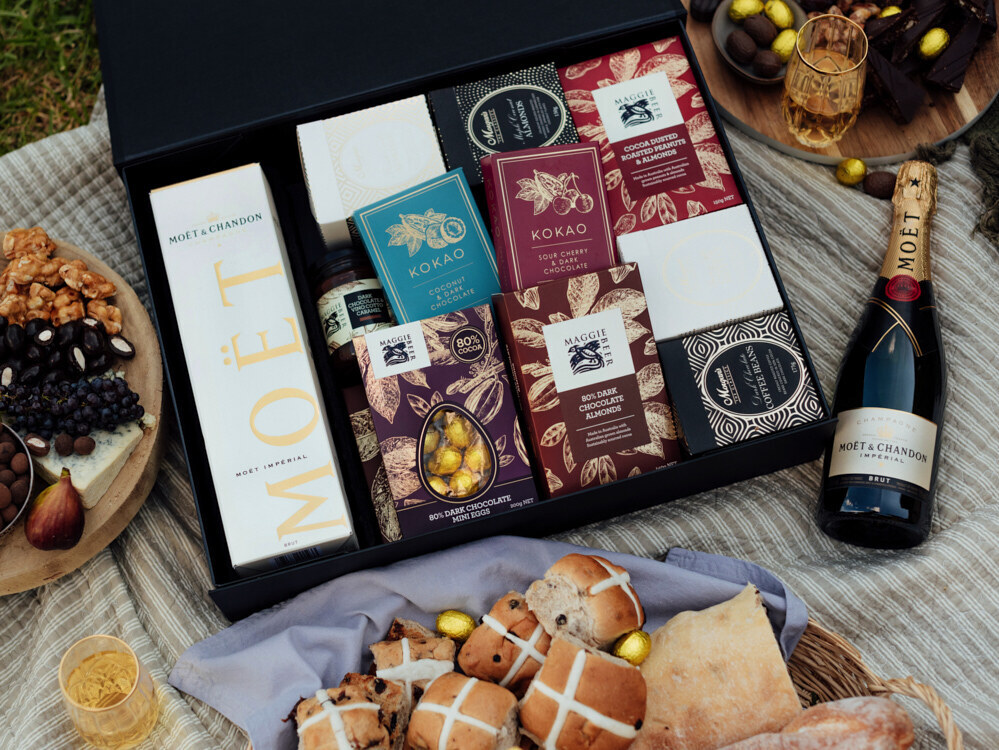 What is the best chocolate Easter egg?
For a true chocolate lover, the best Easter egg for adults is one that is made in Australia from at least 70% cocoa. The mini dark chocolate eggs that make our Easter gifts so special are made from 80% cocoa for the most heavenly dark chocolate taste. You won't find a better gift for Easter egg connoisseurs looking for premium chocolate for an Easter gift for adults.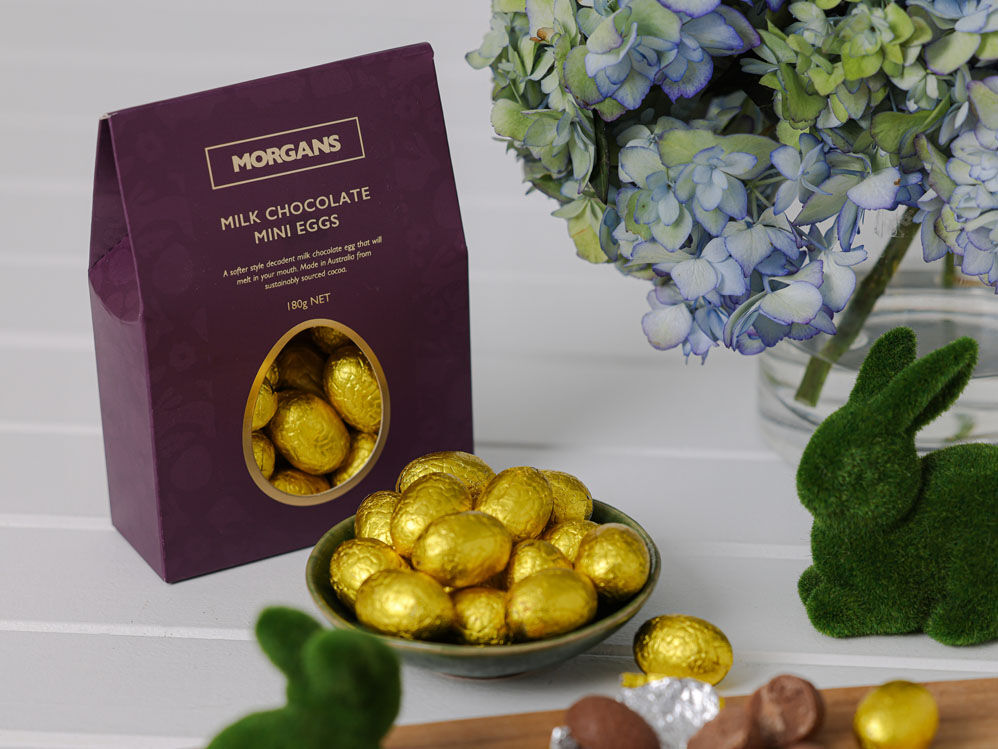 What Else Is Good About Chocolate?
Well, the feel-good factor we associate with eating chocolate is a scientific fact. The reason being is that chocolate is packed with endorphins that make you feel happy. It is said that eating the right amount of chocolate, not overindulging, is good for the cardiovascular system. Want to assist your weight management and extend your life? Then it has been advised that you eat 40grams of dark chocolate a day. What a great prescription and certainly makes it even more attractive for an Easter gift for adults who love dark chocolate.
Chocolate is pure luxury from the silky, velvety texture to the fantastic range of flavours you can experience. Mint, orange, coffee flavours are pretty standard. You can also find cookies and cream, chilli flavoured chocolate, a variety of alcohol-laced chocolate, and these also come plain, milk, white and combinations of all. Plus they all can come mixed with nuts or fruit and a treasure trove for your palate to discover.
Chocolate contains antioxidants, more in fact than there is a glass of wine or a cup of green tea. One of the ingredients is cocoa butter, an anti-toxicant that prevents free-radical damage to your skin, softening, smoothing and maintaining the skin's elasticity. The darker the chocolate, the better - at least 35% cocoa is needed to be effective.
The caffeine in chocolate stimulates your circulation when used as a body scrub or massage cream, giving the body an all-over healthy glow. The smell of the chocolate is what releases the serotonin in the brain, the enzyme responsible for your happy zone, reducing stress and inducing a feeling of well being.
At Easter time, there is no better gift than chocolate for young and old! You are guaranteed to bring a smile to anyone's face when they receive your gift this Easter. The Hamper Emporium range of Easter gifts can be delivered free throughout Australia or you can upgrade and elect to send express for fast delivery with same-day dispatch.