Enjoy Guilt-Free Chocolate On World Chocolate Day
Author: Nikki Barnett Date Posted:6 July 2021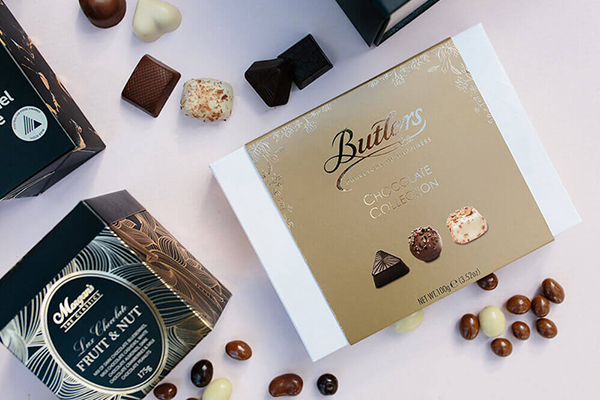 A Celebration Of Giving Chocolate As A Gift
Chocolate mmmmmm! Just the sound of the word can make our mouths water. Some like it creamy and sweet, others adore dark and sharp, but we're all tempted by its decadence. Whatever your preference, on July 7, World Chocolate Day invites us to take a big, beautiful bite.
It's not clear who thought of this luscious celebration, but choccy lovers the world over will be indulging in their favourite flavour. Whether it's a thrilling treat, a relaxing comfort or a mood-booster, chocolate is a delightfully delicious part of our lives. Chocolate has also become one of the top gifts to give and is perfect for any "just because" indulgent surprise.
So, join the team at The Hamper Emporium in celebrating chocolate of all kinds on this inspiring day. There's just nothing like the smooth taste of chocolate, especially if it's high-quality, premium and eco-friendly. That makes it totally guilt-free. Giving chocolate gifts makes people feel loved and treasured, so share it around!
What Does It Mean When Someone Gives You Chocolate?
Chocolate is, by far, the most versatile queen of gifts and suitable for virtually any special occasion. When we're given chocolate, it can have many meanings, depending on the giver's intentions. Between friends and family, colleagues or bosses, it's nearly always saying "thank you for being there." It's a lovely debt of gratitude.
When there's a romantic involvement, chocolate is reserved for that special person, and the gift must be unique to them. So if you receive your favourite chocolate gift wrapped and bowed, it's conveying those loving feelings. It's also a symbolic gift to yourself as a treat that says 'well done and you deserve this.' Chocolates are little love symbols, whoever gives them to you!
Why Do You Think Chocolate Products Are Popular As Gifts?
Chocolate is always the highlight of any special occasion, from after-dinner treats to spectacular chocolate fountains. Dating back over 4,000 years to the ancient Mayans, it's a symbolic and simple gift that everyone delights in.
Here are just 6 convincing reasons why people give chocolate as a gift:
Chocolate speaks of passion
Chocolate is glamorously romantic and part of the language of love. It not only looks and tastes heavenly, but it has an emotional effect, so it's often used as a special gift by couples.
Chocolate brings comfort and joy
Cocoa contains antioxidants and increases endorphins that are guaranteed to make people smile. There's something about delicious chocolate that simply makes us feel totally loved.
Chocolate is a versatile gift
With such a huge array of different fillings, flavours and textures, this is a confectionery that caters to all tastes. From simple to sophisticated, there's a chocolate bar or box they'll love!
Chocolates are decadently affordable
Chocolate is one of life's little luxurious extravagances that is affordable for all. Whatever our budget, we can always treat someone to the delight of their favourite premium chocolate.
Chocolate looks delightfully delicious
Whether handmade pieces or a box, chocolate gift ideas come ready to dive straight in. There's really no need to wrap when you give it. Even a decadent choccy bar makes the perfect gift!
Chocolate boosts your mood
This delicious treat also has many added health benefits, especially the rich, dark chocolate. With a reputation as an aphrodisiac too, who could possibly resist its sweet temptations?
Guilt-Free Chocolate With A Sustainable Supply Chain
Consumers today want a little more than decadence when they choose chocolate. They want to know there are sustainable and ethical production methods. This has resulted in a huge growth of both organic and fair trade cocoa and chocolate products. The Hamper Emporium is extremely proud to partner with some incredible brands in this respect.
When you buy high-quality chocolate from companies like ours, you can feel confident knowing that you're purchasing from a business committed to protecting the environment. But what does that mean, and how does it affect what is the best chocolate to give as a gift?
Sustainably sourced cocoa products
Over 90% of the world's cocoa comes from small family farms and provides livelihoods for up to 50 million workers and their families. In Ghana and the Ivory Coast, for instance, cocoa provides the primary income for nearly 90% of its farmers. So, can we give chocolate as a gift ethically? Yes, we can! It's just a matter of looking for chocolate brands that have been sustainably and morally sourced. This means the farmers receive a fair price, can invest in their local communities, and that they are free of child labour.
Fairtrade chocolate manufacturing
Fairtrade brands put the ethical sourcing of cocoa beans at the very heart of their business. It encourages long term relationships with farmers, quite often with personal farm visits. Cocoa needs to be produced in an environmentally sustainable way. Some chocolate producers also use direct trade, which means they buy directly at significantly higher prices. It cuts out any middlemen so farmers can spend money on further development projects. If you're looking for ways to give chocolate as a gift to your eco-conscious friend, this is it!
Guilt-free Chocolate From The Hamper Emporium - It's Shareable!
Why give chocolate as a gift? The very best thing about giving guilt-free chocolate as a gift is it's made for sharing. It's perfect for cosy moments at home, savouring with friends and passing around in the office. Sending a chocolate gift on World Chocolate Day shows you care and spreads love and happy feelings around.
Now we've explored the benefits of gifting some divine choccy, take a leisurely browse through our collection of delectable chocolate gift hampers. The Hamper Emporium team are masters of our craft, and there are some sensational choices. You can also rest assured our partners are committed to the ethical sourcing of ingredients.
Don't forget to treat yourself to a little something delicious and guilt-free!