Fabulous Gender Neutral Baby Shower Gift Ideas
Author: Nikki Barnett Date Posted:18 May 2021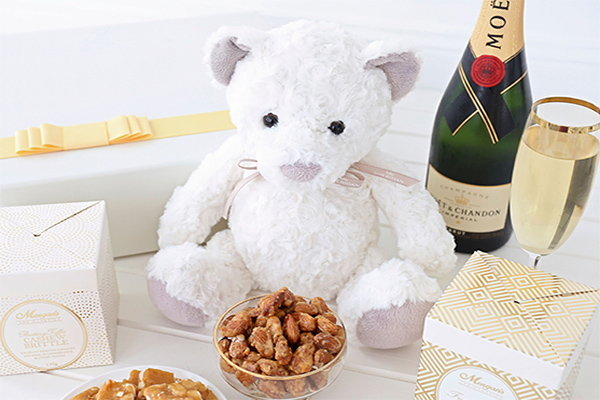 8 Gorgeous Gender Neutral Gift Ideas For Newborn Surprises
Would you be able to keep an exciting secret? It's increasingly popular for parents-to-be to do just that and not find out the sex of their baby during the pregnancy. Some want to be completely surprised at the birth of their cuddly bundle of joy, and others choose to keep baby's sex a closely guarded secret. That means the traditional colours of pink and blue are sometimes strictly off the baby gift menu.
Luckily, gender-neutral gifts are on-trend for a whole range of reasons, and multiple brands have stepped up to the challenge. You'll find fabulous baby gifts in a whole rainbow of beautiful colours and gender-neutral baby hamper ideas for mum and bub packed full of love.
So, we've rounded up our ideas for the best gender-neutral presents, including practical, cute, cuddly and stylish items. They're perfect for any little newborn babe, and mum will adore them!
Why Do Some Parents Prefer Neutral Gifts For Baby?
Gender-neutral baby showers and celebrations are becoming more and more of a lifestyle choice. Aside from not wanting to know the baby's sex in advance, many parents increasingly prefer gender-neutral gifts to avoid stereotyping. Plus, some love them for practical reasons as they want to reuse toys and clothes for their next little bundle of joy.
The tradition of baby showers is also sometimes replaced by gender reveal parties. This new trend is a fun way for parents to announce their baby's sex and is usually a full-on celebration. As it's a surprise announcement for guests, and it's customary to bring a small gift, this calls for gender-neutral baby gifts too!
In addition, we think today's gender-neutral clothing, toys, accessories and nursery decorations are perhaps some of the trendiest. You'll also find they are amongst the most eco-friendly, ethical and sustainable products around.
Unique Gender-Neutral Baby Shower Gifts To Welcome Bub
Most products you would typically choose for a boy or girl are ideal as a gender-neutral baby gift too. All you need to take into consideration are the colours, designs and prints. Stay away from classic blues and pinks, unless they are mixed together, and go for neutral shades. White, grey and cream are great for clothing, funky patterns look cool, and toys can be as brightly coloured as you want!
Baby Bedding & Blankets
Most new mum's prized possessions are her cuddly baby blankets. They provide comfort and security, and large baby blankets are perfect for swaddling to calm cranky babies. A good baby wrap will be a cuddling partner, so it needs to be made of high-quality material like pure organic cotton. You can opt for classic white bedding or choose from a myriad of blankets in adorable prints and colours.
Posters & Prints
Pictures, prints and nursery wall art makes a beautiful gift for any new baby. You can find the sweetest gender-neutral options for the nursery with popular themes and traditional subjects. Adorable animals are a good choice, or opt for lovely timeless images like Winnie the Pooh. There's also a gorgeous range of timeless typography and monograms as neutral baby room ideas.
Stuffed Animals & Teddies
Plush, squishy stuffed toys make the cutest unisex baby gifts, and any animal buddy is a pretty safe gender-neutral option. They embody comfort and innocence, and the ultimate symbol of love is the iconic teddy bear. No baby can ever have enough stuffed toys or teddies. Most of them will journey through life, creating a family legacy that's handed down and treasured forever.
Sleep Suits & Swaddles
If you want to gift gender-neutral clothing, then bodysuits are essential newborn items. They make everything easy for new parents, and they're cuddly and warm. Super-soft muslin, cotton and fleece are ideal, and you can find sets with different sizes included. From sleepsuits to mini sleep sacks and sleeping bags, they provide layers of comfort that are soothing on baby's skin.
Baby Book Sets
Starting baby's first library makes a fabulous gender-neutral baby gift that mum and dad will adore too. The best ones are quality board books in smaller sizes with thick, chunky pages. This makes them easy to grasp and less likely to be damaged by baby teeth at some point. Favourite classics, a great life lesson or an adventure tale will be read and enjoyed for years to come.
Teething Toys & Rattles
Teething relief comes in a whole variety of designs, from chewable beads to soft silicone animals. As long as they are made from natural products like rubber and food paint, they are safe to chew. Rattles are, in general, gender-neutral too and an ideal newborn gift. For both items, the shape should be easy to grip with tiny hands and make some delightful noises!
Gender Neutral Newborn Gift Baskets
Gender-neutral baby gift basket ideas are a lovely surprise for parents and can be packed with all sorts of useful goodies. You can opt for gentle, organic baby care and bathtime products or a range of practical clothing made from eco-friendly materials. The best thing about them is that you can choose mixed contents from growsuits and wraps to baby books and cuddly toys.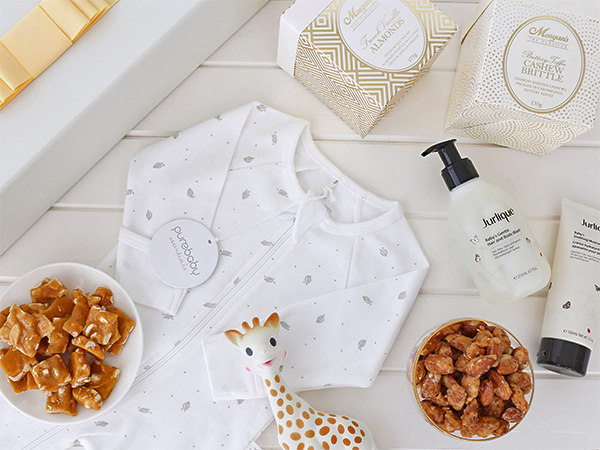 Remember Some Treats To Pamper Mum And Dad Too!
Although the arrival of a new life is the focus of attention at any baby shower or gender reveal, it can be a lovely thought to treat the parents to a little something too. With all the excitement and anticipation, they can sometimes be forgotten, and they need celebrating too. While you're browsing unique baby shower gifts, you can easily slip a little something into your shopping cart for the mum-to-be!
Choose an item of luxury you know they will love or a newborn baby basket that also includes goodies for the parents. You can't go wrong with scrumptious chocolates and sparkling champagne to help parents 'wet the baby's head' and toast to a new life. If you want a little bit of extra luxury and indulgence for mums or dads, our tempting gift hampers are designed to add sparkle to their baby shower celebration!