Fantastic 21st Birthday Gift Ideas For Women
Author: Michelle Richards Date Posted:4 January 2022
Turning 21 is a reason to celebrate!
While 18 might be the coming of age to adulthood, there is something special about turning 21. At 21 years, we finally start to figure things out and move into that grown up world of saving for a house, planning a big holiday, graduating from university, or angling for that first big job promotion. It's a milestone birthday that deserves to be celebrated.
If you're looking for gift inspiration to make her 21st birthday unforgettable, we have the advice you need to plan her special day. Her 21st birthday gift is a big deal! Take the time to really choose a thoughtful gift to mark the occasion. A 21st birthday is not the occasion to settle for flowers or a box of chocolates. It's time to splurge and give her a gift to remember.
Every woman is different. It's important that on this birthday you really choose something that reflects her personality. We have inspiration to help you pick the perfect 21st birthday gift to suit any young woman.
21st birthday gift ideas for girls
From unique keepsake jewellery, designer gifts, once in a lifetime experience gifts, or homewares to help her on her way to creating the perfect home, we have suggestions to get you thinking about what she'd really like.
Jewellery is a beautiful gift idea for a woman who is turning 21. If you're buying for a close friend, your girlfriend, or daughter, then special jewellery is a great idea. Keep in mind that jewellery gifts are very personal. If you are not sure of her preferences for jewellery style, it might be safer to get a gift that's a little less intimate.
If the birthday girl has recently moved into her own home, homewares and decorator items will definitely be appreciated. Gorgeous timber cutting boards, or a gift basket selection of gourmet foods can be a great gift for a foodie. A food and wine 21st birthday hamper would make a great gift for her if she loves to entertain. Or you could give her a scrumptious selection of gourmet condiments, spices, and pantry items if she's just discovered a love of cooking and likes to experiment in the kitchen.
Birthday gift ideas for a daughter turning 21
Your daughter's 21st birthday is a bittersweet day. Your little girl is all grown up. Planning her 21st birthday party will be a heap of fun! Chances are, she won't be able to wait to get the party started and will love to help you plan her birthday event. Even if you are paying for her birthday party, it's still important to choose a keepsake gift to honour her journey so far. Champagne is always fabulous for a 21st, and something different like the Moët Celebration Hamper with champagne, treats, and gorgeous wine glasses is perfect for a young woman turning 21.
Great 21st gift ideas from a parent to their child include jewellery, an embossed leather wallet or handbag, or an experience gift to create unforgettable memories of a lifetime. There is a fun range of perfect bucket list style experience gifts that are especially great for a 21st birthday present. The most popular range of experience gifts for milestone birthdays include skydiving, a hot air balloon adventure, motorcycle tours, and other once-in-a-lifetime type adventure experiences. Experience gifts to share with a close friend or her partner are also great gift ideas.
Perfect 21st birthday gifts for your girlfriend
If you need help choosing the perfect 21st birthday present for your girlfriend, a pamper gift or something to spoil her and show your love is a great idea. Jewellery is always the first choice for a special gift for someone you love. If you don't want to chance any confusion, it's probably a good idea to avoid buying a ring. But gorgeous sterling silver earrings, a necklace, or custom jewellery are just perfect as 21st birthday gift ideas.
If you are not sure about jewellery, a gift voucher for a couple's massage or spa treatment is a lovely gift to enjoy together. If you want something just for her, a pampering gift hamper with perfume, body lotion, and champagne to celebrate her day would make an impressive gift. The Jurlique Rosewater & Moët Rosé Hamper is a gorgeous gift if your girlfriend enjoys a luxurious soak or candlelit dinner. For a chocolate lover, choose the Little Luxury with Moët Hamper instead.
Birthday gifts for your BFF
If you're choosing a gift for your best friend, you're probably in the best position to know exactly what she's had her heart set on. You don't need to spend a fortune on a 21st gift. Just buying something special that acknowledges your years of friendship and the bond you share will be enough. She'll love a personalised card from you or a gift to remind her of shared childhood memories, the times you were there for one another, and all those special girls' weekends away together. A fun cocktail hamper you can share together is also a great 21st idea. Make more special memories together!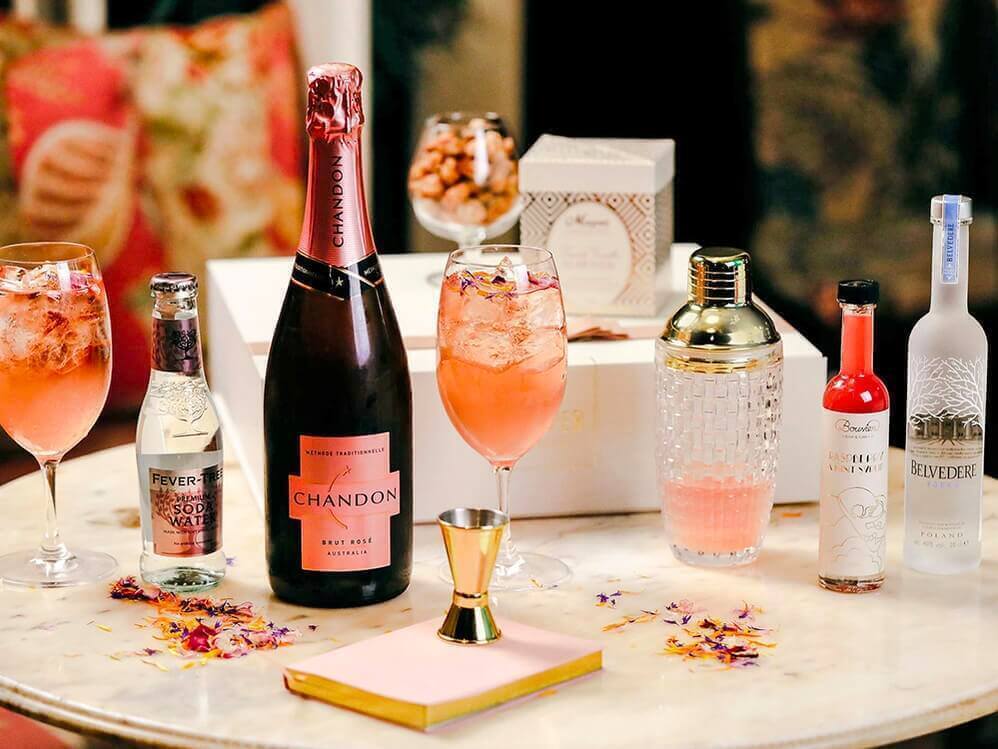 Celebrate her 21st with a birthday hamper
Make her day unforgettable with a gift she'll always cherish. The team at the Hamper Emporium would love to help you make her day special. Order a 21st birthday gift basket online and get it delivered direct. Choose something lavish with champagne to toast to her birthday and yummy treats she'll love to share. If you can't travel to attend her 21st birthday celebration, get the family to chip in and buy a luxury hamper to really impress her! If you're not confident in choosing something you know she'll love, you can always get a gift voucher so she can choose her own gift.
The Hamper Emporium delivers Australia wide and offers free delivery for our special occasions gift baskets. We make it easy to shop online for great milestone birthday gifts. To make it even easier to find the perfect present, you can browse our range of gifts for women for hand-chosen selections that are just perfect for 21st birthday gift ideas.