Fantastic 21st Birthday Gift Ideas For Women
Author: Karie Cornell Date Posted:5 April 2023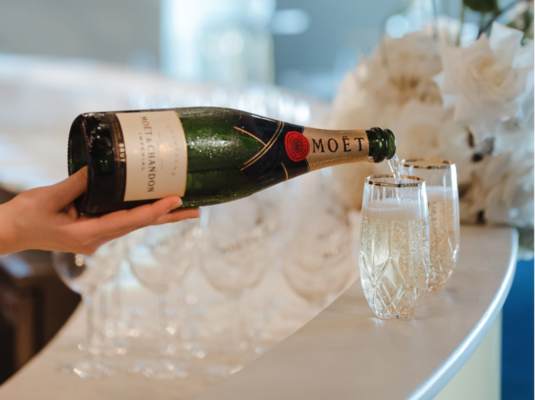 21st birthdays are a momentous occasion. Unofficially, they mark the fact that a lady in your life is now a fully grown adult woman.
For parents, this milestone birthday is a final "goodbye" to their daughter's childhood, and for the birthday girl, they're the start of a new, very exciting journey. So it's only natural that families love to create unforgettable memories and celebrate the birthday girl with a flashy party and nice gifts.
However, finding that perfect gift isn't easy. 21st birthdays are a grand occasion, and they come with big expectations. To help you navigate the gift-giving world of twenty-firsts, we've compiled a list of our top gift ideas for 21-year-olds.
Our best 21st birthday gifts for young women
Without further ado, here are our five best 21st birthday gifts for girls in 2023:
#1. Chandon Rosé Celebration Hamper
No birthday toast is complete without sparkling rosé and come celebratory nibbles of the gourmet variety. That's exactly what this hamper contains. It comes with:
A floral, crisp, and dry bottle of Chandon NV Rosé
Two Palermo stemless champagne glasses that the birthday girl can treasure forever
French vanilla almonds and cashew toffee brittle from Morgan's
Cocoa-dusted almonds and peanuts and lemon white chocolate almonds from Maggie Beer
#2. L'Occitane Rejuvenate and Pamper Hamper
This hamper has everything she needs to pamper herself like the gorgeous young woman that she is. It's packed with French beauty products, pampering accessories, and cherry blossom goodness. It contains:
French vanilla almonds and caramelised peanut brittle
L'Occitane cherry blossom hand cream and perfumed soap
A blush pink robe and a Mulberry silk eye mask from The Cove Jervis bay
A dusty pink notebook with a gold lining
An indulgent vanilla candle
A French pink clay and pink salt bath soak
#3. The Sweet Epicure Hamper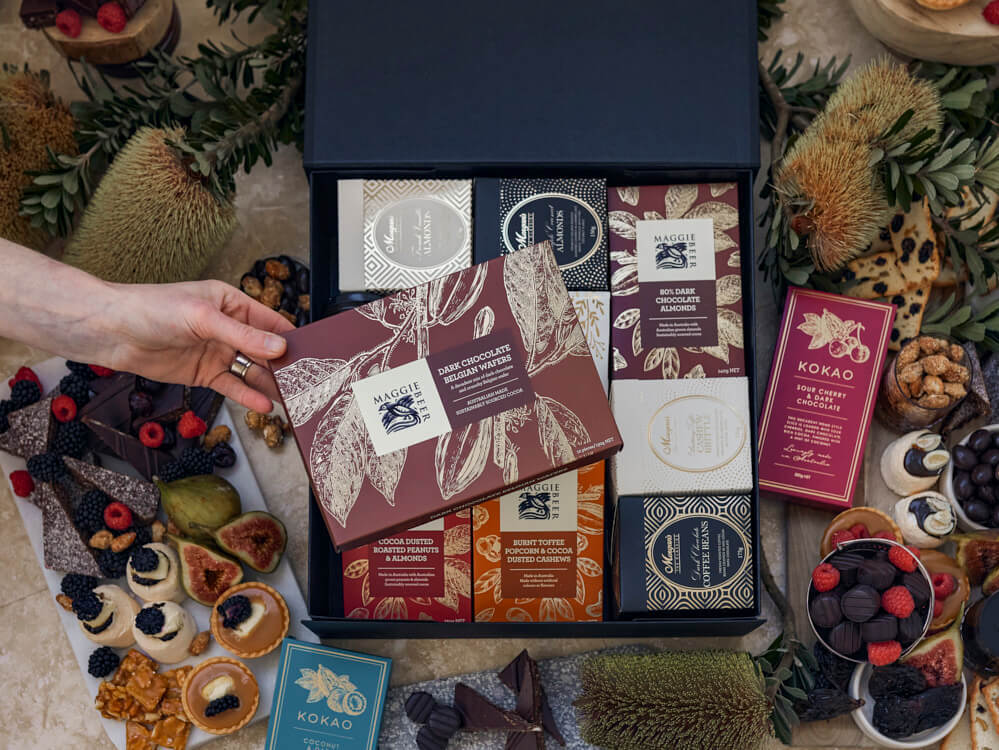 Young ladies with an appetite for gourmet sweets will adore this hamper. It offers a range of sweet, artisan goodies from producers like Maggie Beer, The Woods Farm, Morgan's, and Kokao. Here's what it includes:
French vanilla almonds
Dark chocolate coffee beans
Caramelised peanut brittle
Maple coconut roasted almonds
Cashew toffee brittle
80% dark chocolate almonds
Burnt toffee popcorn and cocoa-dusted cashews
Cocoa-dusted roasted peanuts and almonds
Lemon white chocolate almonds
Coconut and dark chocolate slice
Sour cherry and dark chocolate slice
Chocolate Belgian wafers
Dark chocolate and vino cotto caramel
#4. Moët and Gourmet Nibbles Hamper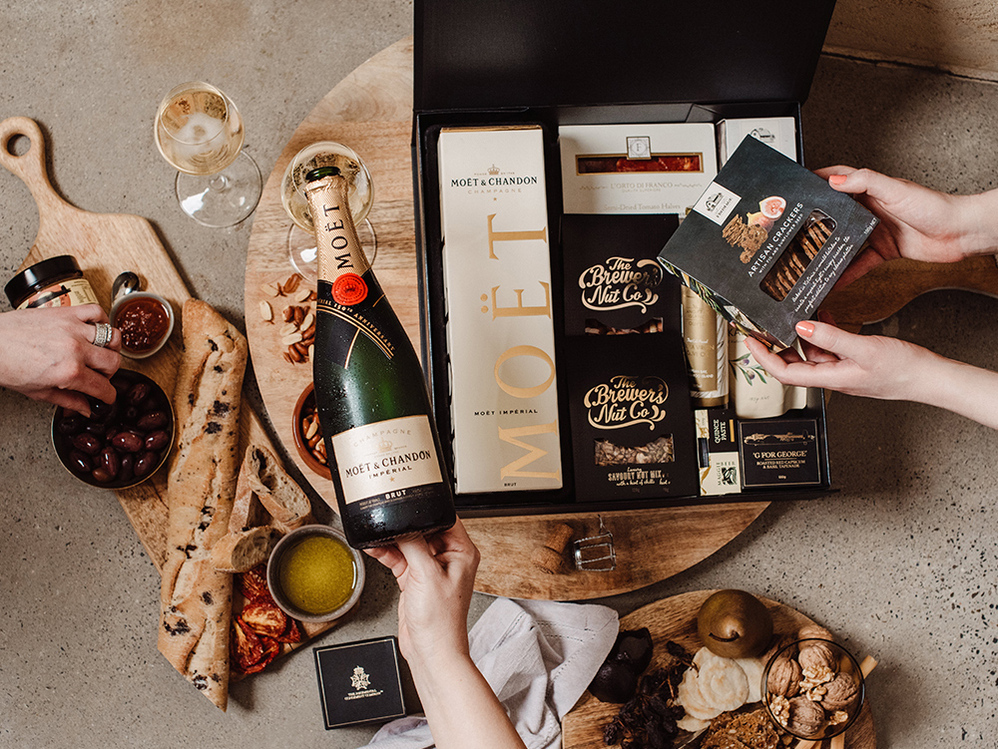 Being able to appreciate a glass of artisan champagne on a special occasion is a clear mark of adulthood, and there's no better way for a young lady to celebrate her adulthood than with this hamper. It contains everything she needs for the ultimate toast with nibbles, including:
Moët & Chandon Brut Impérial NV Champagne
Beer nuts
Semi-dried tomato halves from L'Orto
Kangaroo Island kalamata Olives
A savoury nut mix
Roasted capsicum tapenade
Natural wafers
Artisan crackers
Quince paste from Maggie Beer
#5. More Than Flowers With Chandon Rosé Hamper
Young ladies who like to celebrate a big day with flowers and the finer things in life will adore this hamper. Fresh flowers will fade and die over time, but preserved flowers can last for up to seven years. This hamper combines the warmth of summer with the sweetness of spring. It contains:
Chandon NV Rosé
A blush pink robe from The Cove Jervis Bay
A pink, preserved bouquet from Everbloome
French vanilla almonds
FAQs about 21st birthday gift ideas for women
Her 21st birthday is one of her biggest milestone birthdays, so naturally, her friends, family members, and coworkers put a lot of effort into finding that perfect gift for her. To simplify the process for you, we've answered your top questions about 21st birthday gifts below.
What gift to get for a girl's 21st birthday?
Traditional 21st birthday gifts include experiences like hot air ballooning, a keepsake gift (like a piece of jewellery), alcohol-related gifts (like a personalised cocktail shaker), and homewares for her first apartment or home.
If none of these gift ideas appeals to you, a hamper is also a wonderful option. Hampers give your gift recipient a taste of luxury in their own home. They offer a gourmet, unforgettable experience that will truly tickle her pink.
What symbolic gift do you give for a 21st birthday?
The perfect present for her 21st depends on your relationship with her. Parents often get their young lady jewellery or expensive items for their first home. Siblings get more leeway, and they buy homewares, joke gifts, and sentimental gifts. Friends and family members often give homewares.
The best way to make a 21st birthday gift symbolic is to select something that the birthday girl will remember long-term. So, create an experience or give them something they'll keep for 10+ years.
What do you get a non-drinker for their 21st birthday?
Non-drinkers can still celebrate in style. You can get them pretty much anything – except anything that's closely related to alcohol (wine glasses, cocktail shakers, drinking accessories, etc.).
Our top pick for a non-drinker is the Foodies Hamper. It's packed full of sweet treats, gourmet delights, and artisan ingredients, so your gift recipient won't even notice that it doesn't include wine or champagne.
How can I make my daughter's 21st special?
There are many things you can do to make sure your daughter has an unforgettable 21st.
First, we recommend asking her how she wants to celebrate ahead of time. Big family parties aren't everyone's first choice, so she might prefer to go out with her friends, go out to a nice restaurant with her nearest and dearest loved ones, have a spa day, or save the party fund and spend it on a one-in-a-lifetime experience like a trip.
Next, make a big deal of her on her special day. If she has university or work on the day of her birthday, make sure she still gets a cake, a glass of wine (if she drinks alcohol, of course), a gourmet meal, and quality time with her friends and family.
Treating her to something special, like a celebration hamper, is also a great idea. Celebration hampers come with nibbles and wine or champagne – so you can toast her big day in luxury.
What should I get for my BFF's 21st birthday?
If your best friend is turning 21, we recommend gifting her something special she can hold on to forever. A piece of jewellery (especially zodiac-sign-related jewellery) is popular, as is planning a spa day.
Where in Australia can you deliver 21st birthday gifts for her?
The Hamper Emporium can deliver presents Australia-wide. Each hamper comes with free (standard) shipping. Here's how long it takes us to deliver a hamper with standard shipping:
1-5 business days to NSW, Victoria, and Queensland metro areas

3-6 business days to Tasmania and South Australian metro areas

5-12 business days to Perth, Darwin, and regional areas
Express shipping is also available if you need the hamper quickly.
Where can I get 21st birthday gift ideas for girls?
The Hamper Emporium is the best place to buy a 21st birthday hamper for her. We've got a range of spa hampers, gourmet food hampers, fun hampers, chocolate hampers, wine hampers, celebration hampers, and hampers with luxury homewares.
If you're shopping for a 21st present for a birthday boy, we've also got tons of great hampers for men who like sports, gourmet food, cooking, BBQs, and more.
The Hamper Emporium is your source of unforgettable 21st gift hampers for her
Hampers are fantastic 21st birthday gifts because they treat your giftee to a luxurious, gourmet experience that truly celebrates their special day in style and gets the party started. They're also easy to put together – you can order a 21st birthday gift basket online, and we'll deliver it to her door.
In this blog post, we recommended five hampers for girls turning 21, including our:
Chandon Rosé Celebration Hamper

L'Occitane Rejuvenate and Pamper Hamper

The Sweet Epicure Hamper

Moët and Gourmet Nibbles Hamper

More Than Flowers With Chandon Rosé Hamper
If none of these hampers suits the young lady in your life, we also have a curated collection of hampers for her.