Father's Day Beer Hamper
Author: Nikki Barnett Date Posted:11 August 2021
Say Happy Father's Day With A Beer Hamper That Is Sure To Impress Dad!
Father's Day is getting closer and closer! And with only a month left until his special day, it's time to get serious about planning a really nice way to say thank you to your dad!
If you're sick and tired of running out at the last minute to find something special for your dad, only to come back with the same old boring socks, jocks and novelty gifts, The Hamper Emporium has a stylish solution for you. Order online and arrange the Fathers Day gift delivery your dad wants most!
We've been creating gifts and hampers for special occasions for over 10 years, which means we have a little bit of insight into picking the perfect gift for your dad. So, if you're trying to come up with something that is not only fun and exciting but will also show your dad how much you love and understand him, read on…
Let's start with the Beer loving dad. Over the last 18 or so years you have been creative enough to gift your dad with every amusing beer holder, stubby holder, bottle opener and beer can sock that was ever invented, so why not up the stakes a little bit? Why not try something a little more adventurous?
If your dad drools over the thought of an ice-cold beer at the end of a hot day's work, but you don't want to go out and get him any old slab of beer, check out these ideas that are sure to make you the golden child this Father's Day.
James Squire Ales
If you want to go one step further this Father's Day and really impress dad, here's some not so well- known information about the man James Squire to whom this brand of beer is dedicated.
James Squire arrived in Australia as a convict with the first fleet in 1788. He is credited as the first person in Australia to successfully harvest hops which he used to make beer, beginning in 1790.
Squire founded Australia's first commercial brewery to use barley and hops for the production of beer.
From very humble beginnings, James Squire rose in status to the point where his death in 1822 was marked by the largest funeral ever held in the colony.
For those of you who don't know much about beer yourself but really want to wow your dad with something special, then you should check out the James Squire Ale Hamper. For only $99, you can give your dad the experience, flavours and aromas that will uncover the adventurous story behind the beer.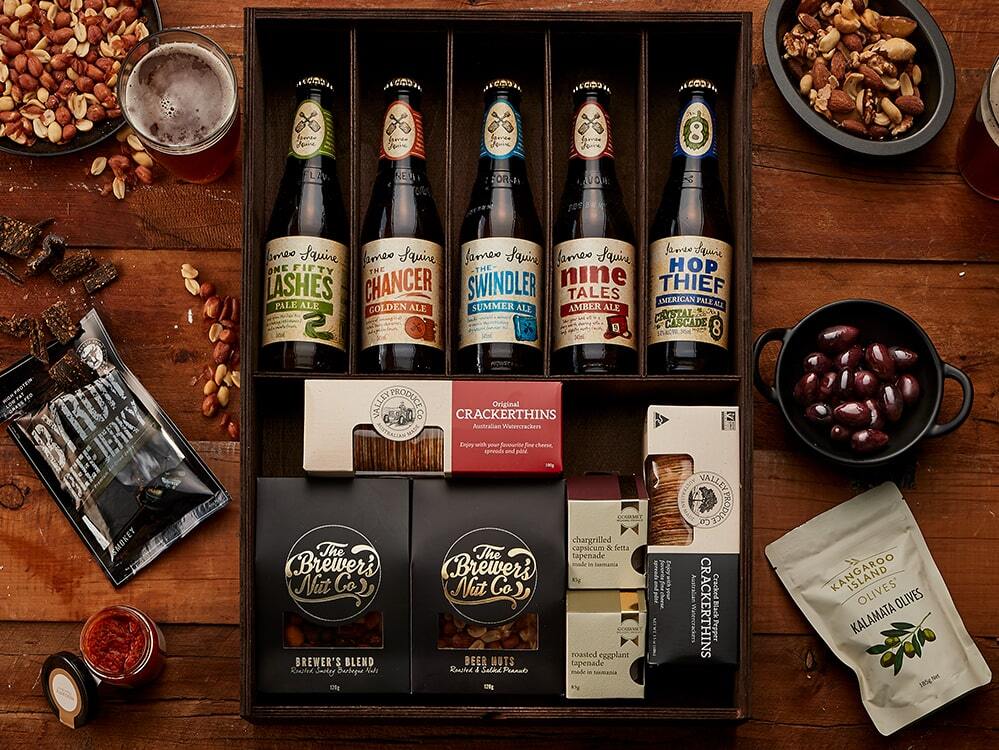 Microbreweries of Australia – Father's Day Hamper
If you don't know beer very well, but your dad does, you are sure to impress with this amazing little collection of fine beers from around Australia. It's time to set it up a notch and get really crafty, with the Microbreweries of Australia Hamper.
The craft beer market is hot at the moment with a beer named after nearly every living creature on the planet! It's interesting to note that craft beer is the only segment of the Australian beer market, which is in continuous growth, with overall consumption of beer and alcohol in decline.
So why not get on-trend and surprise your dad with a Father's Day gift hamper featuring a handpicked cross-section of beers from some of Australia's finest microbreweries.
Included in this hamper you get, Burleigh Brewing My Wife's Bitter, Lord Nelson Three Sheets Pale Ale, Murray Craft Brewing Co Angry Man Pale Ale, Bridge Road Brewers Pale Ale and Feral Brewing Hop Hog Pale Ale.
Not to mention some amazing savoury treats that will wash down beautifully with a fine ale and a handcrafted stained wooden beer box.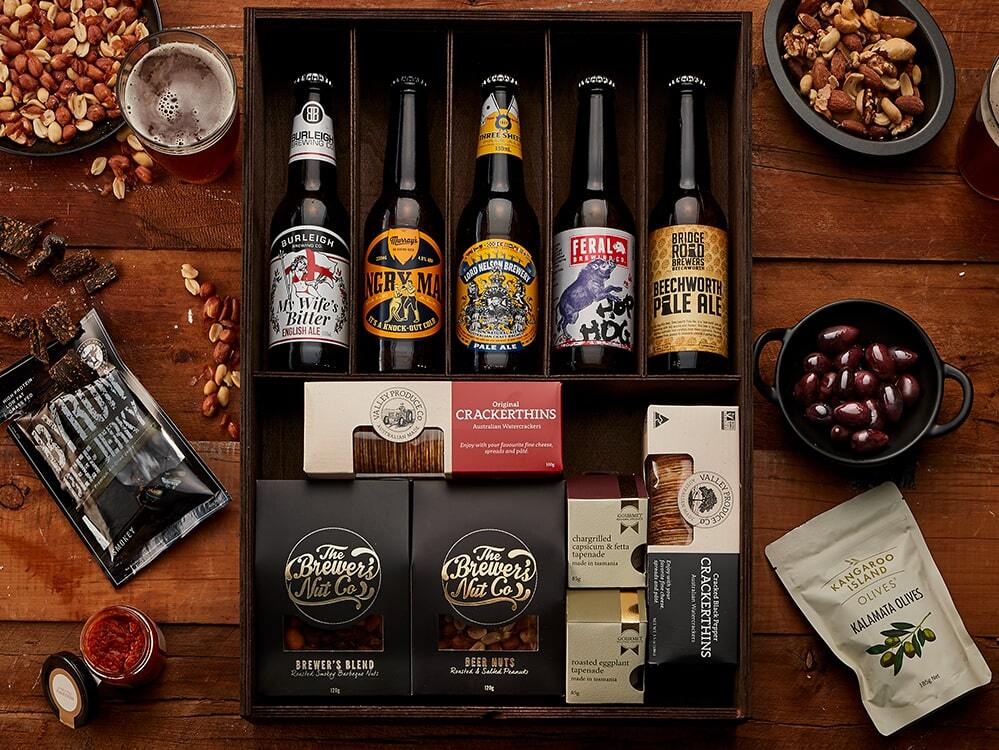 The Corona Fully Imported Mexican Beer Hamper
If it's not practical to send your dear dad to Mexico this Father's Day, then bring a little of Mexico to your father with Mexico's best-selling premium beer, Corona.
Corona was created in 1925 in Mexico as a pilsner in a clear bottle. The beer grew and grew in popularity until it became noticed by Mexico's Neighbour, the USA, where it was launched in 1976.
It soon became the largest selling imported beer in the US and continues to hold that title today.
Apart from the clear bottle and unique label that's printed on the bottle (Corona was the first beer in the world to do this), Corona is also known for the practice of placing a slice of lime or lemon in the top of its neck.
Exactly why this practice began is not precisely known, but theories vary from a creative barman developing his own unique way of serving Corona through to a method commenced by Mexicans to keep the flies out of their beer. We'll let you decide which story to tell.
Our Corona Beer Hamper is one of our all-time, best- selling Father's Day gift hampers. People continue to buy this hamper for their fathers because of the easy-drinking, sure to please nature of fully imported Corona.
Whereas craft beers such as IPAs can be an acquired taste with higher bitterness levels much sought after by craft beer drinkers, Corona has a much broader appeal.
Corona is a safe choice when looking for something special in a beer that's going to appeal to anyone's taste buds.
Another reason for this gift hamper's evergreen popularity involves the delicious savoury snacks that have been carefully selected to compliment the Corona beers.
Delicacies such as Kangaroo Island Nuts, Byron Beef Jerky, Roasted Eggplant Tapenade as well as a Capsicum & Feta Tapenade combine beautifully with the beers to complete a Father's Day gift hamper that lets dad know he's special.
As with all Hamper Emporium gift hampers, delivery is free Australia wide to the address of your choice. Order early to ensure there are no COVID-19 delivery delays and your Dad gets his gift in time for Father's Day.
So, here you have 3 great gift hamper ideas for the beer-loving dad this Father's Day. Add your new-found beer knowledge to the hamper, and you will be sure to impress dad this Father's Day.